Advertising Feature
White Russian Cupcakes inspired by the classic cocktail – Baileys whipped cream sponge, topped with a White Russian buttercream and a hidden dark chocolate and vodka ganache centre.
I love creamy cocktails and the White Russian is one of my absolute favourites (really anything with Baileys is a winner in my eyes), so when I was contacted by thebar.com a few weeks ago and invited to create a recipe based on one of their cocktails, it was the obvious choice.
If you're unfamiliar with the White Russian, it's made from a mix of Baileys Coffee, Vodka and Cream, topped with a sprinkling of chocolate (you can find the full recipe here). If you've not tried one before, then you really should!
In making these cakes I've tried to stay as true to the original cocktail as possible. This means there's a fair amount of alcohol in them so all the normal alcohol rules apply, don't eat one if you're driving!
The cake recipe is a little unusual, in that instead of using butter it uses whipped cream (to which I've added some Baileys 🙂 ), they're then topped with a White Russian buttercream (buttercream flavoured with baileys and vodka). As much as I love creamy cocktails, I also love hidden centres in cupcakes (I struggle to make one without it) so given that White Russians are usually topped with a little grated chocolate, I didn't think I was straying too far away by adding a dark chocolate and vodka ganache centre.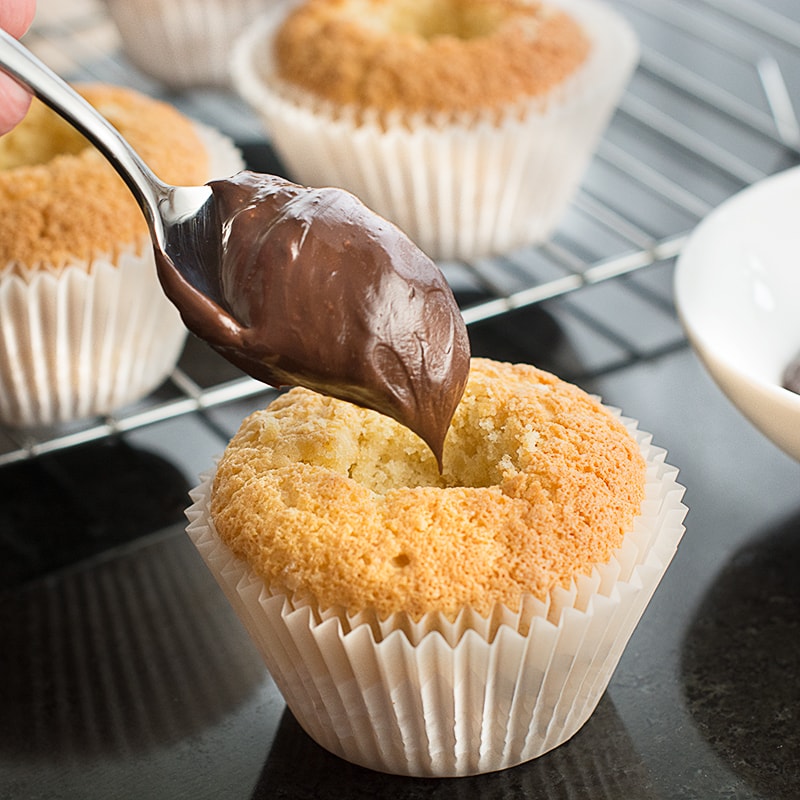 White Russian Cupcakes
WARNING – this recipe contains alcohol
Active Time:30 minutes
Total Time:50 minutes
Makes 8 cupcakes
Equipment
8 cupcake cases
Muffin tin
Weighing scales
Measuring spoons
Measuring jug
Electric mixer + bowl
Hand whisk (for the egg) + bowl
Sieve
Large spoon or spatula (for folding)
Wire cooling rack
Small saucepan + bowl
Piping bag with star nozzle attached
Teaspoon
Ingredients
For the cakes
1 medium egg
120ml double cream
50ml Baileys Coffee (or Baileys Original)
100g caster sugar
½ tsp vanilla extract
120g plain flour
1 tsp baking powder
Pinch of salt
For the White Russian buttercream
135g unsalted butter (at room temperature)
270g icing sugar
2 tbsp Baileys Coffee (or Baileys Original)
½ tbsp Smirnoff no. 21 Vodka
For the Vodka Ganache
50g dark chocolate
50ml double cream
2 tsp Smirnoff no. 21 Vodka
Method

Make the cakes
Pre-heat the oven to 180ºC/160ºC fan
Line a muffin tin with 8 cupcake cases
Using an electric mixer, whisk the double cream (120ml) to stiff peaks. Once stiff, add the vanilla extract (½ tsp) and gradually add the Baileys (50ml) thoroughly mixing each addition before adding more.
In a separate bowl, whisk the egg (1 medium egg) until just frothy.
Add the egg to the whipped cream and whisk for a couple of minutes.
Gradually add the caster sugar (100g), whisk in each addition before adding more. Once all of the sugar is added whisk on a high speed for a couple of minutes.
Sift the remaining dry ingredients (120g plain flour, 1 tsp baking powder, pinch of salt) into the cream mixture and carefully fold them together until thoroughly combined.
Spoon the cake batter into the cupcakes cases, ensuring it's evenly distributed.
Bake for 18-20 minutes until a skewer inserted into the centre comes out clean.
Once baked, transfer to a wire rack to cool.
While the cakes are cooling, make the buttercream and ganache.
Make the buttercream
Cut the butter (135g) into cubes and beat with an electric mixer until light and fluffy.
Gradually add the icing sugar (270g) and beat in each addition before adding more.
Once combined add the Baileys (2 tbsp) and vodka (½ tbsp) and beat thoroughly to combine.
Make the ganache
Place the dark chocolate (50g) in a small saucepan and heat very gently until melted.
Remove from the heat immediately and pour the chocolate into a bowl. Add the double cream (50ml) and mix vigourously until combined.
Add the vodka (2 tsp) and mix thoroughly until combined.
Construct the cupcakes
Use a teaspoon to scoop out the centre of each cupcake.
Fill the centre with a spoon of ganache.
Pipe the buttercream onto the top.
Serve.

Nutritional Information
Calories: 541 kcal (27%), Fat: 28.4g (41%), Saturated Fat: 17.5g (88%), Carbohydrates: 63.6g (24%), Sugar: 52.3g (58%), Fibre: 1.0g (4%), Protein: 3.3g (7%), Salt: 0.3g (4%)
Suitable for Vegetarians.
This is the estimated nutritional information per cupcake. Please refer to my guide to Charlotte's Lively Kitchen nutritional information if you want to learn more about how this is calculated.
Other White Russian inspired recipes
If these cupcakes have whet your appetite for some white russian inspired baking then you might also want to take a look at these other recipes…
And if you fancy a change from the White Russian, thebar.com have a great selection of other edible cocktails here.
---
---
* This is a commissioned post for Diageo's thebar.com
---