It's time to let you know what's in The Food Calendar for September. I'm struggling to believe we're already into September, my boys will be back at school next week (or starting school for Josh!) and I feel as though I've not done half of the things I planned to do during the summer holidays. That said anyone taking a look at my Instagram Stories will have noticed we've managed plenty of trips to the beach and our local park for picnics so I feel we really made the most of the sunshine.
One of the things I look forward to in the Autumn term is the Macmillan World's Biggest Coffee Morning (this year it's on the 30th September), it's the perfect excuse to bake a cake and catch up with some of the parents and grandparents from school over a cup of tea. If you're going along to one (or any other coffee morning/bake sale for that matter) and you're not sure what to make then here's some delicious recipe inspiration for you.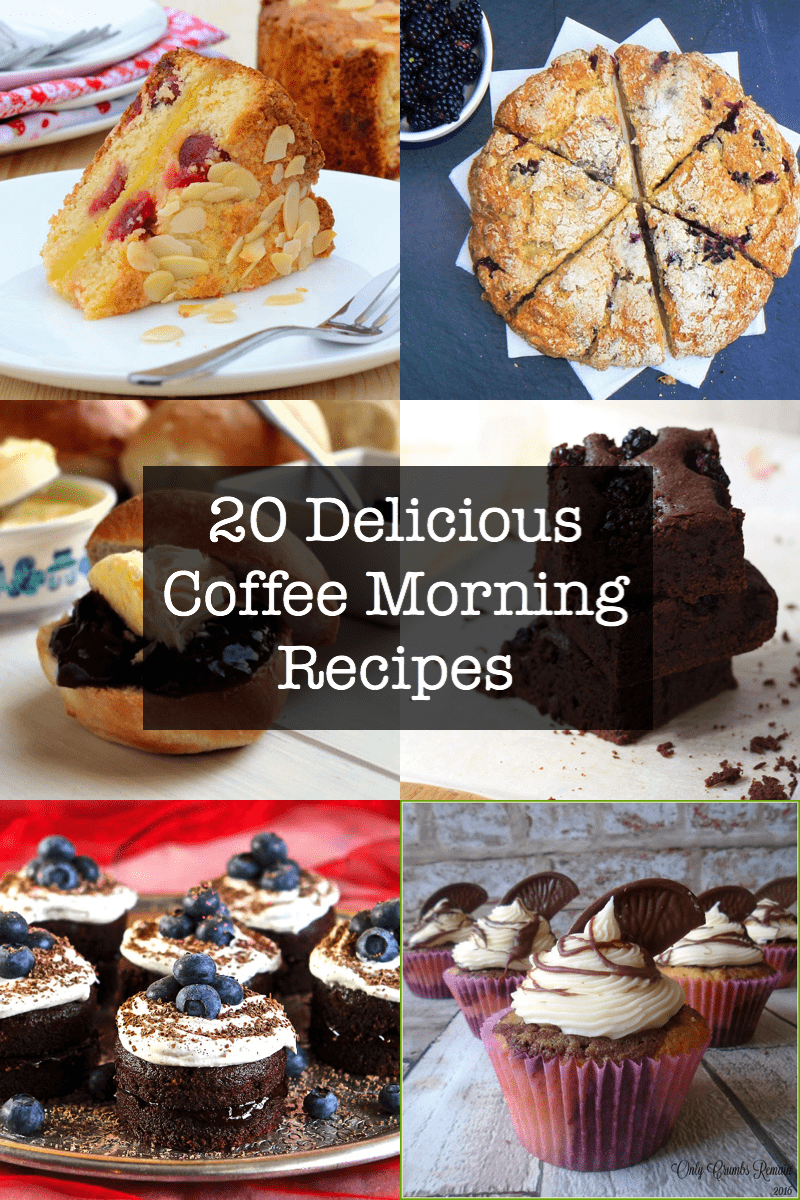 Coffee Morning Recipes
Each month I run a linky for events in the calendar where other bloggers come and share their recipes, these coffee morning recipe ideas are some of my favourites that have been shared over the past year and a half (plus a few others from around the web). There's absolutely loads of events in the calendar this September so make sure you head down the page to take a look and see what recipes have been shared this month (and if you're a food blogger than make sure you come and join in 🙂 ).
Vegan Blackberry & Apple Scones from The Peachicks Bakery
Cornish Splits with Jam & Clotted Cream from Jam & Clotted Cream
Vegan & Gluten-Free Mini Chocolate Cakes from The Gluten Free Alchemist
Marzipan & Cherry Cake from Charlotte's Lively Kitchen
Strawberry Cupcakes with Nutella Buttercream from The Baking Explorer
Coffee & Walnut Cupcakes from Easy Peasy Foodie
Caramel Macchiato Cupcakes from Charlotte's Lively Kitchen
Chocolate Orange Marbled Cupcakes from Only Crumbs Remain
Eton Mess Cupcakes from Caroline Makes
Lemon Drizzle Cake from Jess Cantoni
Tiramisu Cake from Recipes Made Easy
Blackberry & Apple Cake from Fab Food 4 All
Summer Fruit Swiss Roll from Blue Bear Wood
Free from Chocolate Flapjacks from Free From Fairy
Chocolate Coconut Bars from Tales from the Kitchen Shed
Tunnock's Teacake Rocky Road from Foodie Quine


Blackberry Brownies from Recipes Made Easy
Triple Chocolate Muffins (Gluten, Egg & Nut Free) from Le Coin de Mel
What's on in September?
1-7 September – British Lamb Week
1-30 September – Organic September
1-30 September – Sourdough September
3-18 September – Scottish Food & Drink Fortnight
12-18 September – Red Tractor Week
13 September – International Chocolate Day
17 September – 2 October – British Food Fortnight
19-25 September – National Cupcake Week
19-26 September – National Rice Week
30 September – Macmillan World's Biggest Coffee Morning
If you're tweeting or instagramming about any of these events then don't forget to use the #TheFoodCalendar hashtag.
Add your recipes to #TheFoodCalendar linky
If you're a food blogger than I'd love you to come and share your recipes for the events in the calendar this month.
You can…
Add your post(s) to the linky at the bottom of this page.
Share a post/picture/thought about any of the events using hashtag #TheFoodCalendar on Twitter and/or Instagram (you can also tag me @CharlotteLK on Twitter and @charlotteslivelykitchen on Instagram if you like).
Pin your post to my dedicated #TheFoodCalendar Pinterest board – to join the board make sure you're following me (as it won't work otherwise) and then leave your Pinterest ID in the comments and I'll add you.
Once you've done that then go and share the love with some of the other bloggers joining in – comment on some of the other links, like/retweet on Twitter, heart/comment on Instagram or Repin some pins from the Pinterest board. I'll be reading, tweeting and commenting on all the posts shared.
You're also more that welcome to add the #TheFoodCalendar badge to your posts to let others know all about it (you'll find the code at the bottom of this post).
Loading InLinkz ...
By linking up your posts you're giving me permission to use an image from the post in future roundups (with credit and a link back) and also to share the post with an image on social media. If you don't want me to do either of these then just let me know in the comments.
Linkup Badge Code
To add the #TheFoodCalendar badge to your post, simply copy the code below into the text editor of your post (any problems, let me know and I'll do my best to help).
Before I go…
I've been busy adding new events into the calendar so make sure you take a look and see what's new.