Lemon Drizzle Loaf Cake – Fluffy, moist lemon sponge with the zing of lemon drizzle, decorated with lemon icing.
Skip to the recipe | Recipe FAQs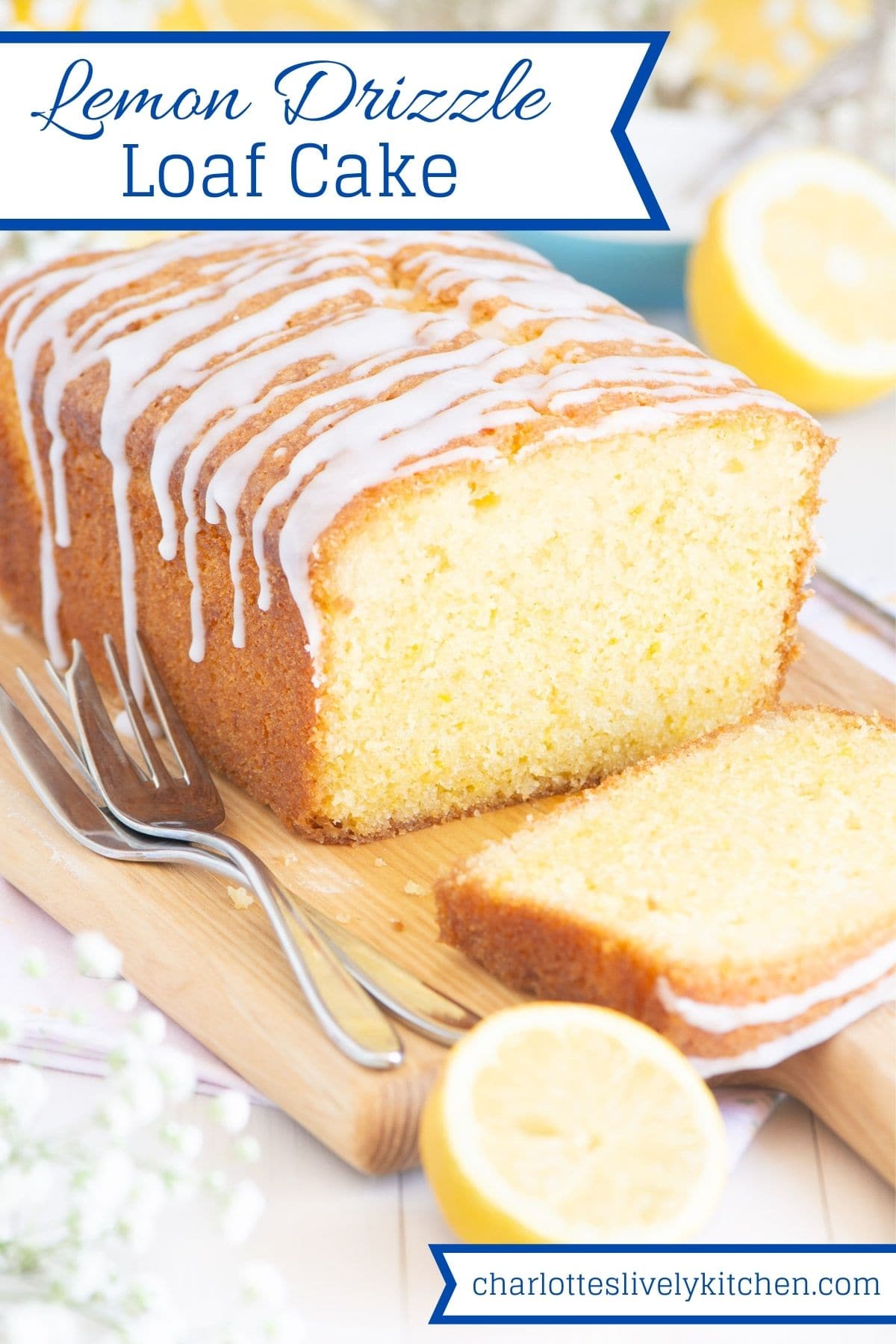 One type of cake that has been sadly lacking from my site (until now) is a loaf cake. I decided it was time to rectify this and I decided to start with an absolute classic – Lemon drizzle loaf cake.
It's a lemon sponge, flavoured with plenty of lemon zest, coated in a zingy lemon drizzle and then finally finished with some lemon icing (the icing is optional, I add it as it makes the loaf cake look so pretty, but the cake is delicious without it).
It's a similar sponge to the one I use in my easy lemon sponge cake and also my lemon drizzle cupcakes, but I've made some tweaks so that it works perfectly in a loaf tin, leaving you with a delicious, fluffy, moist cake.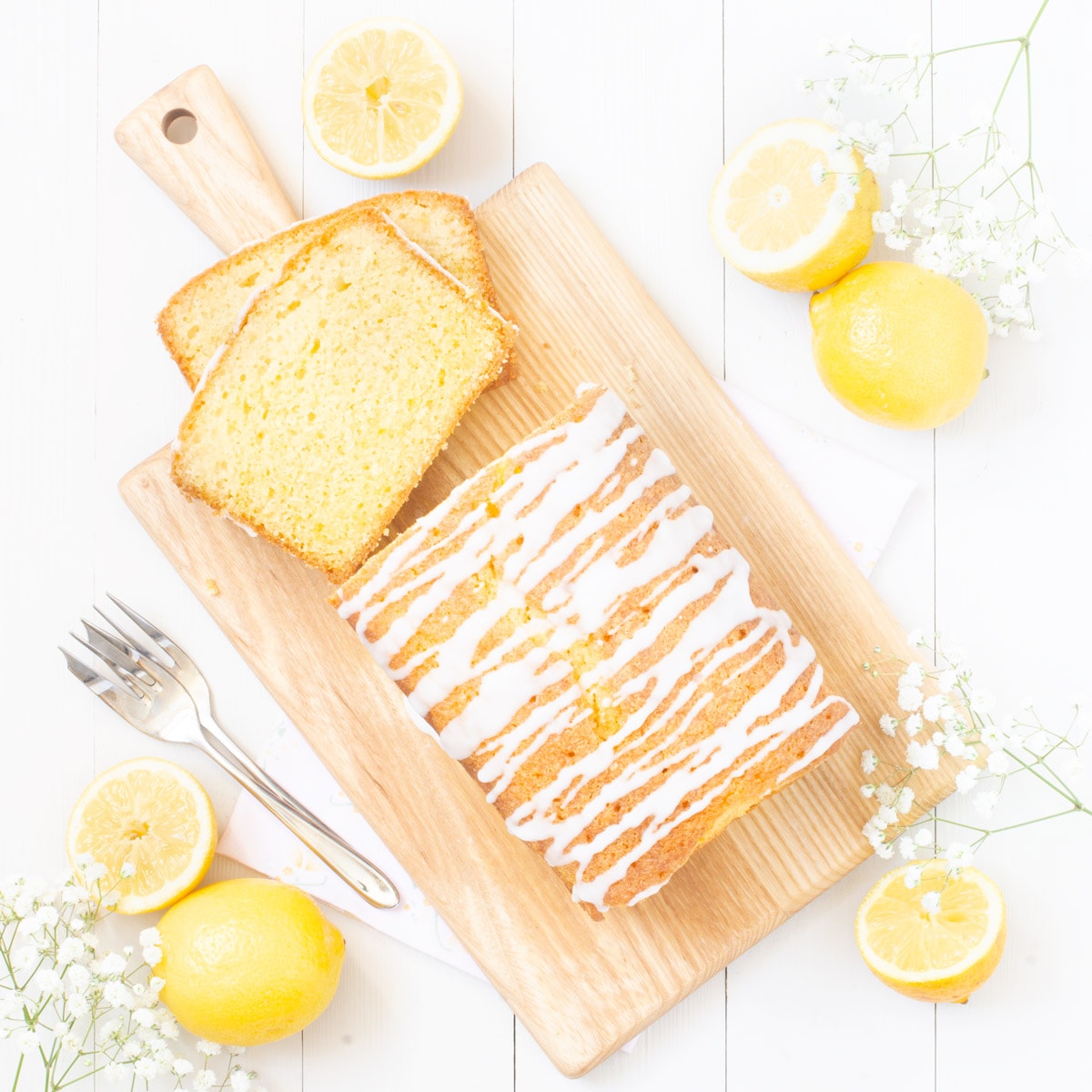 It always surprises me the number of you that compare similar recipes on my site and ask why I've made certain tweaks so I thought I's quickly outline the key difference between this recipe and my lemon sponge cake recipe for anyone who's interested.
There are two main reasons why adaptations to the recipe are needed when making a loaf cake rather than a sandwich cake:
A loaf cake needs significantly longer to bake in the oven. A longer baking time can result in a cake the either over-baked and dry around the edges, or under-baked in the middle (or worse still, both!).

A loaf cake is a lot taller than a sandwich cake so it needs a sturdier structure to support the additional height.
These tweaks also result in the loaf cake being a little peaky on top and having a little crack along the middle. This is something that I think is attractive in a loaf cake, but is to be avoided in sandwich cake where I want the top flat and as smooth as possible ready for decorating.
So how did the tweaks I've made to this recipe counter both of these issues:
Replacing one of the eggs with milk – I've talked before in my vegan vanilla cupcakes post about the role that eggs play in cake. One of the key roles is that they help to dry out your cake so that it isn't claggy. This is great for cakes that are baked for a short period of time, but for cakes with a longer baking time, the additional heat also serves to dry out the cake. So a combination of lots of eggs and a longer cooking time can leave you with a cake that's a little too dry.

Reducing the amount of egg, reduces the drying properties of the cake mixture leaving you with a beautifully moist cake. Simply reducing the amount of egg means that the cake mixture is no longer the right consistency so I replaced it with extra milk.


Adding lemon juice and bicarbonate of soda – Reducing the amount of egg in the cake mixture also removes some of the other brilliant qualities eggs bring to cakes. One is their ability to help cakes to rise. Combining bicarbonate of soda with an acid such as lemon juice helps to give your cake a little extra lift.


Using the creaming method rather than all-in-one – In many of my cakes I use the all-in-one method where all of the ingredients are chucked into a bowl at the same time and mixed together.

As with point 2, I wanted to add a little extra lift to the cake to replace the lift provided by the missing egg. Creaming together the butter/margarine and sugar before adding the wet ingredients and then folding in the dry ingredients adds additional air into the mixture which helps your cake to rise.


Additional flour – Many of my cakes are based on a Victoria sponge which has equal weights of sugar, butter and flour. In this cake I've added an extra 20g of flour. Again, this is down to the missing egg (they do so much in a cake!). As well as making sure you don't have a claggy cake and giving lift, eggs also add structure. The extra flour provides the extra structure needed.


Removing the baking powder – Talking of adding structure, I often add extra baking powder to my sandwich cakes. This helps them to be fluffy and moist, as well as ensuring the cakes have a nice, flat top (have a read of my post about making self-raising flour from plain flour for more about this).

This works well on sandwich cakes which are quite short, but can cause problems in deeper cakes such as loaf cakes. The additional raising agent can make the cakes a bit too fluffy and they then lack the structure needed to support the additional height and dip in the middle.


Baking at 180°C rather than 160°C – I tend to bake my cakes on quite a low temperature which ensures they are moist and fluffy. However, after making all the adjustments listed above, I found it best to increase the temperature a little to get the perfect bake.


Adding a little salt – This is more of a progression in my baking that anything else. I historically haven't added salt to my lemon bakes, but I wanted to help bring out the lemon flavour and found adding a tiny pinch helped to enhance the lemon flavour.
Lemon Drizzle Loaf Cake FAQs
If it's your first time making this recipe or you have a question, please take a moment to have a read through my FAQs for some extra tips and allergen information.
How long does this cake last and how should it be stored?
This cake lasts for about a week after baking and should be stored in an airtight container.
❄️ Suitable for freezing
This cake can be frozen for approx. 3 months after baking. Simply pop it into a freezer-safe airtight container or wrap it in clingfilm and freeze.
Make sure it is defrosted thoroughly before serving.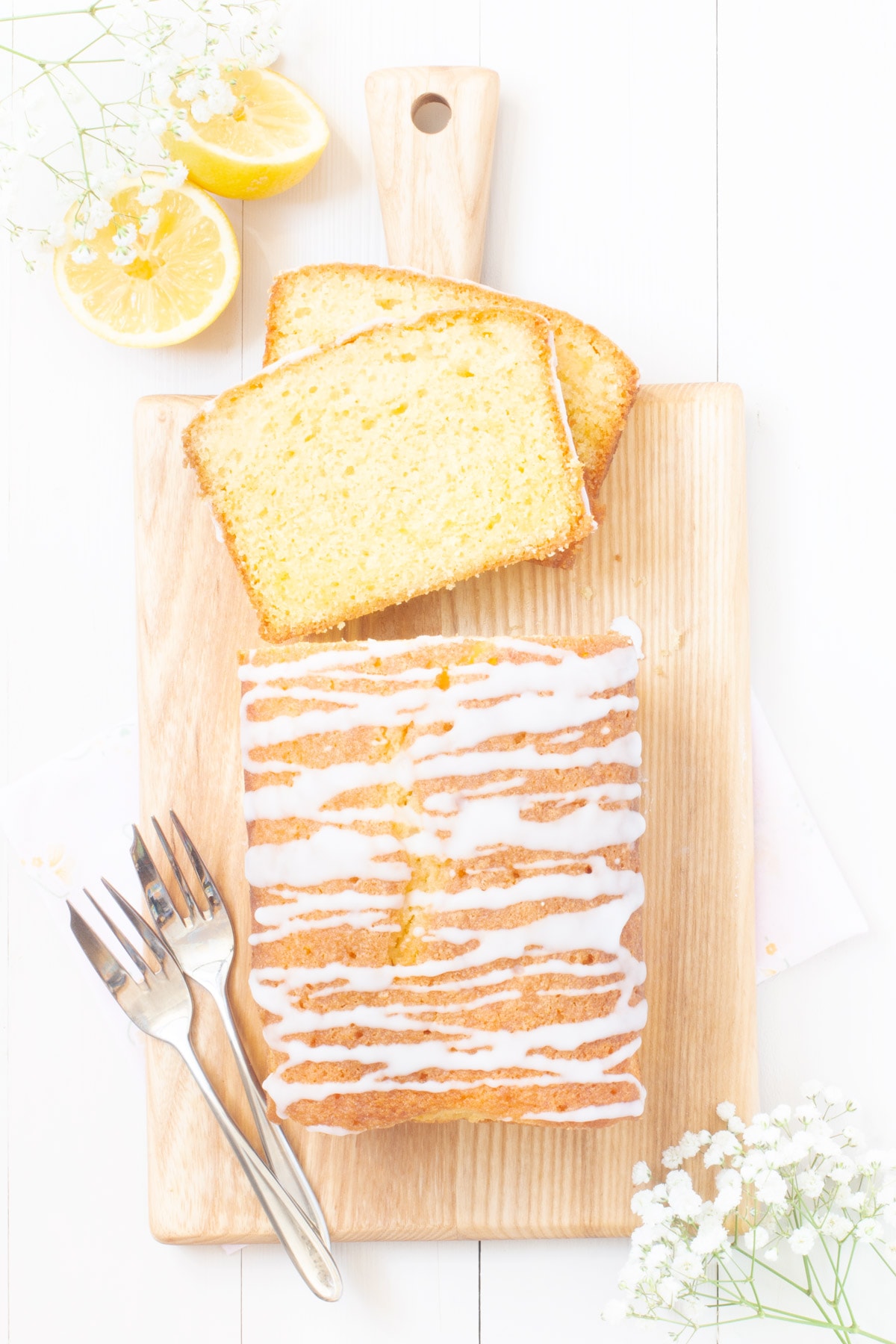 Can I use buttermilk instead of milk?
Yes.
Using buttermilk (or yogurt thinned with a little milk) will also give a lovely fluffy sponge. As both buttermilk and yogurt are more acidic than milk you do not need to add the lemon juice (or vinegar) to the cake mixture.
Can I change this recipe to use orange or lime?
Absolutely.
This recipe will work equally well with any citrus fruit. Simply replace the zest in the main cake and the juice in the drizzle with your chosen fruit.
For an orange drizzle loaf cake, use the zest from half a large orange. For a lime drizzle cake, use the zest of 3 limes.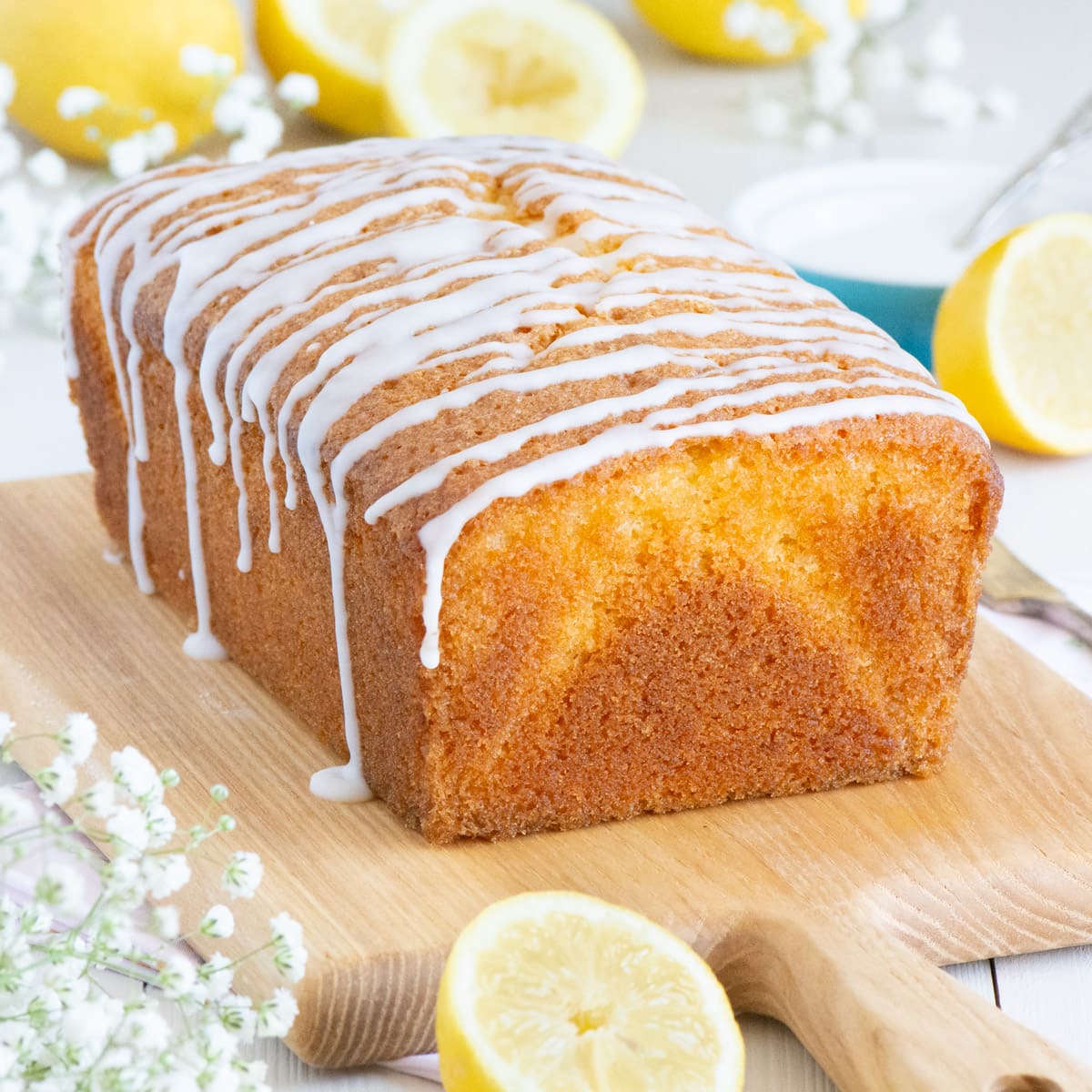 Can I use this recipe to make cupcakes?
If you'd like to make lemon drizzle cupcakes I have a recipe on here that's perfect for that. It differs a little from this one (have a read of this full post to find out why), but gives the same delicious result.
Can I use this recipe to make a layer cake?
As with the cupcakes I have a slightly different recipe for lemon sponge cake that's perfect for making layer cakes or single layer traybakes. That recipe also includes a handy calculator to adjust the ingredients for different sized round, square and rectangular tins.
What is this recipe free from? Who is it suitable for?
The ingredients I used to make this recipe are all free from the following allergens. However, please check any labels carefully for allergens you need to avoid as brands can vary, and product recipes can change over time.
Suitable for Vegetarians
Tree Nut-Free
Peanut-Free
Sesame-Free
Soya-Free
Sulphur Dioxide and Sulphite-Free
Lupin-Free
This loaf cake be made dairy-free by simply switching the margarine and milk for dairy-free alternatives.
This cake can be made gluten-free by switching the self-raising flour for a commercial gluten-free equivalent.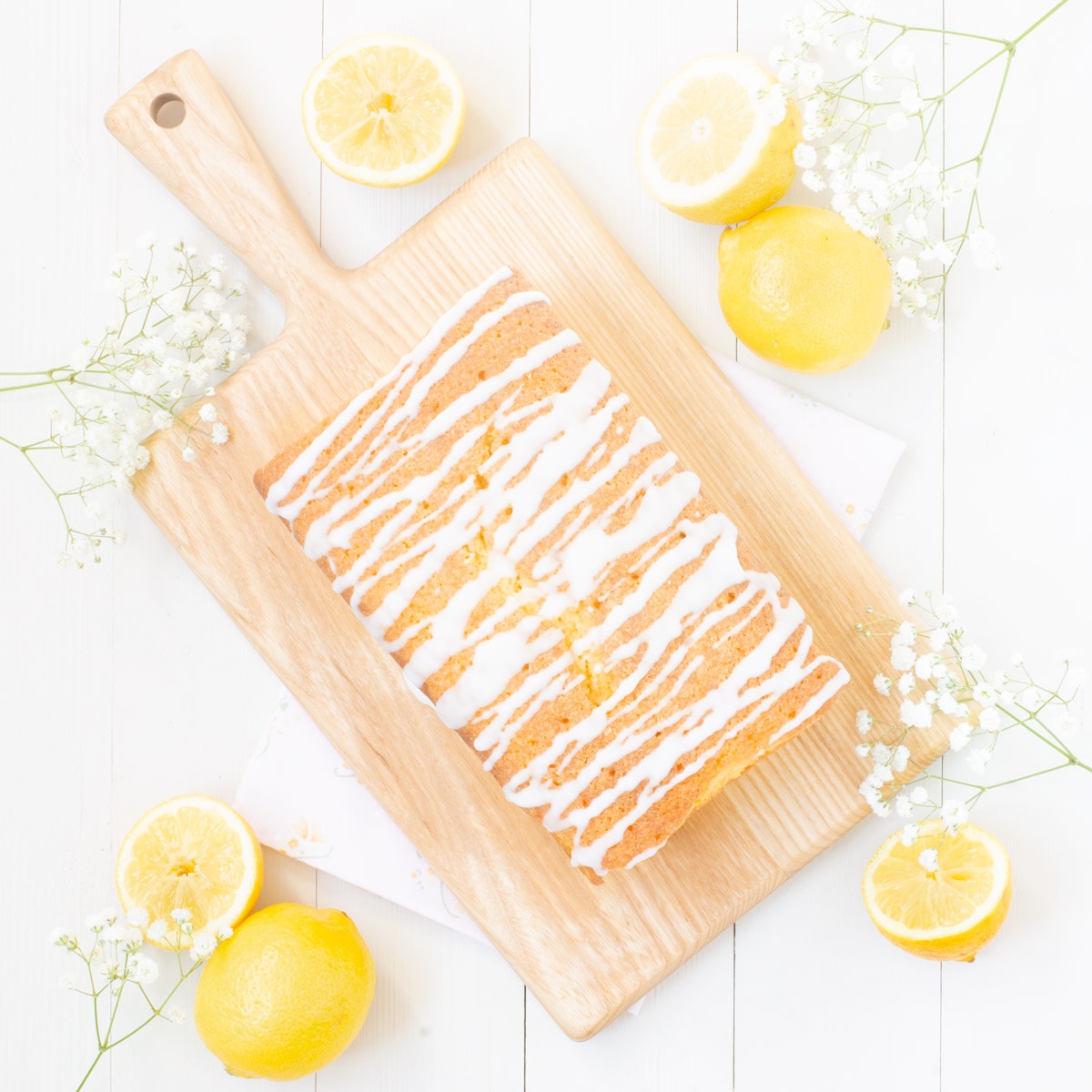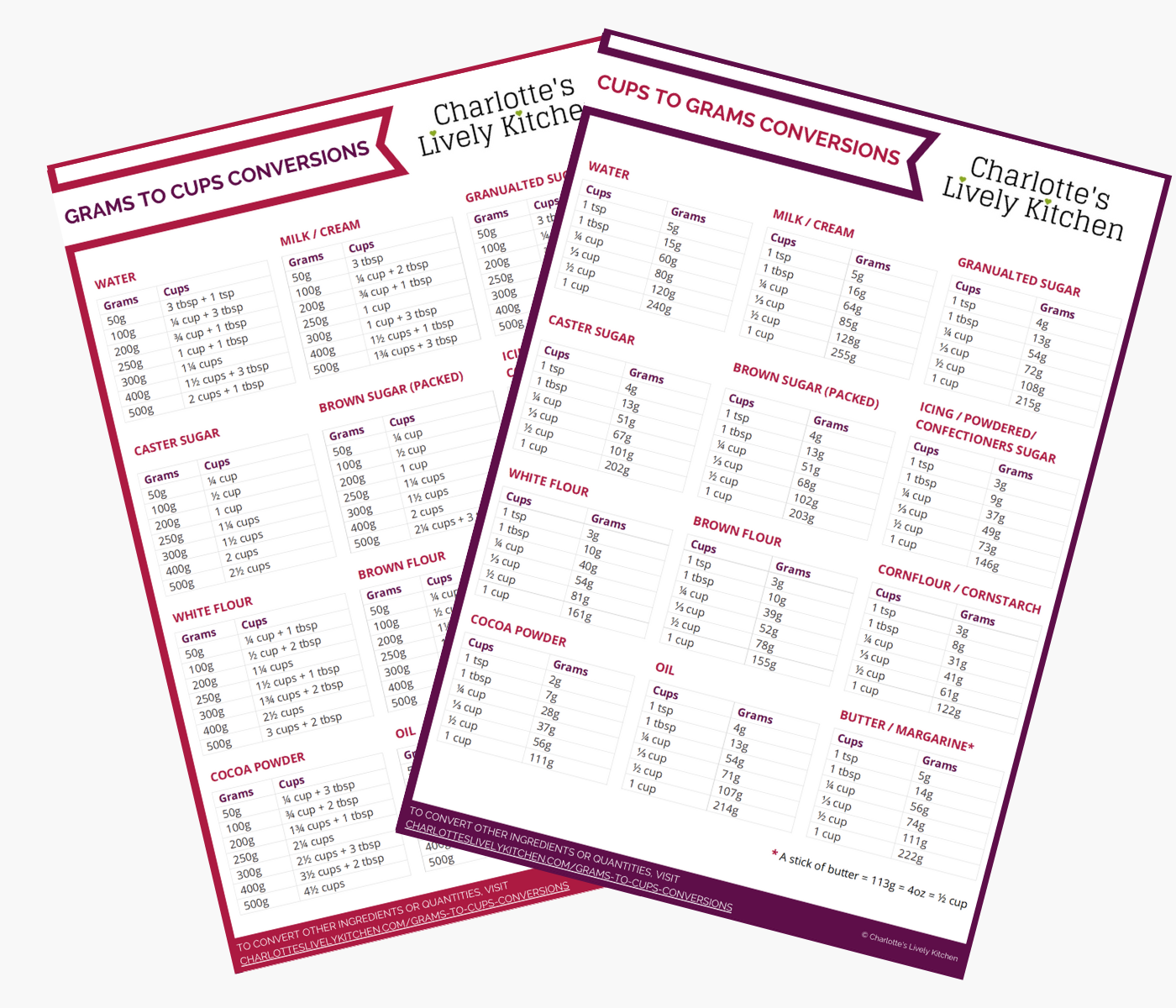 Subscribe to the Charlotte's Lively Kitchen mailing list to get your FREE printable grams to cups and cups to grams conversion charts for twelve popular baking ingredients
Lemon Drizzle Loaf Cake
Fluffy, moist lemon sponge with the zing of lemon drizzle, decorated with lemon icing.
Print
Pin
Rate
Save
Go to Collections
Total Time:
1

hour
10

minutes
INGREDIENTS
Lemon Loaf Cake
Zest of 2 lemons

200

g

caster sugar

200

g

soft margarine or butter

-

if using butter make sure it is soft and at room temperature

3

medium

eggs

50

ml

milk

-

I use skimmed but any is fine

½

tsp

lemon juice or white vinegar

220

g

self-raising flour

¼

tsp

bicarbonate of soda

⅛

tsp

salt
Lemon Drizzle
60

g

caster sugar

2

tbsp

lemon juice

-

approx. juice of 1 lemon
Icing (Optional)
40

g

icing sugar

½-2

tsp

lemon juice or water
INSTRUCTIONS
Make the lemon loaf cake
Pre-heat your oven to 180°C/160°C fan.

Finely grate the zest of 2 lemons.

Cream together your butter (200g) and caster sugar (200g) until light and fluffy.

In a separate bowl, lightly beat together the eggs (3 medium), milk (50ml) and lemon juice (½ tsp).

Gradually add the egg mixture to the butter and sugar. Beat in each addition thoroughly before adding more.

You may find that the mixture starts to look a little split. If this happens add 1-2 tbsp of your flour and this should give it a smooter texture (remember to reduce the flour you add later by the amount you added here).

Add the dry ingredients (220g self-raising flour, ¼ tsp bicarbonate of soda, ⅛ tsp salt) and the grated lemon zest to the other ingredients and fold together until combined.

Pour the mixture into your prepared tin and bake for 50-60 minutes until a skewer inserted into the centre comes out clean.
While the cake is in the oven, make the lemon drizzle
Mix together the caster sugar (60g) and lemon juice (2 tbsp).

Once you've removed the cake from the oven, while it's still hot in its tin, use a skewer to poke lots of small holes all over the top of the cake (going through to the bottom). Pour or brush over the lemon and sugar mixture so the top of the cake is evenly coated.

Leave the cake to cook in the tin for a few minutes before removing it and placing it on a wire rack to cool completely.
While the cake cools, make the icing (optional)
Mix together the icing sugar (40g) with ½ tsp of lemon juice or water. Gradually add more lemon juice (or water) until when you lift up your spoon it drips off slowly. If you accidentally add too much liquid then simply add a little more sugar until you have your desired consistency.

Once your cake has cooled completed, drizzle the icing across the top of the cake – I allow it to run slowly off a spoon, but you could also use a fork or a piping bag.
WANT TO HEAR ABOUT NEW RECIPES FIRST?
SUBSCRIBE to the Charlotte's Lively Kitchen Mailing List
NUTRITIONAL INFORMATION
Calories:
340
kcal
|
Carbohydrates:
46
g
|
Protein:
4.4
g
|
Fat:
15.7
g
|
Saturated Fat:
4.2
g
|
Sodium:
257.5
mg
|
Fiber:
0.8
g
|
Sugar:
30.7
g
Any nutritional information provided is the estimated nutritional information per serving. Please refer to my guide to Charlotte's Lively Kitchen nutritional information if you would like to learn more about how this is calculated.
---