Fill your bakes with the taste of autumn with my homemade pumpkin spice mix.
PLUS – 20+ ideas for using pumpkin spice mix in your cooking.
Skip to the recipe | Recipe FAQs
I always know that autumn has arrived when every coffee shop across the country fills with pumpkin spice lattes and various bakes inspired by that most autumnal of coffees.
I see so many recipes shared all over social media calling for pumpkin spice mix, but I don't tend to spot it that often ready-made in the British supermarkets. The good news is that it's very easy to make your own with four spices you can easily find in your kitchen.
Homemade pumpkin spice FAQs
If it's your first time making this recipe or you have a question, please take a moment to have a read through my FAQs for some extra tips and allergen information.
Does pumpkin spice mix include any pumpkin?
No, it's called pumpkin spice mix because it's the combination of spices that are classically used in a pumpkin pie.
What spices are in a pumpkin spice mix?
I use a combination of four different spices:
Cinnamon
Ginger
Cloves
Nutmeg
Some pumpkin spice mix recipes also call for allspice to be included, but I prefer the flavour without. If you love a bit of allspice then you can add it in the same quantities as the cloves and nutmeg.
The main flavour in pumpkin spice mix is cinnamon, followed by ground ginger. I only use a small amount of both ground cloves and ground nutmeg as I find their flavours can be overpowering otherwise. However, If you're a fan of either of those flavours then feel free to bump up the ratios to suit your own tastes.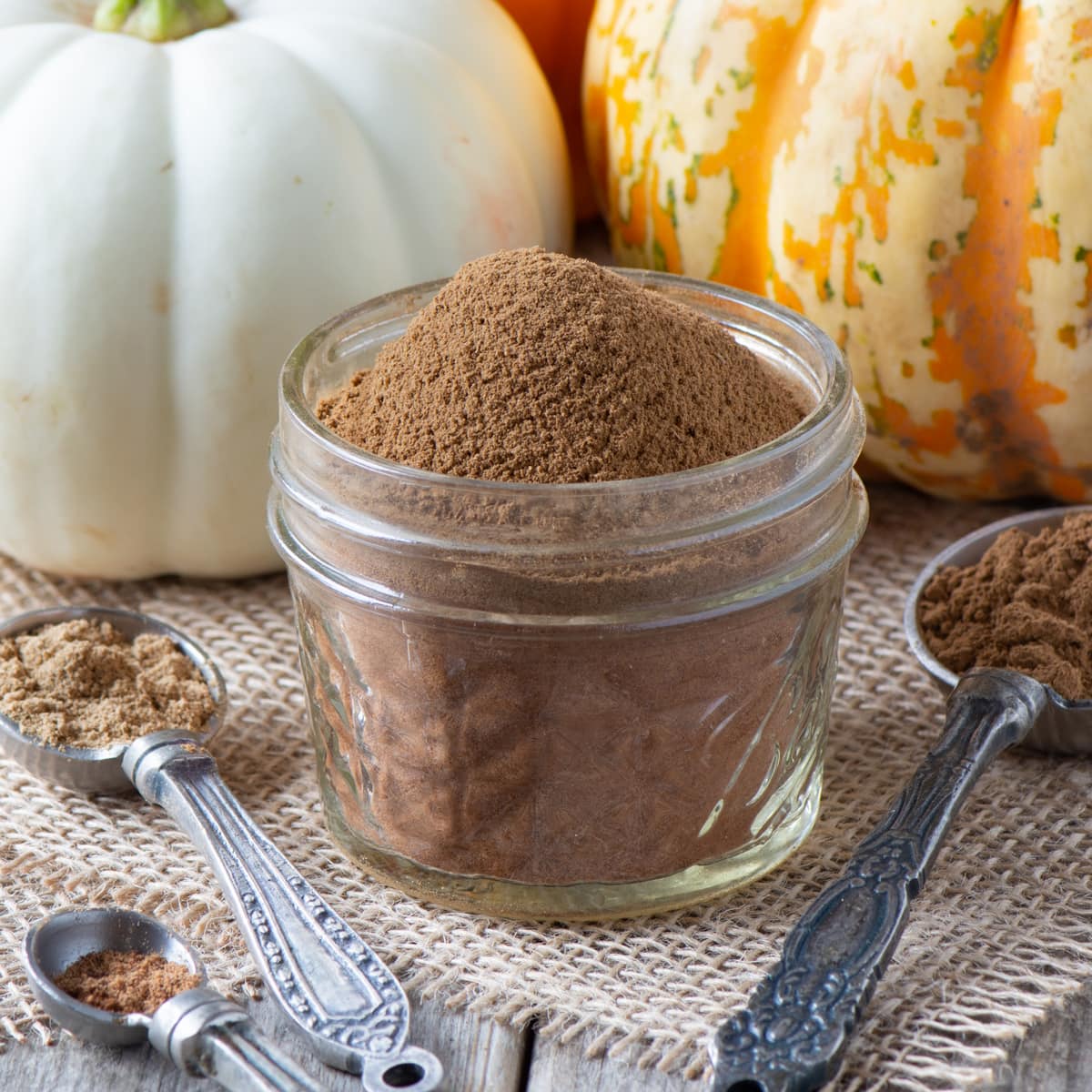 You use all ground spices, can I use whole ones?
I personally prefer to use spices that are ready-ground as this is easier. However, if you've got whole spices in the cupboard then it is possible to use these instead.
Nutmeg
Whole nutmeg grates finely very easily so it's a simple substitution for ground nutmeg.
You can either use a very fine grater, or pop the whole nutmeg into a spice grinder.
Cinnamon and Cloves
I find it harder to finely grind both cinnamon and cloves as the nature of them means that little shards tend to break off and don't grind as finely.
You can grind your cinnamon and cloves either using a spice grinder or pestle and mortar. For cloves in particular, I'd opt for using a pestle and mortar as I find that the flavour can penetrate the plastic lid of my spice grinder and linger even after a thorough washing. I'd also recommend passing the ground spices through a fine sieve to remove any larger pieces, regrinding these until they are fine enough to pass through.
How should my spice mix be stored?
You can store your pumpkin spice mix in an airtight container and then use it as needed.
It should be fine to use up until the shortest best-before date on each of the individual spices.
Can I make a larger/smaller quantity?
Absolutely.
This recipe makes 13 teaspoons, which is quite a bit. If you'd like less, simply reduce down the quantities, just make sure you keep the ratios between the ingredients the same.
Similarly, increase them all, keeping the ratios the same.
What can I make with homemade pumpkin spice mix?
There's a huge array or recipes online that you can make with homemade pumpkin spice mix. I'd definitely recommend you give my pumpkin pie a try.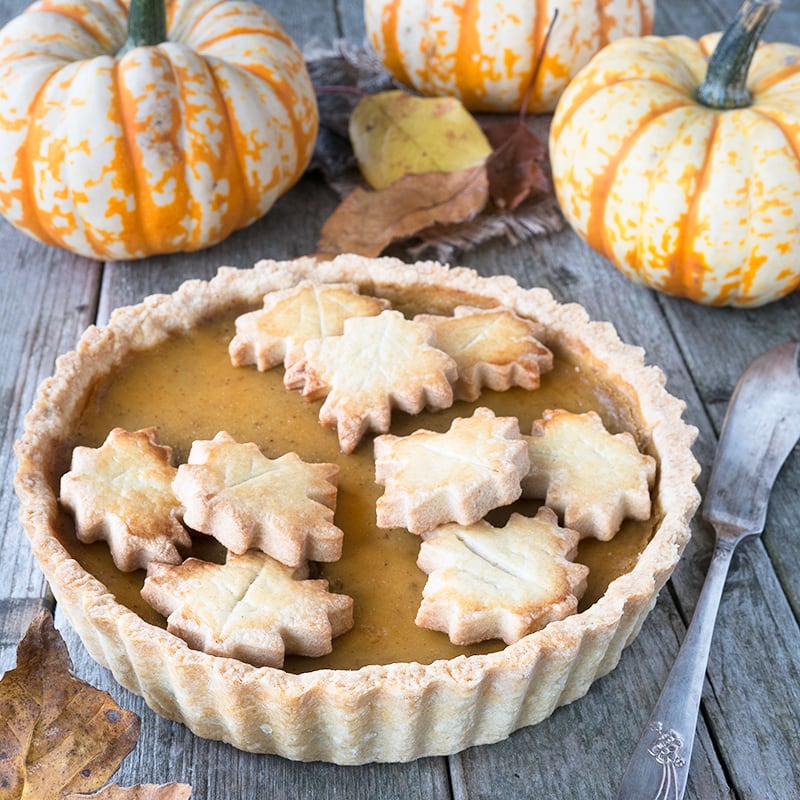 If you fancy something a little different then how about trying one of these delicious treats:
WHAT IS THIS RECIPE FREE FROM? WHO IS IT SUITABLE FOR?
The ingredients I used to make this recipe are all free from the following allergens. However, please check any labels carefully for allergens you need to avoid as brands can vary, and product recipes can change over time.
Suitable for Vegetarians
Suitable for Vegans
Gluten-Free
Egg-Free
Dairy-Free
Tree Nut-Free
Peanut-Free
Sesame-Free
Soya-Free
Sulphur Dioxide and Sulphite-Free
Lupin-Free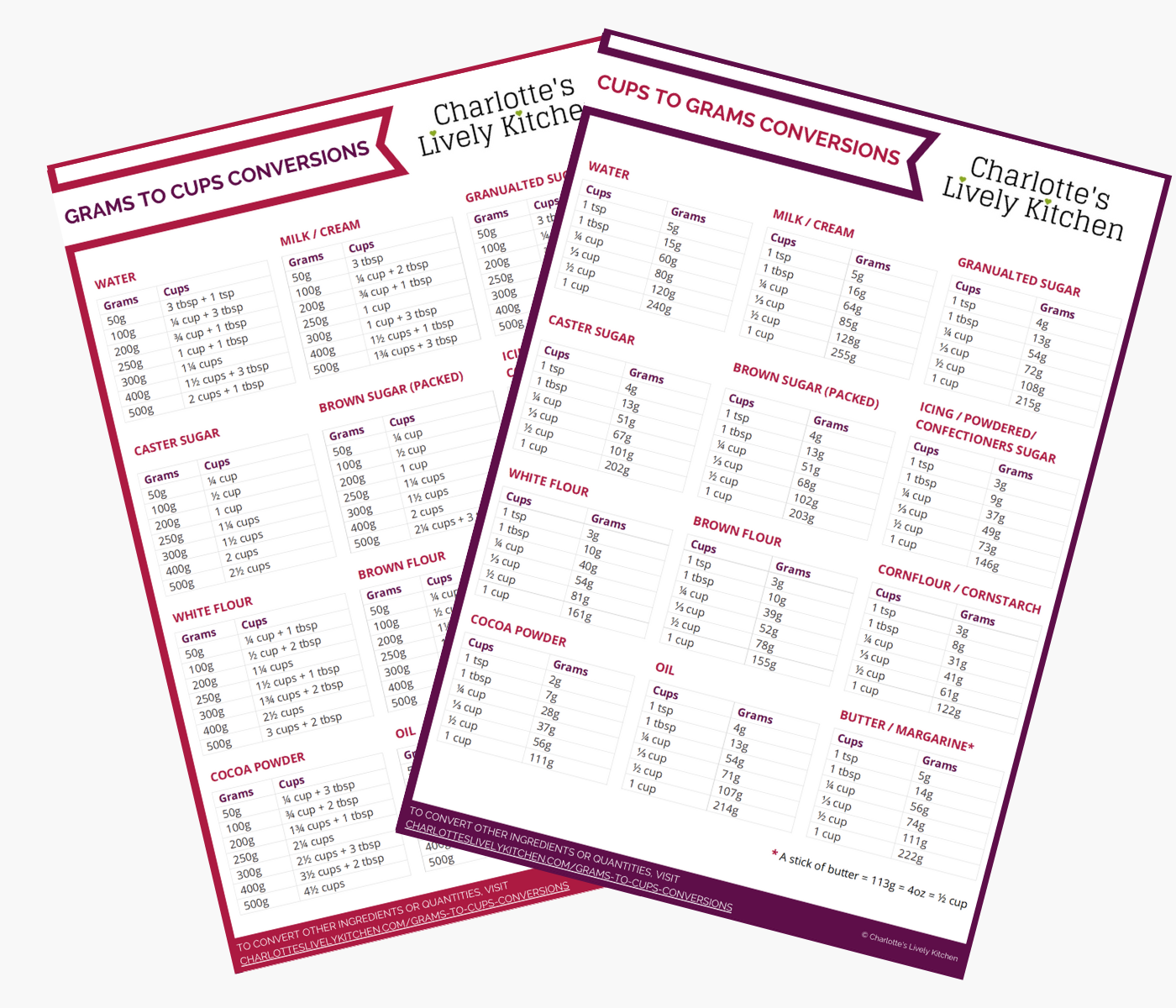 Subscribe to the Charlotte's Lively Kitchen mailing list to get your FREE printable grams to cups and cups to grams conversion charts for twelve popular baking ingredients
INGREDIENTS
8

tsp

ground cinnamon

4

tsp

ground ginger

½

tsp

ground cloves

½

tsp

ground nutmeg
INSTRUCTIONS
Measure the four spices (8 tsp cinnamon, 4 tsp ginger, ½ tsp cloves, ½ tsp nutmeg) into a bowl.

Mix until thoroughly combined.

Store in an airtight container until you're ready to use.
WANT TO HEAR ABOUT NEW RECIPES FIRST?
SUBSCRIBE to the Charlotte's Lively Kitchen Mailing List
NUTRITIONAL INFORMATION
Calories:
7
kcal
|
Carbohydrates:
0.9
g
|
Protein:
0.1
g
|
Fat:
0.1
g
|
Sodium:
0.8
mg
|
Fiber:
1
g
|
Sugar:
0.1
g
Any nutritional information provided is the estimated nutritional information per serving. Please refer to my guide to Charlotte's Lively Kitchen nutritional information if you would like to learn more about how this is calculated.
---