These vegan vanilla cupcakes are easy to make and taste delicious. No one would guess that they're egg and dairy-free.
A while ago I shared my recipe for vegan vanilla cupcakes. This was my first attempt at vegan cake baking and whilst they were nice, I've experimented a lot since then and realised they could be made even better. Rather than leaving you with a recipe I thought could be improved upon, I've replaced it with this even fluffier, even lighter and even more delicious version (which is just as easy to make).
If you'd like to get a copy of the original recipe then please contact me or leave a comment.
Now I've cracked the cupcake recipe, my next vegan cake mission is to adapt this recipe to make a larger birthday cake (the main reason I made a start on vegan baking was due to receiving several egg-free birthday cake recipe requests). I now feel pretty confident that with a little bit of trial-and-error I could convert any of my existing cake recipes to be egg and dairy-free. If there's any you'd particularly like the recipe for, then do let me know in the comments.
What's The Secret To A Delicious Vegan Cake?
To perfect my vegan cupcakes I tried many of the vegan recipes I found online. I noticed that many opted for just one egg replacer (the dairy is easy to replace). They either used…
A dairy-free milk, vinegar and bicarbonate of soda – the milk replaces the moisture of the eggs and the vinegar and bicarbonate of soda create a reaction which helps the cake to rise.
or
A dairy-free milk or water and chia or flax seeds – the chia or flax reacts with the liquid and creates a jelly-like texture mimicking the eggs.
When I tested these I found that cakes made with vinegar and bicarbonate of soda rose well and had fantastic structure, but they were a little claggy as there was too much moisture. Whereas the chia cakes were less claggy, but they lacked structure and so were very fragile.The solution – combine them.
Combining different egg replacers makes sense as eggs do many different jobs when used in baking (take a look at my recent post about the role of eggs in baking for more information). They…
Help the cake to rise
Add flavour
Help "glue" the cake together
Absorb moisture from the other ingredients to ensure your cakes aren't claggy.
Expecting just one egg replacer to be able to do all of these jobs is a bit optimistic so it's no surprise that using a combination of two gives a better result.
In my vegan cakes, I use a combination of cider (or white wine) vinegar and bicarbonate of soda to provide lift and structure, and chia seeds to absorb the moisture from the other ingredients and add softness to the sponge. The result is a deliciously light sponge that you'd never guess was egg-free.
However, it's not just about the egg replacement. I made plenty of other small tweaks to get these cakes just right…
Extra flour adds stability to the sponge.
Almond milk (or another plant-based milk) helps to get the cake mixture to the right consistency.
Vegan margarine adds softness and moistness. Some cake recipes I tried had more milk and less margarine. However, I found these a little dry. It's a tricky balance though, as going overboard with the margarine ends up in a cake that lacks structure and crumbles as soon as you pick it up.
I tried both margarine and vegetable oil. I opted for margarine as I found it gave the cakes a better flavour.
Ground chia or flax seeds work far better than whole ones. They're more evenly distributed through the mixture and the hard outer shell has already been broken down meaning the moisture absorbing action can work more easily. Also, whole chia seeds don't break down as well during baking so you'll end up with little bits running through your cupcakes (a bit like having it full of raspberry seeds).
Getting the level of ingredients just right was definitely a balancing act. Cakes made with oil, almond milk, bicarbonate of soda and vinegar rose well and were robust, but the addition of more margarine, less almond milk and chia gave a better texture. Going down the route of a little more margarine and a little less milk means these cakes do crack a little on the top but I think this is a small price to pay for a more delicious cake (especially as it can be covered in buttercream so no one will know).
Tips for success
Before making this recipe for the first time, please read through my extra tips for success…
Make sure you have everything ready before you start baking. As soon as the baking soda and vinegar mix, or the ground chia is combined with the milk, reactions start. You want these reactions to happen in the oven rather than in your bowl so having everything ready to go means you can get them into the oven as quickly as possible.
Don't overfill your cupcakes cases as the cake will spill over the edges. They should be about two-thirds full.
After baking, leave the cupcakes to cool in the tin for about 10 minutes before moving them to a wire rack to cool completely. When they're first baked the cakes are very soft and allowing them to cool for a little while in the tin will mean they firm up slightly in the residual heat and also means you won't accidentally squash the bottoms when you try and take them out of the tin.
I find these cakes are best if left to cool for a couple of hours before eating. All the vegan cakes I tried were a little crisp on top when they first came out of the oven (but still delicious). Leaving them for a couple of hours allows them time to soften and be all cakey.
Don't panic if you don't have chia seeds (or the means to grind them). This cake recipe still works without them but has a better texture if they're included.
I use white chia seeds rather than the black ones as this is a vanilla cake so I prefer it to have a light colour. If you don't have the white ones then the dark ones work just as well. However, you'll have little black flecks in your finished cupcakes. Note that the chia seeds (whichever you use) add a slightly nutty colour to the cupcakes so they won't be as pale as a traditional egg-based vanilla cake.

If you don't want to buy a big bag of chia then you can buy chia shots from the health food section of the supermarket which are just about the right size for using in these

cupcakes

(although I don't think cupcakes are what they had in mind when they made them 😉 ).

If you can't get chia seeds then you can also use flax or linseeds.
Make sure you sift the chia after it's been ground to remove any slightly larger bits.
Make sure you measure the vinegar carefully. You only need a small amount so you cannot taste it in the finished cupcakes, but if you're at all heavy-handed your cupcakes will end up with a slight hint of vinegar which really isn't what you want from a cupcake.
The mixture is a little stiffer than a traditional egg-based vanilla cake mixture, but don't be tempted to add more almond milk as they'll most likely collapse during baking.

What You'll Need
Before you start, make sure you have all of the equipment needed.
NOTE – These are affiliate links which means that if you purchase from Amazon after clicking on one the product links below I may earn a small commission. All of the products linked are ones I use in my kitchen.
These cupcakes are baked in the oven.
A few extra notes about the recommended equipment
Muffin Tin(s) – These need enough holes to hold 14 cupcakes.
14 Cupcake Cases – I usually choose muffin cases as they're a little bigger.
Weighing Scales – I have included conversions to US cups/ounces within the recipe. However, for best results, I'd recommend weighing your ingredients as it's more accurate. For more information about how the cups conversions have been calculated take a look at my grams to cups calculator.
Measuring Spoons – When baking you should use proper measuring spoons rather than the ones you've got in your kitchen drawer for eating and making a cup of tea as they're much more accurate.
Mixer – I love my Kitchen Aid mixer (it's red and looks all pretty out on my worktop 🙂 ). You can also use a hand mixer and bowl, or simply a bowl and wooden spoon.
Spice Grinder – A spice grinder is needed to finely grind the chia seeds. You can also use a pestle and mortar but you will get your chia seeds more finely ground by using an electric grinder.
If you don't have a spice grinder or pestle and mortar then don't worry. You can leave the chia seeds out and still get good cupcakes. However, including them will give your cakes a better texture and make them that bit more delicious.
Cake Skewer – To test whether your cupcakes are ready. You can also use a barbecue skewer or a knife if you don't have a cake skewer. If you choose to use a knife be warned that it'll leave quite a large mark in the middle of your cake (although this can easily be covered with buttercream).
Cupcake Scoop – I like to use a cupcake scoop to fill my cupcake cases. I've not listed this in the list of equipment needed as you're absolutely fine just scooping the mixture into the cupcake cases with a spoon, but I prefer to use one as I find it less messy and easier to evenly split the mixture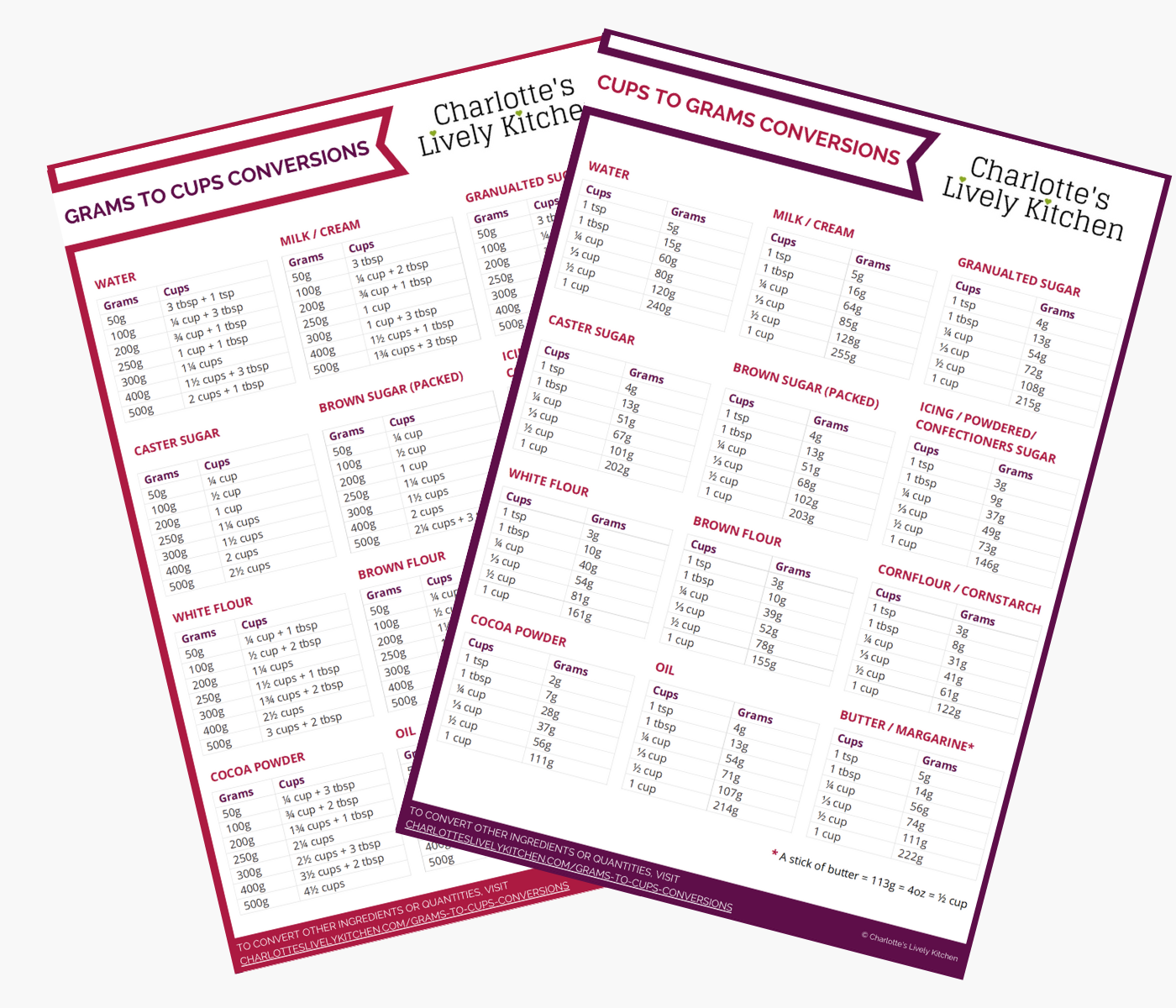 Subscribe to the Charlotte's Lively Kitchen mailing list to get your FREE printable grams to cups and cups to grams conversion charts for twelve popular baking ingredients
Vegan Vanilla Cupcakes
These vegan vanilla cupcakes are easy to make and taste delicious. No one would guess that they're egg and dairy-free.
Print
Pin
Rate
Save
Go to Collections
INGREDIENTS
270

g

self-raising flour

180

g

vegan margarine

-

I use Pure Sunflower

180

g

caster sugar

135

ml

almond milk

-

or other plant-based milk

2

tbsp

chia seeds

¾

tsp

white wine or cider vinegar

¾

tsp

bicarbonate of soda

1

tbsp

vanilla extract
Extras
14

cupcake or muffin cases
INSTRUCTIONS
Pre-heat your oven to 180°C/160°C fan.

Line a muffin tin (or two) with 14 cupcake/muffin cases.

Beat together the vegan margarine (180g), caster sugar (180g) and vanilla extract (1 tbsp) until combined and soft (the aim here is to ensure the margarine is soft so it's easy to mix in the other ingredients).

Finely grind the chia seeds (2 tbsp). I find this easiest in a spice grinder, but you can also do this in a pestle and mortar.

In a different bowl sift together the self-raising flour (270g), bicarbonate of soda (¾ tsp) and ground chia seeds.

Add the dry ingredients, the almond milk (135ml) and the vinegar (¾ tsp) to the margarine and sugar mixture and beat them together until combined.

As soon as the cake batter is ready, divide it between the 14 cupcake cases. Place into the oven and bake for 20-22 minutes until a skewer inserted into the centre comes out clean.

Once baked, remove the cakes from the oven. Leave the cakes to cool in the tin for about 10 minutes and then move them to a wire rack to cool completely.
NOTES
See the notes just above the recipe for a list of equipment needed to make these cupcakes.
These cupcakes are topped with my VEGAN VANILLA BUTTERCREAM.
WANT TO HEAR ABOUT NEW RECIPES FIRST?
SUBSCRIBE to the Charlotte's Lively Kitchen Mailing List
NUTRITIONAL INFORMATION
Calories:
198
kcal
|
Carbohydrates:
27.1
g
|
Protein:
2.3
g
|
Fat:
8.4
g
|
Saturated Fat:
2
g
|
Sodium:
162.4
mg
|
Fiber:
1.1
g
|
Sugar:
13.3
g
Any nutritional information provided is the estimated nutritional information per serving. Please refer to my guide to Charlotte's Lively Kitchen nutritional information if you would like to learn more about how this is calculated.
---
Free From/Suitable For
The ingredients I used to make this recipe are all free from the following allergens. However, please check any labels carefully for allergens you need to avoid as brands can vary, and product recipes can change over time.
Suitable for Vegetarians and Vegans
Egg-Free
Dairy-Free
Peanut-Free (contains almonds)
Sesame-Free
Soya-Free
Sulphite-Free
Lupin-Free
If you'd like to make these cupcakes nut-free then switch the almond milk for another suitable plant-based milk.
If you need these cupcakes to be egg-free but don't mind about dairy, then you can use regular butter or margarine instead of the vegan margarine listed and cows milk in place of the almond milk.
Pin This Recipe For Later