A beautiful vanilla bundt cake topped with smooth milk chocolate ganache and finished with colourful sprinkles.
Skip to the recipe | Recipe FAQs
Absolutely ages ago I bought myself a bundt tin as bundt cakes are just so pretty and I wanted to make cakes that beautiful. However, for months on end it sat in my cupboard unused.
The reason…
I was a little bit scared that my cake would get stuck in the fancy tin.
After staring at the tin in my cupboard for far too long, I realised I had two options:
Give up and donate the tin to a charity shop in the hope that someone else would enjoy making beautiful cakes in it, or
Just go for it. I would never discover if the cake would stick or not unless I actually baked it.
After finally plucking up the courage to get baking I decided to spend a bit of time developing a sponge that I felt would be perfect for a bundt tin.
I decided to adapt my popular vanilla birthday cake recipe (which is based on a Victoria sponge and is sadly a bit too soft and fluffy around the edges to cope with the complexity of the bundt tin).
My aim, now that I've mastered the vanilla, is to apply these adaptations to some of my other flavours to bring you a whole range of amazing bundt cakes.
Which favours would you like to see first? Let me know in the comments
So how does this vanilla bundt cake differ from my vanilla birthday cake?
1) It's cooked at a higher temperature
I like to cook many of my sponge cakes at 160°C/140°C fan. The reason for this is that cooking the cake more slowly, at a lower temperature gives you a softer, fluffier sponge.
However, soft fluffy sponges tend to have soft, fluffy edges which like to stick to the sides of tins. Cooking the cake at a higher temperature (180°C/160°C fan) creates slightly firmer edges to my sponge, which makes it less likely to stick.
2) It uses a greater quantity of flour
My vanilla birthday cake sponge uses equal quantities of flour, sugar and butter (as per a classic Victoria sponge). For this cake I've slightly increased the amount of flour relative to the other ingredients. This gives the cake more structure, meaning that:
It rises better in the deep bundt tin (cakes with less structure are more likely to sink in the middle during baking).
The better structure makes it slightly less fluffy, which as per point 1, above, makes it less likely to stick.
This greater quantity of flour means that you have a sponge which is more akin to a Madeira cake than a classic Victoria sponge.
3) It uses large eggs rather than medium
In my birthday cake I prefer to use medium eggs as once again this give a fluffier texture (you can read all about comparing the two here).
Once again, I wanted a cake with a little more structure, so switching to large eggs was the right move.
4) I cream together the butter and sugar
I'm a huge fan of an all-in-one sponge, as they're just so simple to make. However, for this cake I wanted to replace the fluffiness levels that were lost through 1-3 above, so I decided that creaming together the butter and sugar before adding the eggs (one by one) and other ingredients was the right move.
Beating your butter and sugar together before adding the other ingredients adds more air to your cake mixture, giving your sponge a better rise and fluffier texture. This isn't really needed in my vanilla birthday cake as my choice to use a low temperature and smaller eggs compensates, but for this sponge it makes a huge difference.
5) I use self-raising flour and don't add any additional baking powder
In my birthday cake recipe I like to add a little extra baking powder to the flour to give a bit of extra rise. The three steps above all combine together to mean that this is not needed as all contribute to giving a cake a greater rise.
Vanilla Bundt Cake FAQs
If it's your first time making this recipe or you have a question, please take a moment to have a read through my FAQs for some extra tips and allergen information.
What do you line a bundt tin with to ensure the cake doesn't get stuck?
If you can get hold of some from the shops, you can use cake release spray. However I like to use my homemade cake release (it's cheaper than the spray and also easier to get hold of the ingredients).
It's made from a combination of flour, vegetable shortening (e.g. Trex, Stork Baking Block or similar) and vegetable oil, and it's brushed onto the inside of your tin with a pastry brush.
How long does this cake last and how should it be stored?
The cake lasts up to five days if stored in an airtight container.
❄️ Suitable for freezing
The cake can be frozen in a freezer-safe airtight container.
Do I need to trim the bottom of the cake?
After baking, the bottom of this cake is not usually completely flat. For the images in this post I trimmed off about 1cm of cake to get a flat bottom. However, when making this for my family I usually just leave it. The choice is really yours depending on how rustic you want your cake to look.
What is this cake free from? Who is it suitable for?
The ingredients I used to make this recipe are all free from the following allergens. However, please check any labels carefully for allergens you need to avoid as brands can vary, and product recipes can change over time.
Suitable for Vegetarians
Tree Nut-Free
Peanut-Free
Sesame-Free
Sulphur Dioxide & Sulphite-Free
Lupin-Free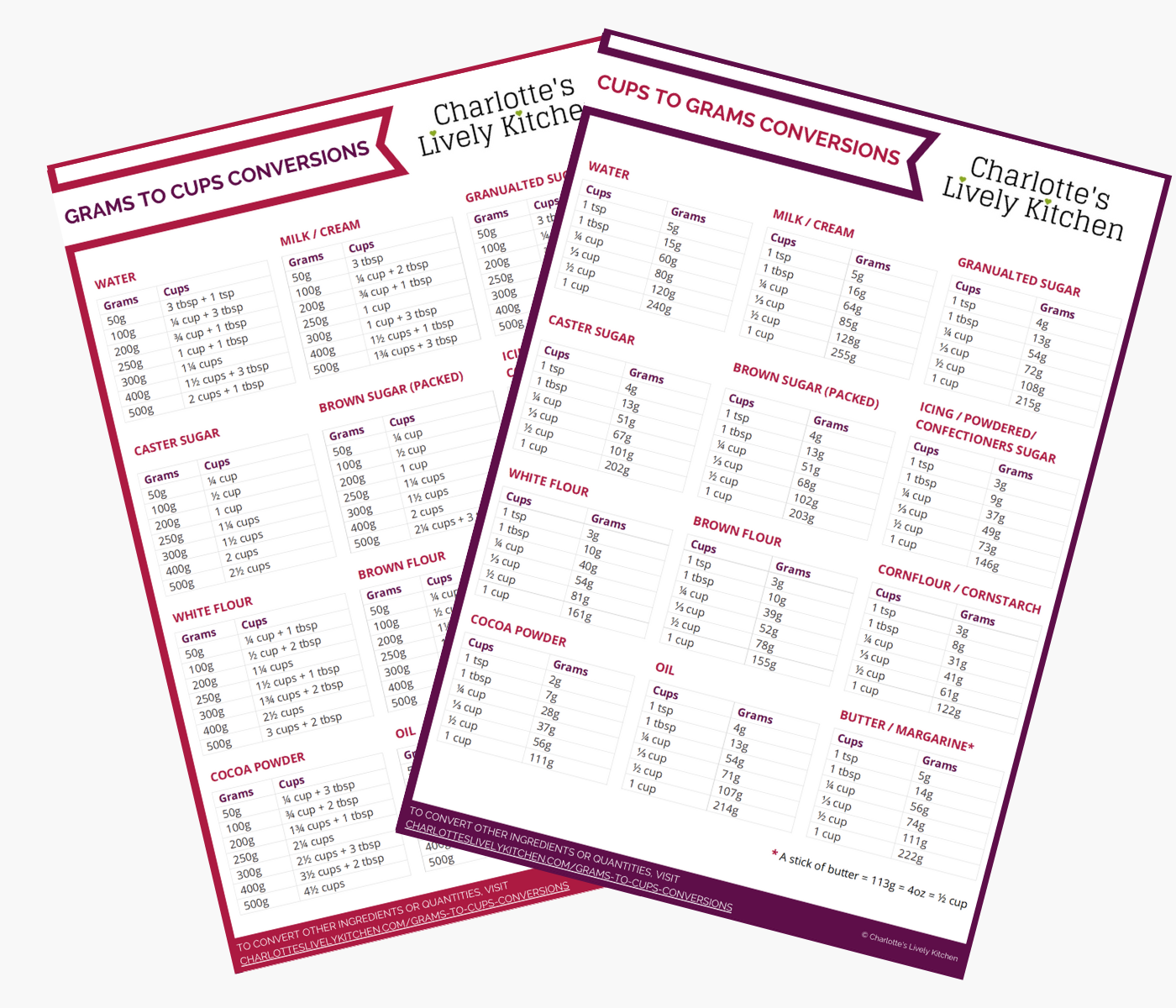 Subscribe to the Charlotte's Lively Kitchen mailing list to get your FREE printable grams to cups and cups to grams conversion charts for twelve popular baking ingredients
INGREDIENTS
10

g

homemade cake release -

or cake release spray

330

g

margarine or butter

-

if you're using butter, make sure it's soft at room temperature

330

g

caster sugar

6

large

eggs

360

g

self-raising flour

½

tsp

vanilla extract
Ganache Ingredients
100

g

milk chocolate

100

ml

double cream
INSTRUCTIONS
Pre-heat your oven to 180°C/160°C fan

Coat your bundt tin with homemade cake release or cake release spray. I use a 3 litre bundt tin, but the mixture doesn't fully fill the tin so you could use one a little smaller.

Beat together the margarine/butter (330g) and caster sugar (330g) until fully combined and light and fluffy.

Add the vanilla extract (½ tsp) and beat in the eggs (6 large) one at a time, ensuring each egg is fully combined before adding the next one. If your mixture starts to look a little split, then beat in 1 tbsp of your flour to the mixture.

Add the self-raising flour (360g) and fold into the other ingredients, taking care not to knock out all of the air beaten in previously.

Pour your cake batter into the prepared tin.

Bake for 45 minutes, until a skewer inserted into the centre of the cake comes out clean.

Leave the cake to cool into the tin for about 10 minutes before turning it out onto a wire rack to cool completely.
Make the ganache
Very finely chop the milk chocolate (100g).

Warm the cream (100ml) until not quite boiling (don't allow it to boil). Once hot, pour the cream over the finely chopped chocolate and mix together until all of the chocolate is melted.

Allow the ganache to cool to room temperature.
Decorate
Pour the ganache over the top of the cake – I use a piping bag to get the drip effect, but you can simply pour it over if you prefer.

Add some colourful sprinkles.
WANT TO HEAR ABOUT NEW RECIPES FIRST?
SUBSCRIBE to the Charlotte's Lively Kitchen Mailing List
NUTRITIONAL INFORMATION
Calories:
377
kcal
|
Carbohydrates:
39.7
g
|
Protein:
5.6
g
|
Fat:
22.1
g
|
Saturated Fat:
7.9
g
|
Sodium:
215.9
mg
|
Fiber:
0.7
g
|
Sugar:
24.3
g
Any nutritional information provided is the estimated nutritional information per serving. Please refer to my guide to Charlotte's Lively Kitchen nutritional information if you would like to learn more about how this is calculated.
---