A delicious and easy to make no-bake white chocolate cheesecake. A crunchy biscuit base topped with smooth, creamy and indulgent white chocolate.
Last year I shared my recipe for No-Bake Chocolate Cheesecake which has proved to be very popular. It led to several requests for a white chocolate version so I got to work in the kitchen.
I finally perfected this recipe a few months ago, but as Easter was coming I decided to tweak it to make a Mini Egg Cheesecake, perfect for that time of year. Time seems to have flown by since then, and I thought it was about time I shared the original white chocolate cheesecake recipe with you all.
Love White Chocolate As Much As I Do?
If you adore white chocolate as much as I do, then take a look at all of my White Chocolate Recipes or try some of these:
If you fancy try a different flavour of cheesecake, then take a look at all of my cheesecake recipes including my original no-bake chocolate cheesecake.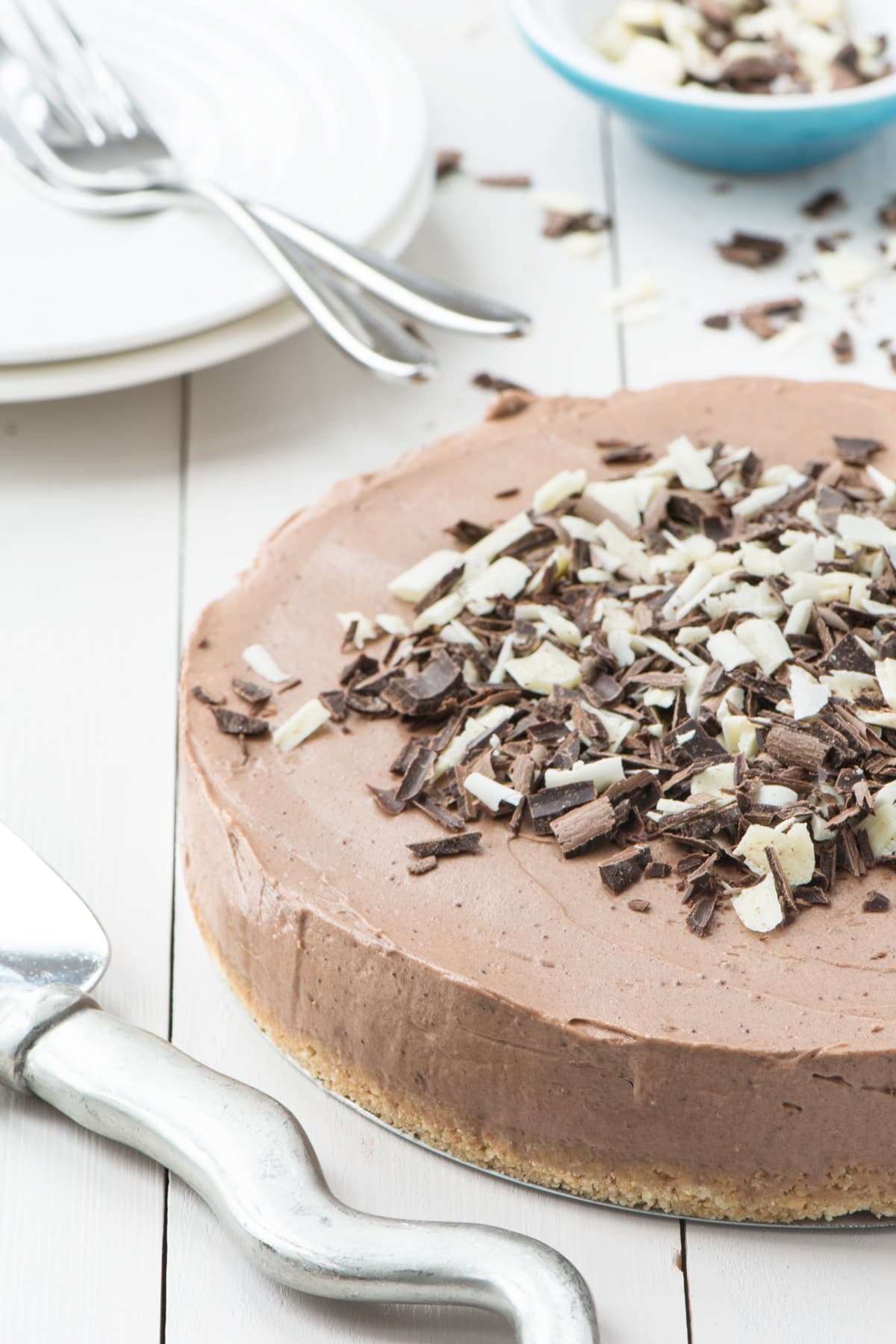 Can this cheesecake be frozen?
Yes!
The great thing about this cheesecake is that it can be made in advance and frozen.
How to store the cheesecake for freezing
You have three different options to store your cheesecake ready for freezing.
If you don't need the tin between making the cheesecake and serving it, you can leave the cheesecake in the tin (if it's freezer safe). Simply cover the top with clingfilm and freeze.
If you do need the tin, you can simply pop it into an airtight container once it's chilled or
If you are tight on freezer space, you can pop it into the freezer on a dish to freeze for a couple of hours. Once it's completely firm you can remove it from the plate and wrap it with cling film. As it's already frozen, it'll hold its shape. When you want to defrost it, remove it from the freezer and remove the clingfilm when it's still frozen and move it to your serving dish. You can then loosely cover it again to protect it if you want. Don't worry if you get a few clingfilm marks on the cheesecake when you wrap it as these can easily be smoothed away with a palette knife once it's defrosted.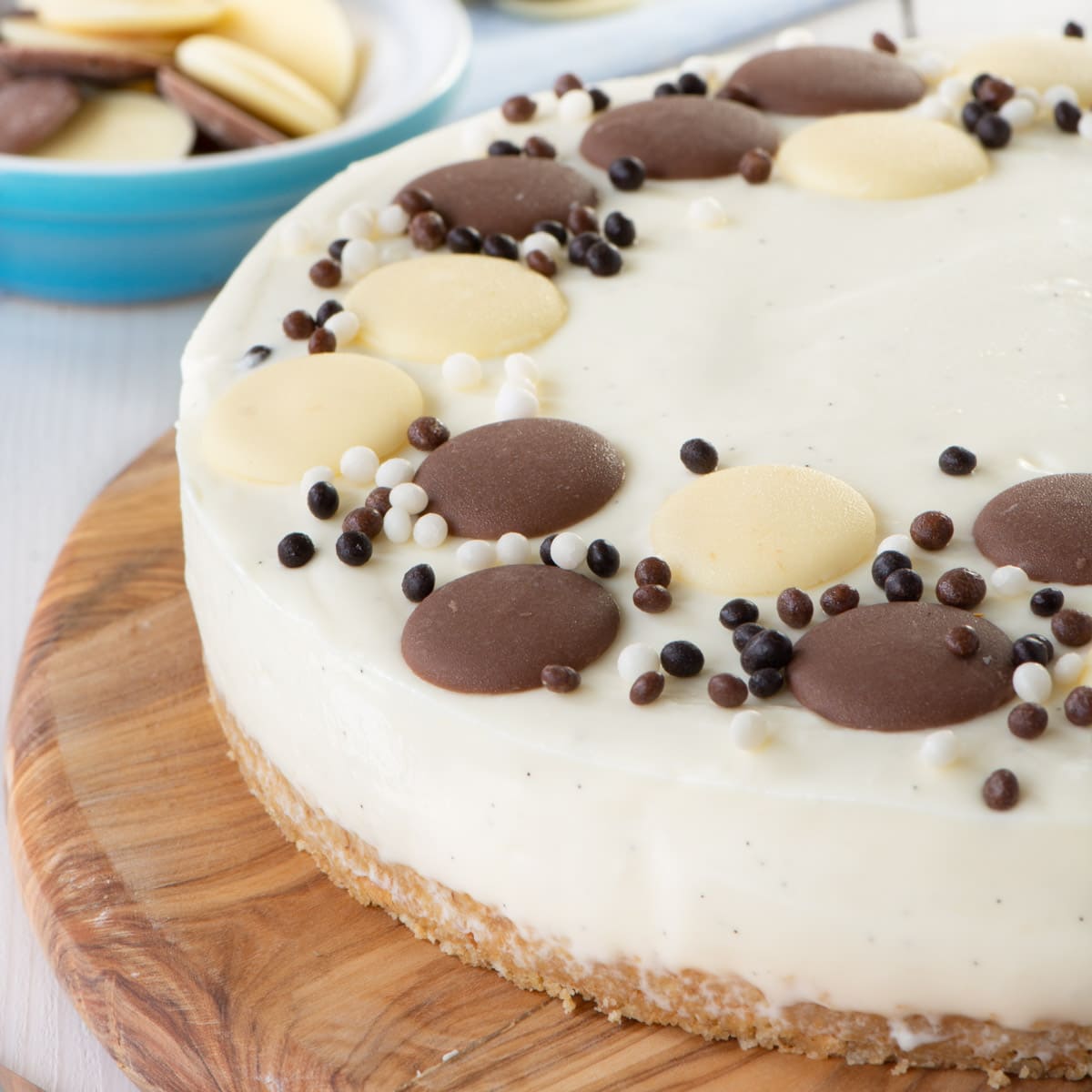 How to decorate your white chocolate cheesecake
I decided to keep the decoration of my cheesecake nice and simple, dotting white and milk chocolate buttons around the edge and adding some chocolate sprinkles. The milk chocolate buttons add a slightly different flavour and also a contrast to the pale colour of the cheesecake.
I decorated it like this as 1) it's very quick to do and 2) dotting things around the edge makes it easier to slice than piling them into the middle.
Alternatively, if you want something a little fancier looking then whip up 75ml of double or whipping cream and pipe eight swirls around the edge. Top each swirl with a chocolate button, some chocolate sprinkles or grated chocolate.
How to perfectly slice your cheesecake
This cheesecake is designed so that it's just firm enough to hold its shape, but is quite soft. This means it can be tricky to get a clean cut, especially for the first slice.
The trick to getting a perfectly clean cut is to warm your knife (I dip mine in a cup of hot water and then dry it). The warmth of the knife helps it to glide though the cheesecake giving a neat slice. Clean the knife and rewarm between each slice.
TIP Warm your knife before cutting your cheesecake for a perfect slice.
Free From/Suitable For
The ingredients I used to make this recipe are all free from the following allergens. However, please check any labels carefully for allergens you need to avoid as brands can vary, and product recipes can change over time.

Suitable for Vegetarians
Egg-Free
Tree Nut-Free
Peanut-Free
Sesame-Free
Sulphur Dioxide & Sulphite-Free
Lupin-Free
The cheesecake can be made gluten-free by switching the digestive biscuits for a gluten-free version.
White Chocolate Cheesecake (No Bake)
A delicious and easy to make no-bake white chocolate cheesecake. A crunchy biscuit base topped with smooth, creamy and indulgent white chocolate.
Print
Pin
Rate
Save
Saved!
INGREDIENTS
100

g

digestive biscuits

40

g

butter

250

g

cream cheese

100

g

caster sugar

175

g

white chocolate

150

ml

double cream

1½

tsp

vanilla extract
INSTRUCTIONS
Line the base of an 18cm round loose bottomed tin with greaseproof paper or a reusable baking liner.

Crush the digestive biscuits (100g) – I use a pestle and mortar, but you can also put the biscuits into a bag and bash them with a rolling pin too. I don't like to grind mine too finely as I like them to have a slightly crunchier texture.

Melt your butter (40g) and mix it with the crushed biscuits. Put the biscuit mix into the prepared tin and use the back of a spoon to push it flat. Put the tin into the fridge to chill while you make the topping.

Melt the white chocolate (175g). I melt mine in the microwave using 20 second bursts until the chocolate is just melted, stirring in between. You can also use a bain marie, or a saucepan over a very low heat if you prefer. 

Set the chocolate aside to cool – it must have cooled to room temperature before being added to the other ingredients.

Whip the double cream (150ml) until it forms a stiff peak.

Add the cooled, melted white chocolate to the whipped cream and whisk together.

Add the cream cheese (250g), caster sugar (100g) and vanilla extract (1½ tsp) and whisk into the cream & white chocolate mixture until combined and thick.

Remove the tin from the fridge and add the cheesecake mixture. Use a small palette knife or the back of a spoon to smooth the top (you'll need to push it down to avoid air bubbles before smoothing).

Refrigerate until the cheesecake has set.

About 30 minutes before you want to serve your cheesecake check it has set. If it's looking a little soft move it to the freezer for the remaining time to set completely before serving.

When you're ready to serve, carefully remove the cheesecake from the tin. If you find the edges have become a little smudged by the movement, run a palette knife around the edge to smooth it again.
NOTES
First time making this recipe? Make sure you read through all of the extra notes and FAQs below the recipe for some extra tips.
WANT TO HEAR ABOUT NEW RECIPES FIRST?
SUBSCRIBE to the Charlotte's Lively Kitchen Mailing List
NUTRITIONAL INFORMATION
Calories:
429
kcal
|
Carbohydrates:
33.9
g
|
Protein:
4.7
g
|
Fat:
30.7
g
|
Saturated Fat:
17.5
g
|
Sodium:
149.2
mg
|
Fiber:
0.4
g
|
Sugar:
28
g
Any nutritional information provided is the estimated nutritional information per serving. Please refer to my guide to Charlotte's Lively Kitchen nutritional information if you would like to learn more about how this is calculated.
---