Simnel Cake – My version of this classic Easter cake, a light almond fruit cake filled and topped with marzipan.
Skip to the recipe | Recipe FAQs
Two of the nation's favourite sweet treats are fruit cake and marzipan so I decided to add a recipe on here that perfectly combines to two – Simnel Cake.
For anyone not familiar with Simnel Cake, it's a cake that's traditionally made around Easter and is usually a light fruit cake which is filled and topped with marzipan. For my version I've opted to make a lightly spiced almond fruit cake. To compliment the marzipan and to really pack in the flavour, my dried fruit is soaked in Amaretto liqueur (although I've got plenty of alternative suggestions for soaking your fruit if you want to avoid alcohol or don't have any Amaretto).
I wanted to really focus on the recipe in this post rather that digging into the origins of Simnel cake, but if that's something you're interested then head over to this link to read more about the history of Simnel cake.
I've based this recipe on my very popular marzipan and cherry cake, but I've made a few tweaks to ensure the cake works well with all the extra fruit that's been added.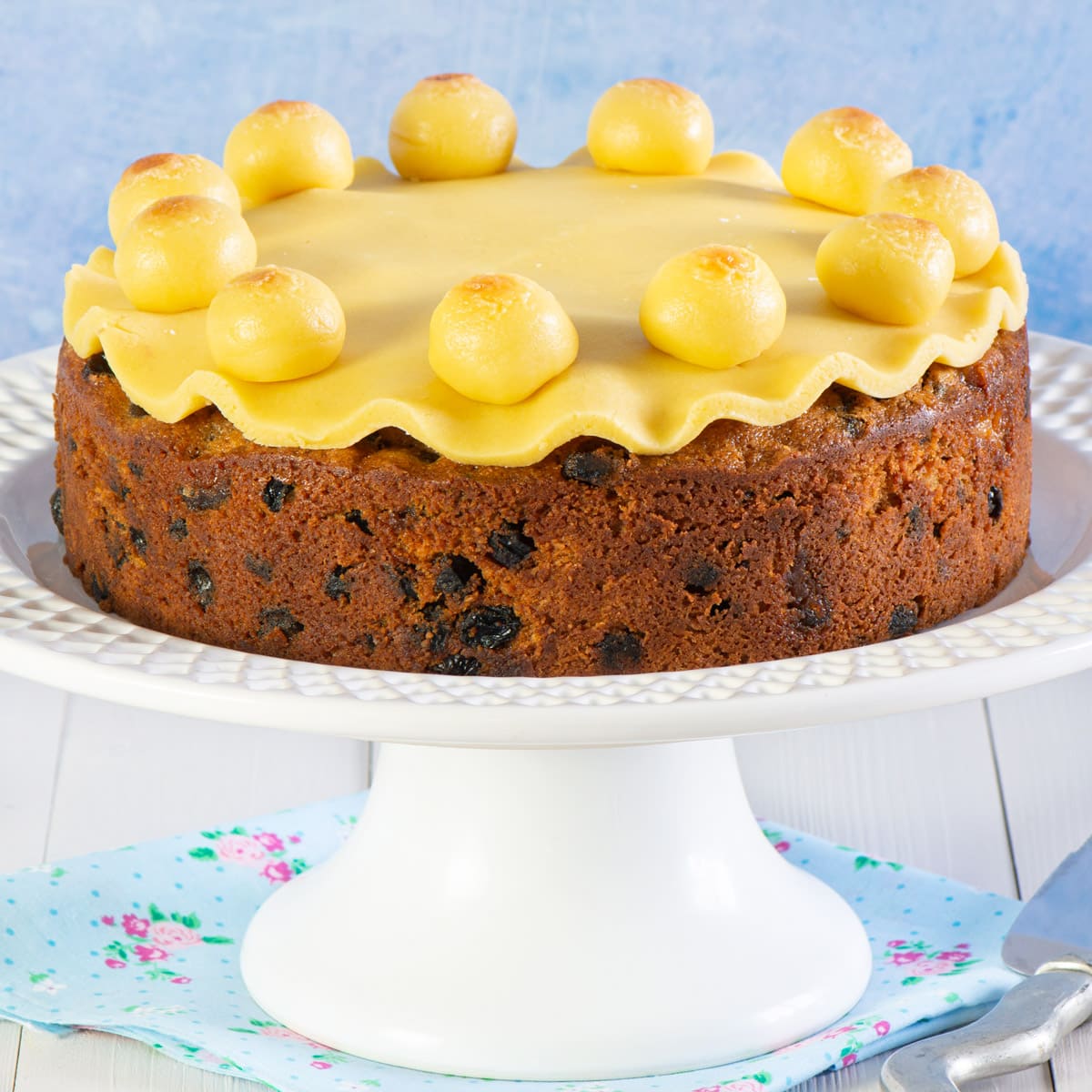 Simnel Cake FAQS
If it's your first time making this recipe or you have a question, please take a moment to have a read through my FAQs for some extra tips and allergen information.
How long does this cake last and how should it be stored?
This cake can be eaten for up to a week after baking as long as it's stored in an airtight container.
❄️ Suitable for freezing
This cake is suitable for freezing either with or without the marzipan decoration. To freeze the cake either wrap it in clingfilm or place it in an airtight, freezer-safe container.
Make sure you defrost the cake thoroughly before serving.
Why do I need to soak the dried fruit?
There are two reasons why I soak the fruit before adding it to my fruit cake.
Firstly, dried fruit can be, well, a little dry. Soaking the fruit before baking makes sure you have lovely plump and juicy fruit in your cake, adding to the flavour and texture of your bake. It also helps to ensure that any fruit on the surface of the cake doesn't burn while it's in the oven.
Secondly, I soak my fruit to add extra flavour. I've chosen to soak my fruit in Amaretto liqueur as this really compliments the almond in the sponge and the marzipan. However, there are plenty of other options you could choose.
What can I use as an alternative to Amaretto liqueur to soak my fruit?
I've chosen to soak my fruit in Amaretto as it adds a bit of a kick to the cake as well as a lovely almond flavour.
However, if you're not a fan of Amaretto, want your cake to be alcohol-free, or don't have any in the cupboard, there's plenty of other alternatives you could use, including:
Other spirits such as brandy (this would be especially good if you want to make a Christmas version of this cake).
Orange juice
Strong tea (either regular black tea or a herbal variety)
Water (you'll get less flavour with this option, but you'll still get the benefit of plump juicy fruit in your cake).
You recommend soaking the fruit for 24 hours, can I soak it for less time?
I recommend soaking the fruit the day before you want to bake your cake so that it has plenty of time to plump up and infuse with flavour. However, if you're pushed for time you could soak it for just an hour or so.
I find that when I soak the fruit overnight, the majority of the liquid is absorbed into the fruit so there's no need to drain it before adding it to the cake mixture. If you soak the fruit for less time, then I'd recommend draining the excess liquid before adding the fruit to the cake, otherwise the additional liquid will change the texture of the cake.
Serves 11? Really?
I know, serves 11 sounds like a bit of an odd number. Usually my 20cm round cakes serve 12. The reason I've stated it serves 11 is down to the fact that a Simnel cake traditionally includes 11 balls of marzipan as decoration (one for each of Jesus' apostles minus the traitor Judas).
To make sure each person having a slice of cake gets a marzipan ball on top I've said this serves 11. If you're not too bothered about tradition then stick 12 balls on top and increase the number of servings (or use fewer and give everyone a bigger slice 😊).
Can I use a layer of marzipan in the middle of the cake instead of chopping it?
Yes, that will work well.
Many Simnel cakes have a layer of marzipan running through the centre. This is done by adding half of the cake mixture to the tin, rolling out your marzipan into a circle the same width as the cake, adding this to the tin and then adding the remaining mixture on top before baking.
I decided to chop my marzipan as firstly, I find it a little quicker and easier to do and secondly, having the marzipan scattered through the cake helps to ensure that it cooks all the way through to the bottom and rises well in the middle.
Do I have to include the marzipan decoration?
No, this cake is also delicious without it.
My Simnel cake is decorated with marzipan as that's one of the key elements of a traditional Simnel cake. However, if you're simply after a delicious light fruit cake with hints of almond then this cake is perfect without the decoration.
If you're worried about your cake looking a little plain without the decoration you could sprinkle over 25g of flaked almonds before baking.
How can I ensure that my marzipan balls are equally spaced on my cake?
I have to confess that to ensure that my marzipan balls were evenly spaced I raided my boys' maths kit and used a protractor to mark where they needed to be. If you fancy being as precise as me then you'll need to mark every 33°.
I also weighed the marzipan for each of the balls to ensure that there was exactly 10g in each one.
Can you suggest how to adjust the cake to reduce the calories per portion?
As this cake contains (a lot of) marzipan it is a higher in calories than some other cakes. If you're after a lighter Simnel cake then you can:
Swap the ground almonds in the recipe for the same weight of plain flour.
Soak the dried fruit in water or tea instead of Amaretto liqueur.
Leave off the marzipan decoration or use only the 11 balls and not the full marzipan circle.
Making these three changes would reduce the calorie content per slice by approximately 275kcal.
What is this recipe free from? Who is it suitable for?
The ingredients I used to make this recipe are all free from the following allergens. However, please check any labels carefully for allergens you need to avoid as brands can vary, and product recipes can change over time.
Suitable for Vegetarians
Peanut-Free (contains almonds)
Sesame-Free
Soya-Free
Lupin-Free
Other Easter recipes you might enjoy
If you're looking for some more Easter baking inspiration head on over to my Easter recipe index. Which includes other traditional Easter recipes such as Maltese figolli biscuits as well as some fun Easter bakes like my Mini Egg cookies.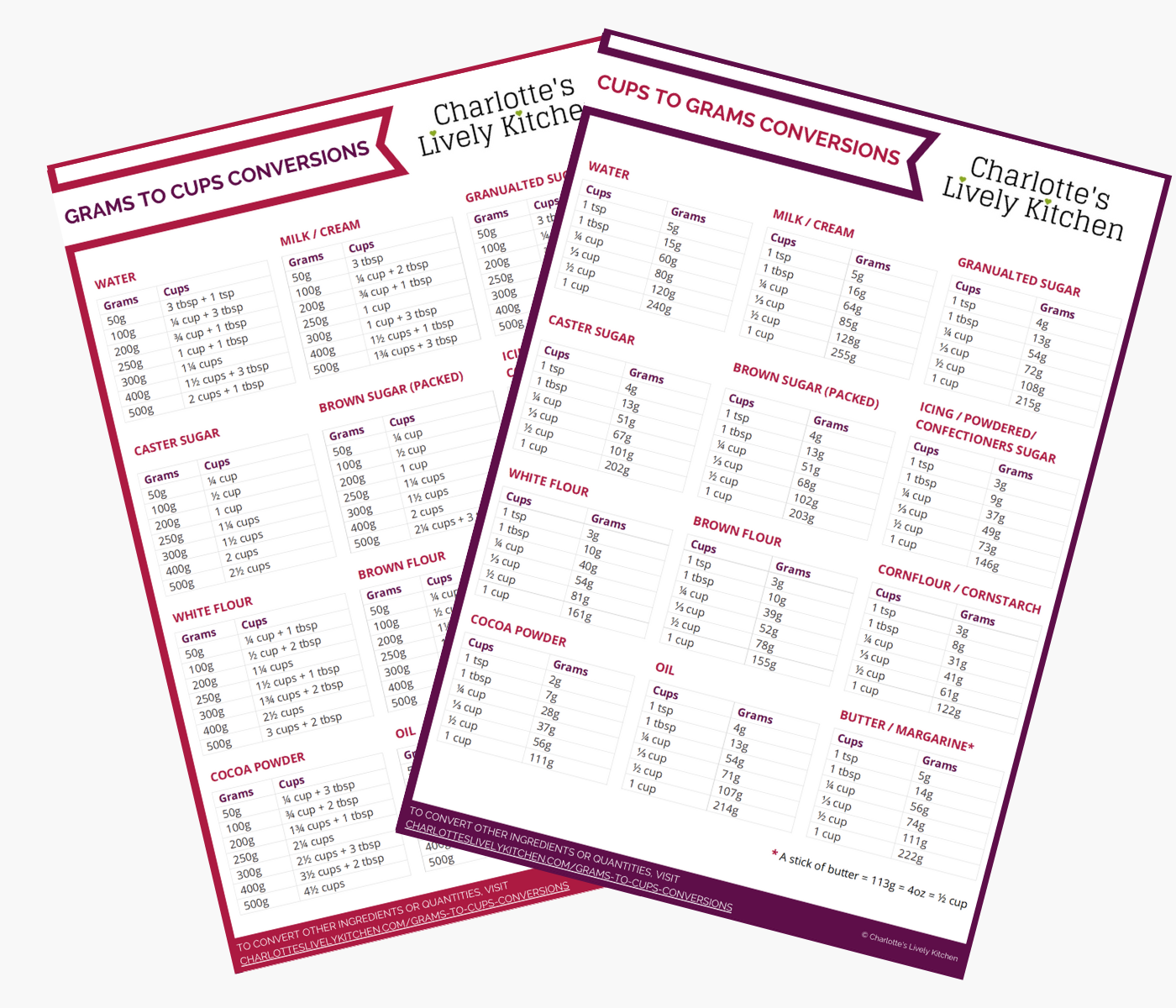 Subscribe to the Charlotte's Lively Kitchen mailing list to get your FREE printable grams to cups and cups to grams conversion charts for twelve popular baking ingredients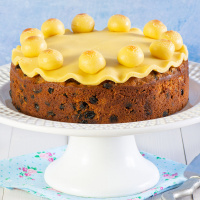 Simnel Cake
My version of this classic Easter cake, a light almond fruit cake filled and topped with marzipan.
Print
Pin
Rate
Save
Go to Collections
Cook Time:
1

hour
20

minutes
Total Time:
1

hour
50

minutes
+ SOAKING THE DRIED FRUIT:
1

day
INGREDIENTS
For the fruit cake
150

g

unsalted butter or margarine

-

soft and at room temperature

2

large eggs

150

g

soft light brown sugar

-

you could also use dark brown or muscovado sugar

150

g

self raising flour

150

g

ground almonds

300

g

mixed dried fruit

100

g

glacé cherries

225

ml

Amaretto liqueur

-

See recipe FAQs for alternatives

150

g

marzipan

Zest of 1 orange

2

tsp

ground mixed spice

⅛

tsp

salt
To decorate
410

g

marzipan

A little icing sugar
INSTRUCTIONS
The day before you want to bake your cake (See FAQs for notes on if you want to bake your cake the same day)
Roughly chop your glace cherries (100g).

Place your chopped glace cherries and dried mixed fruit (300g) into a large bowl. Add the Amaretto liqueur (225ml). Cover the bowl and soak the fruit in the liqueur overnight.
Make the fruit cake
Pre-heat your oven to 160°C/140°C fan

Line a deep 20cm cake tin with greaseproof paper or reusuable baking liners.

Finely grate the zest of 1 orange.

Chop the marzipan (150g) into roughy 1cm cubes.

Beat the butter (150g) and soft light brown sugar (150g) until light and fluffy

Add the eggs (2 large) one at a time. Beat well after after adding the first egg before adding the second.

Fold in the self-raising flour (150g), ground almonds (150g), ground mixed spice (2 tsp) and salt (⅛ tsp).

Add the soaked fruit, orange zest and marzipan chunks into the cake mixture and fold until they're evenly distributed.

Put the cake mixture into your prepared tin and bake for c. 1 hour 20 minutes until a skewer inserted into the centre comes out clear.

Note – if you hit a warm marzipan chunk with your skewer it will come out sticky even if the cake is cooked through, so you may want to check a couple of spots to double check if it's not clean first time.

Once baked, remove the cake from the oven and leave it to cool in the tin for about 20 minutes. Remove the cake from the tin and transfer it to a cooling rack and allow it to cool completely.
Decorate your cake
Sprinkle your work surface and rolling pin with a little icing sugar. Take 300g of your your marzipan and roll it out into a circle the same size as your cake.

To ruffle the edges as I have done in the images, place a finger below the marzipan circle and gently push down either side (you need to be careful doing this to ensure you don't split the marzipan). Repeat around the edge of the circle.

Lay the marzipan over the top of your cake.

Split the remaining marzipan (110g) into 11 equal sized pieces. Roll each one into a ball and place them equally spaced around the edge of the cake. If they won't stay where you've put them you can use a small amount of water or a little beaten egg white to help them to stick.

Pop your cake under the grill until your marzipan ball have started to brown on top (keep a close eye on your cake as the colour can turn very quickly). Alternatively you can give each marzipan ball a short blast with a blow torch to achieve the same effect or just grill the balls before placing them on top of the cake.
WANT TO HEAR ABOUT NEW RECIPES FIRST?
SUBSCRIBE to the Charlotte's Lively Kitchen Mailing List
NUTRITIONAL INFORMATION
Calories:
713
kcal
|
Carbohydrates:
98.2
g
|
Protein:
10.5
g
|
Fat:
26.4
g
|
Saturated Fat:
8.6
g
|
Sodium:
85.5
mg
|
Fiber:
4.2
g
|
Sugar:
72.4
g
Any nutritional information provided is the estimated nutritional information per serving. Please refer to my guide to Charlotte's Lively Kitchen nutritional information if you would like to learn more about how this is calculated.
---