Homemade pumpkin pie is the taste of autumn with crisp shortcrust pastry and a soft, creamy spiced pumpkin filling.
I only recently tried pumpkin pie for the first time, I'd been avoiding it on the basis that I didn't like the idea of it (surely veg in a pie should be savoury) rather than for any "real" reason. Anyway it turns out that I was in fact being a fool as it's actually really yummy. It has crisp sweet shortcrust pastry and a delicious, custard-y centre flavoured with autumnal spices.
Given how yummy it was, I decided that I wanted to make my own. Annoyingly this then turned out to be a bit of an epic task with a few (still edible but not quite right) pie fails before the taste, texture and appearance was just how I wanted it to be.
Fortunately having messed it up a few times I can now share all of the tips I picked up to get it just right so you won't have to go though the same pie pain as me (it's honestly pretty simple when you know how and if you don't fancy doing all the steps you can always use ready-made pastry).
Before I get on and tell you all the things that could go wrong and how to cleverly avoid them, I really want to take a few moments to sell the idea of a pumpkin pie to anyone who hasn't tried one and is a touch sceptical.
If you like custard (this has a very custard-y texture) and autumnal spices (cinnamon, ginger, etc) then you should definitely give pumpkin pie a try, there's absolutely no need to worry about the pumpkin flavour as is pretty subtle alongside all of the cream, sugar and spices that have been added alongside it.
I suspect in a blind taste test you probably wouldn't pick it out. It does however give you 0.3 of your 5-a-day so it's definitely adding something (although sadly I'm not convinced that converts this into the dizzy heights of being considered a "healthy" recipe)!
Anyway, if you fancy giving it a try (or you've made troublesome pumpkin pie in the past), here's some tips to hopefully help you get it just right…
Pumpkin Pie Troubleshooting
My pumpkin pie has a soggy bottom
You need to blind bake (cook) the pastry before adding the filling. The pumpkin pie filling is very wet and if you add it into raw pastry it'll soak in making the pastry too soft to cook properly. Baking the pastry first should ensure that your crust is crisp.
My pie crust is over-cooked/burnt
The problem with blind baking the pastry is that it really doesn't need the extra 25-30 minutes of cooking time needed to cook the pie filling. Most of the pastry will be fine as it's protected by the tin, but the top edges can burn. To stop this happening, I wrap a ring of tin foil around the edge of the tart tin, just turning it inwards a little to protect the edges.
My pastry sticks when I try and roll it out
While we're on the subject of pastry, it can be tricky sometimes and sticks to the work surface/rolling pin when you try and roll it out. There are three ways I use to get around this…
Chilling the pastry before trying to roll it out seems the make it less sticky.
Lightly flouring your work surface and rolling pin should help stop it sticking.
(My favourite) Place a sheet of cling film below and on top of the pastry while you roll it out, you can then easily peel off the cling film and lift it into your tart tin. You can even use the bottom sheet of clingfilm to help you lift it, great if you're making a large tart or pie where it can be tricky to lift in one piece.
My pastry collapsed when I blind baked it
My final pastry tip is to ensure that you chill the pastry after you've lined your tin but before cooking, this will help it to hold it's shape while it's cooking.
The top of my pumpkin pie has cracked
This happens either because the pie has been overcooked in the oven (the pie filling will puff up and crack as it does so) or the pie has cooled too quickly. To stop this happening I turn the oven off relatively early (after just 25-30 minutes) but leave the pie in the oven to cool. This has two benefits…
Leaving it in the warm oven helps ensure that the middle of the pie sets perfectly so it's soft but not runny.
It cools slowly, reducing the chance that it'll crack.
My pumpkin pie filling is grainy rather than smooth
This pie filling should be smooth like custard, if it's gone a bit grainy then that's a sign that it's overcooked. I avoid this by reducing my cooking time and cooling the pie in the oven (as I described above). It can be tricky to know when it's done (set at the edges and wobbly in the middle is a bit open to interpretation isn't it?). A sure sign that it's time to turn the heat off is if the filling starts to puff up. If you see that happening then get the heat off! I tend to go a bit "Bake Off" after it's been in the oven for 25 minutes, sitting on the floor, keeping a close eye through the oven door.
---
In all honesty, none of these problems is a reason not to serve your pie (unless of course you've had big problems with no. 1 and your pastry is completely raw) it'll still taste good, so if you do have any problems then just enjoy it anyway and remember these tips for the next time.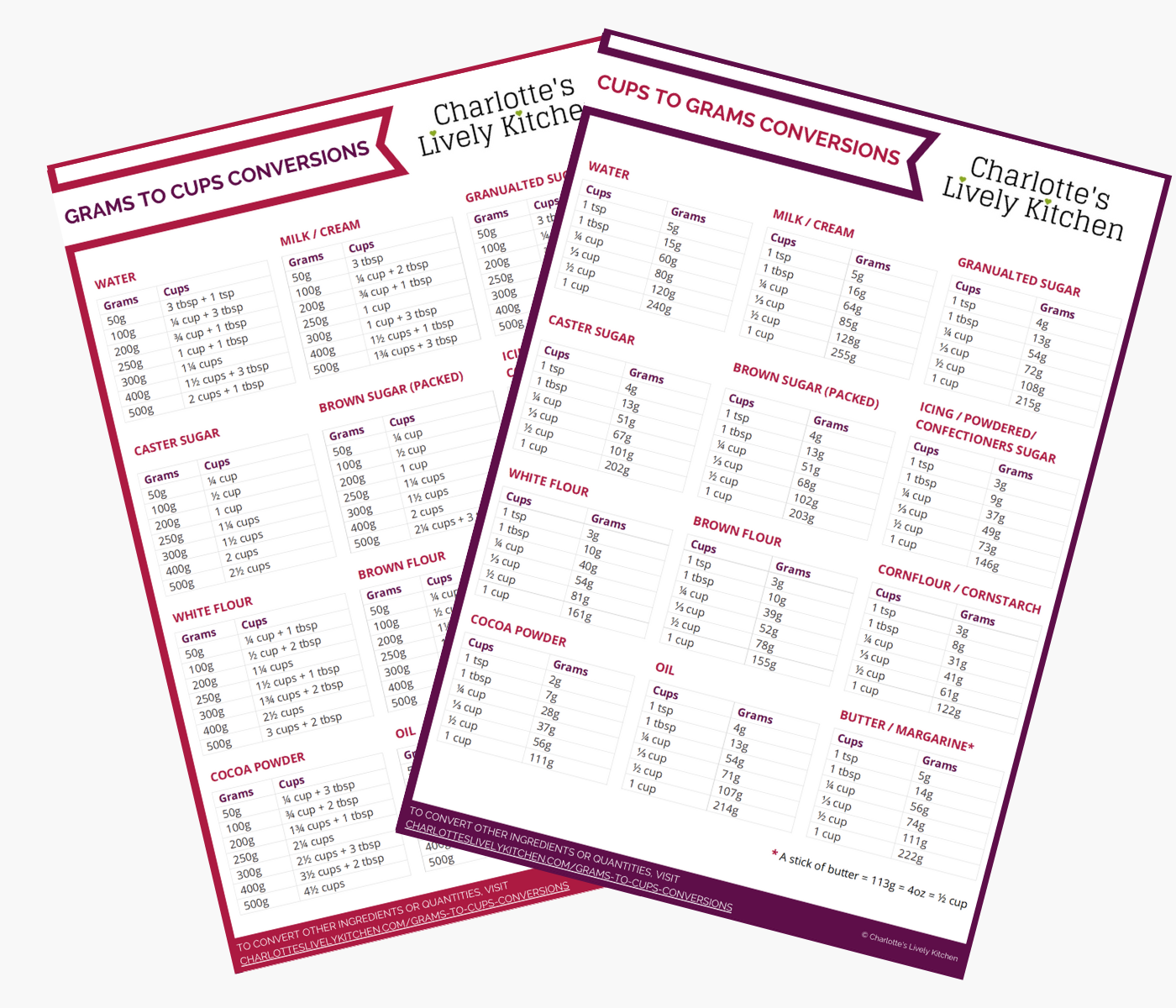 Subscribe to the Charlotte's Lively Kitchen mailing list to get your FREE printable grams to cups and cups to grams conversion charts for twelve popular baking ingredients
Pumpkin Pie
Homemade pumpkin pie is the taste of autumn with crisp shortcrust pastry and a soft, creamy spiced pumpkin filling.
Print
Pin
Rate
Save
Go to Collections
Total Time:
1
hour
50
minutes
Chilling Time:
30
minutes
Equipment
Large bowl

Small sieve

Measuring spoons, jug & scales

Spoon & fork

Small sharp knife

Rolling Pin

Pastry brush

Cling film, tin foil & greaseproof paper

Baking beads

7" tart/quiche tin (I use one with little holes as they apparently help the pastry to cook better)

Leaf cookie cutter
INGREDIENTS
For the pastry (see note 1)
For the pie filling
200

g

pumpkin purée -

Click for my easy recipe for making your own

80

g

soft light brown sugar

100

ml

double cream

1

egg

1

tsp

cornflour

½

tbsp

pumpkin spice -

I use 1 tsp ground cinnamon, ½ tsp ground ginger, pinch of ground cloves and pinch of ground nutmeg

Pinch

of salt

A little milk
INSTRUCTIONS
If you're making your own pumpkin purée, then do this first before starting the other steps so it has time to cool.
Make the pastry
Cut the butter (125g) into cubes. Put the flour, caster sugar and butter into a large bowl and rub together with you fingertips until it resembles breadcrumbs.

Lightly beat one of the eggs and add it to the bowl. Mix to combine and then bring the mixture together with your hands.

Roll out the pastry to about the thickness of a £1 coin (c.3mm) and line your tart tin with the pastry, trim off any excess and put to one side to make the decorative leaves. Prick the bottom and sides of the pastry with a fork. Cover with clingfilm and put into the fridge to chill for about 30 minutes.

Blind bake the pastry

Heat your oven to 200ºC/180ºC fan.

Place a sheet of greaseproof paper inside the pastry crust and add some baking beads (or dry rice or beans if you don't have any baking beads). Take a little care to ensure that the beans go right to the bottom edges.

Bake the pastry for 10 minutes, remove from the oven and carefully lift out the greaseproof paper and beads and bake for a further 10 minutes until the crust is light brown in colour.

While the pastry crust is cooking, roll out the excess pastry you saved earlier and use a cutter to cut out leaf shapes (if you don't have a cutter then you can cut them with a sharp knife). Place them onto a baking sheet, brush in a little milk (to help give them a nice colour) and bake for 10-15 minutes until golden brown.
While the crust is cooking, make your pumpkin pie filling
Put the pumpkin purée (200g), light brown sugar (80g), cornflour (1 tsp - sift this in to avoid any lumps), double cream (100ml), 1 egg, spices (1 tsp ground cinnamon, ½ tsp ground ginger, pinch of ground cloves, pinch of ground nutmeg) and a pinch of salt into a large bowl and whisk to combine.

Get some tin foil and form it into a circle the same size as the tart tin (if you wrap this around the tin it'll stop the top edge of the pastry over-cooking).

Once the pie crust has finished blind baking, remove it from the oven and reduce the heat to 180ºC/160ºC fan. Pour this filling into the pie crust. Place the tin foil ring around the tart tin (carefully!) and bake for 25-30 minutes until the edges are set but the middle still wobbles. If you see the top start to puff up then take that as a sign that it's time to turn the heat off.

Once you've reached that stage, turn off the oven but leave the pie in and open the door a little to let out some of the heat (cooling the pie slowly this way ensures that it sets fully without overcooking).

Once cooled, decorate with pastry leaves and serve.
WANT TO HEAR ABOUT NEW RECIPES FIRST?
SUBSCRIBE to the Charlotte's Lively Kitchen Mailing List
NUTRITIONAL INFORMATION
Serving:
1
slice
|
Calories:
378
kcal
|
Carbohydrates:
40.9
g
|
Protein:
5.5
g
|
Fat:
20.9
g
|
Saturated Fat:
12.5
g
|
Sodium:
40
mg
|
Fiber:
1.6
g
|
Sugar:
16.3
g
Any nutritional information provided is the estimated nutritional information per serving. Please refer to my guide to Charlotte's Lively Kitchen nutritional information if you would like to learn more about how this is calculated.
---
Free From/Suitable For…
Suitable for Vegetarians
Nut-Free
Soy-Free
The ingredients for this recipe are easily available free from all these allergens. However, please ensure you double-check allergen information for all ingredients.