Summer berry and custard tarts – crispy pastry filled with creamy vanilla custard and topped with fresh, juicy berries. A delicious, elegant summer dessert.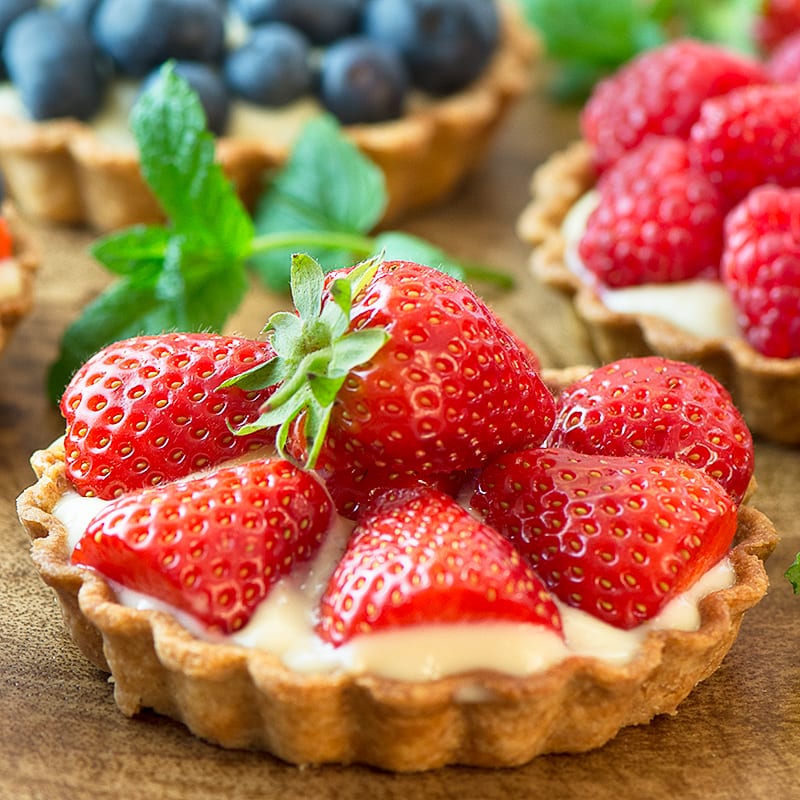 I suspect I've actually developed a bit of a summer fruit addiction. As soon as I finish one recipe, I'm off to stock up on more for the next one. I should probably figure out to grow them in my garden and save myself a fortune, but sadly I'm pretty much the least green figured person you could meet.
As well as my berry addiction I also seem to have developed somewhat of a food photography addiction, especially when it comes to the summer berries and I think I may have got a bit carried away with this one. So I have decided today's post is going to be full of pretty pictures of summer tarts as I can't narrow them down to my favourite few. I hope you enjoy them. If in fact you don't want to go through all of my pretty pictures then you can always skip straight to the recipe and get cooking now (although if you want an extra tip for rolling out pastry more easily or a grown-up twist for the recipe then make sure you keep on reading).
My favourite picture
For the main picture for this post, I most liked the strawberry one at the top as it shows a whole range of fruits that can be used to fill the tarts. But this blueberry tart sprinkled with icing sugar was a really close contender…
The action shots
I absolutely love "action" shots with people cooking but I don't often try them as I'm normally photographing alone (by alone I mean with a two year old and four year old under my feet). When the opportunity to employ a hand model shows up, I make sure to make the most of it!
The icing sugar shot
Another shot I've been eager to try for a while is sprinkling icing sugar. I was pretty pleased with my first attempt although I'd like to get the icing sugar more defined in future. This requires a much faster shutter speed but we didn't really have enough light to speed it up any more. Next time I'll have to wait for a dry, still day and try heading outside. I just hope my neighbours aren't watching out of the window or they'll think I'm a little crazy.
A little trick to make rolling out pastry a bit easier
Before I get on with the recipe there's a little tip I want to share to help making these tarts a little easier. I've mentioned it before in my post about mince pies, but it's even more useful here as the pastry needs to be thin otherwise it'll overwhelm the flavour of the custard and berries.
I don't know about you but I tend to find that my pastry has a horrible habit of sticking to the rolling pin. If it starts doing this I simply put it between two sheets of clingfilm and roll on top of that. The cling film then peels off easily leaving you with perfectly flat pastry.
When I'm making tarts like this I tend to roll out the pastry one tart at a time, as it's thin it can be easy to poke a hole in it while you're transferring it to the tin. I peel off the top layer of cling film and the lift the pastry up still on the bottom sheet and carefully flip it over into the tart tin. The clingfilm helps to hold it together so that it makes it into the tin in one piece.
Don't worry if you make a hole (unless it's huge in which case screw it up and roll it out again). You'll actually need to make some small holes in the pastry to let out any air while it's cooking and if it's a little bigger you can always patch it up with a little leftover pastry.
A little grown up twist
If you have any pimms to hand this tastes delicious mixed in with the custard just before you fill the tart. Stir it in a little at a time and have a little taste as you go until the flavour is just right.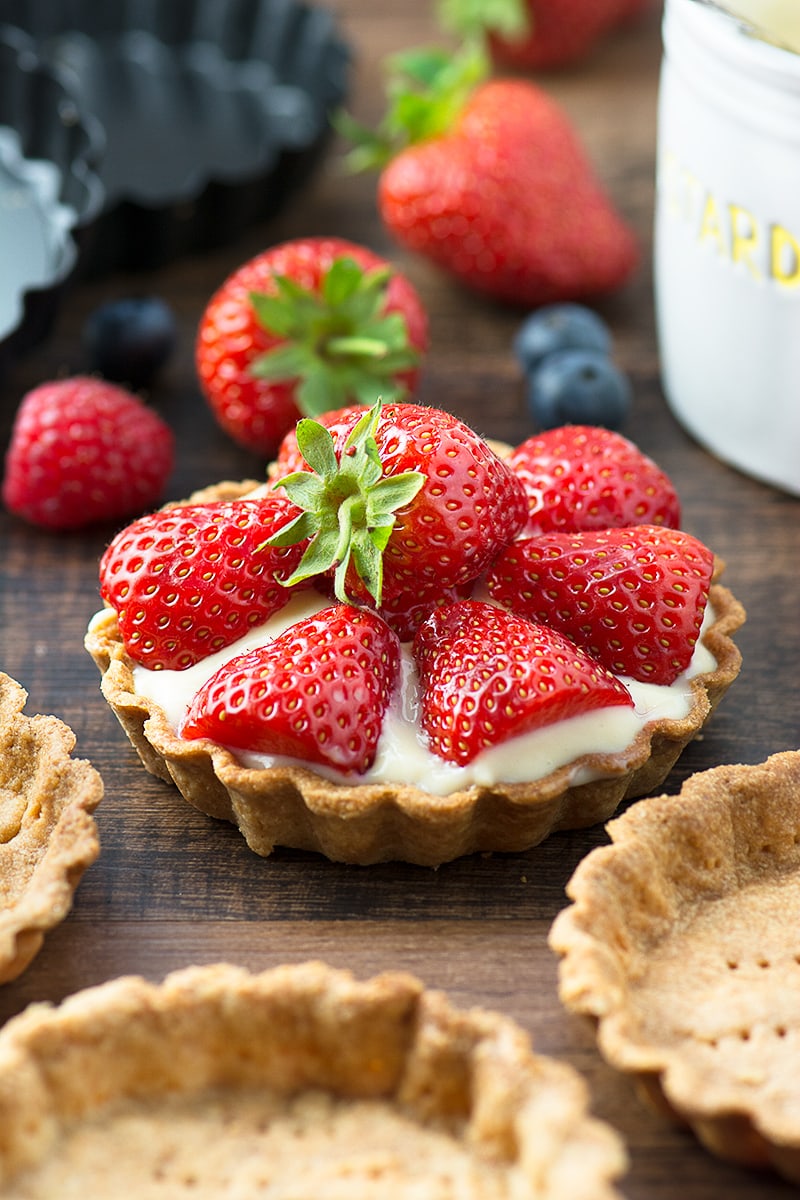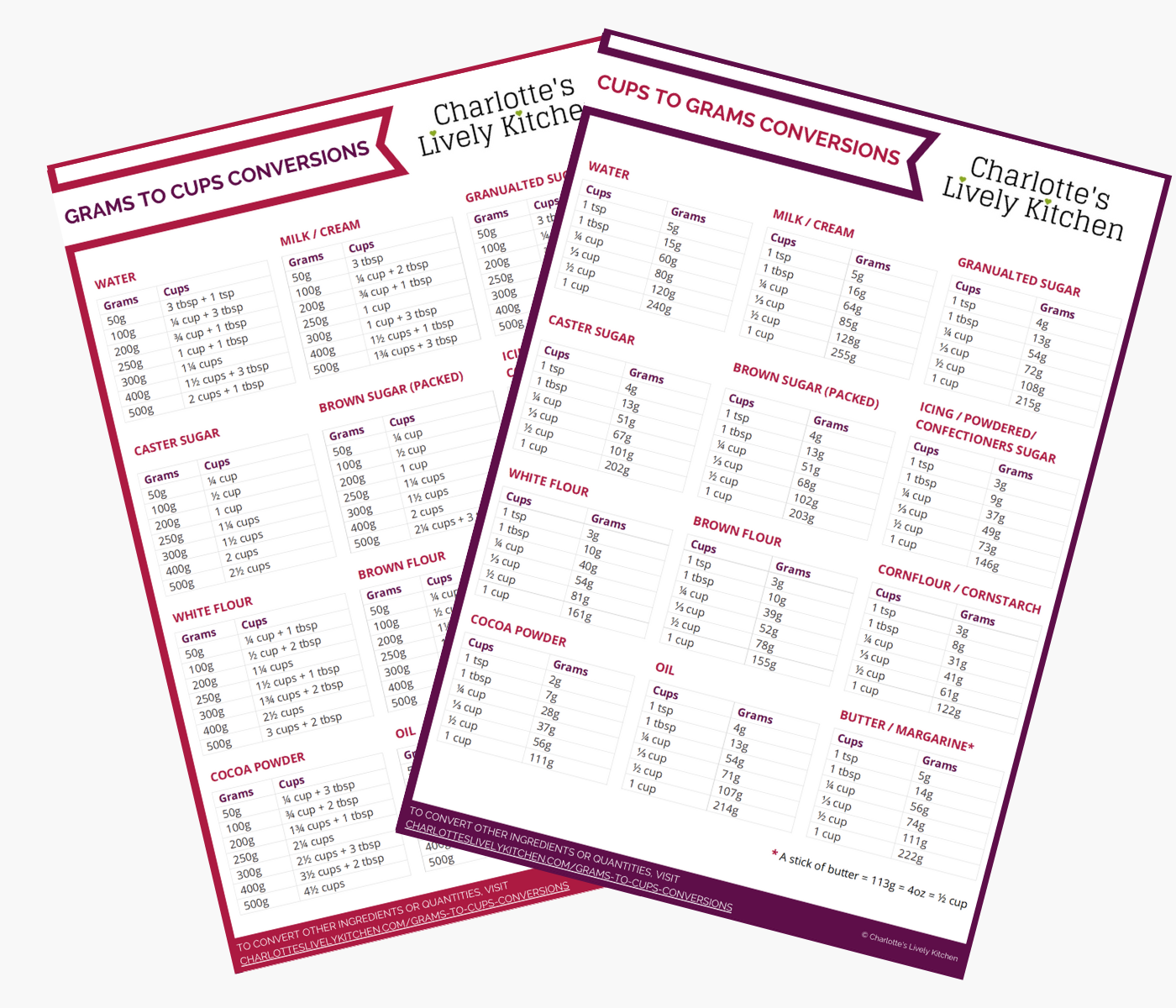 Subscribe to the Charlotte's Lively Kitchen mailing list to get your FREE printable grams to cups and cups to grams conversion charts for twelve popular baking ingredients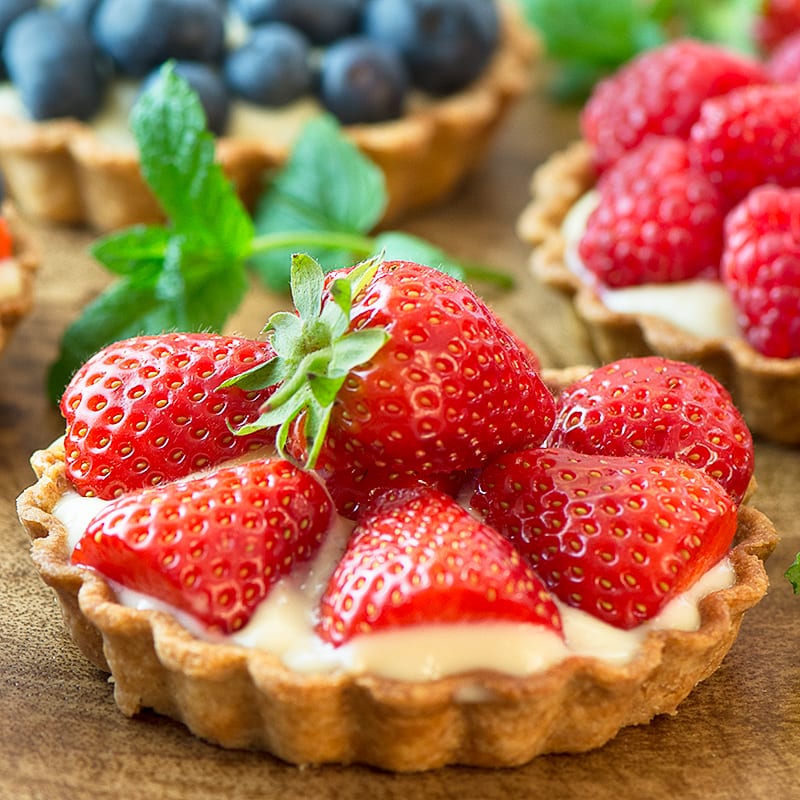 Summer Berry and Custard Tarts
Summer berry and custard tarts - crispy pastry filled with creamy vanilla custard and topped with fresh, juicy berries. A delicious, elegant summer dessert.
Print
Rate
Save
Go to Collections
Cook Time:
1

hour
30

minutes
Total Time:
2

hours
30

minutes
Servings:
8
Individual Tarts
Equipment
8 individual tartlet tins - Loose bottomed tins are best so the tarts pop out easily and I've never had a problem with the pastry sticking.

A couple of large bowls

Weighing scales

Rolling Pin

Cling film

Fork

Wire cooling rack

Measuring jug

Small-medium sized saucepan

Whisk
INGREDIENTS
For the pastry
275

g

plain flour

40

g

caster sugar

125

g

unsalted butter

1

medium egg

A little vegetable oil to grease the tins
For the custard
600

ml

full fat milk

8

egg yolks

60

g

caster sugar

60

g

plain flour

1

tbsp

vanilla extract

-

this may seem like a lot, but unless the custard has a strong vanilla flavour it will become lost alongside the pastry and berries
To serve
8

handfuls of summer berries

-

the exact weight depend on the berries you're using. For example, 350g strawberries.

A sprinkling of icing sugar

-

because it looks pretty
INSTRUCTIONS
Make the custard
Put the full-fat milk (600ml) into a saucepan and heat very gently until warmed but not quite boiling.

Meanwhile, separate 8 eggs, putting the yolks into a large bowl (you can freeze the egg whites to use another day if you don't need them).

Add the caster sugar (60g) to the egg yolks and whisk until combined.

Add the plain flour (60g) and vanilla extract (1 tbsp) to the egg yolks and whisk until combined.

Once the milk is warm, remove it from the heat and gradually add it to the other ingredients a bit at a time, whisking in each addition of milk thoroughly before adding more.

Once combined, put the mixture into the pan and return to a very gentle heat. Continue to cook, whisking constantly until the custard is thick. You want the custard to be much thicker than you would use for pouring on a dessert, as you move your whisk it should leave a clear trail that doesn't immediately disappear. You must keep the custard moving constantly to avoid it burning or going lumpy.

Once the custard has thickened pour it into a bowl or jug and cover with clingfilm. It's important that the top of the custard is in full contact with the clingfilm to prevent a skin forming while the custard cools.

Chill in the fridge for a couple of hours.
While the custard is chilling make the pastry
Sift the plain flour (275g) into a large bowl.

Add the caster sugar (40g).

Cut the butter (125g) into cubes and add to the bowl.

Rub the butter into the dry ingredients until it resembles breadcrumbs - I find this easier to do if I have cold hands as it helps to keep butter firmer.

Once the mixture is the consistency of breadcrumbs, add the egg to the mixture.

Mix the egg into the mixture and them bring it together with your hands - if it seems a bit dry knead it a few times until it comes together. Be careful not to over knead the pastry as this will make it less tender to eat.

Wrap the pastry in clingfilm and put into the fridge to chill for half an hour.
Cook your pastry
Preheat the oven to 200ºC/180ºC fan.

Lightly grease the tins with a little vegetable oil

Remove the pastry from the fridge and roll it out until it is very thin (you should be able to see the shadow of your hand through it if you hold it underneath) and slightly larger than the tin (I find about 1x the size of the base + 2x the sides of the tin about right. I find it easier to roll out the pastry for each tart individually. If you have trouble with the pastry sticking to the rolling pin/board have a quick look at my extra tip above.

Gently lift the pastry into the tins and ease it into the edges so that it is in complete contact with the tin.

Trim off the excess pastry at the top of the tin using a sharp knife or rolling your rolling pin across the top.

Use a fork to prick holes across the bottom and up the sides of the pastry - it's essential that the holes go all the way through the pastry as this allows the air to escape while it cooks. If you don't do this you'll find that your pastry domes up at the bottom and the sides collapse.

Place the tins on a baking tray and put in the oven for 12-14 minutes until just golden.

Once cooked, remove from the oven. Leave the tart shells in their tins for at least 10 minutes after removing from the oven to allow them to harden a little. Remove them from the tins and leave them to cool fully on a wire rack.
Build the tarts
Evenly distribute the custard between the tart shells and top with the summer fruit of your choice.

Finish with a sprinkling of icing sugar.
NOTES
Makes 8 individual tarts (although I'll often make 4 by halving the ingredients for the custard and berries and freezing the remaining pastry to use another day)
The total time quoted above assumes that you make the tarts all in one go. However, the pastry can be made in advance and frozen until you want to cook it. The cooked tart shells can be stored for a couple of days in an airtight container and similarly the custard will keep in the fridge for a couple of days.
Once you've got the component parts cooked, assembly of the tarts is really quick. If you're having friends or family over for dinner you can get all of the hard work out of the way and quickly stick them together just before serving.
If this all seems like a lot of effort then you can use pre-made tart shells. Ready made custard is a little runny so put it into a pan, add a teaspoon or two of vanilla extract and gently heat until it has reached the desired thickness. Stir it constantly to ensure it doesn't burn or go lumpy.
The nutritional information provided assumes you use 430g of strawberries to top the eight tarts. If you use other fruit the nutritional information will vary.
WANT TO HEAR ABOUT NEW RECIPES FIRST?
SUBSCRIBE to the Charlotte's Lively Kitchen Mailing List
NUTRITIONAL INFORMATION
Serving:
1
tart
|
Calories:
412
kcal
|
Carbohydrates:
44.3
g
|
Protein:
9.6
g
|
Fat:
21.3
g
|
Saturated Fat:
11.7
g
|
Sodium:
40
mg
|
Fiber:
2.1
g
|
Sugar:
19.6
g
Any nutritional information provided is the estimated nutritional information per serving. Please refer to my guide to Charlotte's Lively Kitchen nutritional information if you would like to learn more about how this is calculated.
---
Free From/Suitable For…
Suitable for Vegetarians
Nut-Free
Corn-Free
Soy-Free
The ingredients for this recipe are commonly available free from all these allergens. However, please ensure you double-check allergen information for all ingredients.