Double chocolate and caramel profiteroles – crisp choux pastry filled with milk chocolate mousse and topped with dark chocolate sauce and caramel.

A few weeks ago I was invited by King's Fine Foods to try out a couple of their products and challenged to create a new recipe. I like a good challenge so I couldn't refuse (also, this Amedei milk chocolate is really nice so being sent some to use in the recipe was a bit of a no brainer!).
I started racking my brains to think of something to make where this chocolate could take a starring role and I quickly decided on chocolate mousse. However, as yummy as a simple chocolate mousse is, I didn't think that just a mousse was really in the spirit of the challenge… it needed to be fancier.
About a week later I happened to try a chocolate mousse filled profiterole and my mind was made up. That was what I was going to make. A few tasting sessions later and I'd added some dark chocolate sauce on top and a drizzle of caramel sauce, and they were perfect.
I've tried a few different choux pastry recipes in the past and never been entirely happy with the result, so since it was Angela at Patisserie Makes Perfect who introduced me to King's Fine Foods, and her food always looks amazing I gave her choux recipe a try and it worked really well. I'll definitely be using it again.
The dark chocolate sauce is a variation on a chocolate sauce my mum used to make for topping icecream when I was a child. The addition of a small amount of butter and golden syrup to the melted chocolate helps keep it soft and gives it a beautiful shine without needing to temper the chocolate.
The caramel sauce and chocolate mousse are recipes I've been using for ages. The caramel sauce will keep in the fridge in a sterilised jar for a couple of weeks if you want to make extra and if you're not sure what to do with the extra the you could always give my caramel filled chocolates or caramel macchiato cupcakes a try. If you've not made my caramel sauce before then I'd suggest you take a quick look at this post for some extra tips to guarantee caramel success.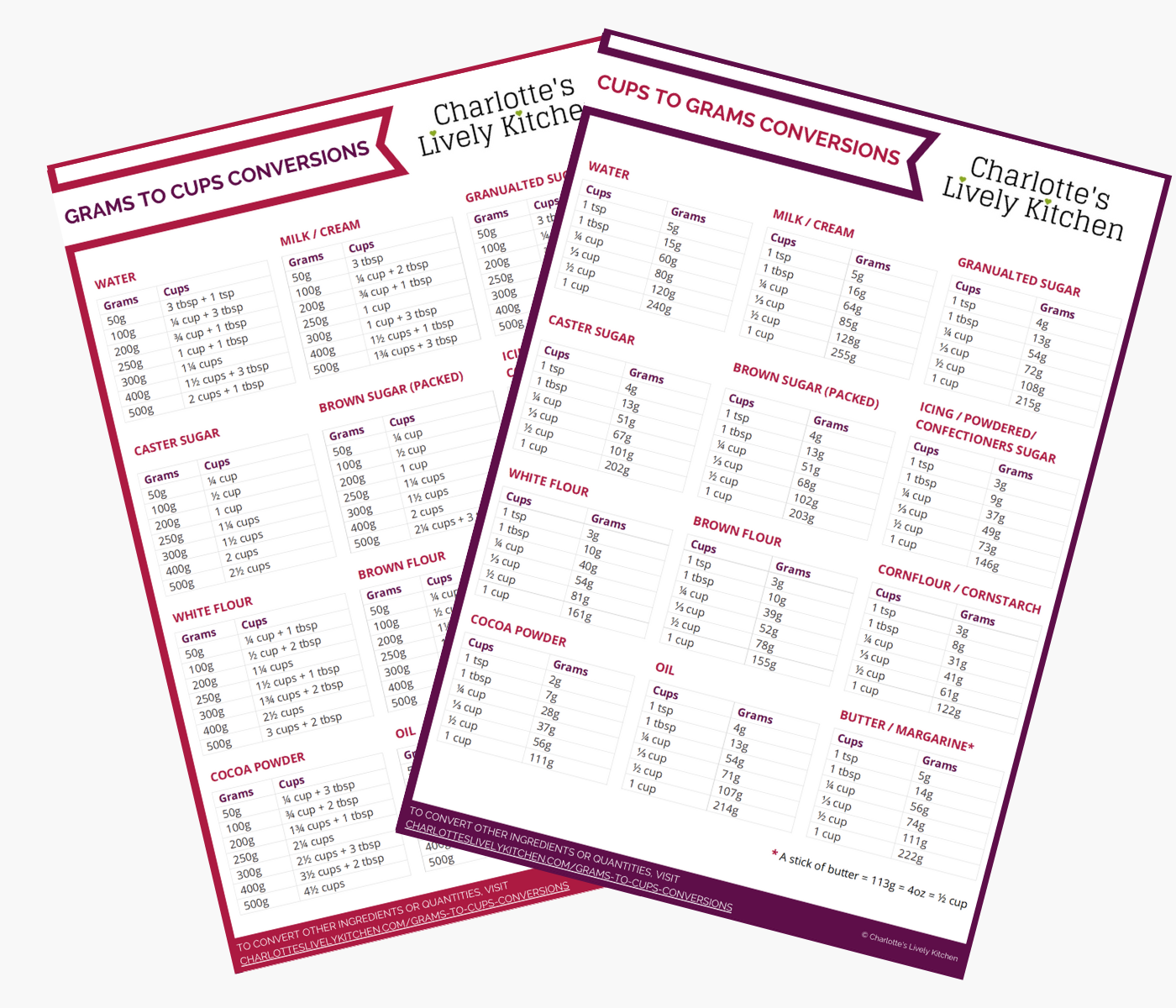 Subscribe to the Charlotte's Lively Kitchen mailing list to get your FREE printable grams to cups and cups to grams conversion charts for twelve popular baking ingredients
Double Chocolate and Caramel Profiteroles
Double chocolate and caramel profiteroles - crisp choux pastry filled with milk chocolate mousse and topped with dark chocolate sauce and caramel.
Print
Rate
Save
Go to Collections
Cook Time:
1
hour
15
minutes
Total Time:
2
hours
10
minutes
Equipment
Weighing scales

2x saucepans (1 small, 1 medium)

Wooden spoon

Electric mixer - there's a lot of mixing involved in making the mousse and choux so I wouldn't recommend making them with a hand whisk.

Whisk

2x large bowls

Baking parchment or bake-o-glide sheet (or similar)

Large baking tray

2x piping bags

A ½cm round piping nozzle

Scissors

Skewer

Cooling rack
INGREDIENTS
INSTRUCTIONS
Make the Chocolate Mousse
Put the milk chocolate (170g) into a pan, and cook on a very low heat until it has melted (alternatively you can melt the chocolate over a bain marie or in microwave). Stir regularly to ensue that the chocolate doesn't burn and remove from the heat as soon as it has melted.

Separate 7 eggs and put the egg white and lemon juice (¼ tsp) into a large bowl.

Beat the egg whites until they form soft peaks.

Add the caster sugar (40g) and beat until the egg white forms stiff peaks (where if you lift out the beater the egg holds it shape).

Put the melted chocolate into a large bowl and add one-third of the egg whites. Beat this egg white into the chocolate as fast as you can (don't worry about knocking out the air) until fully combined. You need to beat as fast as you can to ensure that the chocolate does't split.

Once the chocolate and egg white are fully combined, add the remaining egg white and carefully fold it into the chocolate until fully combined (this time you do want to take care not to knock all of the air out).

Cover and place into the fridge for at least two hours to set.
While the chocolate mousse is setting, make the choux pastry
Pre heat the oven to 180ºC/160ºC fan.

Line a large baking tray with baking parchment or a bake-o-glide sheet (or similar).

Sift the flour (45g strong white flour and 40g plain flour) onto a sheet of baking parchment (this will make it easy to tip into the mixture quickly later).

Put the butter (60g), salt (¼ tsp), caster sugar (1 tsp) and water (120ml) into a medium sized saucepan. Heat on a medium-high heat until the butter has melted and the mixture is boiling.

Tip the flour into the butter mixture and mix together as quickly as possible until they have formed a lump of dough.

Continue to stir vigourously for 2 minutes and then remove from the heat and put into a large bowl. Beat the dough with an electric mixer for a few minutes until it has cooled.

Add the first two eggs and beat the mixture until fully combined. Beat the 3rd egg in a separate bowl or jug and gradually add it to the mixture (beat well after each addition) until you have the right consistency - When you lift out the beaters the dough should just run from them in a steady stream, however you should still be able to see the pattern this makes on the surface of the dough in the bowl. Remember to add the 3rd egg gradually - it's easy to add more but you can't take it away!

Spoon the mixture into a piping bag, and snip the end so you have a hole about 1½cm in diameter.

Pipe the pastry onto your prepared baking tray in 2½cm rounds (1") about 2½cm apart (don't put them too close together or you'll end up with one giant profiterole!).

Wet your finger and gently smooth the pointy areas where you removed the piping bag (this will give you nice round profiteroles).

Place into the oven for 25-30 minutes until golden brown. A tip to tell if they're cooked is to lift them up. If they're cooked they'll feel pretty weightless like a ping-pong ball. If they still feel like there's a little weight there then pop them back into the oven for a couple more minutes and check again.

Once cooked, pierce the bottom of each profiterole with a skewer - this will help it to dry and and give you nice crisp pastry.

Transfer to a wire rack to cook.
While the choux pastry is cooking, make the caramel sauce
Measure out all of your ingredients into separate bowls (30g granulated sugar, 10g butter, 20ml single cream). Cut the butter into small cubes (this will help you to incorporate it into the sauce quickly).

Put the sugar into a small saucepan and spread it evenly across the bottom. Place onto a medium heat.

Leave the sugar alone until it has started to melt. Once it has started to melt, gently move it about with a spatula to encourage any unmelted sugar into the hot bits to melt.

Once all of the sugar has melted continue to stir gently until it has turned a light brown colour.

As soon as the caramel has turned light brown, carefully add the butter and whisk rapidly until the butter has melted and is fully combined.

Turn off the heat and add the cream, again whisking rapidly until combined.

If there are any small sugar crystals pass the sauce through a metal sieve to remove them.

Put into a bowl or jug and refrigerate to cool.
Just before you're ready to serve, make your dark chocolate sauce
Put the dark chocolate (50g), butter (½ tbsp) and golden syrup (½ tbsp) into a small saucepan.

Heat on a very low heat until the chocolate and butter have melted. Keep stirring to ensure that the chocolate doesn't burn. Once everything has melted, remove from the heat and place in a small bowl.
Build your profiteroles
Remove your caramel sauce from the fridge to allow it to come to room temperature (otherwise it'll be too thick to drizzle).

Fit a piping bag with a round nozzle about ½cm in diameter.

Fill the piping bag with chocolate mousse. Carefully insert the nozzle into the bottom of each profiterole and fill with mousse.

Dip each profiterole in the dark chocolate sauce and put them onto your serving dish (or individual bowls), drizzle with the caramel sauce ensuring the each profiterole has some sauce.

Serve.
NOTES
Note 1 - If you're at all worried about using raw egg white then I'd suggest buying the egg white cartons. The egg is pasteurised to ensure that it's absolutely safe to use and it saves you the hassle of having to figure out what to do with the 7 leftover egg yolks.
Note 2 - If you don't have strong white flour then it's fine to use plain flour instead. The bread flour simply gives you a crisper pastry.
Alternatively you could drizzle the profiteroles with both the chocolate sauce and caramel, or you could put the bowls of chocolate and caramel out for your guests to add their own (like a dark chocolate and caramel fondue).
The choux pastry can be made the day before and stored in an airtight container.
The caramel sauce can be made up to two weeks in advance and stored in the fridge in a sterilised jar.
WANT TO HEAR ABOUT NEW RECIPES FIRST?
SUBSCRIBE to the Charlotte's Lively Kitchen Mailing List
NUTRITIONAL INFORMATION
Serving:
4
profiteroles
|
Calories:
552
kcal
|
Carbohydrates:
51.9
g
|
Protein:
12.9
g
|
Fat:
31.6
g
|
Saturated Fat:
18.8
g
|
Sodium:
280
mg
|
Fiber:
1.4
g
|
Sugar:
39.5
g
Any nutritional information provided is the estimated nutritional information per serving. Please refer to my guide to Charlotte's Lively Kitchen nutritional information if you would like to learn more about how this is calculated.
---