A twist on the traditional toad-in-the hole made with sausages, bacon and a perfectly cooked egg baked in the centre.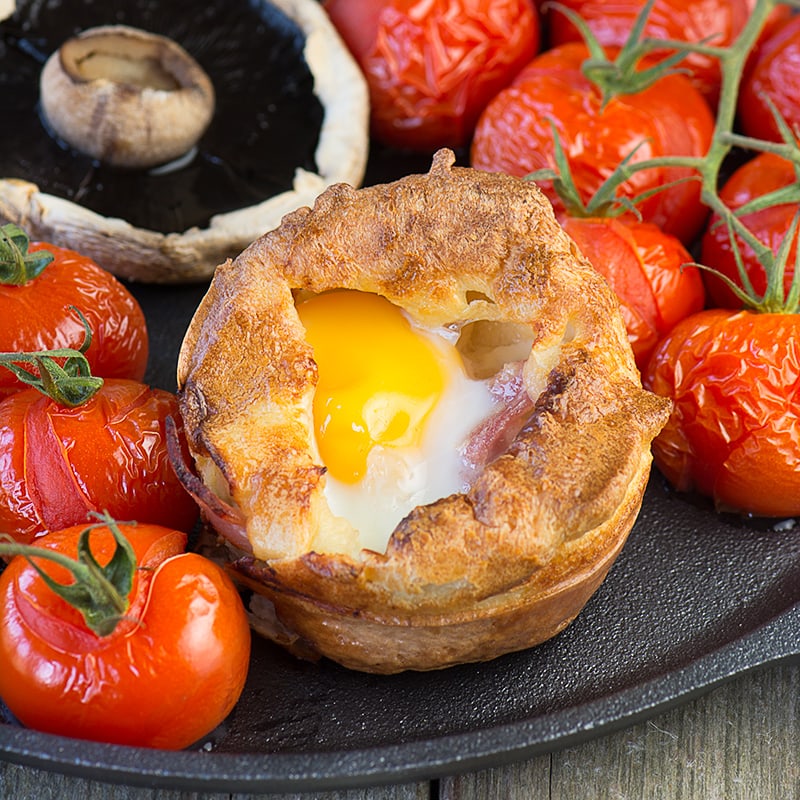 Before this series of The Great British Bake-Off started I'd enthusiastically planned to join in with lots of other bloggers and bake along, trying out one (or all in some cases) of the challenges from a particular week. I hadn't really thought about how much time these bakes take (they're not really simple mix it up and chuck it in the oven type bakes are they!) and so my baking-along plans have gone a bit awry. However, this week by pure luck I happened to have a recipe planned that actually fits 🙂
Last week for batter week they made filled Yorkshire Puddings. I've twisted the rules slightly and baked all of my fillings inside the Yorkshire pudding (yes, even the egg) rather than cooking them separately and spooning them in at the end.
To be honest I'm not too sure what I made of the introduction of batter week. The fact that there were quite a few disasters suggests the challenges were, well… challenging. However, when I watch bake-off I want to be astounded at what people have managed to bake not disappointed that they can't even get a batch of Yorkshire puddings to rise, and the pancake challenge felt more like a drawing challenge than a cooking one. I did enjoy the churros though, I'd love to give them a go sometime.
What did you think?
It is possible that I'm just being grumpy about the whole thing because I realised this series, more than any other, that I wouldn't cut it on the Bake-off. I like my Yorkshire puddings to look random and misshapen, and I prefer my gingerbread a little on the soft side. If I'd taken part (not that I would dream of applying) I suspect I would have received several looks of disappointment from Paul for baking things just the way I like them.
If you're feeling a little less adventurous the why not give my regular Yorkshire puddings or mini toad-in-the-hole a try instead?
All-Day Breakfast-In-The-Hole
Active Time:10 minutes
Total Time:35 minutes
Makes 6 puddings
Ingredients
1 tbsp olive oil
70g plain flour
100ml milk (I use skimmed but any is fine)
½ tsp salt
8 eggs
4 chipolata sausages
2 rashers of bacon (I use unsmoked but smoked also works well if you prefer)
Method
Pre-heat your oven to 220ºC/200ºC fan.
Put ½ tsp of olive oil into each hole of a 6-hole muffin tin. Put the muffin tin into the oven to get the oil really hot while you make the Yorkshire pudding batter.
Put the plain flour (70g), milk (100ml), salt (½ tsp) and 2 of the eggs into a large bowl and whisk until smooth (don't worry if there's a couple of little lumps).
Cut each of the chipolata sausages into three pieces and cut the bacon into bite-sized pieces.
Remove the tray with the hot oil from the oven and working quickly (but carefully) put two pieces of sausage and a few pieces of bacon into each hole and then evenly distribute the batter between the 6 holes.
Return the tray to the oven for 18 minutes.
Remove the tray from the oven and crack an egg into each of the 6 puddings (you may find it easier to crack them into 6 cups and then pour them in, rather than cracking them directly into the puddings).
Return the tray to the oven for 6-7 minutes until the egg whites are cooked through.
Serve. The sausage a bacon may stick a little to the tray, if they do, run a knife around the edge and you should find they pop out easily.
Nutritional Information
Calories: 228 kcal (11%), Fat: 13.6g (19%), Saturated Fat: 4.0g (20%), Carbohydrates: 10.0g (4%), Sugar: 1.9g (2%), Fibre: 0.4g (2%), Protein: 14.1g (28%), Salt: 1.2g (19%)
This is the estimated nutritional information per pudding. Please refer to my guide to Charlotte's Lively Kitchen nutritional information if you want to learn more about how this is calculated.
Free From/Suitable For…
Corn-Free
Nut-Free
Soy-Free
The ingredients for this recipe are easily available free from all these allergens. However, please ensure you double-check allergen information for all ingredients.
---
I'm sharing this recipe with the following blog challenge… CookBlogShare with Hijacked by Twins and my own #TheFoodCalendar challenge for British Food Fortnight..