Advertising Feature
As an on-off subscriber to Weight Watchers for a long time now (I have them to thank for losing both sets of baby weight), I was really excited to join in their Winner Winner Chicken Dinner challenge to have two Friday nights in. The first where we'd be testing out one of their Limited Edition Chicken Jambalaya chilled ready meals. The second where I'd be cooking a similar dish from scratch.
The range of Weight Watchers chilled meals has been developed by chefs in conjunction with nutritional experts, with the aim of creating a tasty and satisfying way of keeping track of your calorie intake without compromising on flavour and quality. I was keen to give them a try.
Another thing that appealed to me about this challenge, as someone who is self-employed and works most evenings, was that it was the perfect opportunity to take two nights away from my computer to relax and binge-watch TV box sets (we're currently in the middle of The Newsroom which so far I'm loving).
I've actually tried quite a few different diets in my time and Weight Watchers is the one I've always come back to. I find it fits best around my lifestyle. I dislike the idea of not being able to eat certain foods and I like to allow myself an occasional treat (then eating lots of fruit, salads and veggies for the rest of the day to make sure I stay within my points without getting hungry). I also like the fact that I can earn extra points by getting active, so there's a great incentive for me to get out for a run (or even just a long walk).
Chicken Jambalaya isn't something I've eaten too much in the past, so I decided that it would be best for me to cook from scratch on our first Friday night in.
If you fancy giving the recipe a try, Weight Watchers have kindly let me share it below.
The following Friday it was the turn of the Weight Watchers Chilled Chicken Jambalaya.
First lets talk about the preparation and cooking…
As you've probably guessed, I love cooking. However, for me it's something I enjoy doing when I'm home alone with the boys out or at school. Given how often they're not in the house, when they're here I prefer to spend time with them relaxing and having fun. So unless cooking involves us all, I try and keep it to a minimum in the evenings and at the weekends.
The chicken jambalaya was really straight forward to make but I probably spent about half an hour chopping everything and stirring it whilst it was cooking. Given that I decided to wait until the boys were tucked up in bed before starting, it was quite late before I managed to settle down to eat.
It is however a one pot dish which was a big bonus as it meant there was very little washing up (which is definitely not my favourite job) 🙂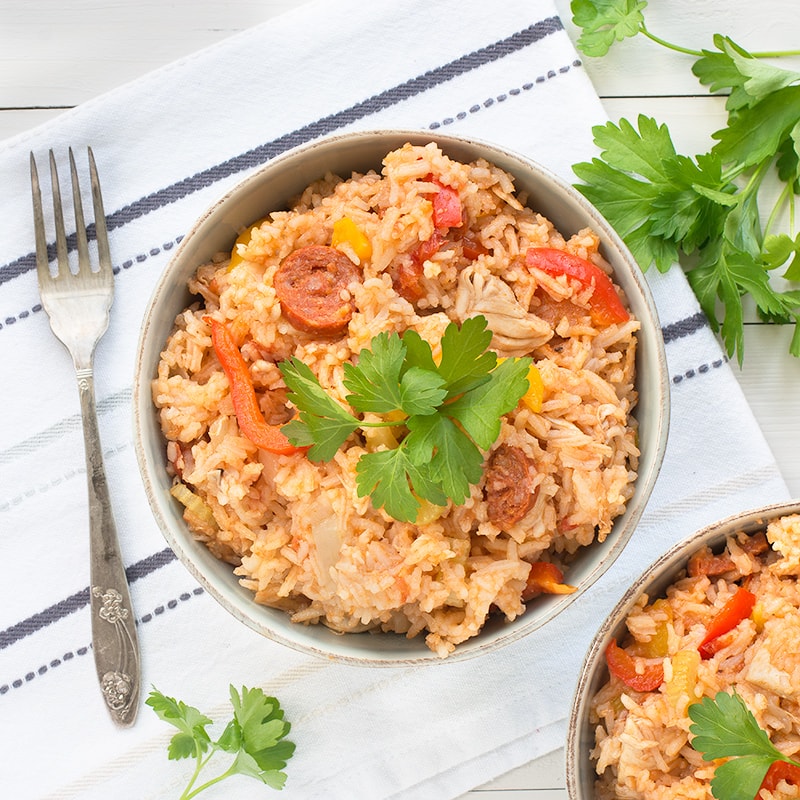 The ready meal on the other hand was so simple, a few minutes in the microwave and there it was.
What about the calories?
Aside from the differences in preparation, another big difference in these meals is in the nutritional information.
For me, whilst following Weight Watchers allows me to have occasional treats, I find I'm happiest when I spread my points across the day, using them roughly equally for breakfast, lunch and dinner. That way I'm not depriving myself of any meal and I can stick to it better.
The chilled chicken jambalaya came in at just 384 calories, 5.7g of fat and 9.1g of sugar per portion. This equates to just 11 Weight Watchers smart points (my daily allowance is 30), so perfect for allowing me to enjoy my food thought the day.
This compares to the homemade version which had 648 calories, 16.7g of fat and 10.2g of sugar. This equates to 22 smart points*. Not leaving much wriggle room for all my other meals. In the end I decided to have a smaller portion to keep my points at a better level for me.
* This was calculated based on the nutritional information supplied by Weight Watchers. If you exclude the 0 points foods from the calculation it would be slightly lower.
Before I get to the taste I just wanted to mention…
One thing that surprised me about the chilled meal was to discover that they're made only with ingredients you'd usually use in your kitchen. They are also free from artificial colours, favours and preservatives. I've always assumed that "stuff" was added to these sorts of meals to get them to store well (these had a long date on which makes them perfect for popping into the fridge for dinner when you need it) and taste good. It was reassuring to learn that I was wrong.
But what about the taste…
We enjoyed both meals but found them quite different in flavour. The chilled meal was deeper and richer flavour, whereas the homemade version had quite a fresh, light flavour.
For us the homemade dinner had a slight edge for two reasons…
I kept the vegetables quite chunky in the homemade version which meant that I got something a little different in each mouthful which is something I enjoy in a meal.
It's got chorizo in and I love love love chorizo. I was tempted to fry up a little and sneak it into the chilled version (which could easily be done in the time it's cooking). Even with the little addition it would be much lower in calories than the homemade version, so much better for anyone following the Weight Watchers program.
So which would I choose again for my Friday night in?
Quite simply I'd pick the Weight Watchers Chilled Chicken Jambalaya. The flavour was good, it was so easy to prepare and it meant I could easily stay within my points allowance for the day.
If you'd like to give the Weight Watchers Limited Edition Chicken Jambalaya a try you'll find them in the chilled aisle of your local Asda (or online) with a RRP of £2.50.
Weight Watchers have recently changed their branding so you'll now see their bold blue packing across all products from yogurts to bread, so you should find them easy to spot.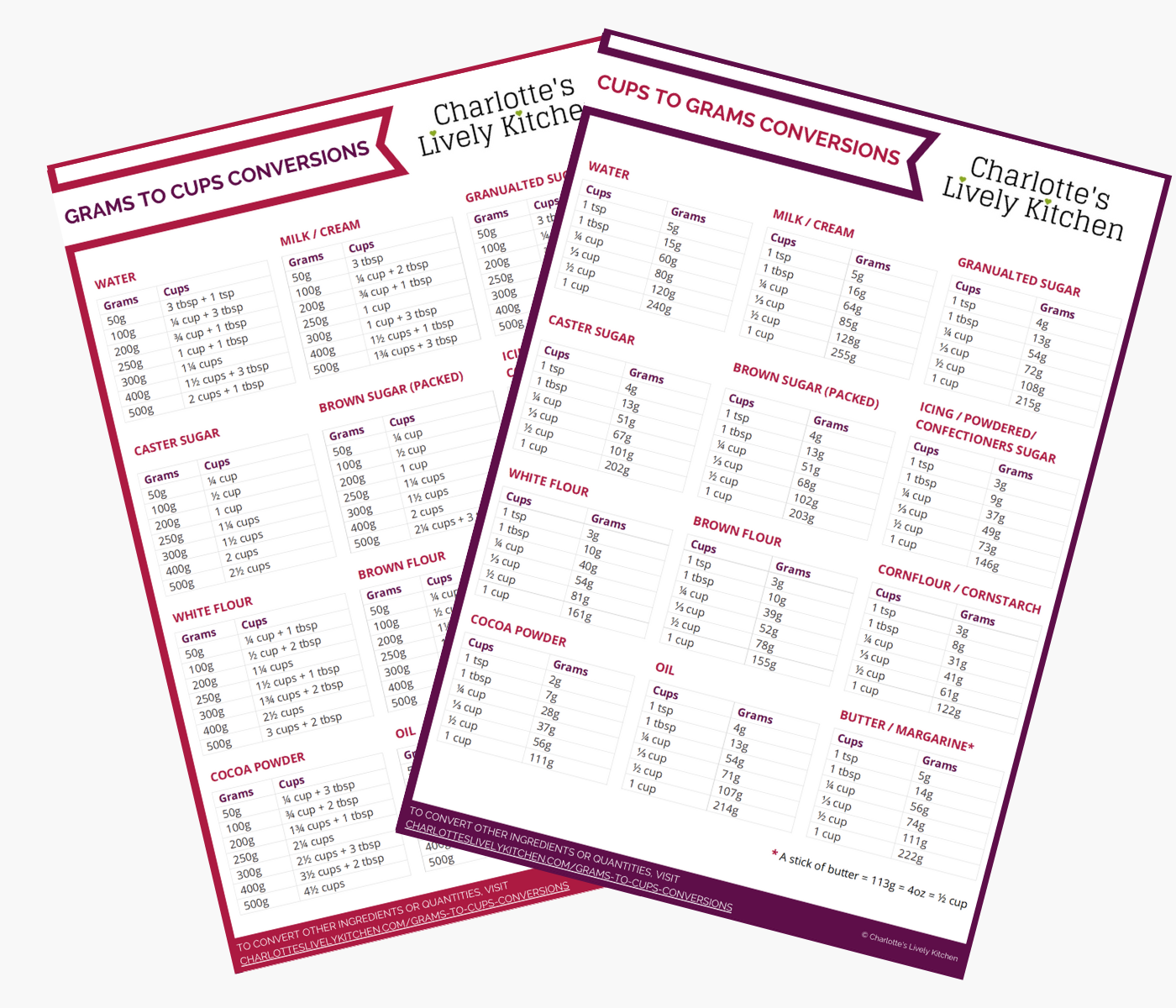 Subscribe to the Charlotte's Lively Kitchen mailing list to get your FREE printable grams to cups and cups to grams conversion charts for twelve popular baking ingredients
INGREDIENTS
2

tbsp

sunflower oil

350

g

skinless chicken breasts

100

g

cooking chorizo

2

tsp

Cajun seasoning

1

onion

2

sticks of celery

1-2

cloves

of garlic

1

red pepper

1

yellow pepper

400

g

basmati rice

1

litre

chicken stock

1

400g tin

chopped tomatoes

Tabasco sauce

-

to taste

Salt & pepper
INSTRUCTIONS
Start by preparing the meat and vegetables.
Chop the chicken breast (350g) into bite-sized pieces.

Slice the chorizo (100g).

Peel and finely chop the onion (1 onion).

Thinly slice the celery (2 sticks) - I like to run a peeler along the back of the celery stick to remove the stringy bits.

Peel and crush the garlic (1-2 cloves).

Remove the seeds from the peppers (1 red and 1 yellow) and then thinly slice them.
Cook the jambalaya
Heat the sunflower oil (1 tbsp) in a large saucepan over the moderately high heat. Add the chopped chicken breast and cajun seasoning (2 tsp) and fry for 4-5 minutes until the chicken has browned, stirring regularly. Add the chorizo and fry for a few more minutes until the oil is released (you'll know this has happened as the oil in the pan will have a more reddy/orange colour). Remove the chicken and chorizo from the pan and set aside.

Add the onion, celery and garlic to the pan and fry for 2 minutes. Add the peppers and fry for another 2-3 minutes. Add the basmati rice (400g), stir well and cook for a further 1 minute.

Add the chicken stock (1 litre), return the chicken and chorizo to the pan and stir. Bring the pan to the boil, then reduce the heat, cover and simmer for 8 minutes.

Add the chopped tomatoes (400g tin) and cook for a further 5-10 minutes until the rice is tender and the chicken is cooked through. Add a little Tabasco to your own taste (see note 1), season with salt and pepper, and serve.
NOTES
Note 1 - If you're eating with people whose love of spice varies then you may prefer to pop the bottle of Tabasco onto the table so everyone can add their own.
This nutritional information provided is based on the recipe serving 4 people and was supplied by Weight Watchers.
WANT TO HEAR ABOUT NEW RECIPES FIRST?
SUBSCRIBE to the Charlotte's Lively Kitchen Mailing List
NUTRITIONAL INFORMATION
Serving:
1
portion
|
Calories:
648
kcal
|
Carbohydrates:
95.4
g
|
Protein:
38.8
g
|
Fat:
16.7
g
|
Saturated Fat:
4.1
g
|
Sodium:
2400
mg
|
Fiber:
5.4
g
|
Sugar:
10.2
g
Any nutritional information provided is the estimated nutritional information per serving. Please refer to my guide to Charlotte's Lively Kitchen nutritional information if you would like to learn more about how this is calculated.
---
Free From/Suitable For…
Corn-Free
Egg-Free
Nut-Free
Soy-Free
The ingredients for this recipe are easily available free from all these allergens. However, please ensure you double-check allergen information for all ingredients. <//div>