Advertising Feature
My festive roast leg of lamb flavoured with rosemary, cloves, orange and cranberries makes a fantastic alternative to turkey on Christmas day or to feed your family and friends over the festive period.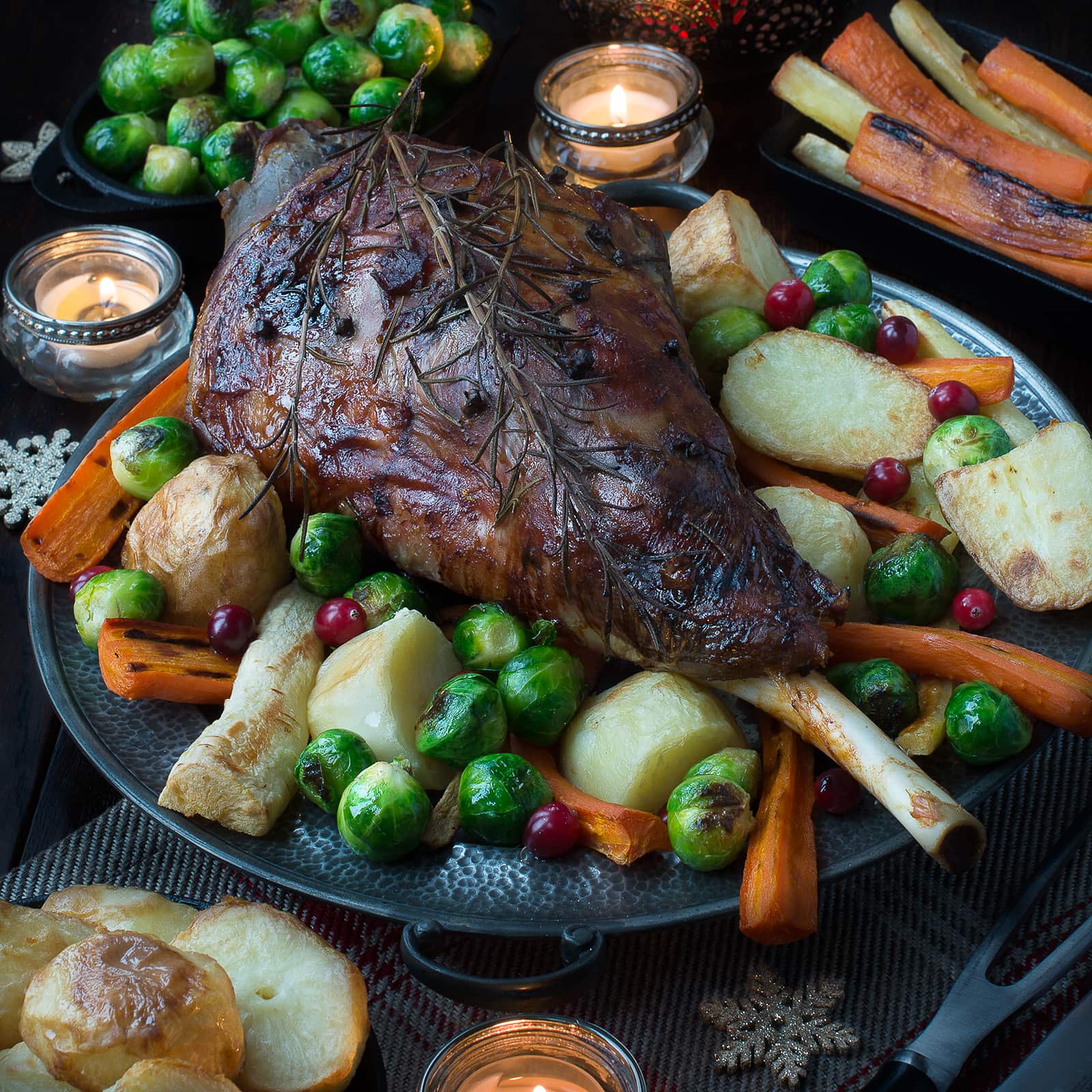 Today I'm sharing the first of two festive recipes I've created as part of my collaboration with Tasty Easy Lamb, a Festive Roast Leg of Lamb. It's flavoured with rosemary, cloves, orange and cranberries and it makes a fantastic alternative to turkey on Christmas Day or as an amazing centrepiece to a roast dinner over the festive period.
If you happen to have any leftovers then it also tastes delicious cold in a sandwich or served with some bubble and squeak.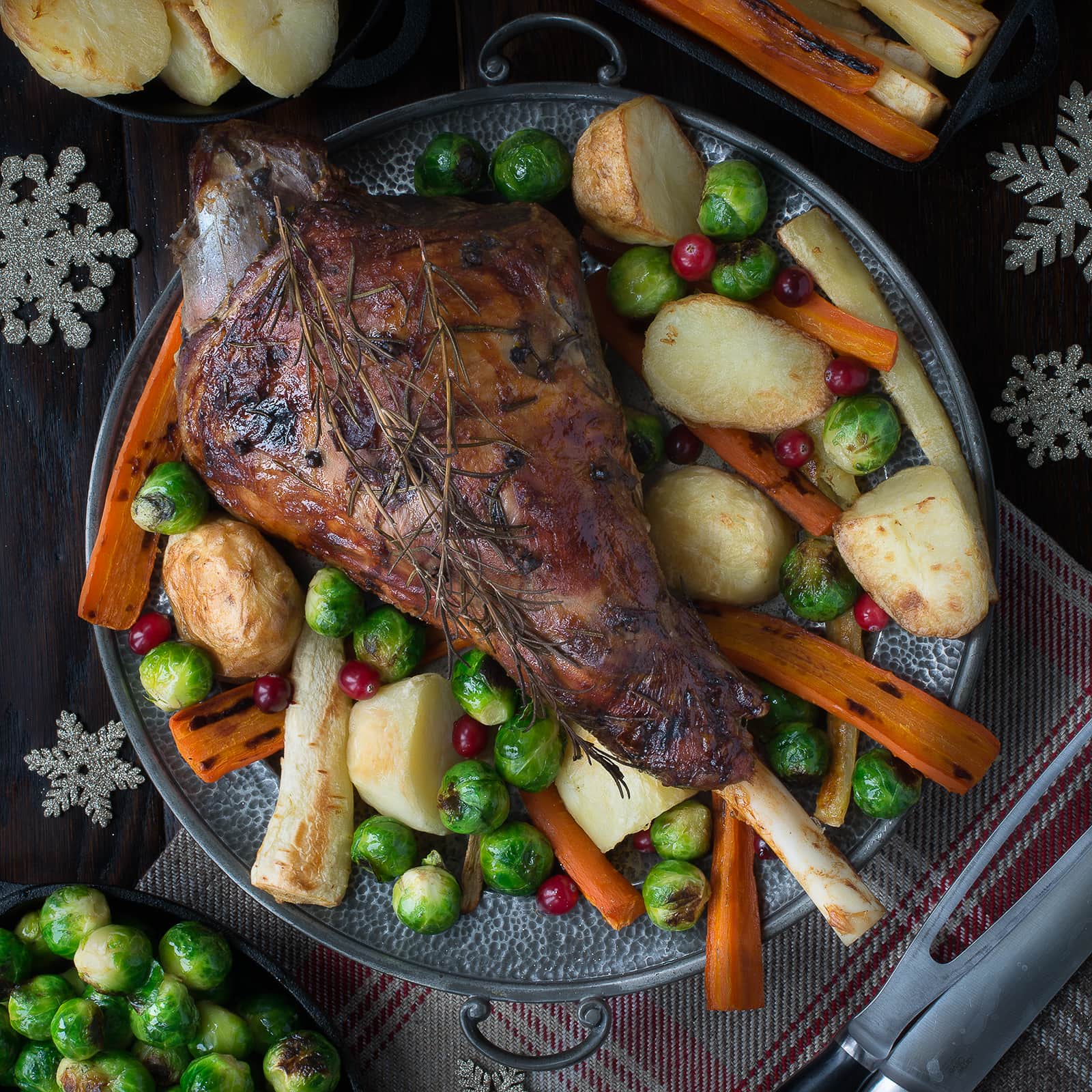 I've shared the recipe here for a whole leg of lamb, but this will work just as well with a half leg if you're cooking for fewer people, just reduce the cooking time accordingly. If you're new to roasting lamb then there's lots of extra advice, including what size of joint to buy in my recipe for Roast Leg of Lamb with Garlic & Herbs.
Festive Roast Leg of Lamb
Active Time:5 minutes
Total Time:2 hours, 10 minutes (+15 minutes resting)
This is for a 2kg leg of lamb cooked medium. 
For other sizes of lamb joint cook it for…
Medium – 25 minutes + 25 minutes per 500g
Well Done – 30 minutes + 30 minutes per 500g
For a really tender roast lamb I'd recommend removing the lamb from the fridge an hour before you start cooking.
Serves 6-8
Ingredients
1 leg (or half leg) of lamb
Approx. 10 cloves
A few sprigs of rosemary
1 heaped tbsp cranberry sauce (I prefer to use chunky cranberry sauce, but smooth is fine if that's what you've got)

Zest of ¼ of an orange
Salt
Method
About an hour before you want to cook your lamb, remove it from the fridge, remove all packaging and place into a large roasting dish. Cover the lamb with cling film and allow it to come up to room temperature before roasting (about an hour).
Remove the cling film and use a sharp knife to cut small slits in the lamb. Place a clove in each slit (see the picture above for how I spaced mine out). Lay a few sprigs of fresh rosemary on top of the lamb. Season with salt.
Pre-heat your oven to 180ºC (160ºC fan).
In a small bowl mix together the cranberry sauce (1 heaped tbsp) and orange zest (¼ orange).
Roast the lamb for 2 hours, 5 minutes (adjust the time according to the weight of the lamb). About every 20-30 minutes, baste the joint with the juices in the bottom of the tray. Half an hour before the lamb has finished cooking, remove it from the oven and brush it with the cranberry and orange mixture so it has a thin coating all over the outside then return it to the oven to finish cooking.
Once the lamb has cooked remove it from the oven, cover with foil and leave to rest for 15 minutes before carving. Remove the cloves and rosemary sprigs before serving.
Nutritional Information
Calories: 228 kcal (11%), Fat: 14.0g (20%), Saturated Fat: 6.1g (31%), Carbohydrates: 1.3g (0%), Sugar: 1.2g (1%), Fibre: 0.1g (0%), Protein: 24.0g (48%), Salt: 0.4g (6%)
This is the estimated nutritional information per serving (assumes the recipe serves 8, excludes salt added as seasoning during cooking). Please refer to my guide to Charlotte's Lively Kitchen nutritional information if you want to learn more about how this is calculated.
Free From/Suitable For…
Corn-Free
Dairy-Free
Egg-Free
Gluten-Free
Nut-Free
Soy-Free
The ingredients for this recipe are easily available free from all these allergens. However, please ensure you double-check allergen information for all ingredients.