How to make perfect gingerbread men (women, children, or whatever shape you like). They're soft in the middle, crunchy at the edges, packed full of flavour and hold their shape beautifully.
Skip to the recipe | Recipe FAQs
One of my favourite things to bake at Christmas with my children is gingerbread men (well actually we get creative with the shapes using all sorts of different cutters). Not only is it a simple recipe that they can get stuck in helping to make, decorating them is also great fun.
For these gingerbread men I've stuck to the classic royal icing decoration, but when the children get involved, there's lots of sweets to be added too 😊.
So what's so great about this gingerbread recipe?
Well it took a lot of perfecting, to get just the right gingery flavour, a nice crunch, a slightly soft centre and of course that it holds its shape so you end up with gingerbread men, not gingerbread blobs.
Gingerbread Men FAQs
If it's your first time making this recipe or you have a question, please take a moment to have a read through my FAQs for some extra tips, troubleshooting and allergen information.
Are these biscuits suitable for freezing?
❄️ Suitable for freezing
You can freeze either:
The unrolled gingerbread dough
Gingerbread cut into shape but not baked – these can then be baked from frozen
The baked gingerbread biscuits
The unrolled gingerbread dough
Simply wrap the dough in clingfilm or store it in an airtight container. Defrost the dough thoroughly in the fridge before baking according the the instructions in the recipe.
Gingerbread cut into shape and not baked
This is a great solution if you want a gingerbread fix in a hurry as there's no need to defrost the gingerbread dough before baking.
Roll out your gingerbread dough and cut it into shapes. Lay the shapes on a flat, freezer-proof dish or baking sheet. Place the dish into the freezer for a couple of hours until the gingerbread is firm. Once the dough is firm, store the biscuits in an airtight container. I like to place baking parchment between each biscuit so they can be easily separated.
When you want to bake your biscuits, simply take as many as you want to bake from the freezer and bake them from frozen as per the original recipe instructions.
The baked gingerbread biscuits
Simply pop them into an airtight container and freeze for up to three months. They can be frozen plain or with a simple royal icing decoration. Additional decoration such as sweets or chocolate may not freeze well. Defrost them thoroughly before eating them.
Why do you add both light and dark brown sugar? Can I just use one or the other?
Baking gingerbread with just light brown sugar gives your biscuits a softer middle. Using just dark brown sugar adds a slight hint of caramel to the flavour, but gives a firmer biscuit. I found combining the two gave the flavour of dark brown sugar, but the texture of light brown sugar, which is how I like them.
However, if you only have one type in your cupboard and no time to buy more, then you will get a successful biscuit from just using one type.
Can I use black treacle instead of golden syrup?
You can, but it's not something I would recommend.
Black treacle has quite a strong flavour and so using it instead of golden syrup will leave you with a biscuit that has quite a burnt flavour. Not only does this not taste the best, it also overpowers the flavour of the ginger and other spices.
I prefer a more subtle flavour to my gingerbread, can I add less ginger?
As you know, I like my recipes to be packed full of flavour, so I add quite a bit of ground ginger as well as a little ground mixed spice to pump up the festiveness. I know some people prefer a more subtle ginger flavour, and if that's you then you can simply reduce the quantity of ginger added. There's no need to adjust any of the other ingredients.
I don't have any ground mixed spice, what can I add instead?
I really would recommend getting hold of some ground mixed spice if you can, it really helps to enhance the flavour of the biscuits.
However, if you don't have any, simply replace the ground mixed spice with extra ground ginger.
Do I need to chill my gingerbread men before baking?
I recommend chilling your gingerbread mixture for about an hour (can be more) before rolling it out. This allows the butter in the mixture to firm up making it easier to roll.
I tend to work quite quickly so I don't then re-chill the biscuits after they've been cut. However, if you find that the mixture is a little soft and sticky after you've cut out your biscuits, I would recommend popping them back into the fridge to chill again for another hour before baking to prevent them from spreading in the oven. To speed this up you can put them into the freezer for 10 minutes instead.
My dough is sticky when I try to roll it. What should I do?
Chilling the dough before rolling it should prevent it being sticky and make it lovely to work with. However, if your room is a little warm it can become sticky as you work. To make rolling out easier, either coat your work surface and rolling pin in a thin layer of flour, or place the dough between two sheets of cling film. If you go down the flour route, move the dough as you roll it to help prevent it from sticking to the work surface.
My gingerbread men spread in the oven. What went wrong?
I've designed this recipe so that the gingerbread men hold their shape well. I'll admit, they're not 100% perfect, they end up a millimetre or two bigger than the cutter after baking. However, I found that biscuits with absolutely no spread were tough and not as enjoyable to eat.
If you do find that this recipe spreads more than you see in the pictures, the reason is likely to be if the dough is too warm and soft before baking. I always chill my dough before rolling it out to make sure it is cold. I work quite quickly when cutting out my dough, but if you are a little slower or working in a warm room then you may also want to chill the biscuits after cutting, before baking.
If you've ended up here after testing someone else's recipe, where the gingerbread spread more than expected, here are some other ideas for what could have been the cause:
The oven temperature is too low – When the oven temperature is lower, the ingredients in the biscuits soften and spread before they set in shape. Using a higher temperature sets them more quickly giving them less opportunity to spread.
The recipe doesn't include enough flour to add structure to the biscuits.
The dough is too soft/warm before baking – The dough need to be cold to help the biscuits hold their shape while the heat from the oven sets them.
You've added baking powder or bicarbonate of soda – Raising agents added to the dough cause it to rise and without the constraints of a tin this will push them both upwards and outwards. Adding a raising agent to the dough will give you a biscuit that a little softer and lighter in the middle and cruncher around the edges (as they're thinner after spreading), but you do tend to lose some definition in the shape of the biscuits.
The recipe uses too much sugar, butter or syrup – all of these ingredients cause cookies to spread, so adding just the right amount is important to get a biscuit with the right flavour and texture, whilst keeping its shape.
What can I decorate my gingerbread men with?
I have decorated my gingerbread men in quite a classic design with royal icing. You can also add sweets which you stick on using the royal icing, or melted chocolate.
If you fancy getting more creative, here are some ideas for decorating biscuits cut using a gingerbread man cutter:
What is this recipe free from? Who is it suitable for?
The ingredients I used to make this recipe are all free from the following allergens. However, please check any labels carefully for allergens you need to avoid as brands can vary, and product recipes can change over time.
Suitable for Vegetarians
Tree Nut-Free
Peanut-Free
Sesame-Free
Soya-Free
Sulphur Dioxide and Sulphite-Free
Lupin-Free
Other recipes for gingerbread lovers
If you're as much of a fan of gingerbread as I am, why not give some go my other recipes a try:
Or try one of my other Christmas Recipes.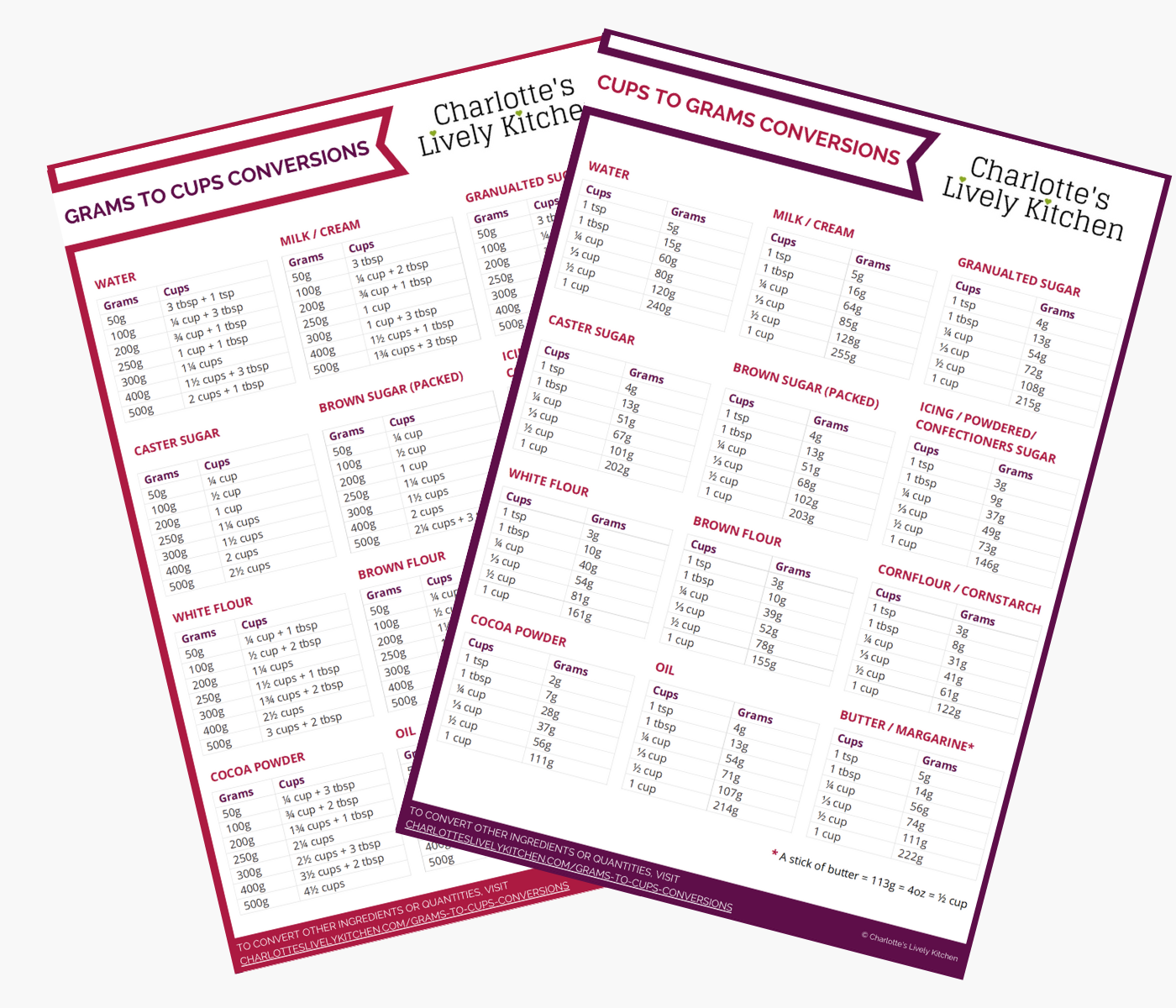 Subscribe to the Charlotte's Lively Kitchen mailing list to get your FREE printable grams to cups and cups to grams conversion charts for twelve popular baking ingredients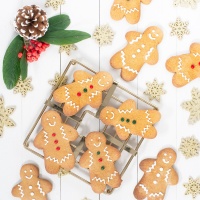 Gingerbread Men
How to make perfect gingerbread men (women, children, or whatever shape you like). They're soft in the middle, crunchy at the edges, packed full of flavour and hold their shape beautifully.
Print
Pin
Rate
Save
Go to Collections
INGREDIENTS
300

g

plain flour

3½

tsp

ground ginger

1

tsp

ground mixed spice

125

g

butter -

soft at room temperature

90

g

soft light brown sugar

85

g

soft dark brown sugar

75

g

golden syrup

1

medium

egg

¼

tsp

salt
INSTRUCTIONS
Cream together the butter (125g) and sugars (90g soft light brown sugar, 85g soft dark brown sugar) until light and fluffy.

In a seperate bowl, lightly beat the egg (1 medium) to combine the yolk and white. Gradually beat the egg into the butter and sugar mixture, adding a little at a time.

Once all of the egg has been added, beat in the golden syrup (75g).

Add the flour (300g), ground ginger (3½ tsp), ground mixed spice (1 tsp) and salt (¼ tsp) and mix into the other ingredients. I start by using a wooden spoon and then bring the mixture together with my hands.

Wrap the gingerbread dough in clingfilm (or a reusuable wrap) and refrigerate for an hour (minimum).

Once the dough has chilled, pre-heat your oven to 200°C/180°C fan. Line 2-3 baking sheets with baking parchment or reusable baking liners.

Roll out the dough to roughly the thickness of a £1 coin and cut using your chosen cutter. Place each gingerbread man (or whatever shape you've opted for) onto the prepared baking sheet.

If the dough is soft and sticky, refrigerate the biscuits for another hour (or 10 minutes in the freezer), otherwise bake immediately.

Bake the biscuits for 8-10 minutes until they are golden around the edges, but still pale in the middle.

Remove the biscuits from the oven and move them to a wire rack to cool completely before decorating.
NOTES
The number of biscuits this recipe makes is dependent on the size of your cutters. The recipe makes 20 biscuits of the size shown (10cm tall).
If it is your first time making this recipe or you have a question, then I'd recommend having a read through the FAQs above the recipe. 
WANT TO HEAR ABOUT NEW RECIPES FIRST?
SUBSCRIBE to the Charlotte's Lively Kitchen Mailing List
NUTRITIONAL INFORMATION
Calories:
136
kcal
|
Carbohydrates:
19.4
g
|
Protein:
1.9
g
|
Fat:
5.6
g
|
Saturated Fat:
3.4
g
|
Sodium:
40.3
mg
|
Fiber:
0.5
g
|
Sugar:
8.8
g
Any nutritional information provided is the estimated nutritional information per serving. Please refer to my guide to Charlotte's Lively Kitchen nutritional information if you would like to learn more about how this is calculated.
---