My recipe for perfect gingerbread biscuits that are delicious, easy to make and hold their shape brilliantly. Perfect for gingerbread men, houses and tree decorations.
Skip to the recipe
When I think of Christmas foods certain things always spring to mind – mince pies, turkey, brussel sprouts and of course gingerbread.
In the past when I've come to make gingerbread biscuits each year I've googled the recipe and chosen one somewhat at random. This has resulted in a rather hit and miss selection of biscuits.
The thing about gingerbread is that whilst it's the sort of thing you associate with small children it has a lot of boxes to tick in order to be successful in my book…
It must taste good.
It must hold it's shape – one of the fun things about making gingerbread biscuits with little ones is having fun with all the cutters and icing, if the biscuits end up looking all misshapen in the oven then I'm not happy!
It must not be too hard – ever bitten into one and worried a little bit that you've broken your tooth, especially when it's covered in lots of royal icing too.
The recipe needs to be nice and simple so that the boys can get involved.
The dough has to be quite forgiving so that if it gets a bit overworked by enthusiastic little hands it still tastes good.
Over the past few weeks I've been busy testing all sorts of variations of gingerbread recipes to find what I think is the perfect biscuit. I love a bit of random recipe testing and this has been by far the biggest – 6 different sugars, 2 different syrups, a variety of different spices, 3 different cooking methods, different weights, measures and cooking temperatures – I've been busy!
What makes the perfect gingerbread biscuit?
Through all of my recipe testing I found that…
Biscuits made with soft light brown sugar hold their shape better than those made with dark brown, but the dark brown ones tasted better. A mix of the two was the perfect compromise.
Biscuits made with treacle held their shape better than those made with golden syrup, but they were tougher to eat and had a slightly bitter taste.
A lot of recipes call for some bicarbonate of soda, I've left it out as it didn't make a huge difference to the texture but it caused them to lose their shape more easily.
I prefer biscuits with only ground ginger (other spices were nice, just not what I'd call gingerbread!).
I prefer the method of rubbing the butter into the flour and then adding the other ingredients (similar to making pastry). It's the safest to get the boys involved with, it requires least patience (no waiting for butter to soften or chilling the dough before cooking) and the dough is very forgiving – I found that when I used the method of heating the butter, syrup and sugar together before adding the other ingredients the dough hardened and was trickier to work with.
I like to roll the dough out between two sheets of cling film (same as I always do with pastry). The dough can be slightly sticky and so to stop yourself getting into a mess without cling film you'll need to flour your work surface and rolling pin. Adding too much flour might result in your biscuits being a bit too dry, using cling film removes the need for extra flour.
I always think that one of the best things about making gingerbread is getting the boys involved. My youngest helped me out with a batch, we had a lot of fun making them and even more fun eating them!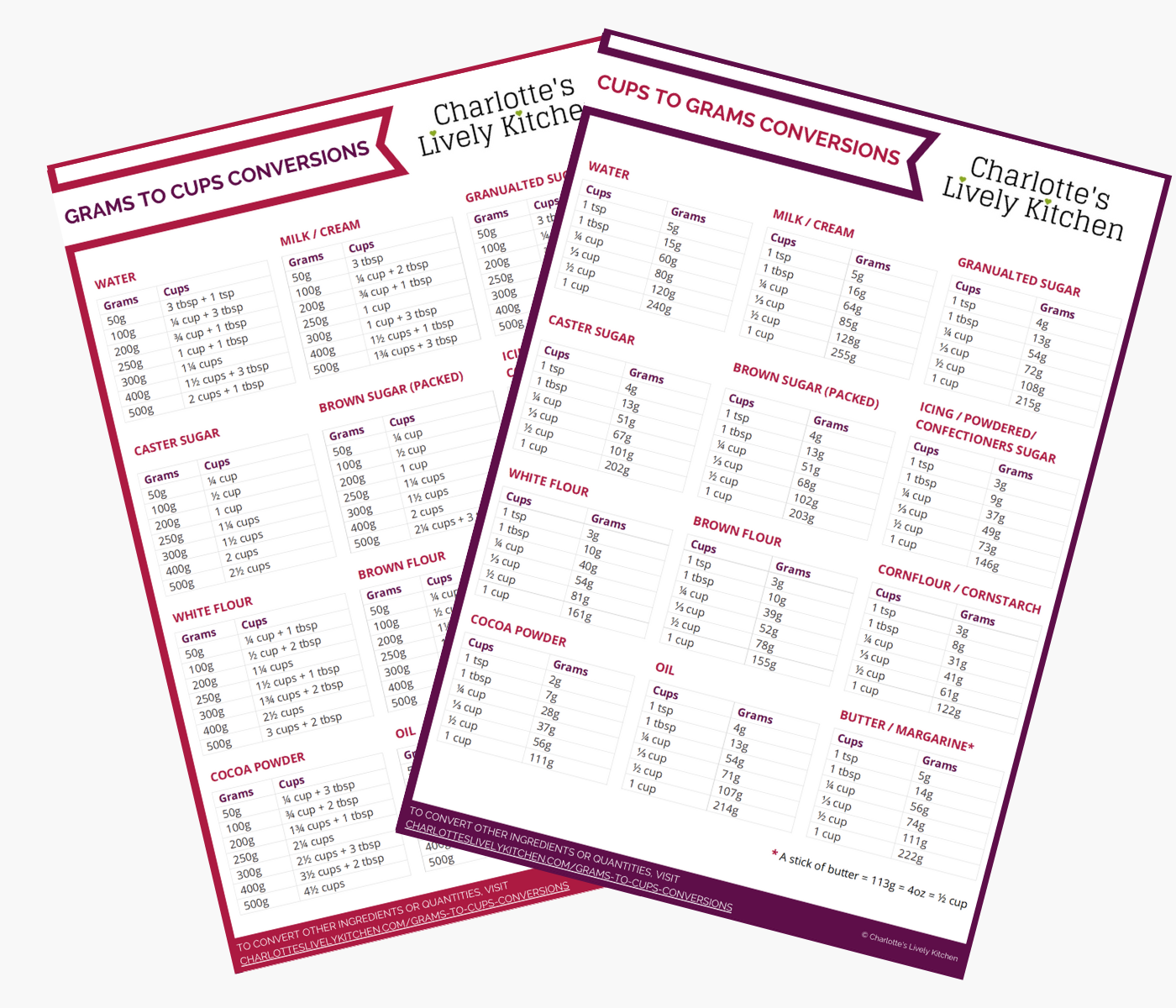 Subscribe to the Charlotte's Lively Kitchen mailing list to get your FREE printable grams to cups and cups to grams conversion charts for twelve popular baking ingredients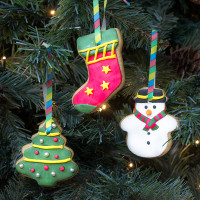 Perfect Gingerbread Biscuits
My recipe for perfect gingerbread biscuits that are delicious, easy to make and hold their shape brilliantly. Perfect for gingerbread men, houses and tree decorations.
Print
Rate
Save
Go to Collections
Equipment
Large bowl

Weighing scales

Biscuit cutters

Cling film

Rolling Pin

2 large baking sheets

Non-stick baking sheet or greaseproof paper (I always use bake-o-glide sheets and they work brilliantly)
INGREDIENTS
100

g

unsalted butter

300

g

plain flour

1

tbsp

ground ginger

¼

tsp

salt

50

g

soft light brown sugar

50

g

soft dark brown sugar

100

g

golden syrup

1

medium egg

Icing and sprinkles to decorate

-

I used coloured fondant icing simply because I love using it.
INSTRUCTIONS
Pre heat your oven to 180ºC/160ºC fan.

Line two large baking sheets with a non-stick sheet/greaseproof paper.

Cut the butter (100g) into cubes and put it into a large bowl with the plain flour (300g). Rub the butter into the flour with your fingertips until it has to consistency of breadcrumbs.

Add the ground ginger (1 tbsp), salt (¼ tsp), light brown sugar (50g) and dark brown sugar (50g) and give the mixture a stir to ensure it's evenly distributed. If there are any lumps of sugar give them a squeeze to break them up.

Add the golden syrup (100g) and 1 medium egg. Use your hands to mix the syrup and egg into the other ingredients until it comes together in a ball. You'll find that there will be some stray dry bits at the bottom of the bowl. Squeeze the dough into the dry bits until it comes together.

Place the dough between two large sheets of cling film and roll it out until it is about ½cm thick.

Use your cutters to cut out festive shapes and carefully peel them off your cling film and place them onto the lined baking sheet. Put them a couple of centimetres apart - they should hold their shape but best to allow for a bit of spread just in case. If you're making tree decorations, don't forget to make a hole large enough for the string to go through.

Bring the remaining dough together into a ball, roll out again and cut-out more shapes. Repeat until you've used all of the dough up.

Put them into the oven and bake for 12-15 minutes.

Carefully lift from the tray and place onto a cooling rack to cool completely before decorating.
NOTES
I find that this recipe makes around 16 biscuits, but the amount  you'll be able to make depends on the size of the cutters you choose.
The preparation time shown are just for baking the biscuits and don't included the time needed for decoration.
WANT TO HEAR ABOUT NEW RECIPES FIRST?
SUBSCRIBE to the Charlotte's Lively Kitchen Mailing List
NUTRITIONAL INFORMATION
Calories:
162
kcal
|
Carbohydrates:
24.8
g
|
Protein:
2.3
g
|
Fat:
5.7
g
|
Saturated Fat:
3.4
g
|
Sodium:
40
mg
|
Fiber:
0.6
g
|
Sugar:
11.6
g
Any nutritional information provided is the estimated nutritional information per serving. Please refer to my guide to Charlotte's Lively Kitchen nutritional information if you would like to learn more about how this is calculated.
---
Free From/Suitable For…
Suitable for Vegetarians
Nut-Free
Soy-Free
The ingredients for this recipe are commonly available free from all these allergens. However, please ensure you double-check allergen information for all ingredients.