Make perfect hummus at home with this delicious recipe, no tahini required and ready in 15 minutes.
I cook for four main reasons…
Something quick to eat.
To have fun with my children cooking together.
Simply for the enjoyment of creating something delicious.
A challenge – defeating my evil nemesis recipes that no matter how hard I try just won't work (my current evil nemesis is Hollandaise Sauce but I will not be defeated).
Hummus falls very much into number 3. It's a recipe that takes a little bit of effort but I alway feel really satisfied when it's made and it tastes delicious, so it's really worth it.
How to make hummus without tahini
One of the key ingredients of hummus is tahini, a paste made from toasted sesame seeds and oil. Unfortunately for me they don't sell it in my local supermarket so I've had to find an alternative.
After trying a few different things which just weren't giving me the right flavour, I decided to try and make my own.
You make tahini by toasting sesame seeds, grinding them to a smooth powder (using a blender, spice grinder or pestle and mortar) and then gradually adding oil until it is the right consistency. Fortunately, to make my hummus you don't have to do all of this. You can simply add the powdered sesame seeds to your chickpeas, and add a little extra oil when making the hummus.

To peel or not to peel?
Whenever I see new hummus recipes there always seems to be some reference to whether the chickpeas should be peeled or not.
I'm on the side of peel. I really didn't want to be and I tried several times to make the exact same recipe with the chickpea skins left on but it just wasn't as nice. It's not the texture, as my blender doesn't seem to get the hummus really smooth anyway. It's the taste. I think the skins make it taste ever so slightly more bitter. Maybe I'm just being picky, but if I'm going to the effort of making it from scratch at home then I might as well take an extra few minutes to do it the best I can.
Fortunately there's a quick way to peel chickpeas
If you've ever peeled chickpeas you'll know that it's one of the most mindnumbingly dull jobs ever. You have to gently squeeze them to make the chickpea pop out.
Once I'd decided that peeling was the way to go, I got onto google to seek out a quick way to peel chickpeas and found this helpful little video on You Tube.
I tried it out and it works perfectly.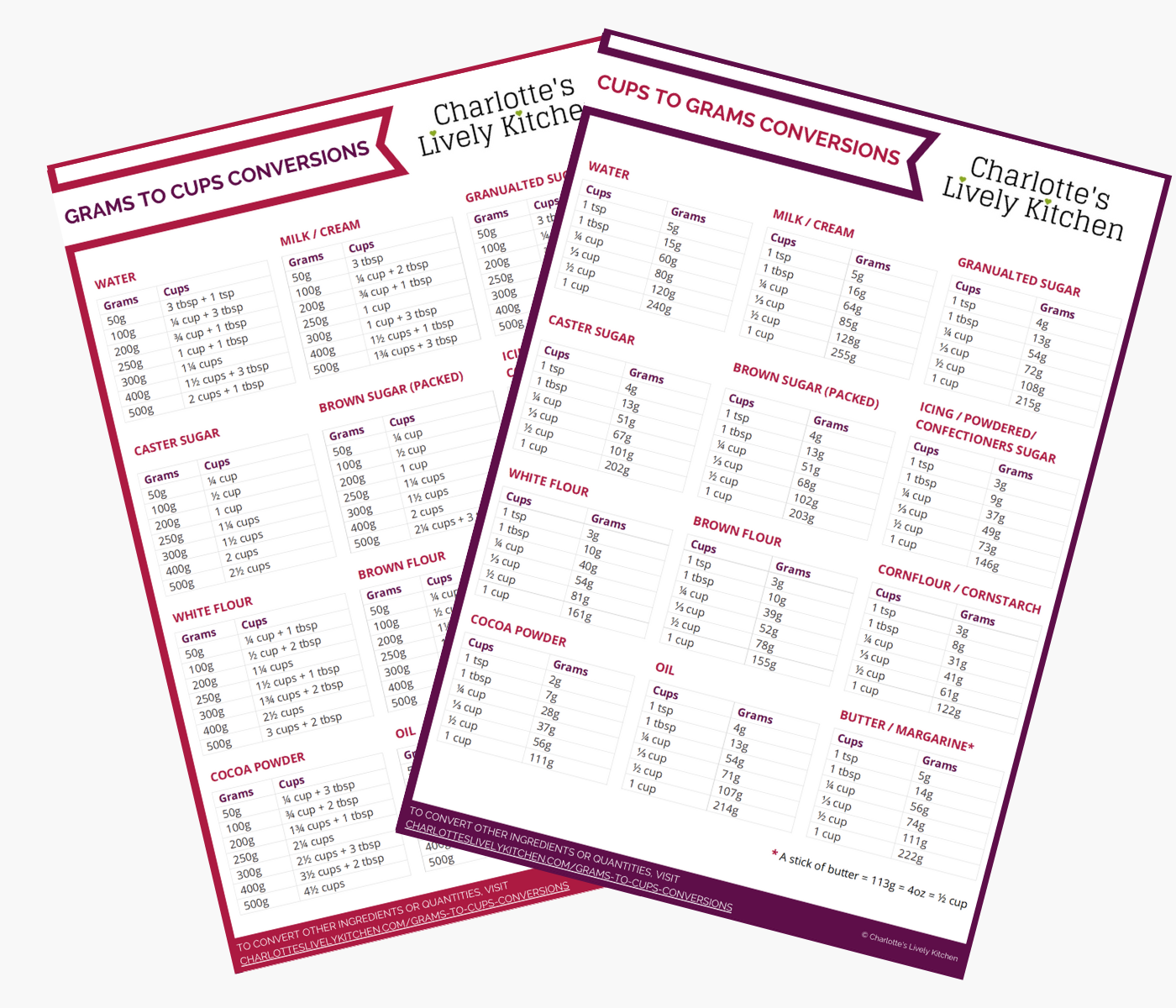 Subscribe to the Charlotte's Lively Kitchen mailing list to get your FREE printable grams to cups and cups to grams conversion charts for twelve popular baking ingredients
INGREDIENTS
4

tbsp

sesame seeds

1

x 400g can chickpeas

-

preferably peeled

2

tbsp

olive oil

2

tbsp

rapeseed oil

2

tbsp

cold water

1

clove

garlic

Juice of ½ lemon

Salt
INSTRUCTIONS
Place a small frying pan on a medium heat and once hot, add the sesame seeds (4 tbsp) and cook until lightly brown, shaking gently to help them brown evenly (don't overcook as that will give them a bitter flavour).

Once lightly brown, remove from the heat and grind to a fine powder using a blender, spice grinder or pestle and mortar.

Drain and peel the chickpeas (400g can) and place into a blender with the sesame powder, olive oil (2 tbsp) and rapeseed oil (2 tbsp) and blend until smooth.

If the hummus is a little thick then add cold water and blend until it is the desired consistency (I use 2 tbsp)

Crush the garlic (1 clove), add the lemon juice (approx. ½ lemon) and garlic to the hummus and blend (don't add all of the lemon and garlic at once, add it gradually, taste and then add a little more to get the balance of flavour you want).

Season with salt.

Blend again and serve.
WANT TO HEAR ABOUT NEW RECIPES FIRST?
SUBSCRIBE to the Charlotte's Lively Kitchen Mailing List
NUTRITIONAL INFORMATION
Calories:
176
kcal
|
Carbohydrates:
10
g
|
Protein:
4
g
|
Fat:
13
g
|
Saturated Fat:
1
g
|
Sodium:
186
mg
|
Potassium:
124
mg
|
Fiber:
3
g
|
Vitamin A:
10
IU
|
Vitamin C:
1.2
mg
|
Calcium:
82
mg
|
Iron:
1.7
mg
Any nutritional information provided is the estimated nutritional information per serving. Please refer to my guide to Charlotte's Lively Kitchen nutritional information if you would like to learn more about how this is calculated.
---
---
I'm sharing this recipe with #RecipeOfTheWeek with A Mummy Too.
SaveSave