Advertising Feature
Lamb chops with crispy potatoes and minty peas is perfect for a quick dinner for two. Ready in half an hour and made in only one pan, so there's hardly any washing up!
It's also free from many common allergens such as gluten, dairy and eggs, so perfect if you're cooking for someone that needs to avoid these things.
My husband Jon has a long commute to work, which means that the boys can't wait for him to get home before having their dinner. As a result I'll quite often end up cooking twice. As you can imagine, cooking (and then cleaning up) twice can take up a fair bit of my evening, so I like Jon's dinners to be as quick and hassle-free as possible, with minimal cleaning up if I can help it.
This one-pan lamb chops recipe is perfect for our mid-week dinners as (as the name suggests) it's all cooked in the one pan, so there's very little washing up and it's ready in under half an hour too. It's also the sort of dinner that you need to keep checking back on to give it a quick stir or flip the chops over, but you can multi-task a bit while you're making it. I'll often find myself making sure the boys have done their homework or getting them into their PJs whilst the dinner is sizzling away.
A few variations
I've used lamb chops for this recipe, but if you prefer lamb steaks you can easily substitute them in. As lamb steaks tend to be bigger than chops I'd suggest switching two chops for one steak.
I've used fresh rosemary and mint in this recipe, however if you don't happen to have any then it still works well without. I've tried it with a few bashed garlic cloves added to the pan instead of the herbs and it tastes delicious that way too.
If you happen to have new potatoes instead of white potatoes then these would work just as well, as would sweet potatoes which also give it a really lovely colour.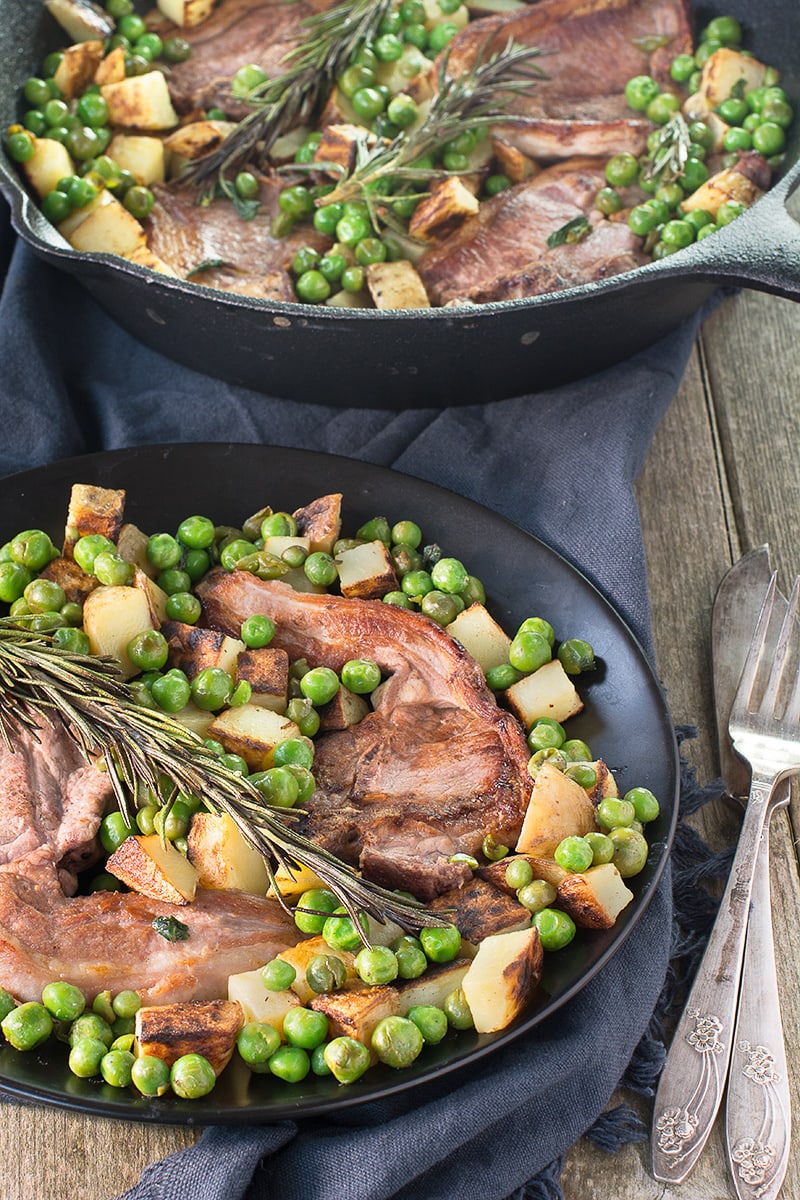 One Pan Lamb Chops with Crispy Potatoes and Minty Peas
Active Time:15 minutes
Total Time:30 minutes
Serves 2
Ingredients
4 lamb chops (or 2 lamb steaks)
1 large or two medium white potatoes (about 250g)
2 cups of peas (about 200g)
A few sprigs of fresh rosemary
A few sprigs of fresh mint leaves
1 tbsp olive oil
A small knob of butter or a little extra olive oil (if needed – see why in the recipe)
Salt
Method
NOTE – I cook the entire recipe in the same large, deep frying pan. My frying pan is quite lightweight which means I can easily carry it to the sink to drain the water from cooking the potatoes. If your pan is heavy or awkward to carry then I'd recommend using a saucepan for steps 1-3. 

Chop your potatoes into small cubes (about ½" wide, there's no need to peel them although you can if you prefer).
Add boiling water into a deep frying pan (you want the water about ½" deep, just enough to cover the potatoes). Add the potatoes and cook for 10 minutes.
Drain the potatoes.
Return the frying pan to the heat and add the olive oil (1 tbsp). Once the oil is hot add the potatoes and lamb chops. Tuck the rosemary sprigs in between the potatoes and chops and season with salt. Cook the potatoes for 10 minutes, turning them occasionally to help them cook evenly. The cooking time for the lamb chops depends on how well done you like them…

Medium – 2-3 minutes on each side
Well done – 4-5 minutes on each side

Once the lamb has cooked remove it from the pan and wrap it in foil to rest whilst the potatoes finish cooking.

Once the potatoes have cooked remove them from the pan and set to one side. If the pan looks a little dry then add a knob of butter or a little extra olive oil. Add the peas to the pan and shred the mint leaves over the top, then season with salt. Fry for 1-2 minutes until the peas are hot.
Serve.
Nutritional Information
Calories: 647 kcal (32%), Fat: 37.0g (53%), Saturated Fat: 15.8g (79%), Carbohydrates: 38.5g (15%), Sugar: 7.1g (8%), Fibre: 7.1g (30%), Protein: 36.3g (73%), Salt: 0.6g (9%)
1 of your 5-a-day fruit and vegetables.
This is the estimated nutritional information per serving (excluding additional salt added during cooking). Please refer to my guide to Charlotte's Lively Kitchen nutritional information if you want to learn more about how this is calculated.
Free From/Suitable For…
Corn-Free
Dairy-Free (assuming you don't include the optional butter before cooking the peas)
Egg-Free
Gluten-Free
Nut-Free
Soy-Free
The ingredients for this recipe are easily available free from all these allergens. However, please ensure you double-check allergen information for all ingredients.
---
I'm sharing this recipe with the following blog challenges… #CookBlogShare with Easy Peasy Foodie and #FreeFrom Fridays with Le Coin De Mel and Free From Farmhouse.