How to make orange liqueur truffles. There are two versions of this recipe, my original chocolate coated truffles and a quick and easy version. Both versions taste absolutely delicious and are the perfect gift for someone special.
Two things I love about Christmas are Chocolate Orange and liqueur chocolates, so I thought I would combine the two together to make a truly indulgent festive treat – Orange Liqueur Truffles. They're an adaptation of my super popular Baileys Truffles, and I hope you love them just as much as you seem to love those!
I've tried these out on a few different people and been told that they definitely have a bit of a kick to them, but what's the point of liqueur truffles if there's only a teeny hint of liqueur, eh? 😉 If you find them a little strong then you can always swap out some of the orange liqueur for the same amount of cream.
I've dipped my truffles in tempered milk chocolate (more about tempering in a bit – it's easy, I promise), but if that all seems like a bit of a faff then you can simply roll the truffle balls in cocoa powder – what these lose in the snap of the chocolate coating they make up for in melt-in-the-mouth-iness, it's tricky to know which is best (go on, make both 🙂 ).
Tempering My Chocolate with Thermapen
A few weeks ago I was sent a Thermapen 4 to try out (in green to match my website 🙂 ) and I thought that tempering chocolate would be the perfect opportunity to put it to the test, as the whole process relies on accuracy with the temperature of the chocolate.
For anyone unfamiliar, a Thermapen is a digital food thermometer (the UK's number one selling apparently) which is designed to be fast, accurate and convenient to use.
I can confirm that my chocolate set quickly and maintained its lovely snap when it had cooled – suggesting to me that the thermometer did a great job of accurately reading the temperature. I've also tested it out on a few roast dinners to ensure that they're cooked through before serving them to my family, and again I have no complaints about the results I got.
What I liked about it…
It's quick – it calculates the temperature in seconds so you can easily tell if food has reached the required temperature.
Its tapered probe makes it easy to stab into food (like my roast chickens) and the design means that if you only want it to go in a little way (rather than accidentally poking it all the way through and measuring the temperature of the air on the other side) it's easy to control.
The backlit display means it's easily read even in low light (useful over my dark hob).
It's waterproof making it much easier to wash up. I've never had a waterproof food thermometer before and I've always found them tricky to get really clean (as I couldn't leave them to soak and always worried about dropping them into my washing-up bowl and breaking them). I've given my Thermapen a thorough soaking and it's still going strong.
It uses AAA batteries. I haven't had to change the battery (as it's supposed to last 3000 hours) but I've had frustration in the past when I've been cooking and a battery has gone in some essential equipment (I'm talking to you weighing scales) only to find that it's some random battery I have to make a special trip to the shops for. With two young children I have an endless supply of AAA batteries for their toys so I should never have that problem.
What could be better…
Not a lot, it's a really good all-round thermometer, but…
I'd love it if it had a clip to attach it to the side of a pan or bowl for continuous temperature monitoring. This isn't a huge problem as it measures temperature quickly, but for foods that heat quickly you need to be vigilant to ensure that you've got it in your food at the right moment.
If you only need a food thermometer for a single purpose, e.g. sugar work or tempering then you may find a specialist version that is designed for the job a little better (e.g. clipping to the pan, or being built into the spatula for continuous temperature monitoring). However, if you're after something all-round (sugar, chocolate, meat, bread, etc…), then I'd thoroughly recommend a Thermapen 4, and if you're in charge of the turkey this Christmas and want to ensure it's cooked to perfection (cooked but not dried out) then a Thermapen is definitely worth having at the ready.
How to Colour Tempered Chocolate
As you know, I love experimenting in the kitchen and figuring out new things and one thing that's been on my to-figure out list for a while now is colouring tempered chocolate. I finally found the opportunity to figure it out with this recipe, as I wanted to add a little orange decoration onto each chocolate. I opted to make the orange colour on these quite subtle as you needed sunglasses to look at some of my earlier attempts, but you can easily make it bolder if you like by adding more colouring.
There are two important tips you need…
Use gel food colouring, the liquid ones will seize your chocolate and make it go grainy. I used Sugarflair colours (a mix of red and yellow).
Add the food colouring while you're tempering. If you try and colour it after you've got it down to the right temperature the chocolate will get too cold and won't be easy to use. If you're planning on using a mix of more than one shade then mix the colours together in a little pot before you start, so that you've got it ready when you need it.
I'm so excited about figuring this out as I'm completely in love with the moulded chocolates with multicoloured shells I've seen in quite a few shops this year. Have you seen them? What do you think?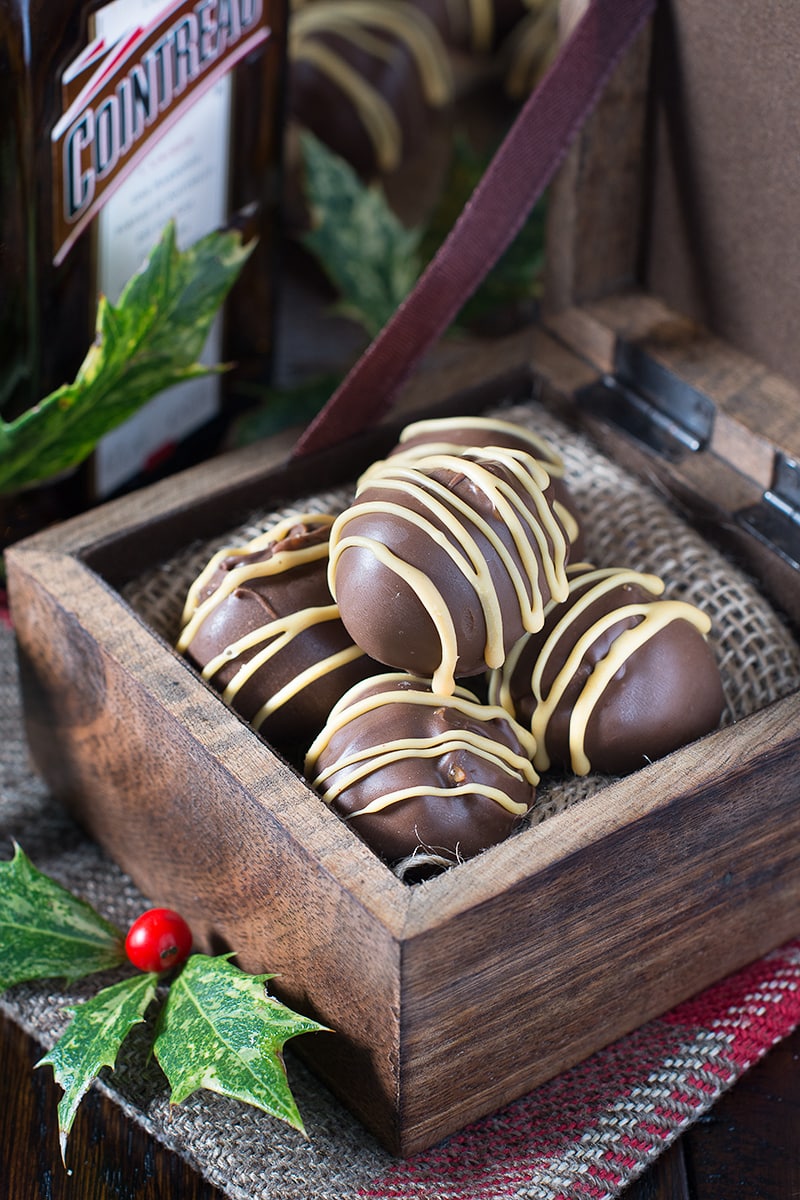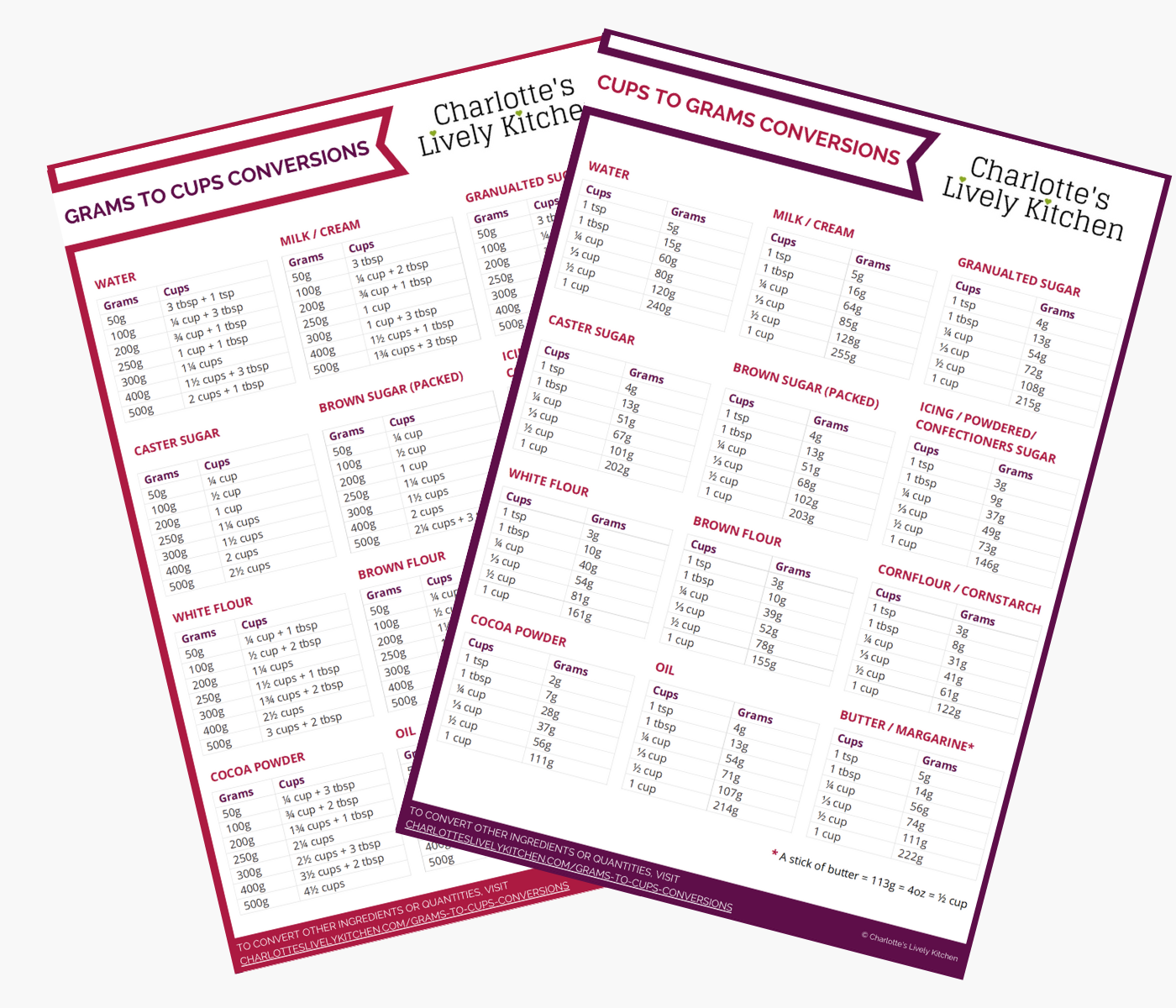 Subscribe to the Charlotte's Lively Kitchen mailing list to get your FREE printable grams to cups and cups to grams conversion charts for twelve popular baking ingredients
Orange Liqueur Truffles
How to make orange liqueur truffles. There are two versions of this recipe, my original chocolate coated truffles and a quick and easy version. Both versions taste absolutely delicious and are the perfect gift for someone special.
Print
Rate
Save
Go to Collections
Servings:
30
truffles (approx)
INGREDIENTS
600

g

milk chocolate

-

good quality

100

ml

double cream

100

ml

orange liqueur

¼

tsp

orange extract

25

g

white chocolate

orange gel food colouring
INSTRUCTIONS
Make the ganache
Break 400g milk chocolate into chunks and pop it into a saucepan. Warm on a VERY gentle heat until all of the chocolate has melted (you can do this over a bain marie or in a microwave if you prefer).

Put the double cream (100ml), orange liqueur (100ml) and orange extract (¼ tsp) into a large bowl. Once the chocolate has melted, pour it into the liqueur and cream and stir it rapidly until fully combined (you must stir quickly otherwise the chocolate may seize and go lumpy).

Pop it into the fridge to set (mine needed a good couple of hours to be firm enough to roll into balls).

Once the ganache is firm roll it into balls about 1" in diameter. Return the ganache balls to the fridge while you temper your chocolate.
Temper the milk chocolate (See note 1)
Break 150g of milk chocolate into a saucepan and warm on a gentle heat until the chocolate has reached 45ºC. Once it has reached 45ºC remove from the heat (don't worry if it hasn't completely melted, continue to stir it and the remaining lumps will melt in the residual heat).

Pour the chocolate into a large bowl.

You now want to bring the temperature of the chocolate down to 32ºC which you do by stirring in the 50g of chocolate you haven't used yet. Add this chocolate a couple of pieces at a time, stirring continuously. As the chocolate melts, add more pieces until you reach 32ºC.

Remove any unmelted lumps of chocolate (these can be a little cook's treat!).
Make the chocolates (See note 2)
Lay out a large sheet of greaseproof paper.

Get your ganache balls from the fridge.

Drop a ganache ball into the melted chocolate and use a tablespoon to move it around and ensure it's all coated. Lift it out using the spoon and the carefully slide it onto the greaseproof paper using the back of a fork.

Repeat until all of your chocolates are coated.

Leave for about 30 minutes for the chocolate to set completely (this will be quicker in the fridge but they will set at room temperature as long as it's not too warm).
Decorate with white chocolate (see note 3)
Heat some water in a saucepan and once boiling reduce the heat to give a gentle simmer. Cover the pan with a bowl (not touching the water) and put 15g of white chocolate into the bowl. Melt until it reaches 45ºC.

Once the chocolate has reached 45ºC remove it from the heat and put into a bowl. Add a little orange gel food colouring and then stir in the remaining white chocolate (10g) a bit at a time, until the temperature has fallen to 32ºC.

Put the melted white chocolate into a piping bag or bottle and drizzle over the chocolates (if you don't have a piping bag or bottle then you can also use a fork dipped in the white chocolate and allow it to drizzle over).

Leave to set.
NOTES
Note 1 - If you're new to tempering chocolate then I'd recommend you take a look at my guide which includes a quick video demonstration showing exactly what you need to do.
Note 2 – tempered chocolate sets quite quickly so you'll need to work as fast as you can to ensure that you get all of your chocolates coated. If you do find it setting before you have a chance to dip all of your truffles then warm it gently to bring it back up to 32ºC and carry on dipping.
Note 3 - I'm happy to melt milk and dark chocolate in a pan over a direct heat but I prefer to melt while chocolate in a bain marie as it's less likely to seize and go lumpy that way.
You'll need to leave quite a bit of time to make these truffles, as at each stage the chocolate needs time to set in the fridge before moving onto the next stage.
These chocolates will keep for a few days at room temperature or a couple of weeks in the fridge.
The Easy Version
If tempering chocolate isn't for you then simply complete the first stage "Make the Ganache" and then once the ganache balls have firmed up in the fridge, simply roll them in a little cocoa powder.
WANT TO HEAR ABOUT NEW RECIPES FIRST?
SUBSCRIBE to the Charlotte's Lively Kitchen Mailing List
NUTRITIONAL INFORMATION
Serving:
1
truffle
|
Calories:
130
kcal
|
Carbohydrates:
10.2
g
|
Protein:
1.2
g
|
Fat:
8.5
g
|
Saturated Fat:
5.3
g
|
Sodium:
40
mg
|
Sugar:
10.1
g
Any nutritional information provided is the estimated nutritional information per serving. Please refer to my guide to Charlotte's Lively Kitchen nutritional information if you would like to learn more about how this is calculated.
---
Free From/Suitable For…
Vegetarian
Gluten-Free
Corn-Free
Egg-Free
Nut-Free
The ingredients for this recipe are easily available free from all these allergens. However, please ensure you double-check allergen information for all ingredients.