All the flavour of peanut butter in a smooth buttercream – perfect for piping onto cupcakes, covering layer cakes, or filling biscuits and macarons.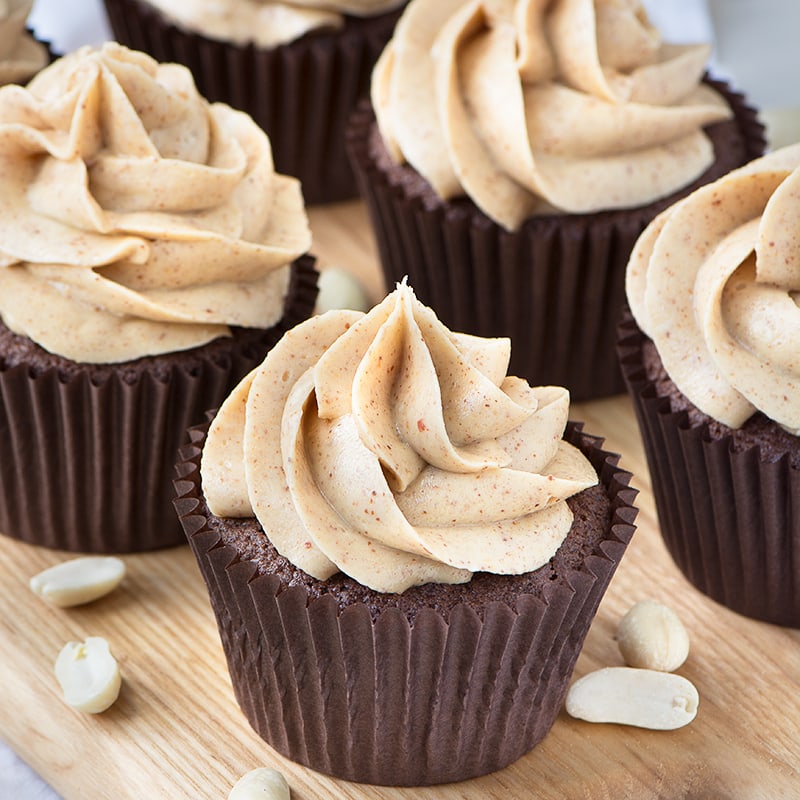 It's been a little while since I added to my cupcakes and icing collection so I thought it was about time I created another new flavour – Peanut Buttercream.
Firstly a big thank you to everyone on twitter who helped me name this recipe. I was torn between Peanut Butter Buttercream (which I guess is really what it is, but it's a bit of a mouthful to say) and Peanut Buttercream (which is much less of a tongue twister). The votes were pretty close but Peanut Buttercream was the winner.
I need help naming a recipe. Should it be…

— Charlotte Oates (@CharlottesLK) July 13, 2017
If you fancy helping me out with important tasks like naming my recipes or deciding what sort of recipes I should be developing, make sure you follow me on twitter and like my Facebook page.
The flavour of the peanut buttercream with taste of the chocolate cupcakes I piped it onto (get the recipe for those here) reminded me a lot of a Snickers bar, so my next job is going to be turning these into some yummy Snickers cupcakes. Keep your eyes peeled for those turning up soon.
Peanut Buttercream
Active Time:5 minutes
Total Time:5 minutes
Makes enough for 12 cupcakes or for a thin filling and covering on a 20cm 2-layer round cake
I used my peanut buttercream to decorate my delicious chocolate cupcakes. If you fancy trying something a little different you can find my full collections of cupcakes here as well as all my other buttercream flavours.
Ingredients
250g unsalted butter – soft at room temperature
250g icing sugar
250g smooth peanut butter
Method
NOTE – If you're using natural peanut butter you'll find quite a lot of oil at the top. You want to ensure that you drain as much of the oil away from the peanut butter as possible or you'll find that your buttercream will become too soft.

Put the butter (250g) and peanut butter (250g) into a large bowl and beat (by hand or using an electric mixer on a slow speed) until fully combined and soft.
Add the icing sugar (250g) a tablespoon at a time and beat on a low speed until fully combined.
Your buttercream is now ready to serve. If you find it's become a little soft then simply pop it into the fridge until it has firmed up a little.
Nutritional Information
Calories: 311 kcal (16%), Fat: 22.9g (33%), Saturated Fat: 10.8g (54%), Carbohydrates: 20.1g (8%), Sugar: 19.0g (21%), Fibre: 1.5g (6%), Protein: 5.4g (11%), Salt: 0.0g (0%)
This is the estimated nutritional information per serving. Please refer to my guide to Charlotte's Lively Kitchen nutritional information if you want to learn more about how this is calculated.
Free From/Suitable For…
Suitable for Vegetarians
Corn-Free
Egg-Free
Gluten-Free
Soy-Free
The ingredients for this recipe are easily available free from all these allergens. However, please ensure you double-check allergen information for all ingredients.