A healthier version of my peppercorn sauce that's still packed full of flavour.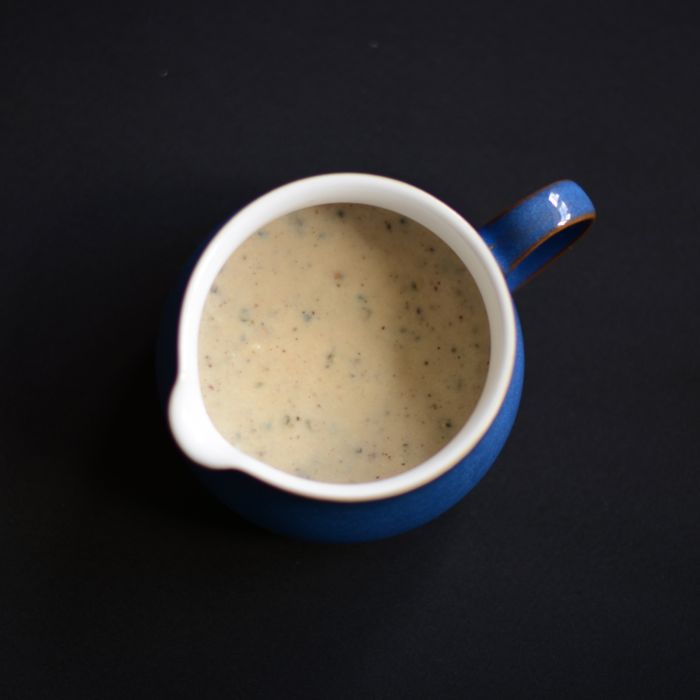 Another peppercorn sauce recipe?
Yes, I know I only recently posted the recipe for my original peppercorn sauce, but I've given it a makeover to create a healthy peppercorn sauce. This new version keeps all of the flavour whilst having significantly lower calories, fat and saturated fat (if you want to see just how much I've knocked it down by you'll have to read on – I'm pretty proud of what I managed). There's also hidden veg for some extra goodness.
So why give it a makeover?
One of the things I enjoy doing in the kitchen is to attempt to make healthier versions of some of my favourite foods. This is usually trying to reduce calories, fat, salt or sugar, but I'm also happy with anything that makes a recipe more nutritious. Occasionally (OK, quite often) these can be a bit of a disaster, but every now and again I find something that works really well. This peppercorn sauce is one of those times.
When I create recipes for Charlotte's Lively Kitchen the first step is always to try and create something that I think tastes delicious. It's only once that's done that I work out all of the nutritional information, so I can add it to the recipes you read here.
Occasionally that creates the unwanted feeling of finding out that something I thought wasn't too bad is actually much higher in calories, fat, salt or sugar than I'd expected. I definitely got that feeling with my original peppercorn sauce recipe. It's not terrible, not terrible at all, at 146 calories and 8g of fat per serving, but if I'm having a bit of a diet day (usually due to too much cake, or hope of future cake) then I don't think I can afford to get 11% of my daily reference intake of fat just from a sauce!
Ever since I posted my original peppercorn sauce recipe, I've been pondering ways to make it healthier. The great thing about calculating the nutritional information myself is that I can see a breakdown of where all of the calories, fat, etc. are coming from and therefore I know where to try and target my efforts.
In the case of my original peppercorn sauce, the vast majority of calories and fat were coming from the flour and butter used in the roux base of the sauce.
Recently I've found several recipes that substitute cauliflower for the flour and butter in some roux based sauces to make a healthier version. I thought that idea would be perfect here. So I gave it a try.
I've stayed as true to my original recipe as possible in terms of flavours, substituting cauliflower for the flour and butter and adjusting some of the other quantities to ensure that the flavours and consistency are right. The great thing is for non-cauliflower fans, because the sauce has quite a powerful flavour, the cauliflower taste is disguised by it all.
So onto the numbers, what's the benefit of switching to the cauliflower version?
There are 45 calories in the healthy versions compared to 146 in my original sauce. That's 69% reduction. Total fat has reduced from 8g to less than 1g.
I think that's a pretty impressive improvement.
Another benefit is that is also contributes 0.6 portions of vegetables towards your five-a-day.
Ideally I'd also like to reduce the level of salt. However, when I've tried, the sauce lacks the necessary flavour. If anyone's got any suggestions for alternatives to salt I can try then let me know in the comments.
So what did I change to make the difference?
The diagram below summarises the substitutions I made in the recipe.

Now on to the recipe…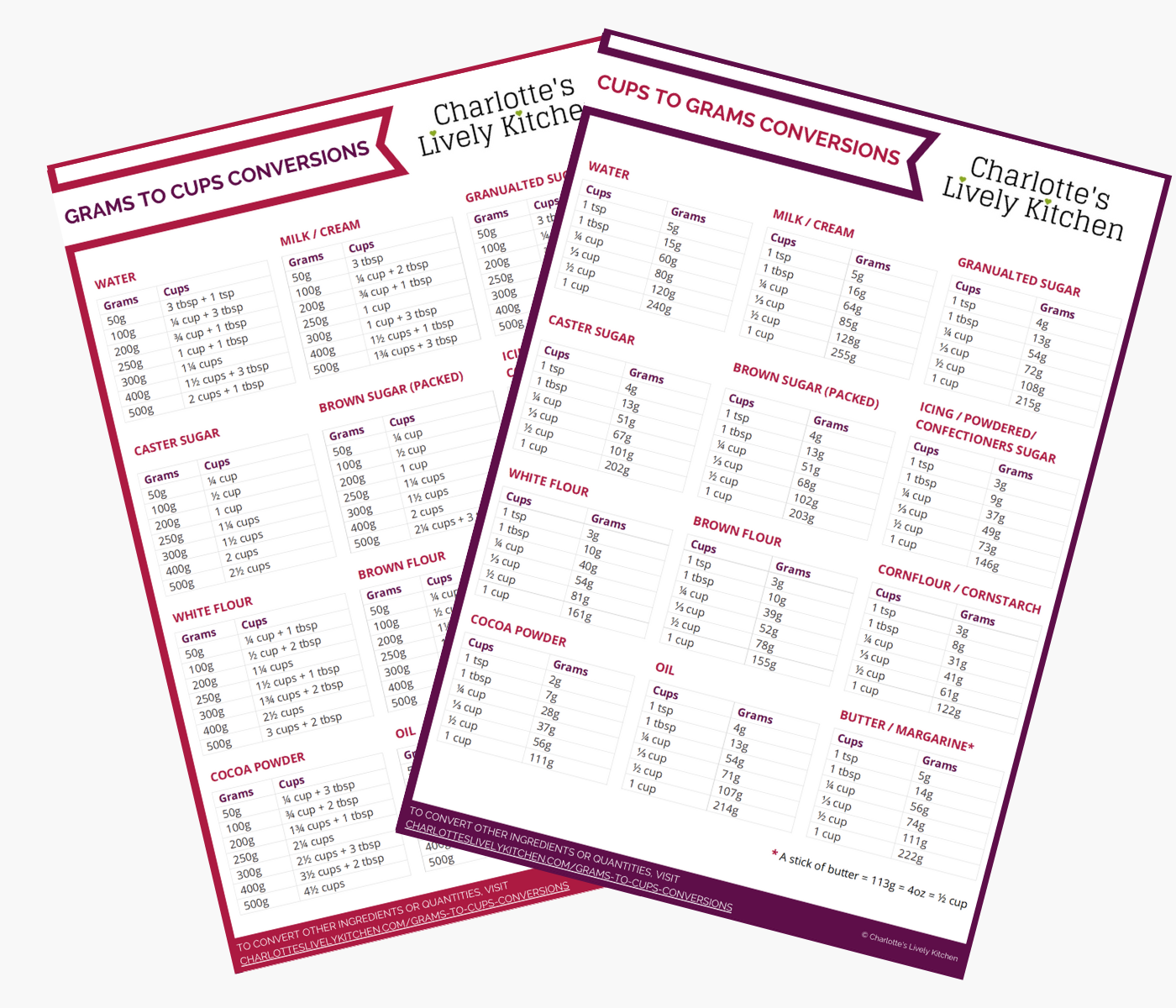 Subscribe to the Charlotte's Lively Kitchen mailing list to get your FREE printable grams to cups and cups to grams conversion charts for twelve popular baking ingredients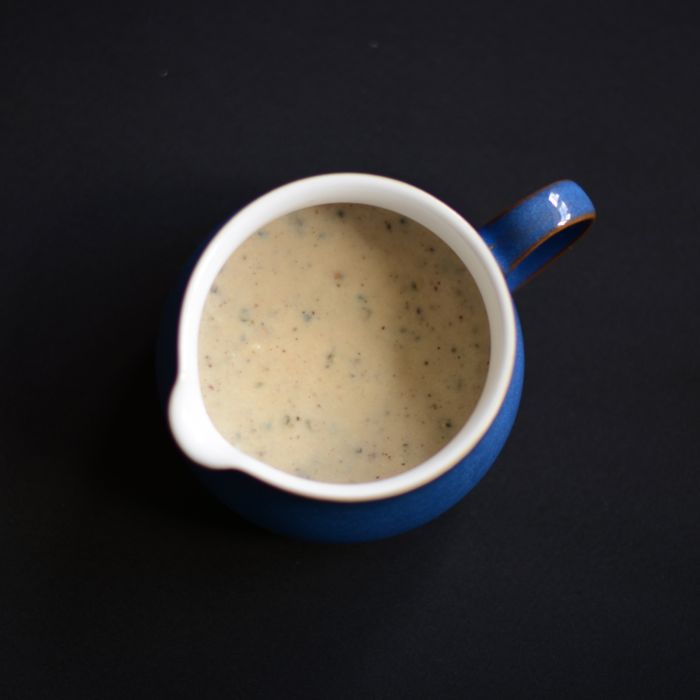 Peppercorn Sauce… with a healthy makeover
A healthier version of my peppercorn sauce that's still packed full of flavour.
Print
Rate
Save
Go to Collections
INGREDIENTS
200

g

cauliflower

-

about half a cauliflower

15

ml

brandy

100

ml

skimmed milk

1

chicken stock cube

15

g

4 tsp black peppercorns - vary this according to how powerful you want your sauce to be

Salt
INSTRUCTIONS
Chop the cauliflower (200g) into individual florets.

Bring a pan of salted water to the boil. Add the cauliflower and cook for approximately 20 minutes, until the cauliflower is soft -

you need to cook the cauliflower more that you would if you were serving it to eat whole. It needs to be very soft, otherwise the finished sauce may be lumpy.

Once the cauliflower is soft, drain and then purée with a blender or food processor.

Crack the black peppercorns (15g) in a pestle and mortar ( if you don't have one, put them in a plastic bag, wrap in a tea towel, and hit a few times with a rolling pin) -

you want to make sure that the peppercorns are cracked, but do not over-grind otherwise the sauce will lose its intense peppery flavour.

Into a heated saucepan, add the brandy (15ml) and cook for a few seconds.

Add the skimmed milk (100ml), chicken stock cube, black peppercorns and puréed cauliflower.

Season with salt.

Ensure that the sauce is heated through, then serve.
NOTES
Have you tried this recipe? Please leave a comment and rating at the bottom of the page to let others know what you thought.
WANT TO HEAR ABOUT NEW RECIPES FIRST?
SUBSCRIBE to the Charlotte's Lively Kitchen Mailing List
NUTRITIONAL INFORMATION
Calories:
45
kcal
|
Carbohydrates:
6
g
|
Protein:
2
g
|
Cholesterol:
2
mg
|
Sodium:
266
mg
|
Potassium:
234
mg
|
Fiber:
1
g
|
Sugar:
2
g
|
Vitamin A:
45
IU
|
Vitamin C:
24.1
mg
|
Calcium:
58
mg
|
Iron:
0.6
mg
Any nutritional information provided is the estimated nutritional information per serving. Please refer to my guide to Charlotte's Lively Kitchen nutritional information if you would like to learn more about how this is calculated.
---
Free From/Suitable For…
The ingredients I used to make this recipe are all free from the following allergens. However, please check any labels carefully for allergens you need to avoid as brands can vary and product recipes can change over time.
Egg-Free
Tree Nut-Free
Peanut-Free
Sesame-Free
Soya-Free
Fish-Free
Crustacean-Free
Mollusc-Free
Celery-Free
Mustard-Free
Lupin-Free