Advertising Feature
A delicious homemade pizza topped with sun-dried tomato pesto, olives, chillies and Grana Padano cheese and then finished with Prosciutto di San Daniele and rocket.
One of our favourite family meals is homemade pizza. One thing we love about it is that you can get really creative with toppings and today's recipe is one of our recent (and favourite) creations – Prosciutto di San Daniele and Grana Padano pizza. It's very straightforward to make and if you don't fancy making your own pizza base then you could simply add the toppings to an Italian flat bread instead, bake for a few minutes to melt the Grana Padano cheese before adding the prosciutto and rocket.
The flavours in this pizza go together beautifully, there's the saltiness of the prosciutto and cheese, the sweetness of the tomatoes, the spiciness of the chilli and the pepperiness of the rocket. I love eating food where in each bite you get something a little bit different, it makes it all the more interesting and enjoyable to eat and this pizza definitely delivers that.
Prosciutto di San Daniele
One of the main ingredients of my pizza is Prosciutto di San Daniele, a cured meat from San Daniele del Friuli which is located in Italy between the Adriatic sea and the Alps. Due to the unique microclimate where it's made it has a delicious delicate flavour and it just melts in the mouth. It's made from simply the thighs of specially selected Italian pigs and salt with no additives or preservatives.
For something so simple, there's a lot that goes into getting it just right…
Selection & Trimming – The fresh thighs are rigorously inspected and only those that meet the requirements of the Production Specifications are selected for processing. Afterwards the thighs are "trimmed" using special cuts to make them suitable for ideal ageing.
Salting & Pressing – Using traditional San Daniele processing techniques, the thighs are left salted for as many days as they weigh in kilos. After salting, the thighs undergo pressing, which allows the salt to penetrate deeply and gives them their traditional "guitar" shape. This is a processing phase typical and exclusive of Prosciutto di San Daniele.
Resting – The thighs are left to rest hanging in a special room. This allows for the drainage of the thighs and their optimal maturing.
Washing & Drying – After resting, the thighs are washed with warm water to remove the salt. After washing the thighs are kept in an environment where they are then dried and acclimatised.
"Sugnatura" – The paste made by pork fat and rice or wheat flour called "sugna" is applied to the uncovered part of the thigh keeping this portion of meat tender and protected.
Maturing – Four to five months after processing began, the thighs are moved to the ageing rooms under optimal temperature, humidity and ventilation conditions.
"Puntatura" – The progress of maturation is checked by inserting a horse-bone needle at specific points in the thigh.
Marking – Inspections are conducted thirteen months after the beginning of processing. Only the prosciuttos that satisfy all the requirements are certified and the Consortium mark is branded onto them.

Grana Padano
Grana Padano cheese was originally invented by Benedictine Monks as a way of preserving surplus milk. It's popularity means that it could be found on the banqueting tables of princes and dukes, as well as being part of the staple diet of people from rural areas.
Its traditional manufacturing process has remained unchanged over the centuries, which means that it still continues to have the same distinctive delicious flavour as it had when it was first created.
As with the Prosciutto di San Daniele, authentic Grana Padano cheese is branded after 9 months of ageing and only after strict quality controls, this branding certifies that you're getting perfect cheese. Grana Padano can age to well over 20 months and at 20 months it may then become Grana Padano Riserva, but only after passing further quality tests and being fire-branded with the "Riserva" mark.
Prosciutto di San Daniele and Grana Padano cheese are recognised by The EU as a protected designation of origin which means it can only be produced in that region and must follow the traditional production methods. It also ensures that it is produced to a consistently high standard meaning you'll always get a fantastic product.
Find Out More
To find out more about Prosciutto di San Daniele and Grana Padano like their Facebook page or follow them on Twitter.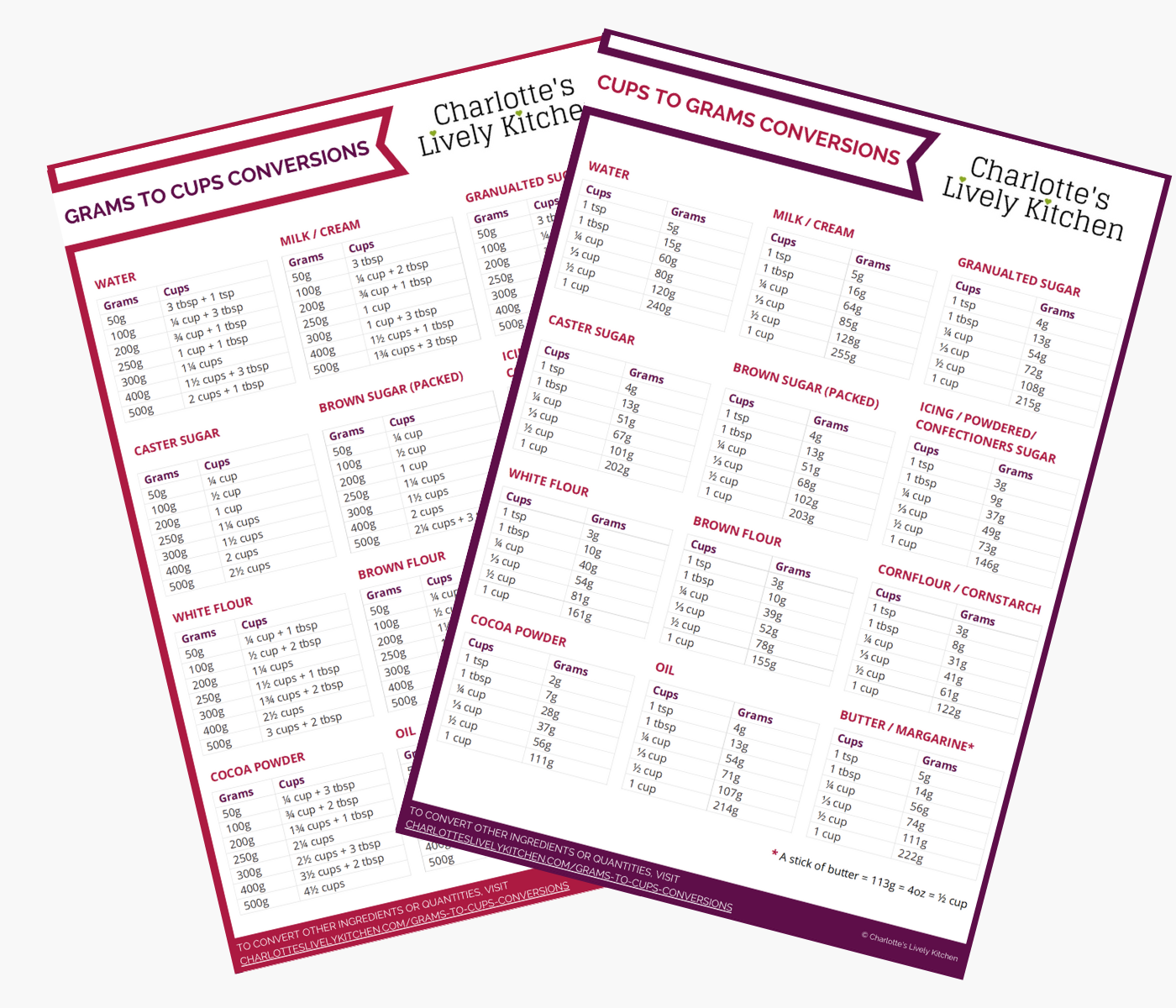 Subscribe to the Charlotte's Lively Kitchen mailing list to get your FREE printable grams to cups and cups to grams conversion charts for twelve popular baking ingredients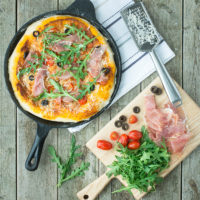 Prosciutto di San Daniele & Grana Padano Pizza
A delicious homemade pizza topped with sun-dried tomato pesto, olives, chillies and Grana Padano cheese and then finished with Prosciutto di San Daniele and rocket.
Print
Rate
Save
Go to Collections
Servings:
4
portions (2 pizzas)
INGREDIENTS
For the pizza base
350

g

'00' flour

-

see note 1

2

tbsp

olive oil

1

tsp

fast-action dried yeast

1

tsp

salt

240

ml

water

-

cold-lukewarm, not hot
For the sun-dried tomato pesto
8-9

sun-dried tomatoes

-

+ some of the oil they're stored in

1

clove

of garlic

A handful of fresh basil leaves

1

tbsp

toasted pine nuts

30

g

grated Grana Padano cheese

Salt and pepper
For the other toppings
150

g

of grated Grana Padano cheese

A few cherry or baby plum tomatoes

A few olives

1

fresh red chilli

-

use more or less depending on how spicy you'd like your pizza to be

A few slices of Prosciutto di San Daniele

A handful of fresh rocket
INSTRUCTIONS
Make the pizza dough
Put the flour (350g), yeast (1 tsp) and salt (1 tsp) into a large bowl - Put the salt and yeast on opposite sides of the bowl to prevent the salt killing the yeast before it's had a chance to work.

Make a well in the centre and add half the water (120ml), mix well with your hands.

Keep adding water a little bit at a time until all of the flour has been incorporated into the dough. The dough should be slightly sticky but not sloppy - If you accidentally add too much water add a sprinkle of flour and combine until you have the right consistency.

Spread a little of the olive oil onto a clear work surface and knead the dough in the oil. Keep adding a little oil until the full 2 tbsp have been incorporated - The olive oil helps to prevent the dough from sticking to the surface and adds flavour to the pizza. The dough can sometimes get sticky while kneading, keep persevering, it will improve, and don't be tempted to add more flour or you'll end up with a dry, heavy pizza base. If you prefer you can knead the dough in a mixer with a dough hook on a low speed for 5 minutes.

Keep kneading the dough until it is smooth, springy and if you stretch it in front of a light source you'll be able to see the light coming through without the dough breaking.

Put the dough into a lightly oiled bowl and cover with cling film. Leave to prove for 1-1½ hours (or overnight in the fridge) until the dough has doubled in size - The important thing here is the dough doubling in size, not the time. The amount of time the dough needs to prove can vary according to the temperature of the room, so if it's not doubled in size, leave it a bit longer.

Once the dough has doubled in size, remove it from the bowl and knead a couple of times to knock out all of the air.
While the pizza is proving make the pesto
Add all of the pesto ingredients (minus the salt and pepper) into a small blender (or into a small bowl if you're using a hand blender). If the pesto is a little thick then blend in a little of the oil from the sun-dried tomatoes until you have your desired consistency. Blend until there are no large lumps remaining. Season with salt and pepper to taste.
Make your pizza
Pre-heat the oven to 220°C/200°C fan.

Divide your pizza dough in two and shape it into two circles about ½ cm thick.

Spread the sun-dried tomato pesto onto the pizza base then sprinkle with the grated Grana Padano cheese. Top with the tomatoes (halved or cut into 3 for the larger ones), olives (sliced) and red chilli (sliced).

Bake in the oven for roughly 12 minutes, until the crust is golden brown.

Once cooked remove the pizzas from the oven and top with slices of Prosciutto di San Daniele and a few fresh rocket leaves.

Enjoy!
NOTES
Note 1 - You can also use plain flour or strong bread flour if '00' is not available, but I find '00' gives a lighter, crisper base.
WANT TO HEAR ABOUT NEW RECIPES FIRST?
SUBSCRIBE to the Charlotte's Lively Kitchen Mailing List
Any nutritional information provided is the estimated nutritional information per serving. Please refer to my guide to Charlotte's Lively Kitchen nutritional information if you would like to learn more about how this is calculated.
---