Advertising Feature
Delicious, family-friendly salmon and sweet potato fishcakes. Perfect for a quick and healthy dinner.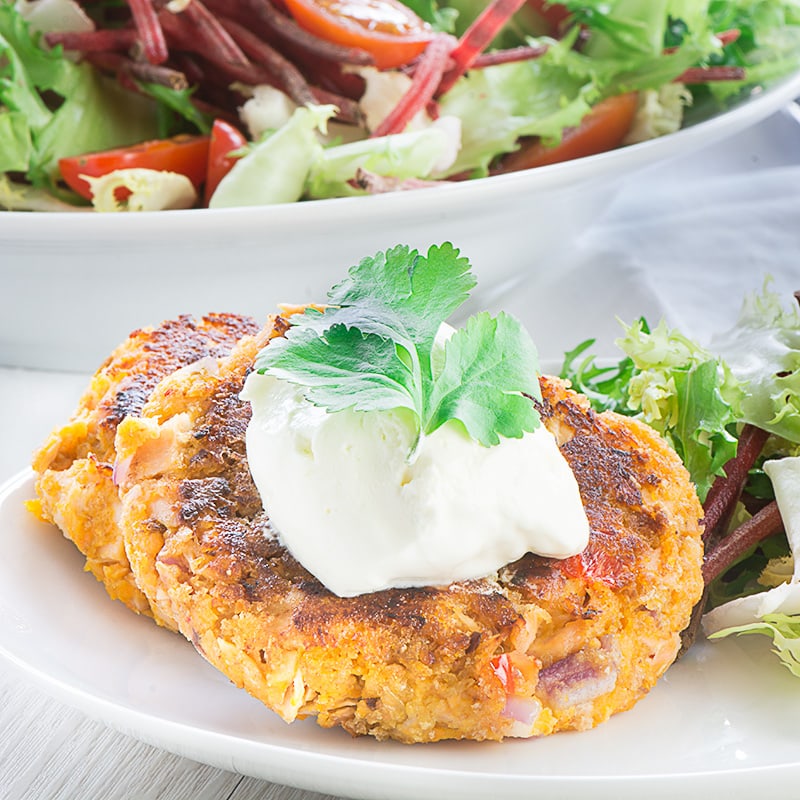 A few weeks ago I was contacted by Iceland and asked to create a recipe as part of their Power of Frozen campaign. I'll admit I'm not a regular Iceland shopper, in fact before heading into the store to stock up on ingredients for this recipe, I can't remember the last time I went into one.
However, as you know, I love trying new things and I love a good recipe creation challenge so I jumped at the chance. Especially as many other bloggers I love have been joining in and have come up with brilliant new creations (just take a look at the #PowerOfFrozen hashtag on twitter to see what you can find). If you're after more inspiration, there's also a cookbook full of recipe ideas by food blogger Holly Bell (of GBBO season 2 fame) with all profits going to the Children's Food Trust.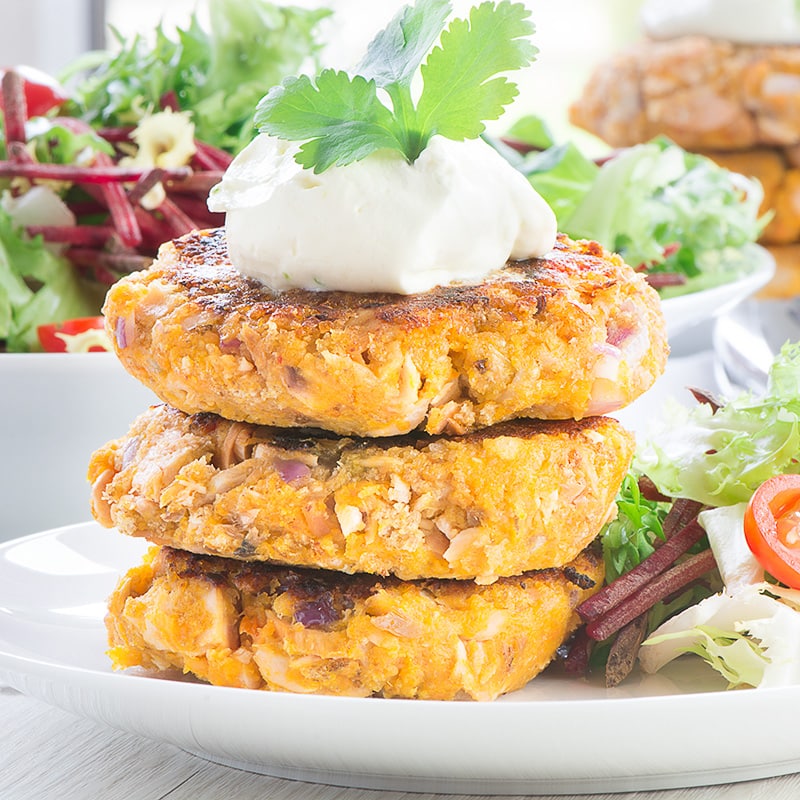 I have to admit that I was really pleasantly surprised with what I found. I'd assumed Iceland stores were full of freezers packed full of cheap ready meals, and perhaps an aisle with a few store cupboard essentials.
But Iceland, I'm so sorry, I owe you a big apology. My local store was lovely, bright and clean and had a really good selection of not just frozen foods, but fresh too. Yes, you will get a bigger selection of fresh bits in some other stores, but it had all the essentials and all the boys favourite fruit and veg.
However, the section I was really impressed with was the frozen fish. There was a really big selection which tasted just as good as fish I've had from other places costing twice the price. You can also cook a lot of it straight from frozen making for a quick, easy and healthy dinner. I've been so impressed with the fish that I'm planning on getting a regular delivery (which is free if you spend over £40) to stock my freezer up.
While I was there I couldn't resist stocking up on some of their speciality burgers and meats (and some eclairs – I've no idea how they jumped into my basket). I chose crocodile, kangaroo and ostrich and I'm looking forward to playing a game of guess what you're eating with the boys! Keep an eye out on my twitter over the next couple of weeks to find out how it goes.
Getting the children involved in the kitchen
These fishcakes are perfect for getting your little ones to help out in the kitchen as they're simply a case of chucking everything in a bowl, giving it a quick stir and then forming it into fishcake-shaped lumps. I have a slight tendency to only get the boys to help me with naughty treats like cakes and biscuits so it's been great to encourage them to join in with something healthy too.
These fishcakes are packed full of healthy ingredients – salmon, sweet potato (I've talked before about trying to switch from regular potatoes to sweet because they're so good for you), wholemeal breadcrumbs and red onion.
My eldest son can be a little fussy about sweet potatoes but hidden away in these fishcakes they disappeared completely :-). I served them with peas, sweetcorn and some chopped baby plum tomatoes for the children and some chips and salad for me (all from Iceland of course). One of the brilliant things about using frozen ingredients is that a lot of the goodness is locked in during the freezing process so they retain their nutritional health benefits better than some of their fresh alternatives.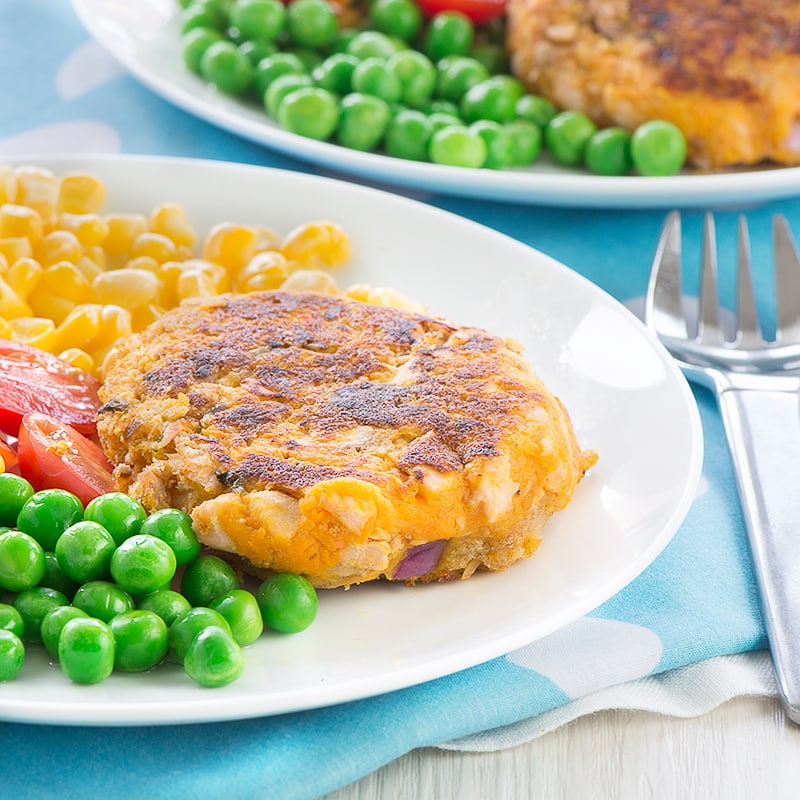 When we make these fishcakes we mix the main ingredients (salmon, sweet potato mash, breadcrumbs and red onion) and use just these for the boys, and then I'll add some sweet chilli sauce, chopped red chilli and salt before making the ones for the grownups (the boys ones are lovely but we like the little chilli kick!). I also like to add a little chopped coriander to mine but not everyone is a fan of coriander so it is optional.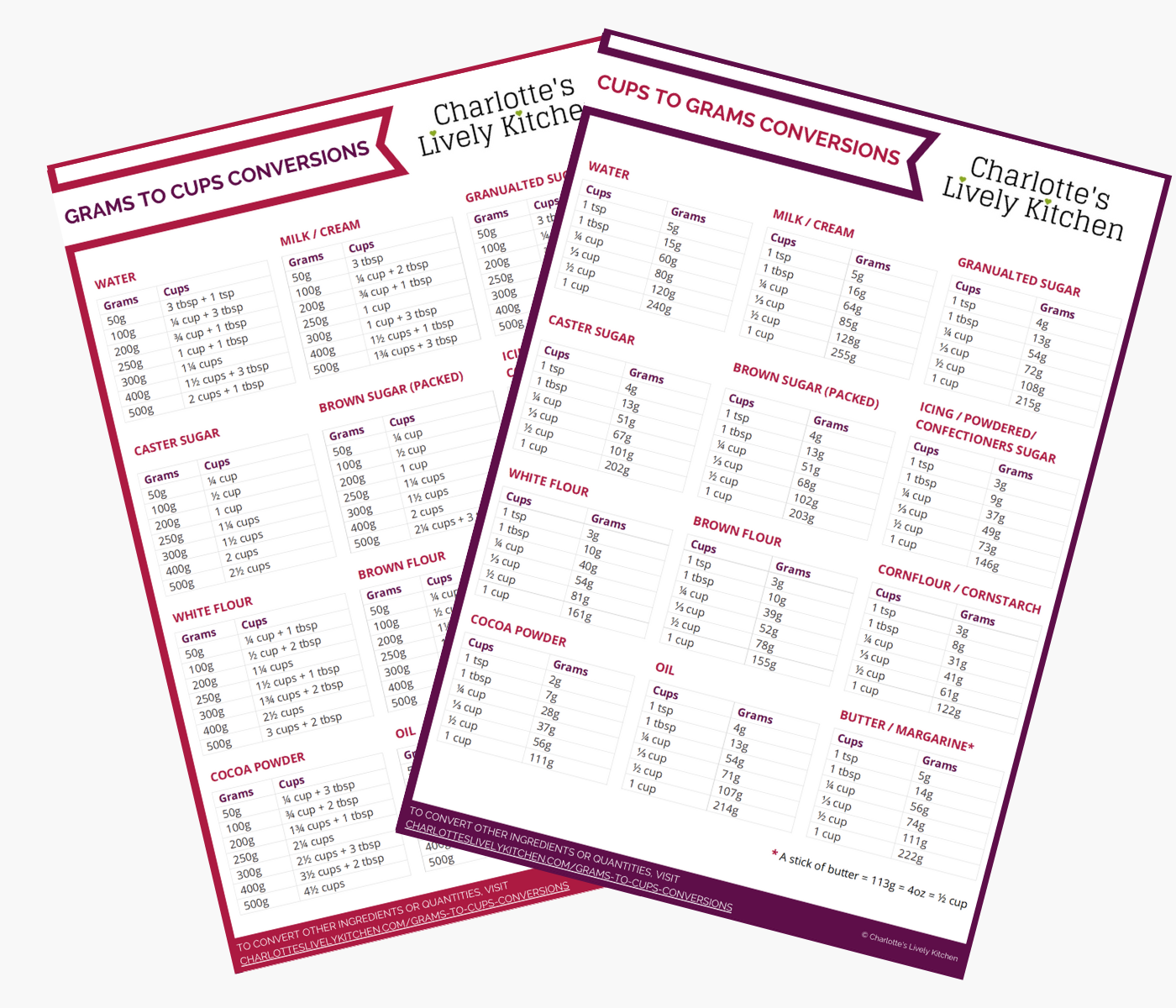 Subscribe to the Charlotte's Lively Kitchen mailing list to get your FREE printable grams to cups and cups to grams conversion charts for twelve popular baking ingredients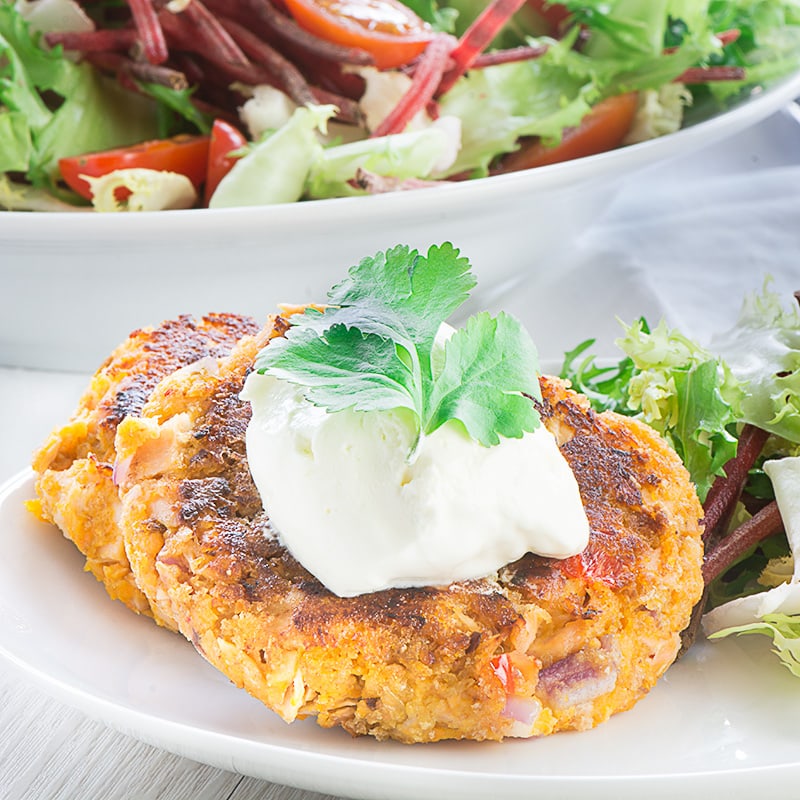 Salmon & Sweet Potato Fishcakes
Delicious, family-friendly salmon and sweet potato fishcakes. Perfect for a quick and healthy dinner. Recipe VIDEO below.
Print
Rate
Save
Go to Collections
INGREDIENTS
Optional
4

tbsp

sweet chilli sauce

½-1

red chilli

-

depending on how much of a kick you want it to have

Salt
INSTRUCTIONS
Cook the salmon and sweet potato mash according to the packet instructions (or peel and boil the sweet potatoes until soft if you're using fresh ones).

Very finely chop your red onion and chilli (if using).

Put your cooked salmon fillet into a large bowl and break it up into small pieces. Add the sweet potato, breadcrumbs and chopped red onion and give it all a good stir.

Optional (or for after you've removed mixture for the children's fishcakes) add the sweet chilli sauce (4 tbsp), chopped chilli, and season with salt. Give it another good mix.

Divide your mixture into 8 and roll each one into a ball. Pat it flat until you have something that resembles a fishcake.

If you have time, put the fishcakes onto a plate and cover with clingfilm. Put them into the fridge for about half an hour (this helps them to firm up and stay together during cooking – although I've skipped this step and still cooked them without any problems, you just have to handle them a touch more carefully).

Heat the olive oil (1 tbsp) in a large frying pan (you may want to cook these in 2 batches or use 2 pans so they're not all squashed in). Turn the heat down to low-medium and add the fishcakes. Cook on one side for 4-5 minutes and then carefully flip them over. Cook them on the other side for a further 4-5 minutes until hot all the way through, then serve.
NOTES
The recipe makes 8 fishcakes and serves 4 people (assumes 2 fishcakes per person).
WANT TO HEAR ABOUT NEW RECIPES FIRST?
SUBSCRIBE to the Charlotte's Lively Kitchen Mailing List
NUTRITIONAL INFORMATION
Calories:
407
kcal
|
Carbohydrates:
40
g
|
Protein:
33
g
|
Fat:
13
g
|
Saturated Fat:
1
g
|
Cholesterol:
82
mg
|
Sodium:
362
mg
|
Potassium:
1025
mg
|
Fiber:
4
g
|
Sugar:
11
g
|
Vitamin A:
10755
IU
|
Vitamin C:
14.9
mg
|
Calcium:
44
mg
|
Iron:
3.1
mg
Any nutritional information provided is the estimated nutritional information per serving. Please refer to my guide to Charlotte's Lively Kitchen nutritional information if you would like to learn more about how this is calculated.
---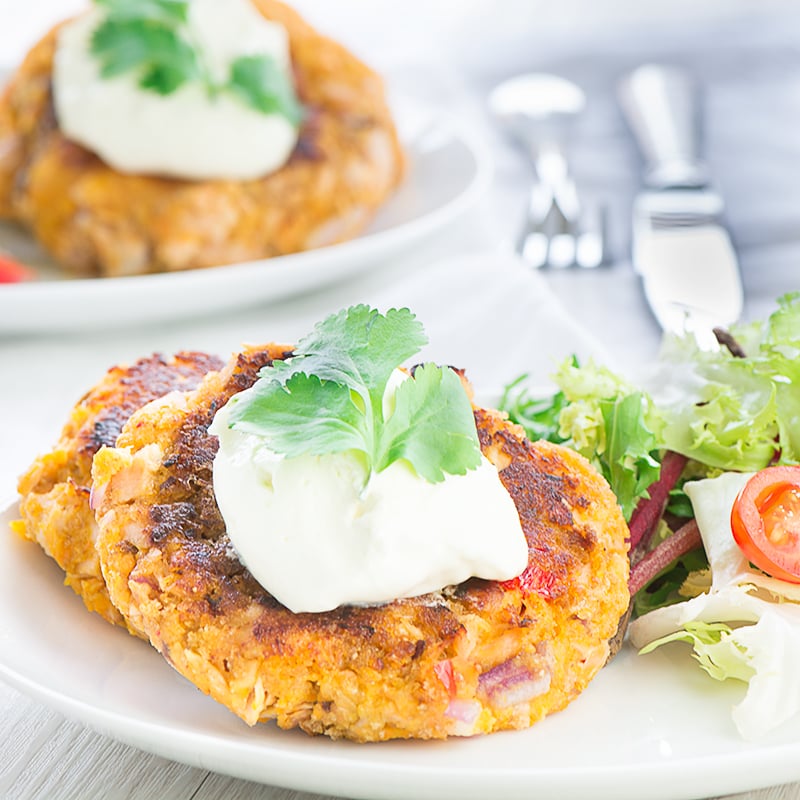 Free From/Suitable For…
Corn-Free
Dairy-Free
Egg-Free
Nut-Free
Can be made gluten and soy-free by using breadcrumbs that are made excluding these allergens.
The ingredients for this recipe are easily available free from all these allergens. However, please ensure you double-check allergen information for all ingredients.
---