How to make sweet popcorn at home that tastes even better than at the cinema, including four different ways to pop your corn.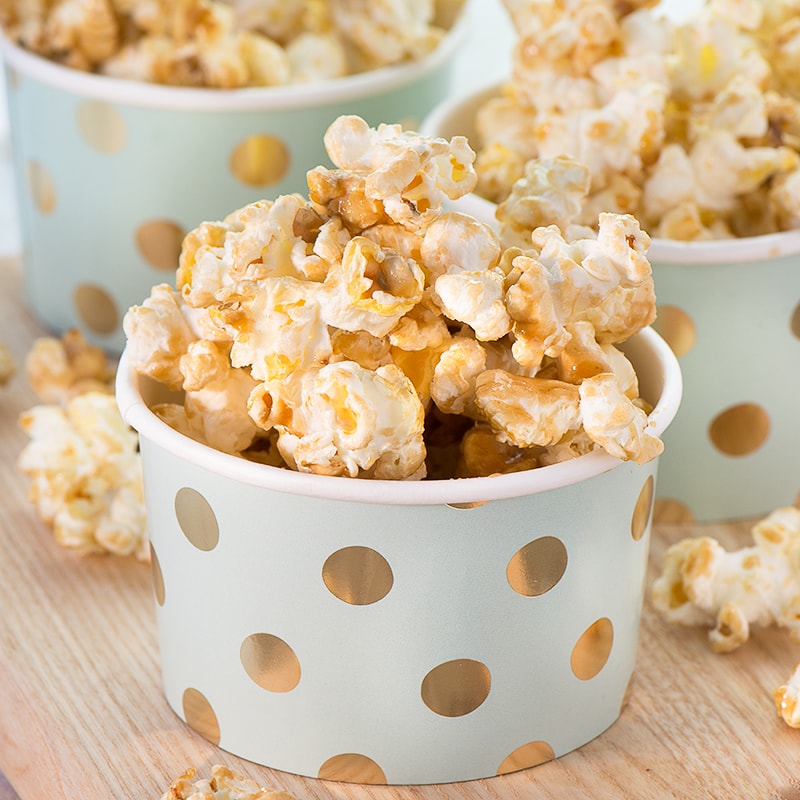 We have a tradition in our house – Sunday film night. It's something I'd attempted to start when the boys were younger but they never seemed to have a long enough attention span. But as they were got a little older, it's something we look forward to every week. We subscribe to both Netflix and Amazon Prime and so try to choose things on there if we can.
One big part of family film night is the food. I always make a picnic-style tea which we eat together in the lounge and a big bowl of homemade sweet popcorn for pudding. It's so simple to make and much cheaper than buying it ready-made.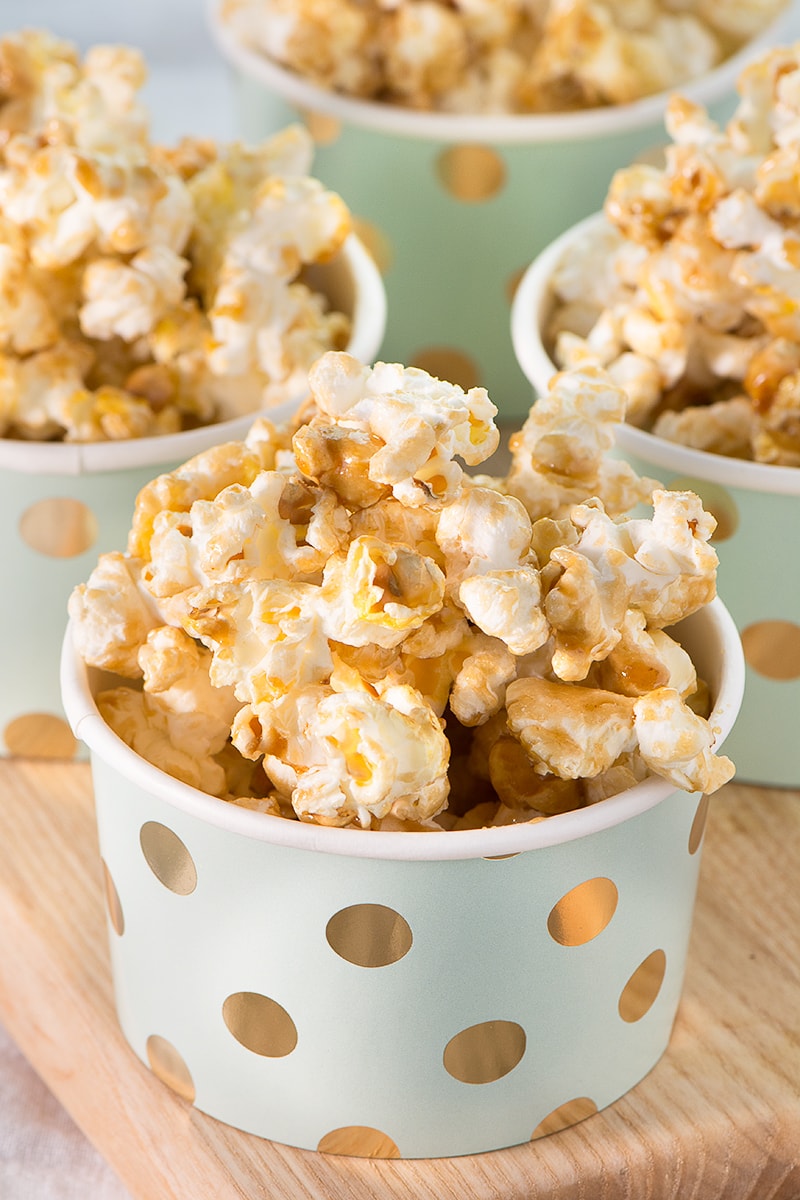 Four ways to pop corn at home
Homemade popcorn is unbelievably simple to make and there's a few different ways to do it, so hopefully you'll find a way that works for you. Personally I find that popcorn pops a bit better in the microwave (it can get a bit too dry on the hob) so I'd recommend using 1, 2 or 3 below if you can.
For all of these you'll need 80g of popping corn for four people (it really doesn't look like a lot when you first put it in, but it really does grow as it pops). If you're popping your corn on the hob then you'll need 1 tsp of oil too (any flavourless oil such as groundnut or vegetable).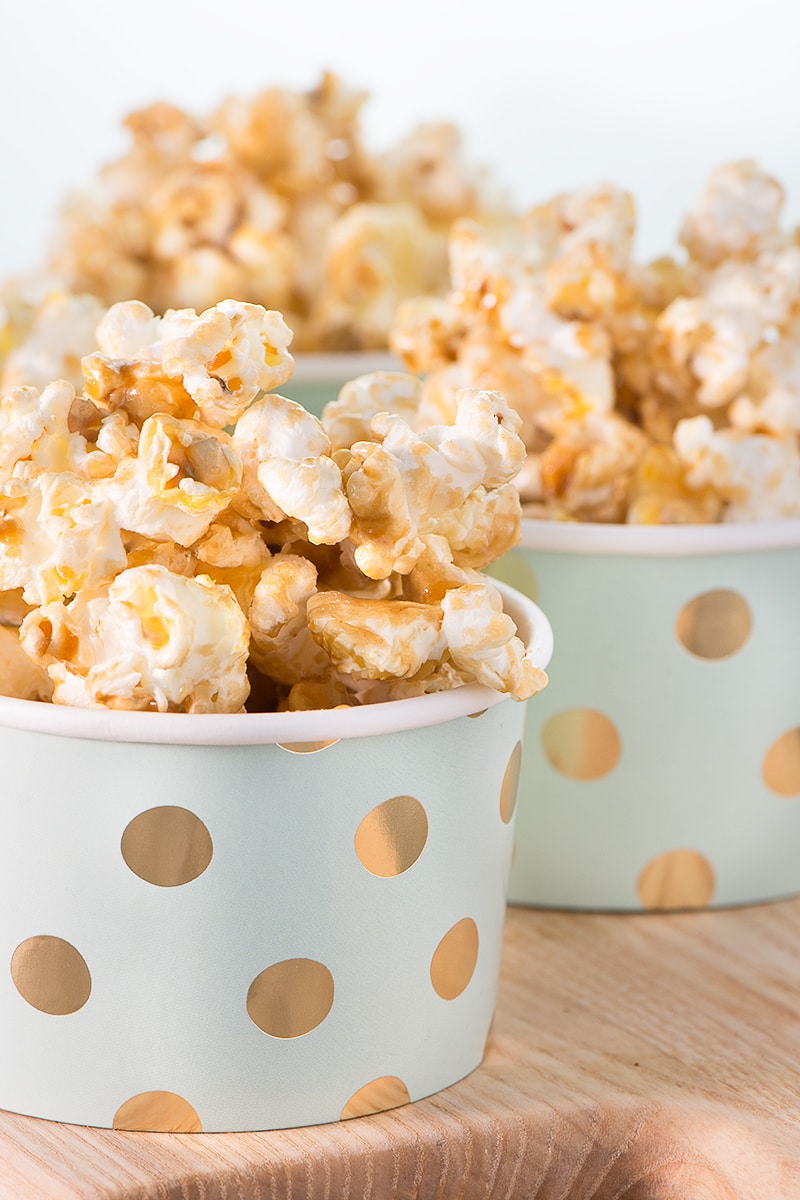 BEFORE YOU START – AN IMPORTANT WARNING
Whichever of these methods you choose it's very important that you don't leave your corn unattended while it's popping. Popcorn has a very low water content which makes it quite flammable. As long as you get it off the heat/turn off the microwave as soon as the popping stops you'll have no problem. But if you leave it cooking for longer than it needs it can catch fire and believe me, trying to get the smoke smell and stains out of a microwave isn't the easiest (I sadly know from experience after getting side-tracked recently whilst making popcorn by a tricky game of hide and seek!).
1) In the microwave in a special popcorn bowl
There are quite a few different microwave popcorn bowls available in the shops. I have a Lékué microwave popcorn bowl which I use to pop my corn (and it doubles as a serving bowl too). It's a flexible bowl (which means it can be squashed down for storage) and a loose lid that allows the popcorn to expand without escaping from the bowl.
If you don't make popcorn very often then this probably isn't something you need, but if like us you're a regular homemade popcorn maker then it's worth getting.
Put your popcorn into the bowl and put on the lid.
Put it into the microwave, set the timer for 3 minutes on high and press "Start".
You'll hear the corn starting to pop. Once the popping sounds die down to around one per second stop the microwave and remove the bowl.
2) In the microwave in a brown paper bag
If you don't have a microwave popcorn maker then a paper bag also works well. You'll want one which is nice and big so your corn has room to pop without escaping.
Put your popcorn into a large brown paper bag and crease the top over a few times to stop the popcorn escaping.
Put it into the microwave, set the timer for 3 minutes on high and press "Start".
You'll hear the corn starting to pop. Once the popping sounds die down to around one per second stop the microwave and remove the bag.
3) In the microwave in clingfilm covered bowl
If you don't have a microwave popcorn bowl or a brown paper bag then this way works too (although I have found the odd piece of popcorn escaping using this method).
Put your popcorn into a large microwavable bowl and cover with 3 layers of microwavable cling film (you need more than one layer of cling film as the popping corn can pierce a single layer and escape out of the bowl).
Pierce a few small holes in the cling film (use a skewer to keep the holes small, allowing air to escape but not popcorn).
Put it into the microwave, set the timer for 3 minutes on high and press "Start".
You'll hear the corn starting to pop. Once the popping sounds die down to around one per second stop the microwave and remove the bowl.
4) In a large saucepan on the hob
If you prefer you can make your popcorn in a large saucepan (with a lid) on the hob.
In addition to the popping corn you'll also need 1 tsp oil ( a flavourless oil such as vegetable or groundnut is best).
Put your oil into a large saucepan and use a piece of kitchen towel to rub it around the inside of the pan.
Put the popcorn into the saucepan and put the lid on. Place the pan onto a medium/high heat, shaking occasionally to stop the corn sticking.
Once the pan is hot enough the corn will start to pop, leave it on the heat until the popping sounds have died down to about 1 every second.
As soon as the corn has popped remove the pan from the heat and pour the popcorn into a large bowl (it's important not to leave the corn in the pan as the residual heat will cause it to burn).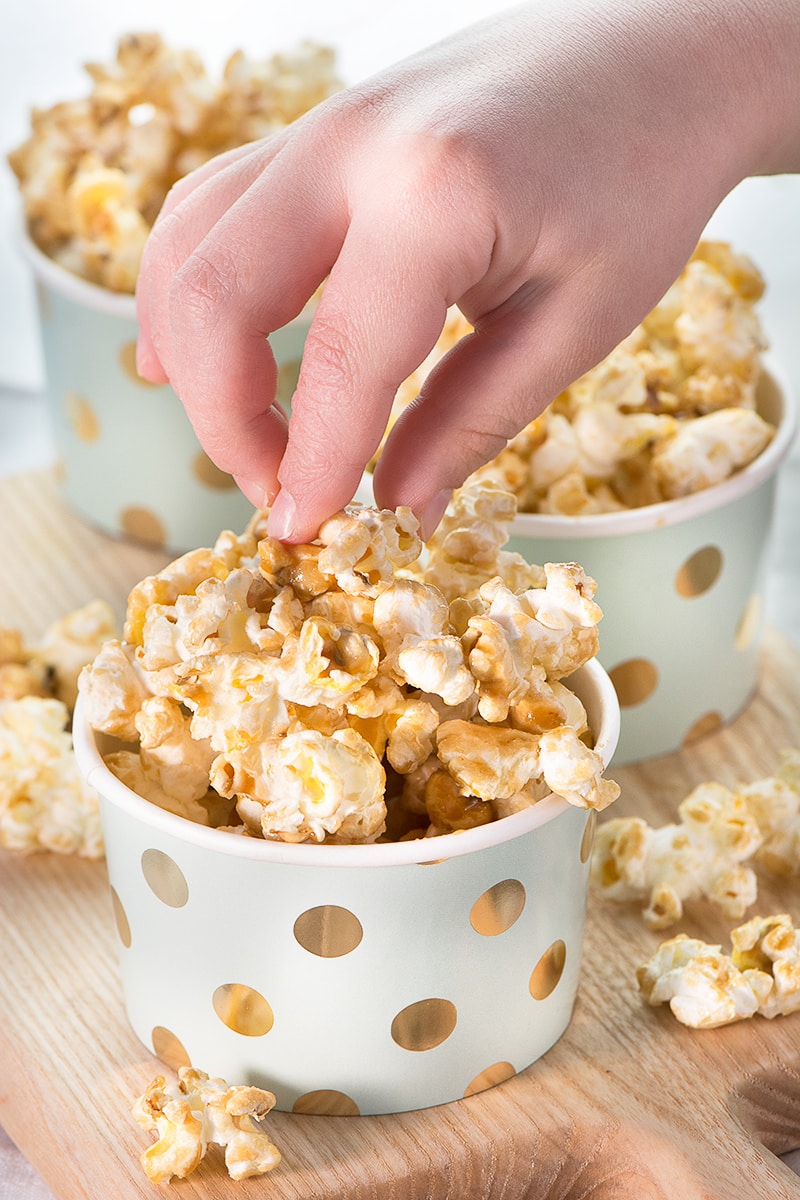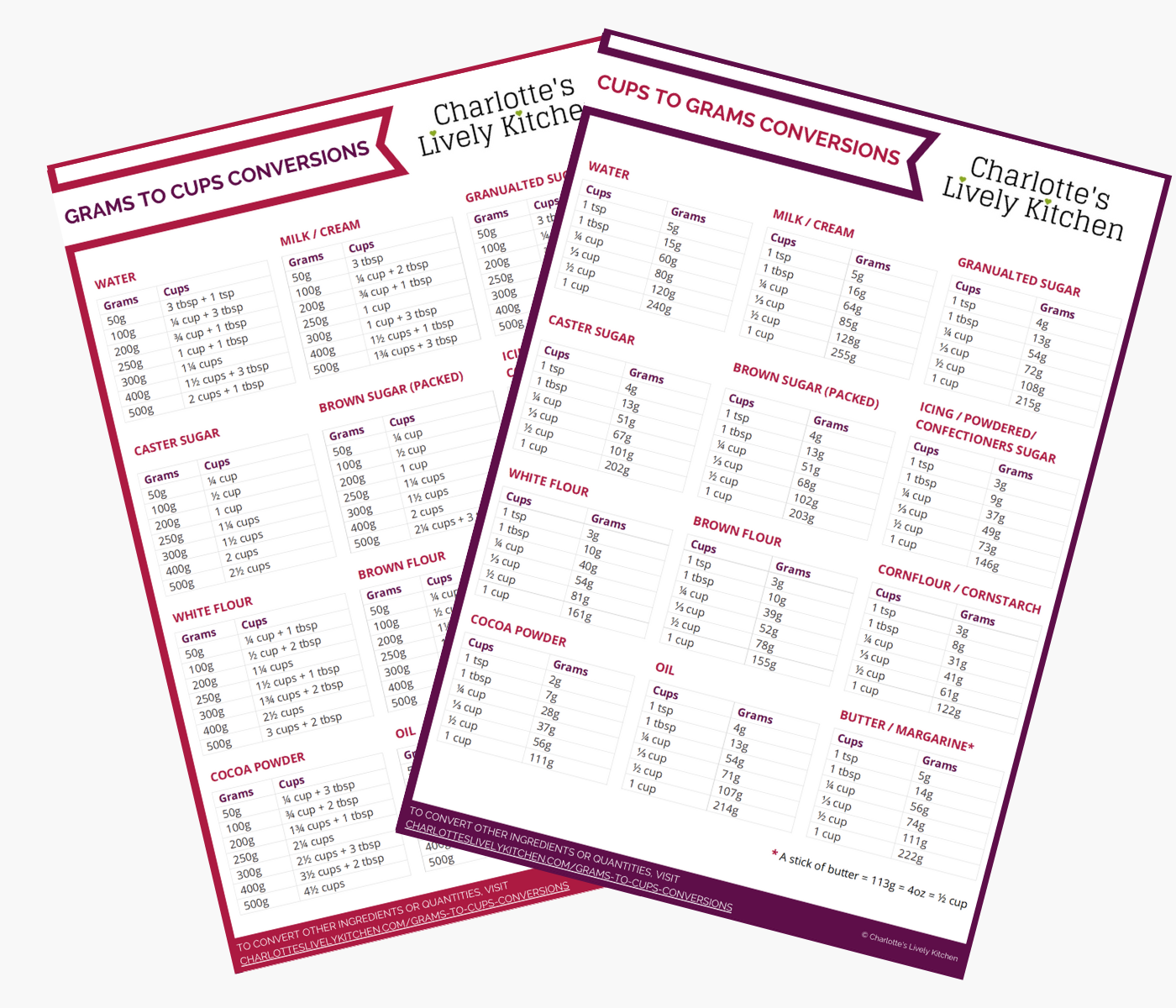 Subscribe to the Charlotte's Lively Kitchen mailing list to get your FREE printable grams to cups and cups to grams conversion charts for twelve popular baking ingredients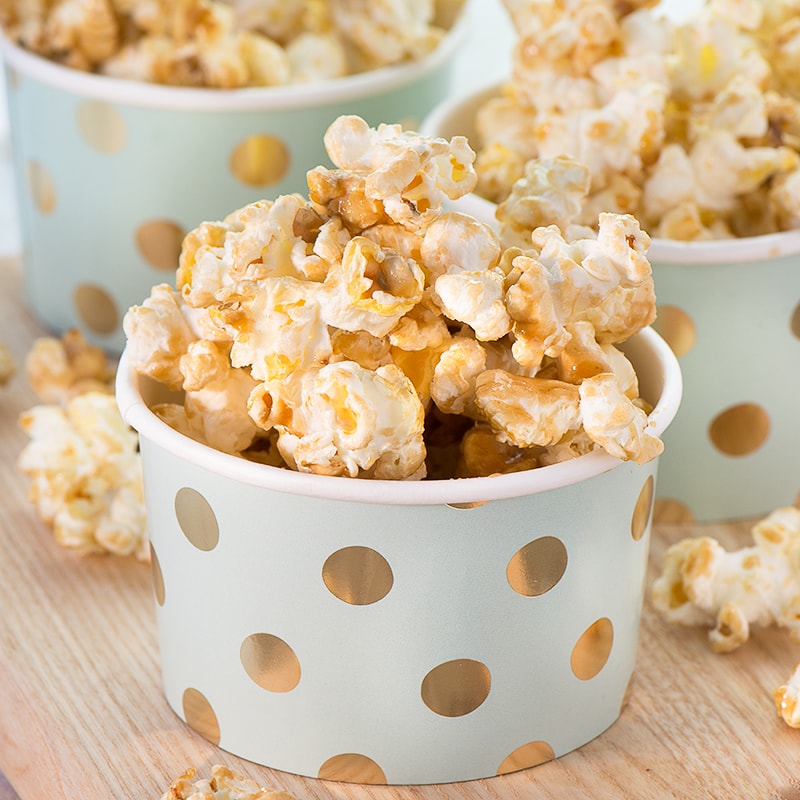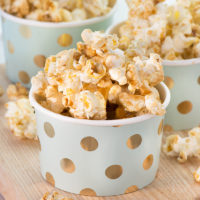 INGREDIENTS
80

g

popping corn

2

tbsp

butter

2

tbsp

golden syrup

2

tbsp

brown sugar

-

any variety works fine for this recipe. I usually use dark brown sugar

1

tsp

oil

-

if popping the corn of a hob – not needed if you're using the microwave
INSTRUCTIONS
Pop your corn using one of the four methods outlined above.

Once your corn has popped, make the sauce. I like to make mine in a large saucepan so I can tip the popcorn in to coat it in the sauce once it's ready.

Put all of the sauce ingredients into a large saucepan over a low heat (2 tbsp butter, 2 tbsp golden syrup, 2 tbsp brown sugar). Stir the mixture until the butter and sugar have melted and all ingredients are fully combined.

Turn off the heat and tip in the popped corn. Stir until the popcorn is coated in the sauce (I often put on a lid and give it a shake to get it all well coated).

Serve.
NOTES
As the popcorn cools it may stick together. It's easily broken apart with your hands before serving.
WANT TO HEAR ABOUT NEW RECIPES FIRST?
SUBSCRIBE to the Charlotte's Lively Kitchen Mailing List
NUTRITIONAL INFORMATION
Calories:
193
kcal
|
Carbohydrates:
29
g
|
Protein:
2
g
|
Fat:
7
g
|
Saturated Fat:
3
g
|
Cholesterol:
15
mg
|
Sodium:
53
mg
|
Potassium:
54
mg
|
Fiber:
2
g
|
Sugar:
14
g
|
Vitamin A:
175
IU
|
Calcium:
5
mg
|
Iron:
0.6
mg
Any nutritional information provided is the estimated nutritional information per serving. Please refer to my guide to Charlotte's Lively Kitchen nutritional information if you would like to learn more about how this is calculated.
---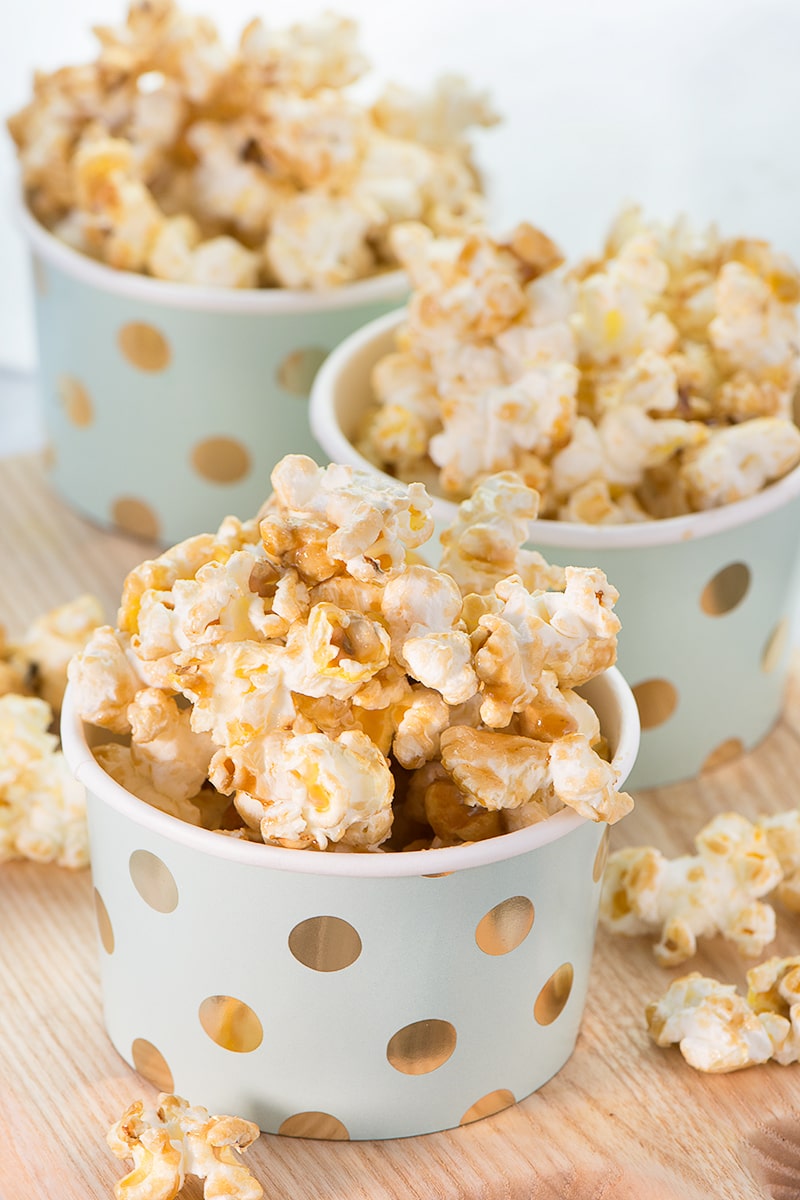 Free From/Suitable For…
Suitable for Vegetarians
Egg-Free
Gluten-Free
Nut-Free
Soy-Free
Can be made vegan and diary-free by switching the butter for a dairy-free spread or coconut oil.
The ingredients for this recipe are easily available free from all these allergens. However, please ensure you double-check allergen information for all ingredients.