Advertising Feature
These easy lamb koftas flavoured with spices, mint and lemon zest are perfect for a summer barbecue, served in a flat bread with salad and yogurt.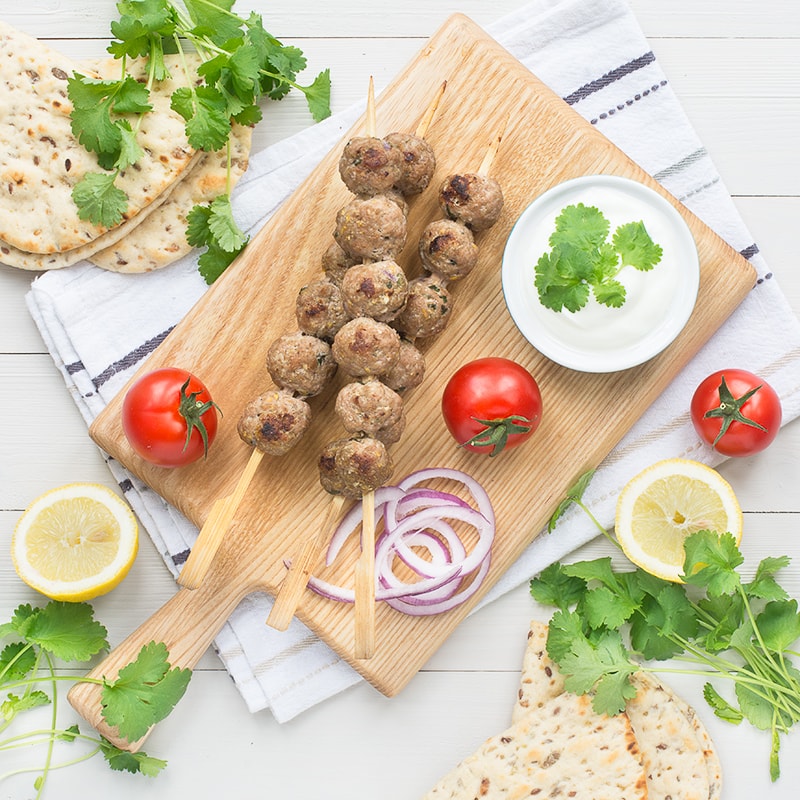 I'm back with another recipe as part of my collaboration with Tasty Easy Lamb and it's another one that's just perfect for a summer barbecue.
Quite often when I cook with lamb I like to create a twist on a recipe that's traditionally made with a different meat to show off just how versatile lamb is, but sometimes it's nice to get back to the lamb classics and today's recipe is one of those – Lamb Koftas.
Lamb Koftas more traditionally are shaped like sausages on a skewer, but I've decided to go for little meatballs instead. This makes it easy to remove them from the skewer that they're cooked on and pop into a flatbread with some salad and a drizzle of yogurt, which is how I like to eat them best. However, this recipe will work just as well in the more traditional shape. It would make fantastic burgers served in a bun (this recipe would make 4), just note that as these are larger they'll take longer to cook.
I've had a few comments from people saying that they don't eat lamb much because they don't think it's good for them, so I wanted to share this quick video made by Tasty Easy Lamb which goes though some of the reasons that it's good to include lamb in a healthy balanced diet…
Zesty Lamb Koftas
Active Time:20 minutes minutes (depending on how they're cooked)
Total Time:20 minutes
Makes 6 koftas
Ingredients
500g lamb mince
1 tbsp ground cumin
1 tbsp ground coriander
2 tbsp fresh mint leaves finely chopped
Zest of 1 lemon
2 cloves of garlic
½ red onion
¼ tsp salt
6 skewers – if you're using wooden skewers then soak them in cold water for a few minutes before adding the meat to ensure they don't burn during cooking.
Method
Peel and crush the garlic (2 cloves), finely grate the zest of one lemon and grate (or finely chop) half a red onion.
Put all of the ingredients into a large bowl (500g lamb mince, 1 tbsp ground cumin, 1 tbsp ground coriander, 2 tbsp fresh mint, ¼ tsp salt, lemon zest, garlic  and red onion). Use your hands to mix everything together until the ingredients  are evenly distributed in the lamb mince.
Form into 36 balls about 1″ in diameter and then thread the balls into the skewers (6 per skewer).
These zesty lamb koftas can be barbecued, fried, grilled or cooked in the oven. Check they're cook through before serving.

Barbecue – Cook on a hot barbecue for about 3 minutes on each side.
Fry – Cook in a large frying pan (over a medium heat) for about 3 minutes on each side.
Grill – Cook under a hot grill for 3-4 minutes on each side.
Oven – Cook in an oven pre-heated to 200ºC/180ºC fan for 6-8 minutes.

Serve – These koftas can be enjoyed straight from the skewer or served in a flat bread or pitta with some salad (I added lettuce, tomatoes, red onion and a drizzle of natural yogurt to mine).
Nutritional information per burger
Calories: 218 kcal (11%), Fat 16.9g (24%), Saturated Fat: 7.9g (40%), Carbohydrates: 2.0g (1%), Sugar: 0.4g (0%), Fibre: 0.9g (4%), Protein: 14.5g (29%), Salt: 0.4g (7%)
Lamb kofta only, excludes the flat bread and salad pictured.
This is the estimated nutritional information per skewer. Please refer to my guide to Charlotte's Lively Kitchen nutritional information if you want to learn more about how this is calculated.