Advertising Feature
Think you don't have time to cook? This delicious Mediterranean vegetable lasagne is really simply to make and is ready for the oven in just 3 minutes.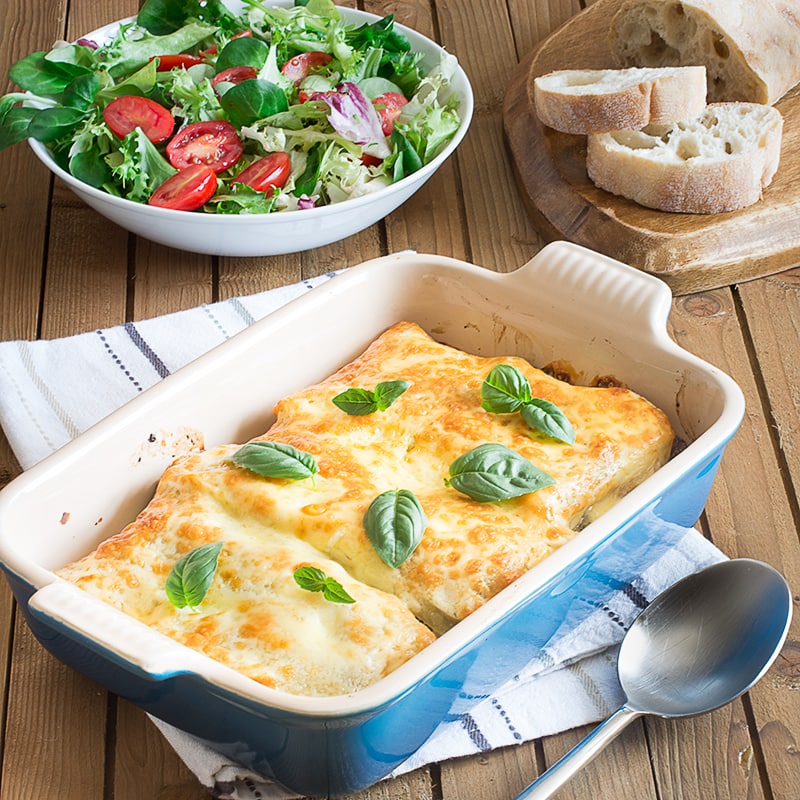 I'm really excited to be back with another post for Iceland (if you didn't see my salmon and sweet potato fishcakes then I'd really recommend you give those a try too).
This time their challenge was to create a recipe showing how using frozen foods can help to save time in the kitchen. I've talked before about how I'm always on the lookout for ways to cut how much time I spend cooking, so this challenge was one I was definitely excited about giving a try. Don't get me wrong, I love pottering around in the kitchen as much as I can, but with two young children there are days when as much as I'd love to have 2 hours to lovingly prepare something delicious to eat – it's simply not practical.
This quick vegetable lasagne recipe uses Iceland frozen Mediterranean Vegetables in a Basil Seasoning as the main filling. We were all seriously surprised at how delicious these are – I'm pretty sure I won't be bothering to chop up Mediterranean vegetables when I want to serve them with some grilled chicken in future (one of my go-to healthy dinners!) – the basil seasoning really adds a lot of flavour. Using vegetables as the main filling for this lasagne also makes it really healthy – 4 of your 5-a-day fruit and vegetables. Finish it off with a piece of fruit and you'll have reached your target in just one meal! It also comes in at under 500 calories a serving so great if you're trying not to eat too much but still want a delicious, filling dinner.
Other ways I saved time making this dish was by substituting in low fat soft cheese for béchamel sauce, and using ready sliced or grated cheese on the top (all available from Iceland).
The only thing I'd suggest doing that adds a little extra time (OK, only about 20 seconds of actual effort) is if you're using dried lasagne sheets then soak them in boiling water for 5 minutes before putting them into the lasagne. The packs I've used always say that they're fine to use straight from the packet, but I tend to find they're still a touch too much on the crunchy side for my liking. Soaking them in boiling water just softens them ever so slightly, which makes a huge difference to the texture of the final cooked lasagne. However, if you've got fresh lasagne sheets then this step isn't necessary.
I served my lasagne with a quick salad and some Iceland frozen ciabatta which is just heated through in the oven.
Some of my other favourite bloggers have also been involved in creating time-saving recipes for Iceland and if you're looking for more inspiration then take a look at some of these…
3-Minute Mediterranean Vegetable Lasagne
Active Time:3 minutes
Total Time:50 minutes
Serves 4-6 (depending on appetite and what you're planning on serving them with).
Ingredients
2x 500g packs Iceland Mediterranean Vegetables in a Basil Seasoning
400ml passata
6 dried lasagne sheets (or 4 fresh lasagne sheets)
100g soft cheese (I used the low-fat version)
100g sliced/grated cheddar cheese
Method
Pre-heat your over to 200ºC/180ºC fan.
Put you Mediterranean vegetables into a large baking tray and cook according to the pack instructions.
While the vegetables are cooking, if you're using dried pasta, fill a large shallow dish with boiling water and place your 6 lasagne sheets into it to soak for 5 minutes.
Once your vegetables have cooked and lasagne sheet softened, turn your oven up to 220ºC/200ºC fan
Spread your soft cheese (100g) onto the lasagne sheets.
Spoon half of your vegetables into a large, rectangular baking dish. Pour over half of the passata (200ml). Lay 3 lasagne sheets on top (soft cheese side up). Spoon over the remaining vegetables and pour in over the remaining pasta (200ml). Lay three more lasagne sheets on top (soft cheese side up again), and then finish everything off by laying the sliced cheese over the top.
Bake for 20-25 minutes until the cheese is golden.
Remove from the oven and serve.
Nutritional Information
Calories: 448 kcal (22%), Fat: 19.0g (27%), Saturated Fat: 8.1g (41%), Carbohydrates: 48.5g (19%), Sugar: 20.8g (23%), Fibre: 5.6g (23%), Protein: 18.4g (37%), Salt: 2.6g (44%)
4 of your 5-a-day fruit and vegetables.
This is the estimated nutritional information per serving (assumes serves 4). Please refer to my guide to Charlotte's Lively Kitchen nutritional information if you want to learn more about how this is calculated.
Free From/Suitable For…
Suitable for Vegetarians
Corn-Free
Egg-Free (only if using dried lasagne sheets)
Nut-Free
Soy-Free
Can be made gluten-free by using gluten-free lasagne sheets.
The ingredients for this recipe are commonly available free from all these allergens. However, please ensure you double-check allergen information for all ingredients.
---
I'm sharing this recipe with the following blog challenges… CookBlogShare with Snap Happy Bakes, Meat Free Monday's with Tinned Tomatoes, Recipe of the Week with A Mummy Too and Tasty Tuesdays with Honest Mum.