How to make one of my favourite chocolates, cappuccino truffles. A soft milk chocolate and coffee ganache centre, coated in white chocolate and sprinkled with a little cocoa powder.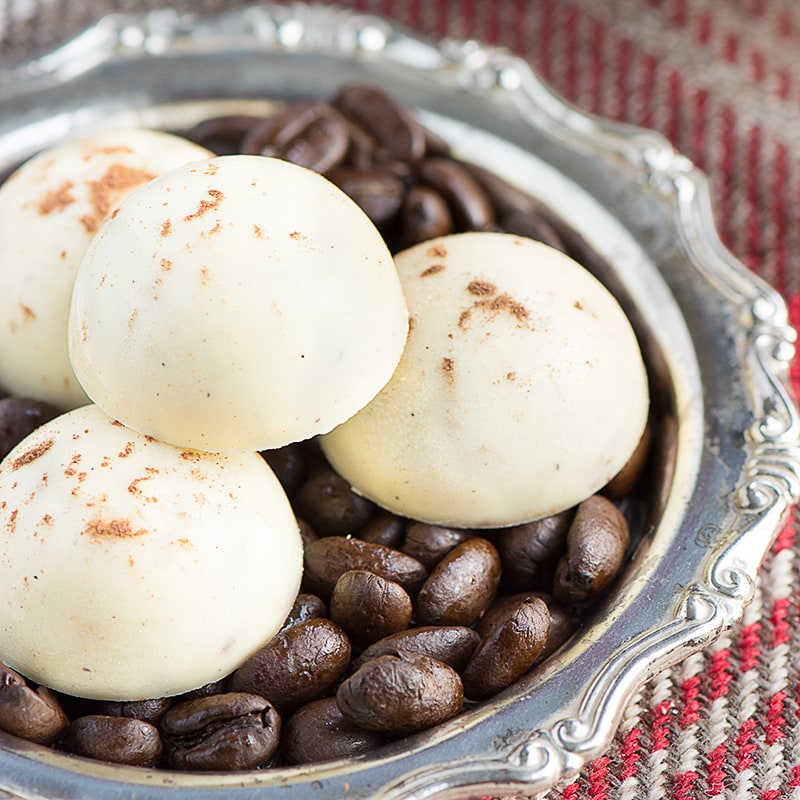 When I eat a box of chocolates I like to start at my least favourite (to get it out of the way), saving the best for last. For me (unless there are liqueur chocolates involved) my favourite is almost always the cappuccino or coffee truffle (or the coffee cream in a box of Quality Street).
This presents a real problem for me when it comes to sharing chocolates because I'm forced into eating my favourites first just to make sure that no-one else gets them. The only thing worse than having to eat your least favourite chocolate last is missing out on your favourite because some other greediness snaffled it first 🙂
Splitting a box of chocolates into two separate pots as soon as we opened them is a great way to not end up in any arguments!
Anyway, I'm really just introducing you to why I've decided to make cappuccino truffles, quite simply because I love them 🙂
What about you? What's your favourite chocolate from a selection box? Do you go from least favourite to favourite, vice verse, or the unfathomable picking randomly (like my Dad does) – I'm sorry, I just cannot understand that approach.
Don't worry if you don't have a chocolate mould or a chocolate thermometer
To make the truffles like I've done here I used a chocolate mould, and tempered the chocolate to get it hard and shiny (and easier to get out of the mould).
I chose to use a chocolate mould to make these truffles for two reasons…
Firstly, because I love how neat and tidy it makes them look, and secondly because the coffee ganache is a little on the soft side which makes it tricky to dip in the white chocolate. If you don't have a chocolate mould then you can make the ganache firmer by increasing the amount of milk chocolate you use. I'd probably go for about 70g rather than the 50g in the recipe, but if you find it's still a little soft once it's been chilled then simply melt down a little more milk chocolate and stir it in. Don't worry if you end up with too much ganache you can always just sit and eat it with a spoon!
If you go for this approach then you only need to temper the milk chocolate once (after the ganache has set), you then roll the ganache into bite-sized balls, dip it into the chocolate and put it onto a sheet of greaseproof paper to set.
You don't even really have to bother with the tempering if you don't want to, simply buy some white chocolate sprinkles and roll the ganache into those. You can then sit down smugly and enjoy them with a cup of coffee and a good film while the rest of us are stood around in the kitchen waiting for the white chocolate to set.
That said, I genuinely enjoy the process of making my own chocolates, especially when they pop out of the moulds looking all perfect, so that's why I do it my way 🙂
Recommended Equipment
A couple of medium-large bowls
A couple of saucepans
A large sharp knife
Spatula
Chocolate thermometer (I use this thermospatula from Lakeland which also doubles as a spatula)
Chocolate mould (I used this silicone mould from Lakeland)
Tablespoon
A small spoon (I used the ½ tsp from my set of measuring spoons)
Weighing scales
Greaseproof paper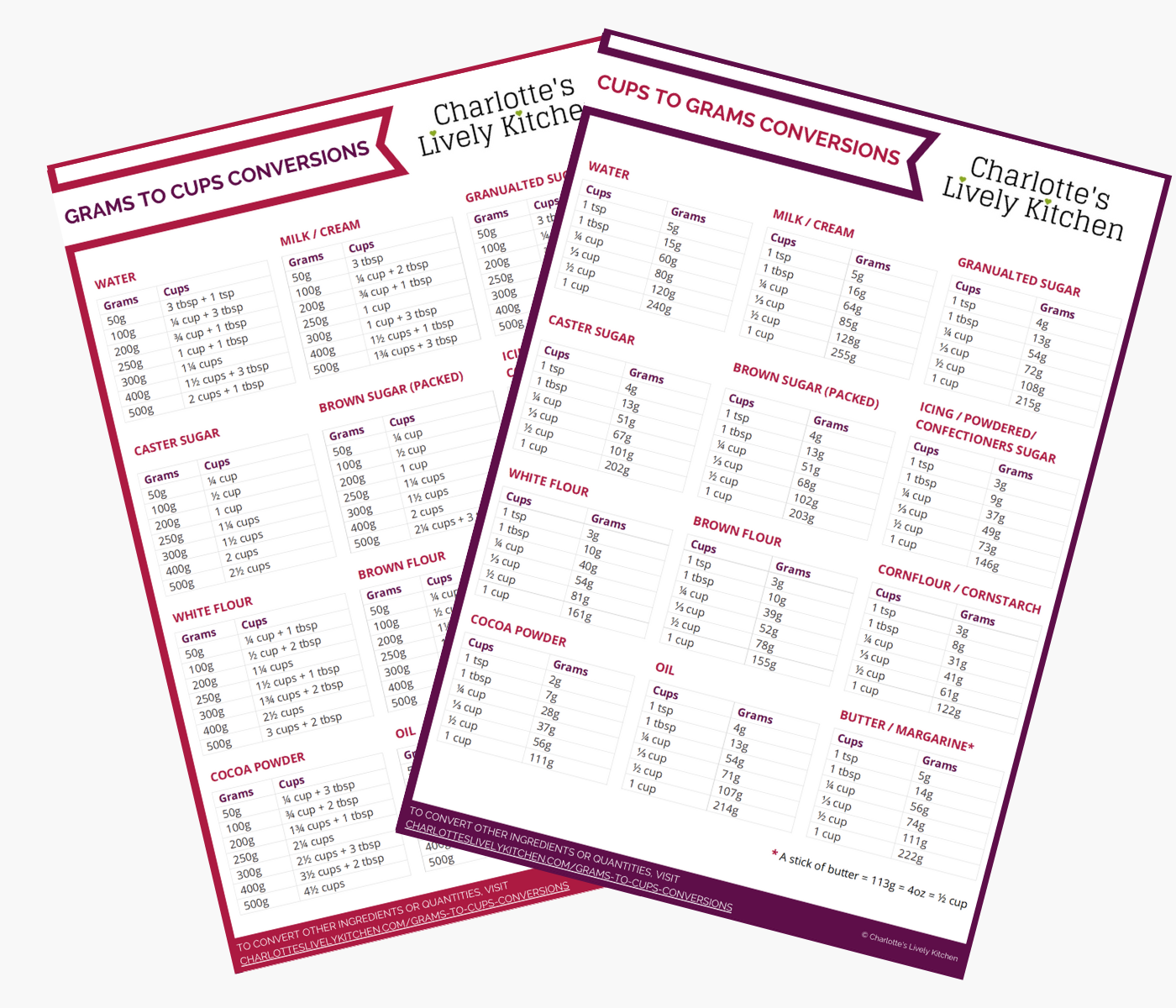 Subscribe to the Charlotte's Lively Kitchen mailing list to get your FREE printable grams to cups and cups to grams conversion charts for twelve popular baking ingredients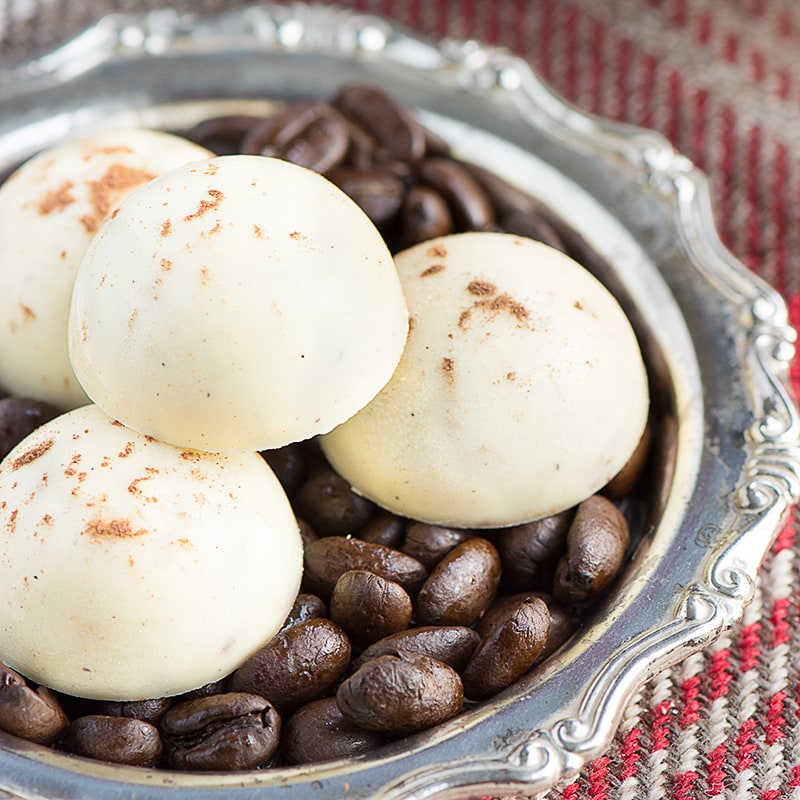 Cappuccino Truffles
How to make one of my favourite chocolates, cappuccino truffles. A soft milk chocolate and coffee ganache centre, coated in white chocolate and sprinkled with a little cocoa powder.
Print
Pin
Rate
Save
Go to Collections
PLUS Chilling:
45

minutes
INGREDIENTS
50

g

good quality milk chocolate

1

tbsp

double cream

1

tbsp

espresso

-

or ½ tsp coffee granules mixed with 1 tbsp hot water

200

g

good quality white chocolate
INSTRUCTIONS
Make your coffee
Make your espresso/instant coffee and set aside to cool.

Temper the white chocolate and make the white chocolate shells
Break about 100g of white chocolate into pieces and put it into a saucepan. Place on a very low heat (or you can use a bain marie if you prefer) and melt the chocolate, stirring constantly until it reaches 45ºC.


Remove it from the heat and pour the chocolate into a bowl.


You want to bring the temperature down to 32ºC, and you'll do this by adding a piece of unmelted chocolate and stirring it in until it has melted.
Keep adding more chocolate and stirring until the temperature reaches 32ºC.


Once you've reached the desired temperature, remove any lumps and pop them into the saucepan (you need to melt more chocolate later for the base of the chocolates).


Carefully pour the chocolate into the mould, fill each of the holes with chocolate and then tip the mould over the bowl to pour out any excess. You should be left with a thin layer of white chocolate around in each hole in the mould. If there are any bits missing chocolate, then add a little more into that hole and again tip out the excess.


Place the mould on a large sheet of greaseproof paper and use a large knife to scrape over the top of the mould to remove any excess. You'll find that this will fill some of the holes back up a bit again, so you'll need to tip it over the bowl again and then scrape again to get everything neat and tidy.


Put your mould into the fridge for the chocolate to set.


Scrape any leftover melted chocolate in the bowl back into the saucepan to melt again later.

While the white chocolate is setting, make the coffee ganache filling
Place the double cream (1 tbsp) into a bowl.


Place 50g of milk chocolate in a saucepan and place over a very low heat until completely melted, stirring constantly.


Remove from the heat and pour into the bowl with the double cream. Rapidly beat the chocolate into the double cream until it is smooth.


Add the espresso (1 tbsp) a teaspoon at a time. Beat into the chocolate mixture until fully combined and then add more.


Once all of the coffee has been added, place your coffee ganache into the fridge to set for about 10-15 minutes.

Once the white chocolate shells and coffee ganache have set, fill the chocolates
Remove the chocolate mould and ganache from the fridge.


Use a small spoon to carefully scoop about ½ tsp of ganache into each white chocolate shell. Make sure that it's not sticking up above the top of the mould as this will cause all sorts of problems when you come to add the base. If it is, carefully squash it down, or remove a little bit.

Once each of the chocolates is filled, temper some more white chocolate for the base.
Add about half of your remaining unmelted white chocolate to the saucepan (which still has the leftovers from earlier) and melt on a very low heat until it reaches 45ºC.


Repeat steps 2-4 of the white chocolate tempering instructions above to temper the chocolate.


Once you've bought the temperature down to 32ºC, pour the chocolate on top of each of the chocolates in the mould to make a base.


Place the mould onto a sheet of greaseproof paper and scrape off any excess.


Place the mould back into the fridge for about 20 minutes to allow the chocolate to set.

Add a little finishing touch
Once the base of each chocolate has set, remove them from the fridge and carefully pop each one out of the mould.


Sprinkle over a little cocoa powder and enjoy.

NOTES
You're likely to have some melted white chocolate left over as chocolate making is far easier if you have a bit more than you need. Once you've used what you need, simply pour any spare melted chocolate into a container lined with greaseproof paper to save to use another day.
If you're new to tempering chocolate the make sure you take a look at the video or my detailed chocolate tempering tutorial.
WANT TO HEAR ABOUT NEW RECIPES FIRST?
SUBSCRIBE to the Charlotte's Lively Kitchen Mailing List
NUTRITIONAL INFORMATION
Calories:
82
kcal
|
Carbohydrates:
6.8
g
|
Protein:
1
g
|
Fat:
5.6
g
|
Saturated Fat:
3.4
g
|
Sugar:
6.8
g
Any nutritional information provided is the estimated nutritional information per serving. Please refer to my guide to Charlotte's Lively Kitchen nutritional information if you would like to learn more about how this is calculated.
---
Free From/Suitable For…
Suitable for Vegetarians
Egg-Free
Gluten-Free
Nut-Free
The ingredients for this recipe are easily available free from all these allergens. However, please ensure you double-check allergen information for all ingredients.