Chocolate, Banana & Almond Breakfast Cheesecake Smoothie – A quick, easy and ever so slightly indulgent breakfast smoothie that will keep you filled up until lunchtime.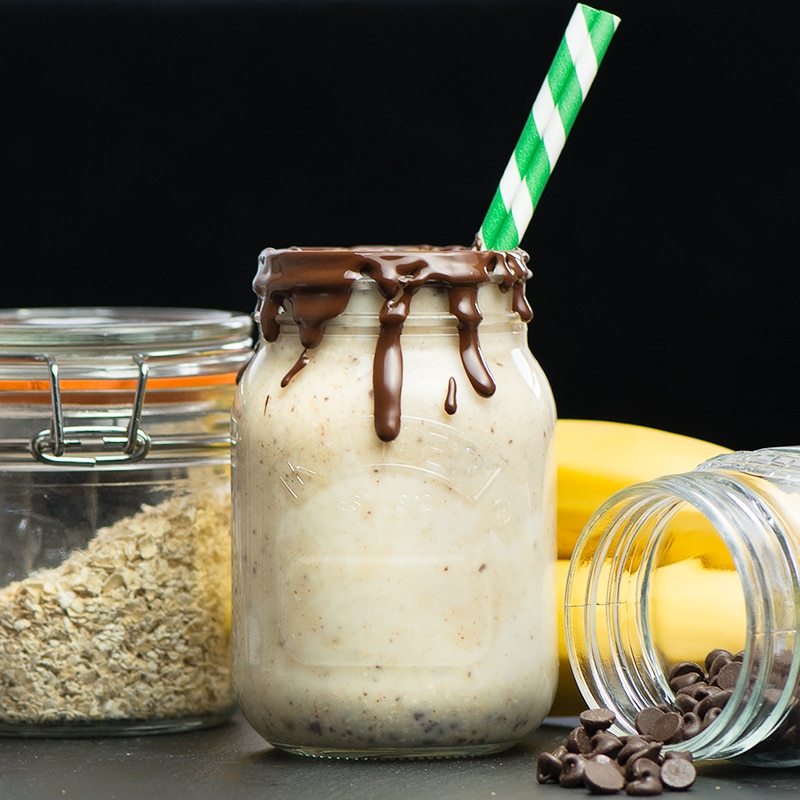 A couple of months ago I shared my recipe for chocolate, banana and almond breakfast cheesecake and in the comments Angela from Patisserie Makes Perfect (if you like cakes and everything sweet then I'd definitely recommend you take a look… once you've finished reading this of course!) suggested that it would also make a great smoothie. She was right!
It's basically a pimped up version of my banana and almond breakfast smoothie, with the addition of cream cheese and dark chocolate. It's a little indugent, so if you need a little pick-me-up before a tough day at work then I'd suggest you give this a try.
As with the banana and almond breakfast smoothie, this tastes just as good warmed up as it does cold. Simply pop it into a microwavable dish and heat on high for 1 minute, give it a quick stir, and serve. It'll thicken up a little in the microwave so you get something almost porridge-like.
Chocolate, Banana & Almond Breakfast Cheesecake Smoothie
Active Time Time:2 minutes
Total Time:2 minutes
Serves 1
Ingredients
1 banana
1 generous tsp cream cheese (I use the low fat version)
1 generous tsp dark chocolate chips
1 tsp almond butter
200ml skimmed milk
1 heaped tbsp oats
Method
Put all of the ingredients into the blender/food processor.
Blitz until smooth.
Serve

OK – so not the most complex "recipe" I've ever written 🙂
Nutritional Information
Calories: 427 kcal (21%), Fat: 12.8g (18%), Saturated Fat: 4.0g (20%), Carbohydrates: 62.2g (24%), Sugar: 30.6g (34%), Fibre: 7.7g (32%), Protein: 16.1g (32%), Salt: 0.2g (3%)
1 of your 5-a-day fruit and vegetables
This is the estimated nutritional information per serving. Please refer to my guide to Charlotte's Lively Kitchen nutritional information if you want to learn more about how this is calculated.
Free From/Suitable For…
Suitable for vegetarians
Gluten-Free
Corn-Free
Egg-Free
Soy-Free
The ingredients for this recipe are commonly available free from all these allergens. However, please ensure you double-check allergen information for all ingredients.