Christmas Amaretti Biscuits – A festive twist on my classic Amaretti Biscuits, with spices, brandy, walnuts and a hidden mincemeat centre.
As you all know, I love love love adding a festive twist to my favourite recipes, so what could I follow up my Christmas Scones or Mince Pie Cupcakes with? The answer is Christmas Amaretti Biscuits.
They're soft almond biscuits, flavoured with mixed spices, brandy, walnuts and mincemeat and they are oh so delicious!
Another great thing about these Christmas biscuits is that they last really well so you can make them advance and either enjoy them with family and friends over the Christmas holiday, or give them to someone you love as a gift.
Christmas Amaretti Biscuits Q&A
With all my recipes I like to try and anticipate all of the questions you might have. If it's your first time making this Christmas biscuit recipe then make sure you have a good read through as there's lots of extra tips here…
How long do these Christmas Amaretti Biscuits last for after baking and how should they be stored?
They'll last for about 2 weeks after baking and should be stored in an airtight container at room temperature.
❄️ Suitable for freezing
If you'd like to make your biscuits further in advance then they're suitable for freezing. Simply pop them into an airtight freezer-safe container and freeze them (it really is that simple 🙂 ). Defrost them thoroughly before eating.
What is ground mixed spice?
These spiced Christmas biscuits are made with ground mixed spice. It is a spice mix available in the UK (and I'm guessing some other countries, but I know not all as I've been asked this question before). It is a blend of cinnamon, coriander seed, nutmeg, clove, pimento and ginger.
If you cannot get hold of any, then I'd recommend replacing the mixed spice with cinnamon, adding a tiny pinch of nutmeg, clove and ginger (because they're so Christmassy!).
Can I use a food processor or spice grinder to chop the walnuts?
I wouldn't recommend using a food processor or spice grinder to chop the walnuts, as you'll find that chopping them too finely will result in them releasing oils. These oils will make your biscuits too soft and so difficult to fill and roll into shape and also more likely to flatten and spread during baking.
Do you have a video for this recipe?
I don't have a video specifically for this recipe. However I have made one for my original Amaretti Biscuits which will give you an overview of the method.
The main difference with this Christmas version is the addition of a hidden mincemeat centre. I've added some pictures just below the video to show you what you need to do to create this.
How do you fill the biscuits with mincemeat?
To add the hidden mincemeat centre to your biscuits:
Divide the mixture into 18 balls
Split each ball in two, roughly ⅓ and ⅔.
Make a dip in the centre of the larger of the two balls. I used the end of a wooden spoon, but anything of a similar size will work fine.
Make sure the dip isn't too deep (to ensure the mincemeat doesn't leak out of the bottom). I go about ⅔ of the way down.
Add ½ teaspoon of mincemeat into the dip.
The mincemeat should be level with the top of the biscuits.
Flatten the smaller ball and use it to cover the mincemeat. Carefully press the edges to seal it.
Finally, carefully roll each biscuit in your hands to form it back into a ball shape.
You'll probably want to rinse your hands between every few biscuits as the mixture can be a little sticky.
What is this recipe free-from? Who is it suitable for?
The ingredients I used to make this recipe are all free from the following allergens. However, please check any labels carefully for allergens you need to avoid as brands can vary, and product recipes can change over time.
Suitable for Vegetarians
Gluten-Free
Dairy-Free
Peanut-Free (contains almonds and walnuts)
Sesame-Free
Soya-Free
Lupin-Free
I'd prefer my biscuits to be alcohol-free. What can I use as an alternative to brandy?
As well as adding flavour, the main job of the brandy in this recipe is to bind together the ingredients. Fortunately they're jam packed full of other festive flavours so you can skip out the brandy if needed. If you'd prefer your biscuits to be made without alcohol then simply switch the brandy for a little water or maybe some orange juice.
If you require your biscuits to be free-from alcohol then make sure you check the label of your mincemeat (if you're not making it yourself) as many include alcohol.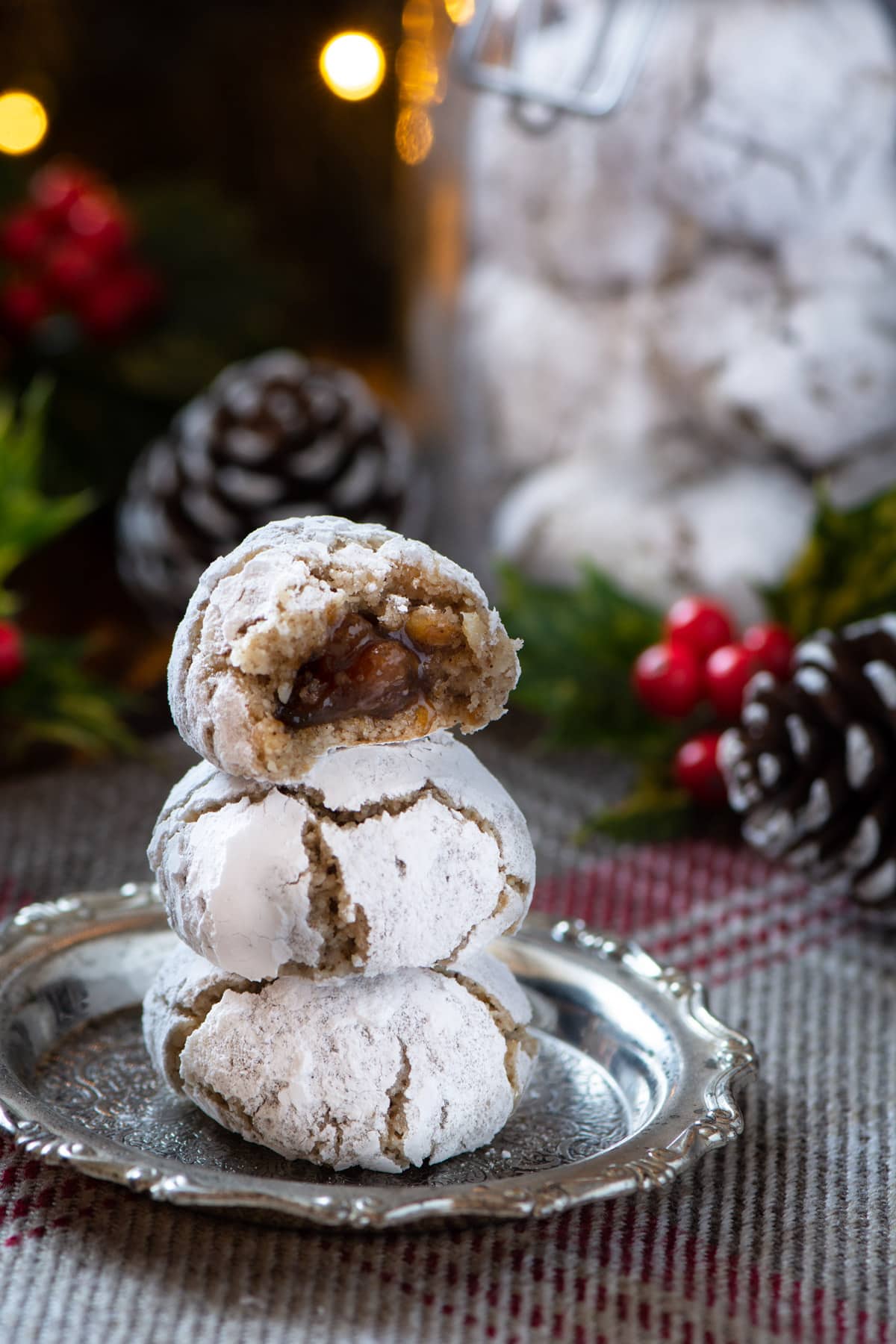 Looking for more festive recipe inspiration?
Make sure you take a look at all of my Christmas Baking Recipes, including these mincemeat-filled yumminesses.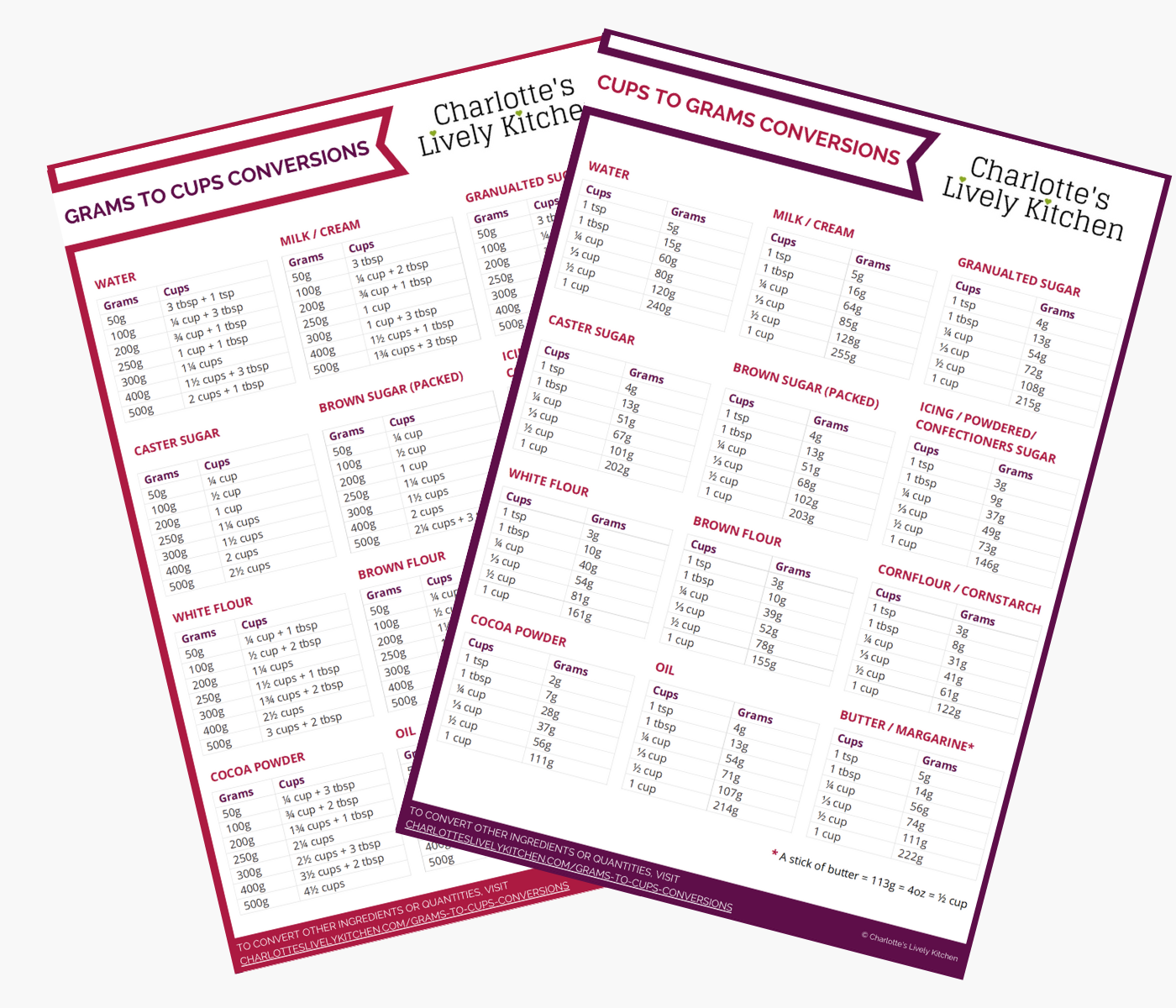 Subscribe to the Charlotte's Lively Kitchen mailing list to get your FREE printable grams to cups and cups to grams conversion charts for twelve popular baking ingredients
Christmas Amaretti Biscuits
A festive twist on my classic amaretti biscuits, with mixed spices, brandy, walnuts and a hidden mincemeat centre.
Print
Pin
Rate
Save
Go to Collections
INGREDIENTS
2

large

egg whites

200

g

ground almonds

185

g

caster sugar

1½

tsp

ground mixed spice

50

g

walnut pieces

1

tbsp

brandy

65

g

mincemeat

3

tbsp

caster sugar

-

to roll the biscuits in before baking

3

tbsp

icing sugar

-

to roll the biscuits in before baking
INSTRUCTIONS
Pre-heat your oven to 170°C/150°C fan.

Line a baking sheet with greaseproof paper or a reusable baking liner.

Finely chop your walnuts (50g).

Whip your egg whites (2 large) until they form stiff peaks.

In a different bowl, mix together the dry ingredients (200g ground almonds,185g caster sugar, 1½ tsp ground mixed spice and 50g chopped walnuts).

Add the whipped egg whites to the dry ingredients and fold them together until combined.

Add the brandy (1 tbsp) and mix until combined.

Divide the mixture into 18 equal-sized balls. Split each ball into two sperate balls (⅓ in one ball and ⅔ in the other).

Make a well in the middle of each of the large balls and add ½ tsp on mincemeat into the hole.

Flatten out the each smaller ball and carefully press it over the mincemeat the seal the biscuit.

Carefully roll each ball between the palms of your hands to form it into a round ball.

Put the caster sugar (3 tbsp) in a shallow dish and the icing sugar (3 tbsp) in a different shallow dish.

Roll each biscuit first in the caster sugar and then in the icing sugar.

Place them on to the prepared baking sheet.

Bake your biscuits for 15 minutes, until they look like the ones in the pictures.

Once baked, remove your biscuits from the oven. Leave them to cool for a few minutes on the baking tray before moving them to a wire rack to cool completely.
NOTES
If it's your first time making this recipe then make sure you read all of the information in the main post as it include lots of additional tips, as well as the answers to some questions. If you have any further questions then do let me know in the comments and I'll do my best to help.
WANT TO HEAR ABOUT NEW RECIPES FIRST?
SUBSCRIBE to the Charlotte's Lively Kitchen Mailing List
NUTRITIONAL INFORMATION
Calories:
158
kcal
|
Carbohydrates:
16.7
g
|
Protein:
4
g
|
Fat:
7.8
g
|
Saturated Fat:
0.7
g
|
Sodium:
13.1
mg
|
Fiber:
1.1
g
|
Sugar:
16.4
g
Any nutritional information provided is the estimated nutritional information per serving. Please refer to my guide to Charlotte's Lively Kitchen nutritional information if you would like to learn more about how this is calculated.
---