Coconut and Honey Omelette – A delicious, healthy sweet omelette, flavoured with coconut oil and a hint of honey. Quick and easy to make – ready in just 5 minutes. Perfect for a healthy breakfast treat.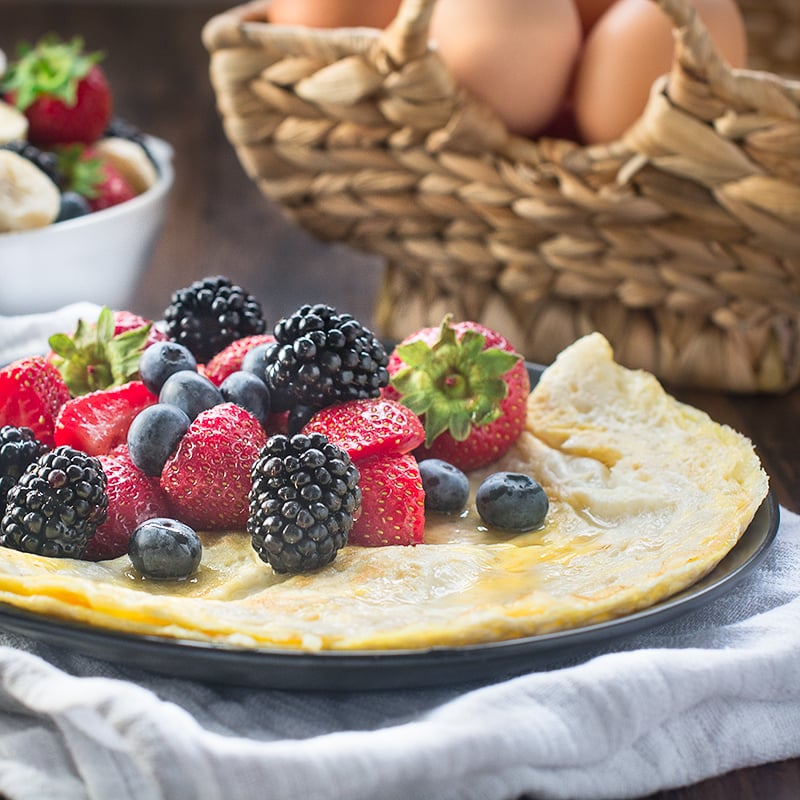 I mentioned in my Soy and Sesame Salmon recipe that my sister, Amy, came to stay recently and today's recipe is another one inspired by her. It's not something we cooked together, or even talked about (it just popped into my imagination sometime afterwards) but I noticed how much she enjoys eggs for breakfast and it made me realise that they're not something I have very often.
It got me thinking about making myself omelette for breakfast. They're quick, easy and healthy so fit my usual breakfast criteria, but I found that no matter what I put into it I simply wasn't enjoying it at breakfast time. As soon as I was finished I was scouting around the kitchen looking for something else to nibble on.
It then hit me… I like sweet things for breakfast. I don't know why, I suspect it's that sweet things feel more like a treat and if I've started the day with a treat then I start the day happy. At first I couldn't believe that I only really ate sweet things for breakfast (the odd full English aside but that's more like brunch), so I had a quick look through my breakfast recipe index and lo and behold in the past year I've not shared one savoury breakfast (there are eggs in there, but I actually always make those for lunch, it just felt like breakfast was the right place to put them when I was writing about them). Fortunately anything sweet goes for me, even fruit, so I can usually keep it pretty healthy too.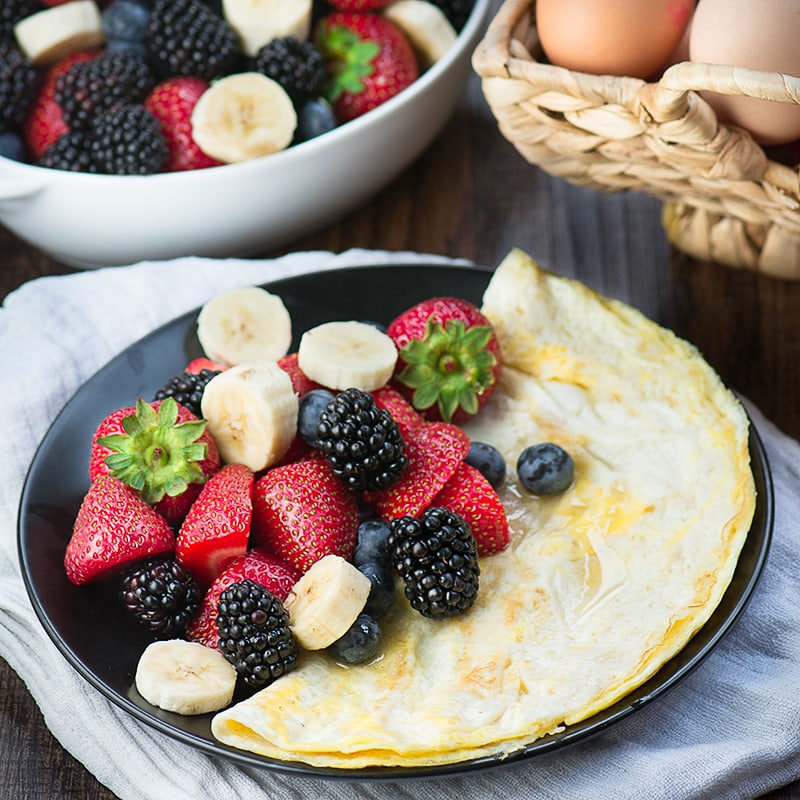 Once I'd had this realisation I knew that a savoury omelette wasn't going to keep me happy in the morning so I set about trying to design a sweet version. I had some coconut oil in the cupboard (left over from Amy making bliss balls while she was here, another reason why she inspired the recipe as otherwise I wouldn't have had any to use) and thought I'd stir in a tiny bit of runny honey to add some sweetness. I have never tried a sweet omelette before but it was lovely, and unlike the savoury version I didn't feel the need to go snack hunting as soon as I was finished.
Coconut and Honey Omelette
Active Time:5 minutes
Total Time:5 minutes
Serves 1
Ingredients
2 eggs
1 tsp coconut oil
½ tsp honey
Method
Crack the 2 eggs into a bowl and beat. Add the honey (½ tsp) and stir to combine.
Heat the coconut oil in a small frying pan on a high heat.
Once the oil has melted, add the egg mix.
Once the egg has started to cook on the bottom, tilt the pan and gently scrape the sides towards the centre with a spoon or spatula, the uncooked egg on top will run out to the sides.
Repeat all around the pan until the uncooked egg no longer flows to the edges.
Fold the omelette in half and serve – it will look like the omelette is slightly uncooked on top just before folding, however the residual heat will cook this after folding.

Nutritional Information
Calories: 203 kcal (10%), Fat: 14.6g (21%), Saturated Fat: 7.5g (38%), Carbohydrates: 3.2g (1%), Sugar: 3.2g (4%), Fibre: 0.0g (0%), Protein: 12.0g (24%), Salt: 0.3g (5%)
This is the estimated nutritional information per serving. Please refer to my guide to Charlotte's Lively Kitchen nutritional information if you want to learn more about how this is calculated.
Free From/Suitable For…
Suitable for Vegetarians
Gluten-Free
Dairy-Free
Corn-Free
Nut-Free
Soy-Free
The ingredients for this recipe are commonly available free from all these allergens. However, please ensure you double-check allergen information for all ingredients.

---