Advertising Feature
Hasselback potatoes stuffed with Grana Padano cheese, Prosciutto di San Daniele and wholegrain mustard.

One of my favourite ways to cook potatoes is the Hasselback potato. For anyone that's not come across them before they're very similar to a jacket potato, but slits are cut into the potato before it is baked. This means that the potato can absorb more of the flavours around it. Another advantage of the slits is that they present a great opportunity to stuff them – adding even more flavour and turning your potato from a side dish into a delicious light meal.
Today's recipe is inspired by a French classic, the Croque Monsieur, with an Italian twist using Grana Padano Cheese and Prosciutto di San Daniele. They're then finished with a little wholegrain mustard. The combination of the sweet soft potato, salty ham and cheese and the kick from the mustard go perfectly. I made extras to photograph and had trouble resisting the temptation to eat them all!
Grana Padano Cheese
Grana Padano is a hard cheese with a distinctive flavour and grainy texture. It was originally invented by Benedictine Monks almost 1000 years ago as a way of preserving milk. Its traditional methods of production have been handed down over the centuries, so that the cheese that's made today continues to display the same characteristics of flavour, aroma and texture as the cheese made all that time ago.
When choosing your Grana Padano cheese look out for the fire-branded mark on the rind which signifies that the cheese has met stringent quality checks. If you're opting for a slightly older cheese, over 16 months of ageing, check that "oltre 16 mesi" is written under the yellow logo on the packaging and if you want an even more flavoursome cheese then opt for Grana Padano Riserva. This is aged over 20 months and has passed another strict quality test to be fire-branded with the Riserva mark. The older Grana Padano has a fuller flavour and a grainier texture.
In addition to the fire-branded mark, the cheese displays the small Grana Padano diamond-shaped markings (that you can see in the picture below) all over the rind. This allows you to identify cheese as Grana Padano even when it's been divided up into portions.
How Grana Padano is made
From the milk to the wheel – Grana Padano Cheese is made from raw cow's milk. The milk, which has been partially skimmed by natural surface skimming, is placed in traditional copper vats to which whey produced by the previous cheese-making process, and the rennet are added. Coagulation is a fundamental stage that creates a stiff curd which is finally chopped and manually broken down by an instrument called 'spino'. This is the main step in order to obtain the typical granular texture of the cheese.
Salting – Two days after the cheese has been produced, having now obtained a cylindrical shape in the moulds, it is immersed in brine, a solution of water and salt. This process normally lasts between 16 and 25 days.
Ageing – Once the wheels have been taken out of the brine, they are transported to rooms where the temperature is 35°C and the wheels are gently ventilated for some hours. Once dried, they are transferred to the ageing warehouse and left to rest for nine months at 15–22°C. During this period of time, the wheels are checked, cleaned and turned approximately every fifteen days.
Tapping – After nine months the Grana Padano wheels are examined by impartial testers from the Grana Padano Protection Consortium with the traditional inspection tools: a small hammer and a needle. These checks allow the aroma, flavour, colour and structure of the product to be accurately verified.
Fire-branding – Only wheels that meet all the quality checks carried out by the Consortium's experts will receive the Grana Padano fire-branded mark. The impartiality of the Consortium is a guarantee of quality and respect for the Production Specifications and tradition.
Prosciutto di San Daniele
In these Croque Monsieur Hasselback Potatoes the Prosciutto di San Daniele is added just before serving. Adding it at the last minute means that it retains its soft, melt in the mouth texture.
The unique flavour and texture of Prosciutto di San Daniele results from the unique microclimate between the Adriatic Sea and the Alps where it's made. I've shared a bit more detail about the production process in my recent recipes for Prosciutto di San Daniele and Grana Padano Pizza so head over there if you'd like to know more (and try the pizza while you're there as it's delicious!).
As with Grana Padano, the production methods for Prosciutto di San Daniele have been handed down over the centuries and it also goes through stringent tests to ensure the quality of every one.Both Prosciutto di San Daniele and Grana Padano have a Protected Designation of Origin from the EU. This means that there are clear geographical boundaries for where the product and raw materials come from, the product follows a traditional recipe and it's checked and certified by independent bodies.
Win a Prosciutto di San Daniele and Grana Padano Taster Box
To get you started making these delicious Croque Monsieur Hasselback Potatoes, I've got a delicious Prosciutto di San Daniele and Grana Padano Taster Box to giveaway. For your chance to win head over to my recent recipe for Prosciutto di San Daniele and Grana Padano Pizza where you'll find out all the details of how to enter (closes 9th July 2017).
Find Out More
To find out more about Prosciutto di San Daniele and Grana Padano like their Facebook page or follow them on Twitter.
Watch a video of this recipe…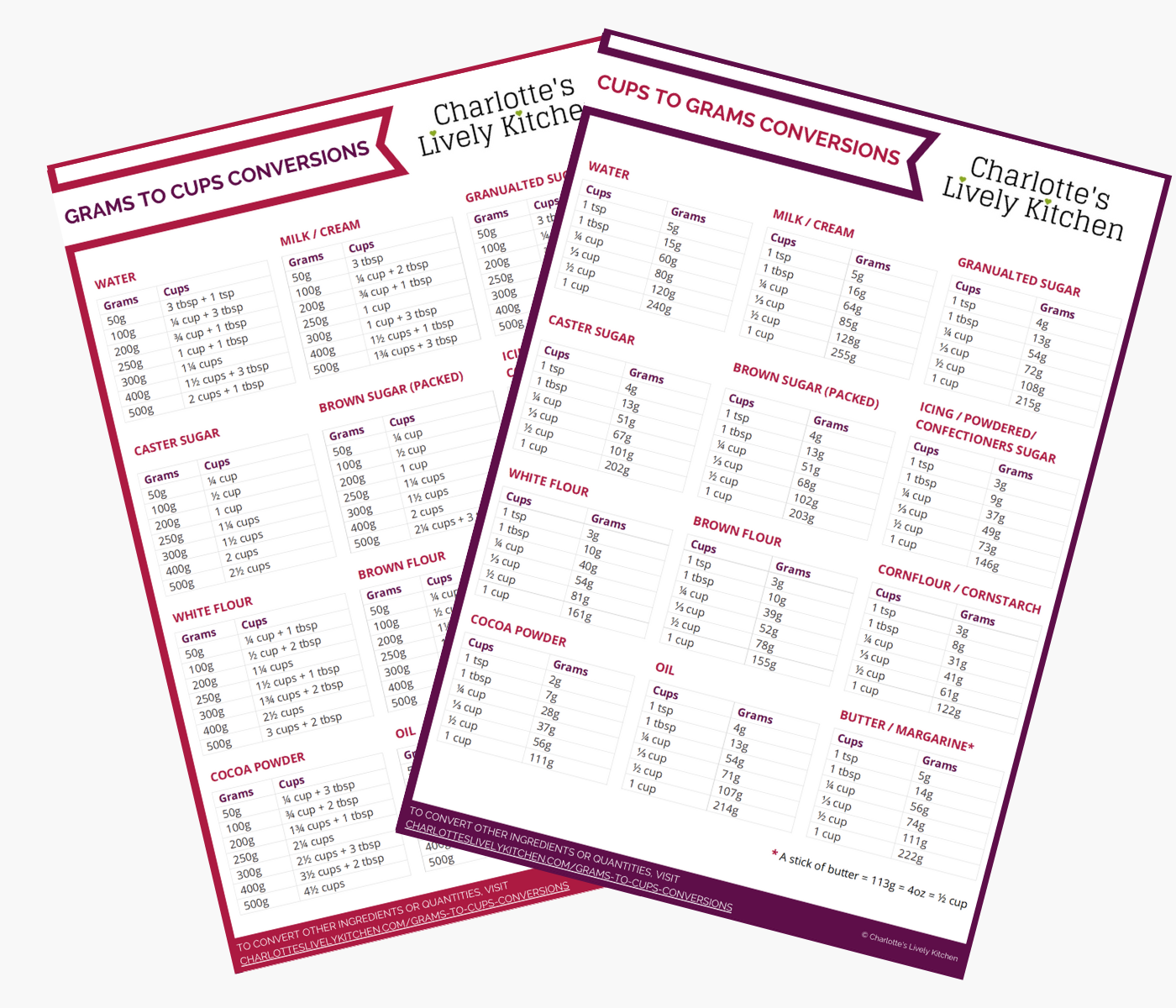 Subscribe to the Charlotte's Lively Kitchen mailing list to get your FREE printable grams to cups and cups to grams conversion charts for twelve popular baking ingredients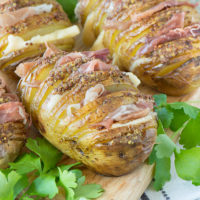 Croque Monsieur Hasselback Potatoes
Hasselback potatoes stuffed with Grana Padano cheese, Prosciutto di San Daniele and wholegrain mustard.
Print
Rate
Save
Go to Collections
INGREDIENTS
4

baking potatoes

-

about 700g

4

tsp

olive oil

Salt

70

g

Grana Padano Cheese

6

slices

Prosciutto di San Daniele

4

tsp

wholegrain mustard
INSTRUCTIONS
Pre-heat your oven to 220ºC/200ºC fan.

Using a sharp knife, cut slits in your potatoes. These should be about half-a-centimetre apart and go about two-thirds of the way through the potato.

Brush the tops of the potatoes with olive oil (about 1 tsp on each) and then sprinkle over a little salt.

Bake the potatoes for 1 hour (the cooking time may vary depending on the size of your potatoes). Every 20 minutes, brush the potatoes with the oil they're sitting in. If you notice the edges getting dark brown and crispy, loosely cover the potatoes in foil to stop them from burning.

While the potatoes are cooking thinly slice the Grana Padano Cheese (70g).

Once the potatoes have been baking for an hour, use a knife to check if they're soft in the centre, if not return them to the oven for a few more minutes. If they are, remove them from the oven and carefully push the sliced cheese into the slits. It doesn't need to go into every slit, about every 3 is fine.

Return the potatoes to the oven for 5 minutes to melt the cheese.

Remove the potatoes from the oven. Put a teaspoon of wholegrain mustard onto each potato and use the back of a spoon to spread it across the top. Roughly tear the Prosciutto di San Daniele and push it into some of the empty slits (as with the cheese, one in about every 3 slits is fine).

Serve immediately.
WANT TO HEAR ABOUT NEW RECIPES FIRST?
SUBSCRIBE to the Charlotte's Lively Kitchen Mailing List
NUTRITIONAL INFORMATION
Serving:
1
portion
|
Calories:
311
kcal
|
Carbohydrates:
30.7
g
|
Protein:
15.6
g
|
Fat:
13.4
g
|
Saturated Fat:
5
g
|
Sodium:
560
mg
|
Fiber:
2.4
g
|
Sugar:
1.3
g
Any nutritional information provided is the estimated nutritional information per serving. Please refer to my guide to Charlotte's Lively Kitchen nutritional information if you would like to learn more about how this is calculated.
---
Free From/Suitable For…
Corn-Free
Gluten-Free
Nut-Free
Soy-Free
The ingredients for this recipe are easily available free from all these allergens. However, please ensure you double-check allergen information for all ingredients.