How to make perfect vanilla buttercream – Easy to make with just four everyday ingredients, and ideal for cupcakes, sandwich cakes, macarons and decorated celebration cakes.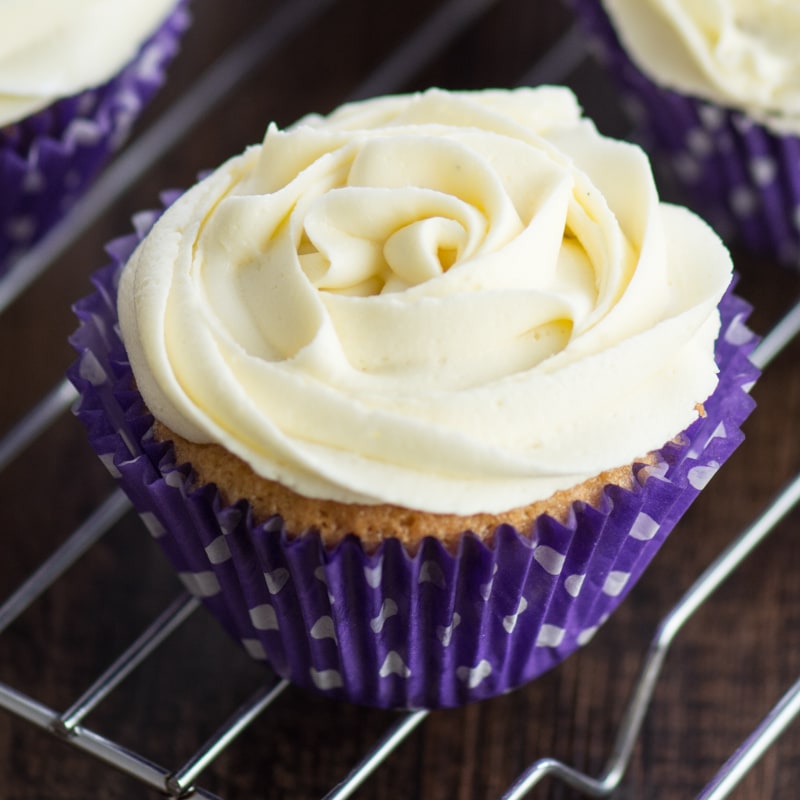 I've been meaning to add a buttercream recipe to my blog for ages and just haven't quite gotten around to it. I think part of my reluctance to post was that I'm not the best at piping and so had no idea how to present it to show off it's yummy deliciousness. However, a couple of day's ago I came across 3-second buttercream rose tutorial by Toni at This Mama. Unfortunately the site is no longer live but she made it look so simple that I couldn't resist whipping up some vanilla cupcakes and a batch of buttercream to give it a try.
I was pretty pleased with the results *smug grin* so I decided buttercream finally deserved a place on my blog.
I've shown it here as cupcake frosting, but it's extremely versatile and can be used for all sorts of cakes and desserts – cupcakes, sandwich/layer cakes, macarons and, my favourite, as a delicious buttercream layer beneath the fondant icing on the decorated celebration cakes I make for my family. If you're making my all-in-one vanilla sponge birthday cake, then this is the recipe I use for the buttercream.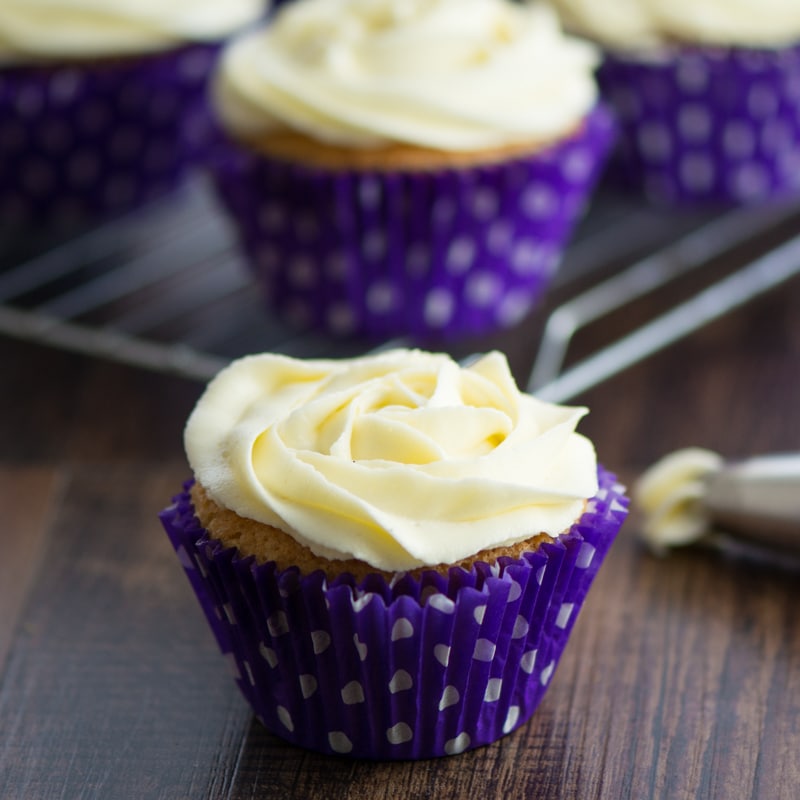 What's the secret to perfect buttercream?
Buttercream is extremely simple to make. However, to ensure that you can create beautiful cakes with it you need to make sure it's the right consistency.
At this point I want you to imagine you're making a sandwich. I'm sure that, like me, you've experienced those times when you've taken the butter out of the fridge and attempted to spread it onto your sandwich only to find that you end up ripping the bread to shreds instead – butter still in one lump, bread with a great big hole in the middle. Now imagine how soft your butter needs to be to ensure that doesn't happen. That's the consistency you want your buttercream – just spreadable, but not runny.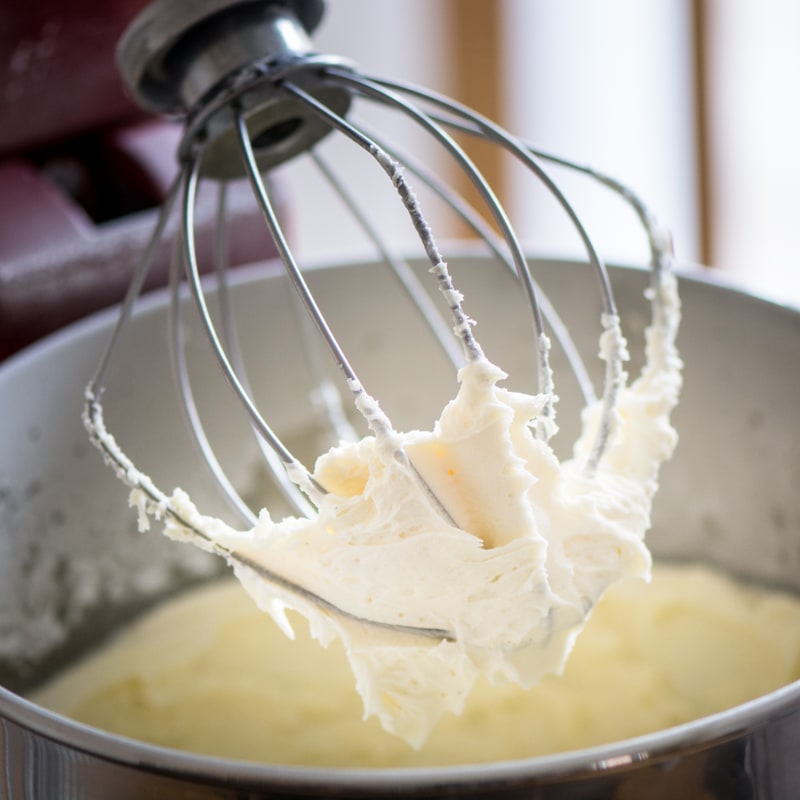 So how do you get your buttercream to the right consistency?
It's important to ensure that your butter is soft in the first place – just spreadable (like you would use for that successful sandwich). The best idea is to leave it out of the fridge for a little while to soften. However, I find that if I forget, I can cut it into cubes and beat it on a high speed in my Kitchenaid mixer and it softens pretty quickly (this only works because I have a powerful stand mixer. I used to try it with my hand mixer but I found my arm going round and round with the beaters stuck in the lump of butter instead of the butter softening as I wanted).
Unfortunately you start with the butter at just the right consistency and then add a load of icing sugar causing it to thicken up. So you need to soften it a little again.
This is where the milk comes in. Gradually beat in the milk a few drops at a time and check the consistency before adding more. For icing using 250g butter and 500g icing sugar I find about a tablespoon of milk is the right amount, but I add it at no more than ½ teaspoon at a time as other factors such as the temperature of your kitchen can also impact how soft the buttercream gets and it's easy to add more but impossible to take it out.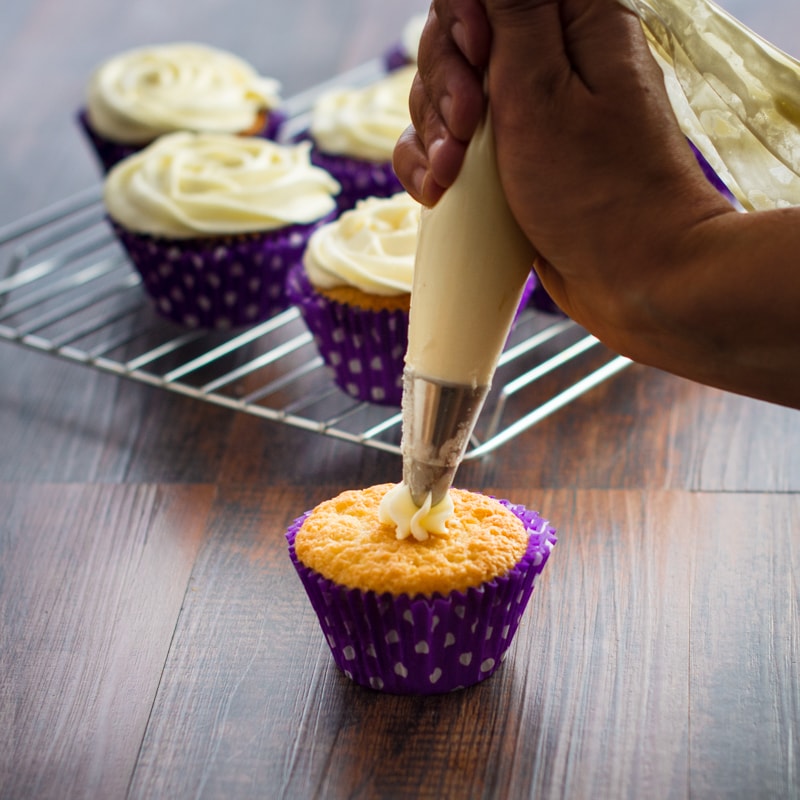 How to stop everything getting covered in sugar when you make icing?
I've no idea. Whenever I make anything with icing sugar everything gets covered. If anyone has any suggestions on preventing this please, please let me know!
What You'll Need
Before you start, make sure you have all of the equipment needed.
NOTE – These are affiliate links which means that if you purchase from Amazon after clicking on one the product links below I may earn a small commission. All of the products linked are ones I use in my kitchen.
Weighing Scales
Measuring Spoons
Knife – to cut the butter
Electric Mixer (or a bowl and hand mixer or wooden spoon)
Sieve
Piping Bags – if you're planning on piping the cupcakes
Piping Nozzle – To pipe the cupcakes as shown in the video you'll need a JEM 1B nozzle. To pipe the cupcakes as shown in the pictures you'll need a Wilton 2D nozzle.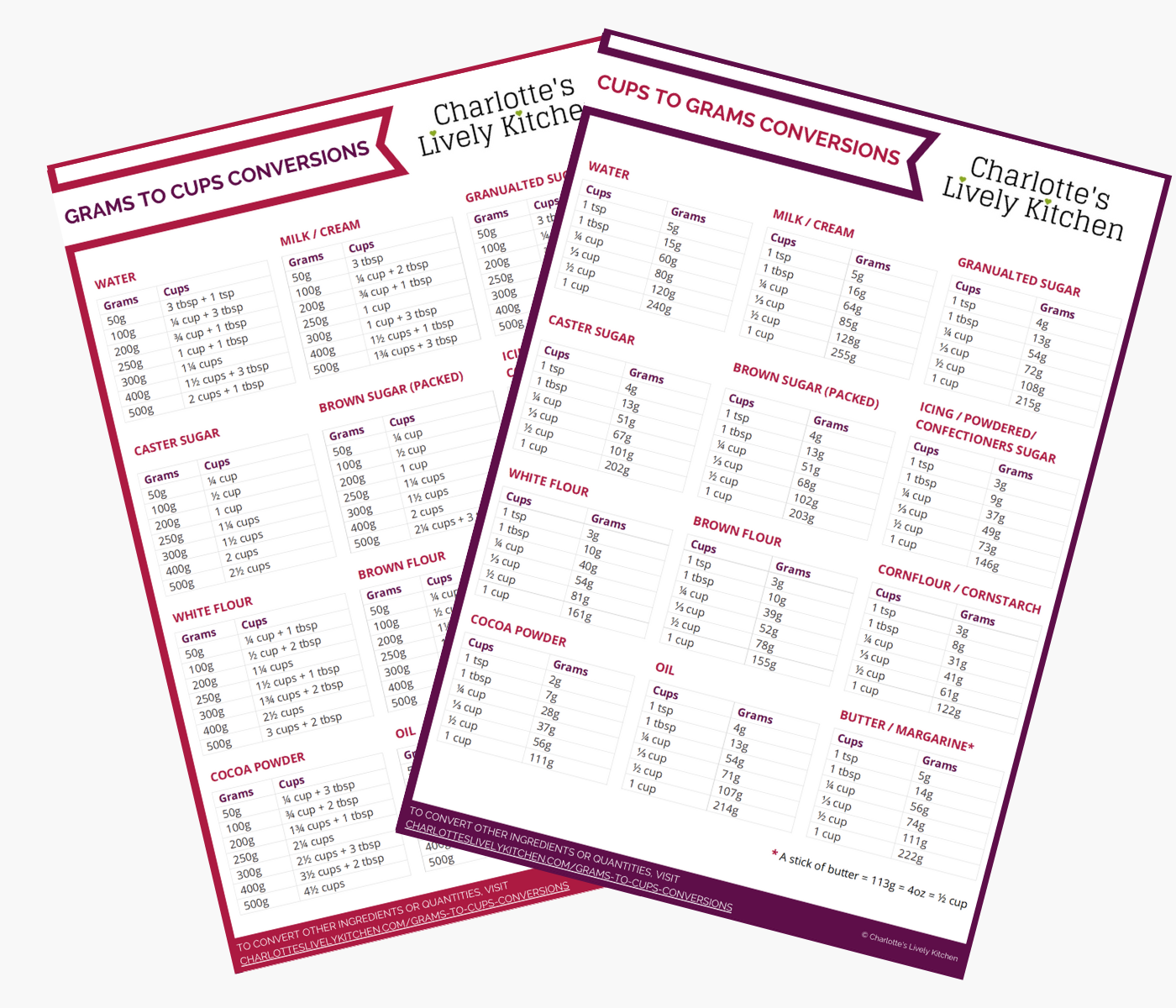 Subscribe to the Charlotte's Lively Kitchen mailing list to get your FREE printable grams to cups and cups to grams conversion charts for twelve popular baking ingredients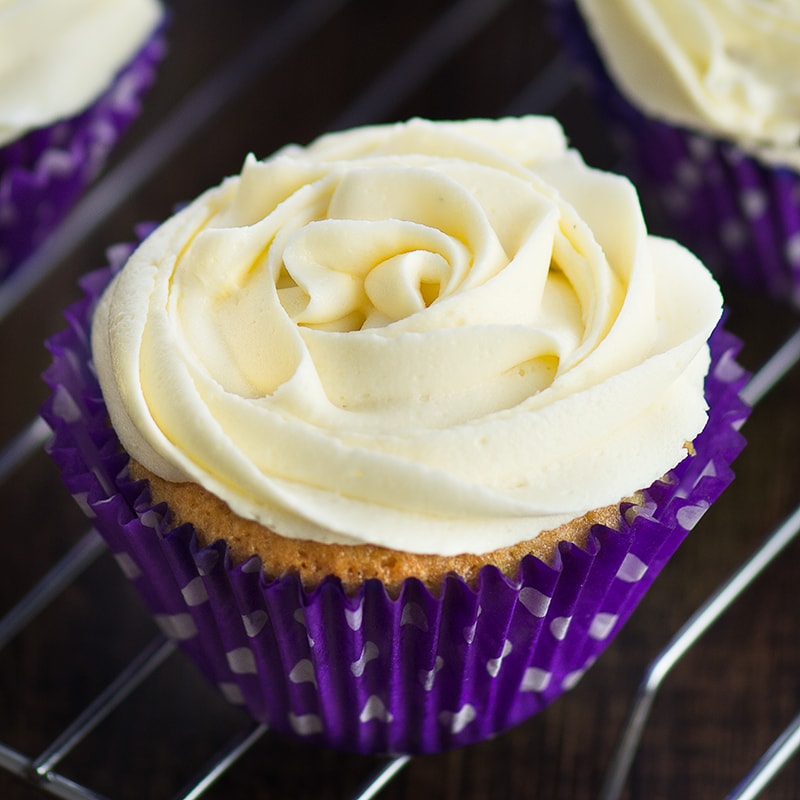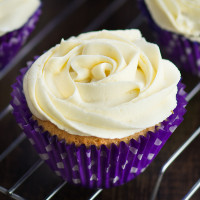 Easy Vanilla Buttercream
How to make perfect vanilla buttercream – Easy to make with just four everyday ingredients, and ideal for cupcakes, sandwich cakes, macarons and decorated celebration cakes. Recipe VIDEO below.
Print
Rate
Save
Go to Collections
INGREDIENTS
250

g

unsalted butter

500

g

icing sugar

½

tsp

vanilla extract

Approx. 1 tbsp milk

-

I use skimmed but any is fine
INSTRUCTIONS
Cut the butter (250g) into cubes (about 1″) and beat in an electic mixer until soft.

Add the icing sugar (500g) and beat until fully combined – I prefer to add the sugar a couple of spoonfuls at a time as this minimises the amount of sugar that flies out all over the kitchen! You'll find that at first it'll start to look lumpy but keep persevering and it'll smooth out.

Add the vanilla extract (½ tsp) and mix until fully combined.

(See note about about the required consistency) Take a look at the consistency of the icing, is it spreadable? If not add ½ tsp milk and mix until fully combined. Check the consistency again and repeat until it is just spreadable.

Once you've got the icing to the right consistency – have fun piping, spreading, or just licking if off the spoon!
NOTES
This recipe makes enough for 12 buttercream cupcake roses or for a thin covering over a 20cm round sandwich cake with a layer in the middle (as I do for celebration cakes). You can find the recipe for my vanilla cupcakes here.
You may find you've got a bit leftover from your cupcakes but attempting a neat rose with an almost empty piping bag isn't easy so I'd prefer to make a little too much. You can easily make as much or as little icing as you like depending on what you're trying to cover.
WANT TO HEAR ABOUT NEW RECIPES FIRST?
SUBSCRIBE to the Charlotte's Lively Kitchen Mailing List
NUTRITIONAL INFORMATION
Calories:
312
kcal
|
Carbohydrates:
41
g
|
Fat:
16
g
|
Saturated Fat:
10
g
|
Cholesterol:
44
mg
|
Sodium:
3
mg
|
Potassium:
5
mg
|
Sugar:
40
g
|
Vitamin A:
520
IU
|
Calcium:
7
mg
Any nutritional information provided is the estimated nutritional information per serving. Please refer to my guide to Charlotte's Lively Kitchen nutritional information if you would like to learn more about how this is calculated.
---
---
Fancy trying a different flavour of buttercream on your cakes?
Then take a look at my new recipe for delicious NUTELLA BUTTERCREAM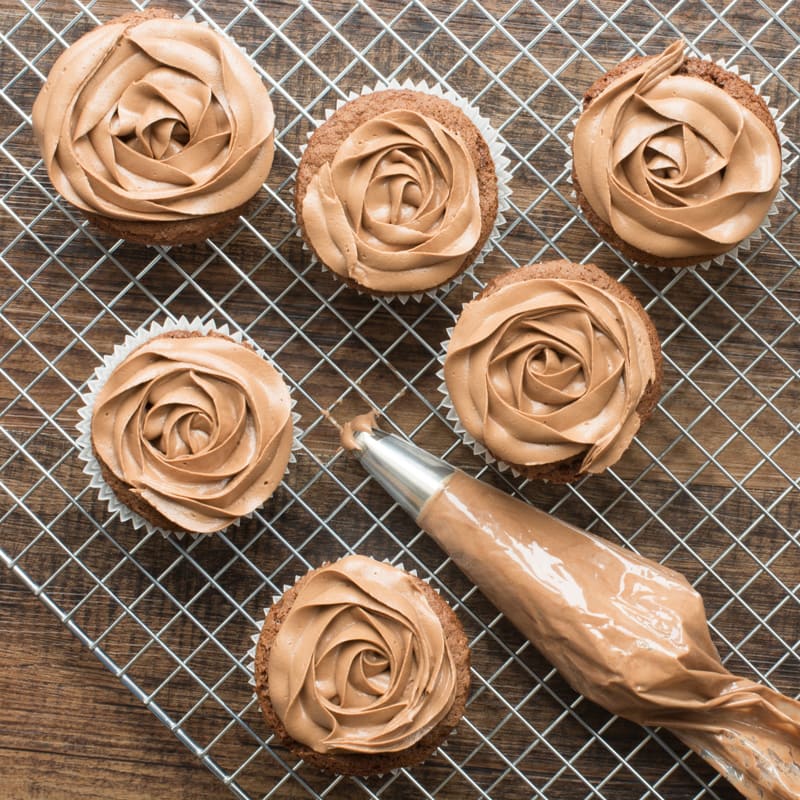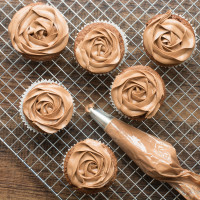 ---
Suitable for Vegetarians
Gluten-Free
Egg-Free
Tree Nut-Free
Peanut-Free
Sesame-Free
Soya-Free
Sulphur Dioxide & Sulphite-Free
Lupin-Free
If you're looking for a dairy-free buttercream recipe then try my Vegan Vanilla Buttercream.
The ingredients for this recipe are commonly available free from all these allergens. However, please ensure you double-check allergen information for all ingredients.