Making fairy cakes with children is so simple and so much fun. Here's my recipe for simple vanilla cupcakes and two different types of icing.
Today is my birthday and so the boys decided that they wanted to make me a cake (I know I probably shouldn't be posting recipes on my birthday, but we celebrated yesterday so I think it's OK!). After some discussion they decided that it would be most fun to make a selection of cupcakes.
They're all made from a simple all-in-one vanilla sponge (recipe below) to which they added either chocolate chips, sultanas or kept them plain. They then made butter icing, glacé icing and melted milk chocolate and finished them off with a selection of different sprinkles.
Daniel was in charge of making the cupcakes with a bit of help, and my only job was running around with the camera (Josh decided that he was too sleepy so went for a nap instead).
Making the cupcakes
The great thing about making cupcakes with children is that they can get really involved. The cake mix is an all-in-one sponge so you simply chuck all of the ingredients in together and mix them up. They'll need a bit of help to measure the ingredients, crack the eggs (unless you want to be picking bits of shell out of the cake!) and make sure the mixture is fully combined, but they can really feel like they've been a part of it.
Here's Daniel making the cakes. You can see and adult hand sneaking in every now and again to help him out, but it was mostly his own work. I love the look of concentration on his face when he's stirring the mix and the happiness in spooning the mixture into the cupcake cases. It was so lovely to him enjoying baking.
They decided to make a selection of different cakes by splitting the mixture into three, keeping one bowl plain, adding chocolate chips to one (1 tsp per cake) and adding sultanas to the other (1 tsp per cake).
They then topped the chocolate chip cakes with melted milk chocolate and sprinkles, the sultana ones with glacé icing (recipe below) and either a cherry or sprinkles, and the plain ones were either made into butterfly cakes, or topped with buttercream (recipe below) and mini marshmallows.
If you want your little ones to be as involved in making the icing as they were with the cakes then I'd recommend making just glacé icing, as it's simply a case of stirring the ingredients together. The buttercream needs beating (preferably with an electric mixer) and the chocolate needs melting on the stove (in a glass bowl over simmering water), so both would require more adult involvement.
And here they are, the finished cakes…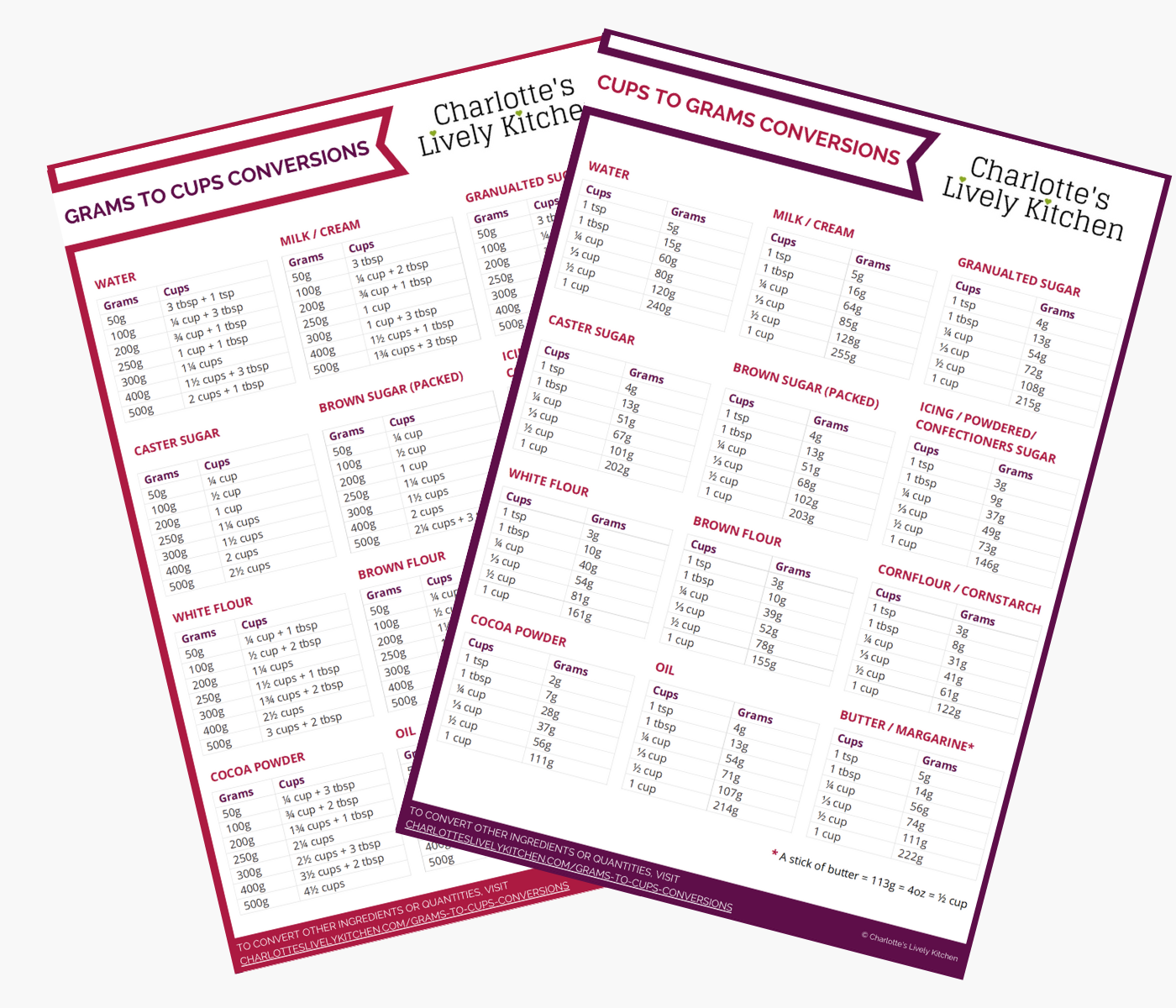 Subscribe to the Charlotte's Lively Kitchen mailing list to get your FREE printable grams to cups and cups to grams conversion charts for twelve popular baking ingredients
Fairy Cakes, Buttercream and Glacé Icing
Making fairy cakes with children is so simple and so much fun. Here's my recipe for simple vanilla cupcakes and two different types of icing.
Print
Rate
Save
Go to Collections
INGREDIENTS
For the buttercream (makes enough for all 12 cupcakes)
100

g

unsalted butter -

at room temperature

200

g

icing sugar

1

tbsp

ish milk

A few drops of vanilla extract
For the glacé icing (makes enough for all 12 cupcakes)
125

g

icing sugar

1

tbsp

warm water

A few drops of vanilla extract
INSTRUCTIONS
Preheat the the oven to 180ºC/160ºC fan.

Line a 12-hole muffin tin with cupcake cases.

Put all of the ingredients into a bowl (175g room temperature butter, 175g self-raising flour, 175g caster sugar, 3 eggs, ½ tsp baking powder, ½ tsp vanilla extract) and beat until fully combined and smooth.

Evenly divide the mixture between the cupcake cases.

Bake for 20 minutes. After 20 minutes, insert a skewer and if it comes out clean then they're done. If not then pop them back in for a couple more minutes.

Cool on a wire rack.
Beat the butter (100g) until it is light and fluffy (preferably use an electric mixer but this can be done by hand).

Sift in the icing sugar (200g) and beat until combined.

Add a few drops of vanilla extract and beat to combine.

The icing needs to be soft but not sloppy. If it is a little hard then gradually mix in milk (up to 1 tbsp) until you have the required consistency.
Sift the icing sugar (125g) into a bowl.

Gradually add the warm water (1 tbsp) and mix until combined.

The icing should be just runny enough to spread onto the cakes. If it is a too stiff then add a little more water, if it is too runny then add a little more icing sugar.

Add a couple of drops of vanilla extract and stir again to combine.
NOTES
For the two types of icing I have given the measurements needed to cover all 12 cupcakes. If you want to make a selection of different types of icing then simply reduce the quantities for each type.
Have you tried this recipe? Please leave a comment and rating at the bottom of the page to let others know what you thought.
WANT TO HEAR ABOUT NEW RECIPES FIRST?
SUBSCRIBE to the Charlotte's Lively Kitchen Mailing List
Any nutritional information provided is the estimated nutritional information per serving. Please refer to my guide to Charlotte's Lively Kitchen nutritional information if you would like to learn more about how this is calculated.
---
Free From/Suitable For…
The ingredients I used to make this recipe are all free from the following allergens. However, please check any labels carefully for allergens you need to avoid as brands can vary and product recipes can change over time.
Suitable for Vegetarians
Tree Nut-Free
Peanut-Free
Sesame-Free
Soya-Free
Sulphur Dioxide & Sulphite-Free
Fish-Free
Crustacean-Free
Mollusc-Free
Celery-Free
Mustard-Free
Lupin-Free