How to make delicious, smooth grapefruit curd.
Last year I shared my recipe for lemon curd and I thought it was about time I expanded my curd flavours further with this delicious, smooth grapefruit version.
Grapefruit Curd Q&A
With all my recipes I like to try and anticipate all of the questions you might have. If it's your first time making this grapefruit curd, then make sure you have a good read through as there's lots of extra tips here…
How long does it last and how should it be stored?
Your grapefruit curd will last for about a week stored in an airtight container in the fridge. If you'd like to keep it for longer then it can be frozen.
Suitable for freezing ❄️
If you'd like to freeze your grapefruit curd then simply decant it into a freezer-safe container and pop it into the freezer. Make sure you defrost it completely in the fridge before eating.
Can grapefruit curd be made in the microwave?
Yes
In this recipe I make my curd on the hob. If you'd prefer to make your grapefruit curd in the microwave, then head on over to my microwave lemon curd recipe and follow the instructions. Simply switch ingredients in that recipe for the ones listed here.
Do you have a video for this recipe?
I don't have one for this recipe, but I did make one for my lemon curd which shows the same method you have here. Simply remember to switch the lemons for a grapefruit 🙂
What type of grapefruit should I use?
I used pink grapefruits for my curd. But it will work equally well with any variety.
Who is this recipe suitable for/What is it free from?
The ingredients I used to make this recipe are all free from the following allergens. However, please check any labels carefully for allergens you need to avoid as brands can vary, and product recipes can change over time.
Suitable for Vegetarians
Gluten-Free
Tree Nut-Free
Peanut-Free
Sesame-Free
Soy-Free
Sulphite-Free
Lupin-Free
My grapefruit curd didn't turn out as I expected. What did I do and how can I rescue it?
If you follow the instructions below then you should end up with perfect grapefruit curd, but sometimes things can go wrong.
When I wrote my lemon curd recipe I gave details of all the things that could possibly go wrong including curd that's lumpy, too thin or too thick, and how to rectify them. Rather than repeating myself, I'd recommend you head on over there for a read.
There's also plenty of information about how to tweak the recipe to suit your own tastes.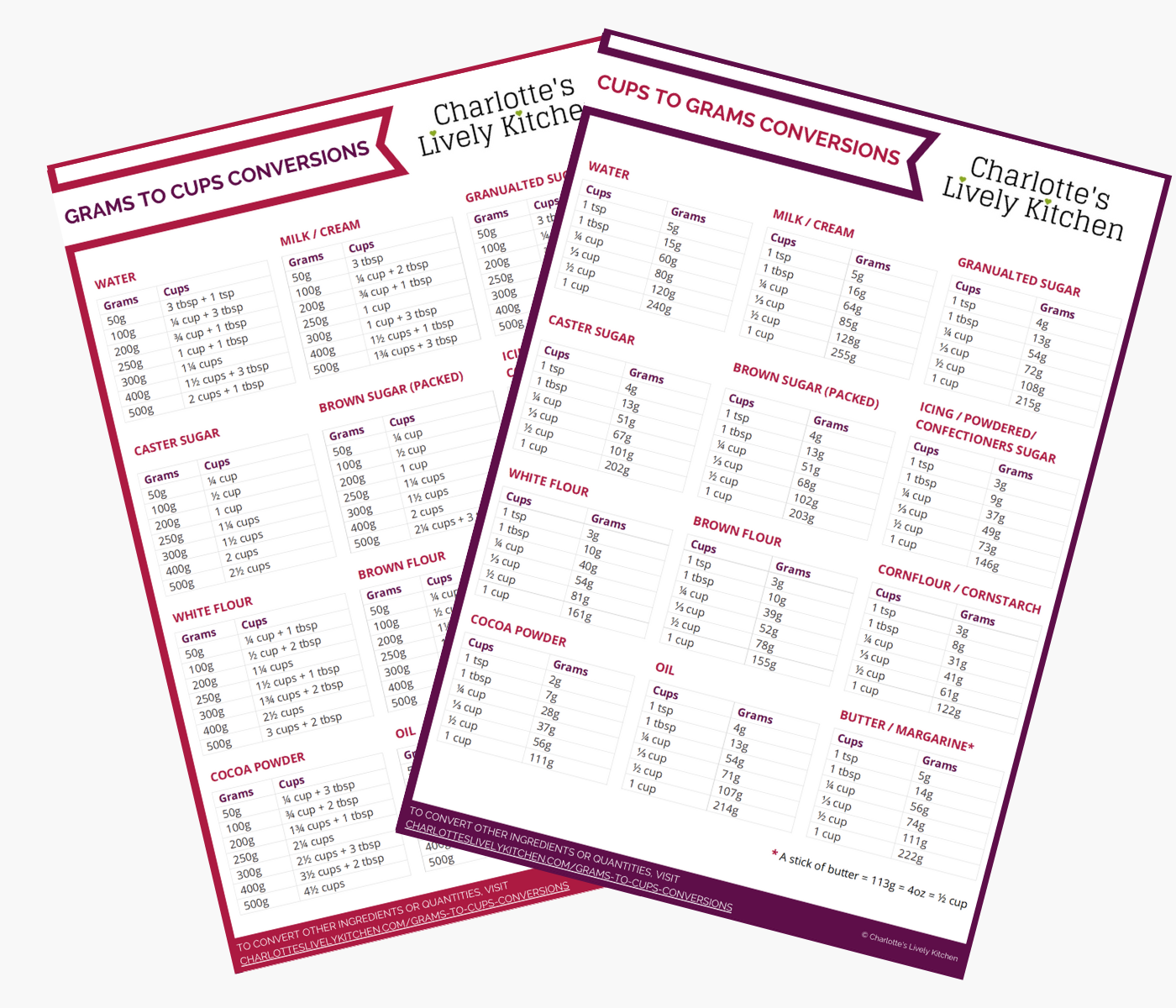 Subscribe to the Charlotte's Lively Kitchen mailing list to get your FREE printable grams to cups and cups to grams conversion charts for twelve popular baking ingredients
INGREDIENTS
4

medium

eggs

200

g

caster sugar

1

Grapefruit

-

juice and zest

100

g

unsalted butter
INSTRUCTIONS
Finely grate the zest of one grapefruit and then squeeze the juice – You may want to pass the grapefruit juice through a sieve to remove any larger bits of pulp.

Cut the butter (100g) into cubes.

Lightly beat the eggs (4 eggs) and place them into a saucepan with the caster sugar (200g) and grapefruit juice and zest.

Place the pan on the hob over a low heat. Mix together all of the ingredients and then keep whisking regularly until the curd has thickened. It should leave a coating over the back of the spoon when lifted out.

Once thickened, remove the grapefruit curd from the heat. Add the butter and whisk until the butter has melted.
NOTES
If it's your first time making this recipe then make sure you read all of the information in the main post as it includes lots of additional tips, as well as the answers to some questions.
If you have any further questions then do let me know in the comments and I'll do my best to help.
The nutritional information provided is the estimated nutritional information per tablespoon.
WANT TO HEAR ABOUT NEW RECIPES FIRST?
SUBSCRIBE to the Charlotte's Lively Kitchen Mailing List
NUTRITIONAL INFORMATION
Calories:
83
kcal
|
Carbohydrates:
9.9
g
|
Protein:
1.2
g
|
Fat:
4.4
g
|
Saturated Fat:
2.5
g
|
Sodium:
16
mg
|
Fiber:
0.2
g
|
Sugar:
9.5
g
Any nutritional information provided is the estimated nutritional information per serving. Please refer to my guide to Charlotte's Lively Kitchen nutritional information if you would like to learn more about how this is calculated.
---