Advertising Feature
With only a few minutes of prep you can whip up these delicious lamb steaks marinated in yogurt and spices for your summer barbecue, leaving you more time to enjoy the sunshine.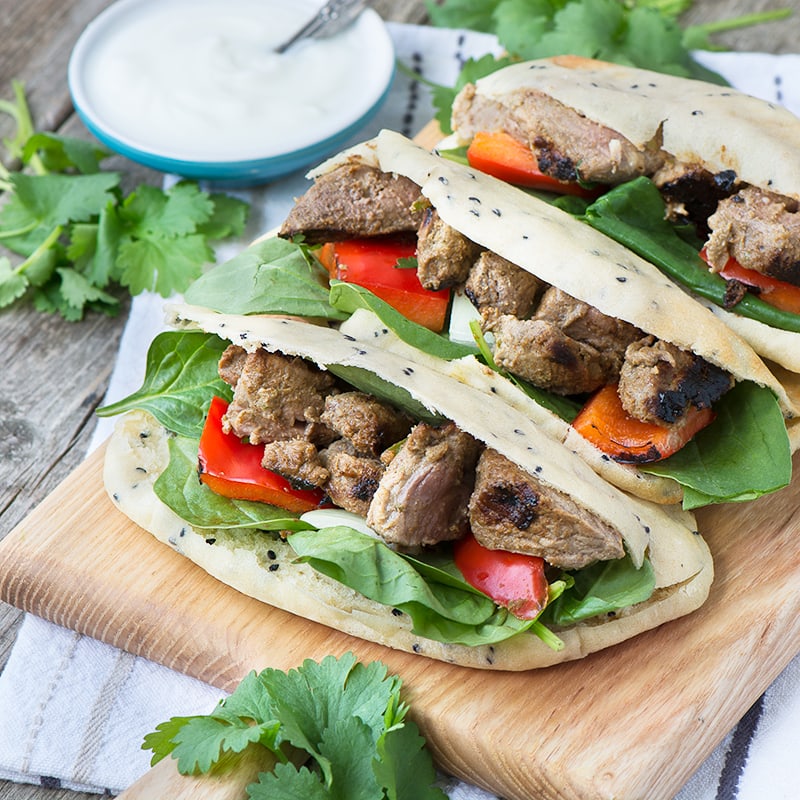 When it comes to barbecues I've always tended to go for the slightly boring option of burgers and sausages in buns, but recently I've been branching out adding all sorts of other meats and different flavours onto the grill. It's been a bit of a revelation, as many of them are healthier and far more full of flavour.
The reason I've been so unadventurous in the past is that when the sun is shining I want to be outside enjoying it, not stuck in the kitchen prepping barbecue food. I'd wrongly assumed that if food needed to be chopped, marinated or threaded onto skewers then it would mean less time in the garden. However, with the right recipe (like this one) it's minimal effort and what little prep there is can be done in advance.
Not only do these kebabs need very little prep, they're also very quick to cook (only a couple of minutes each time). This isn't a problem for me as Jon's usually in charge of the barbecue, but it means he has less time next to a hot barbecue and more time enjoying his food, soaking up the sun, or having a water fight with the boys, which is definitely a good thing.
These lamb tikka kebabs are made from lamb steaks marinated in spices and yogurt. I've then served them in a homemade naan pitta bread (it tastes like a naan but it has the convenient little pocket of a pitta) with fresh spinach leaves, barbecued peppers and onions and a little more yogurt. The flavours are subtle but I think they taste delicious.
Lamb Tikka Kebabs
Active Time:10 minutes
Total Time:1 hour, 10 minutes
Makes 4 kebabs
Ingredients
4 lamb steaks (about 450g)
1″ cube fresh ginger
½ fresh green chilli (use more or less depending on how hot you want your kebabs, if you prefer them hotter then switch the green chilli for a red one).
4 cloves of garlic
Zest of ½ a lime
½ tsp hot chilli powder
2 tsp ground coriander
2 tsp ground cumin
½ tsp fenugreek
4 tbsp natual yogurt
Salt
4 skewers (metal or wooden, if you're using wooden skewers soak them in water for a few minutes before threading on the meat to stop them burning when you cook the kebabs).
Method
Finely grate the ginger (1″ cube), garlic (4 cloves) and lime zest (½ a lime). Finely chop the green chilli (½ chilli) and put it into a medium-sized bowl.
Add the other marinade ingredients (½ tsp hot chilli powder, 2 tsp ground coriander, 2 tsp ground cumin, ½ tsp fenugreek, 4 tbsp natual yogurt, salt) and mix everything together until everything is combined.
Trim off any excess fat from the lamb steaks and chop them into bite-sized cubes and add to the bowl. Mix together until the lamb is coated in the yogurt marinade.
Cover the bowl and refrigerate for about an hour.
Once the lamb has marinated, thread it onto the skewers.
Cook on a hot BBQ, in a pan, or under a grill for a couple of minutes on each side (for medium lamb, leave for 3 minutes on each side for well done).
Serve – Mine are served in homemade naan pittas with fresh spinach leaves, barbecued peppers and onions and drizzled with a little extra yogurt.
Nutritional Information
Calories: 210 kcal (11%), Fat: 11.0g (16%), Saturated Fat: 4.8g (24%), Carbohydrates: 4.2g (2%), Sugar: 1.5g (2%), Fibre: 1.0g (4%), Protein: 24.1g (48%), Salt: 0.0g (1%)
This is the estimated nutritional information per serving (for the kebab only, excludes the pitta and salad/vegetables). Please refer to my guide to Charlotte's Lively Kitchen nutritional information if you want to learn more about how this is calculated.
Free From/Suitable For…
Corn-Free
Egg-Free
Gluten-Free
Nut-Free
Soy-Free
The ingredients for this recipe are easily available free from all these allergens. However, please ensure you double-check allergen information for all ingredients.