How to make delicious, smooth lime curd.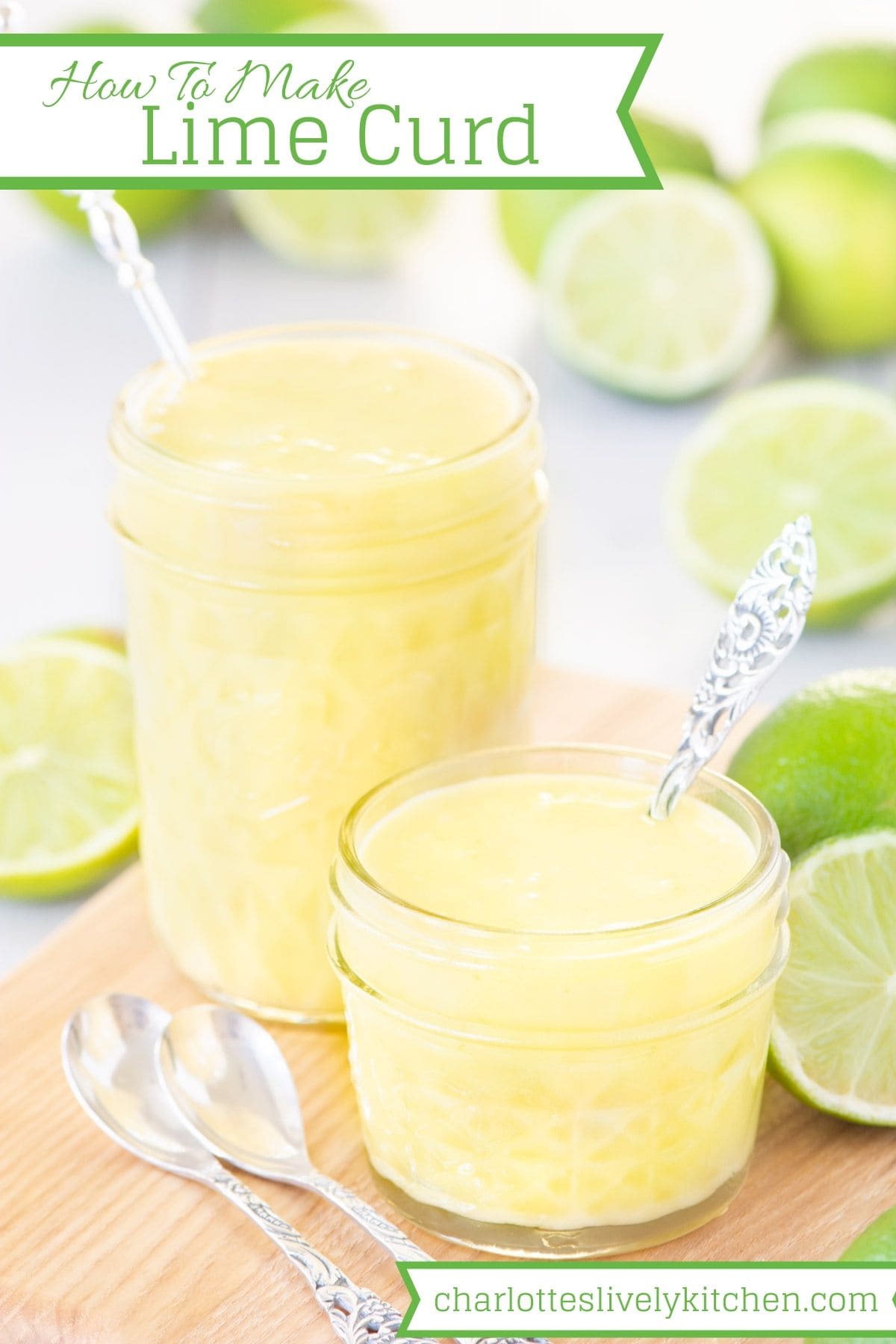 After perfecting my lemon curd recipe a couple of weeks ago, I thought I'd have a go at adapting the recipe for other flavours.
First up, we have delicious lime curd. Adapting the recipe to make lime curd was simple, all you need to do is switch the four lemons listed in the lemon curd recipe for six limes (as limes are smaller).
The other slight difference to my lemon curd is that in that recipe I said it's up to your personal preference whether you choose to sieve the curd (my recommendation is to pass it through a sieve just before serving to get the best flavour and super smooth texture).
However, I would recommend always sieving lime curd.
The reason for this is two-fold:
Firstly (and probably most importantly), I find lime zest a little tougher than some other citrus fruits, so without sieving the finish curd tastes bitty.
Secondly, it turns out that when it comes to food I'm extremely shallow and all about appearances. Unsieved lime curd doesn't look like curd. It looks like tartare sauce, and my brain struggles with matching the look and the taste of the two. It clashes. Simply sieving the curd makes it look like curd and so significantly increases my enjoyment.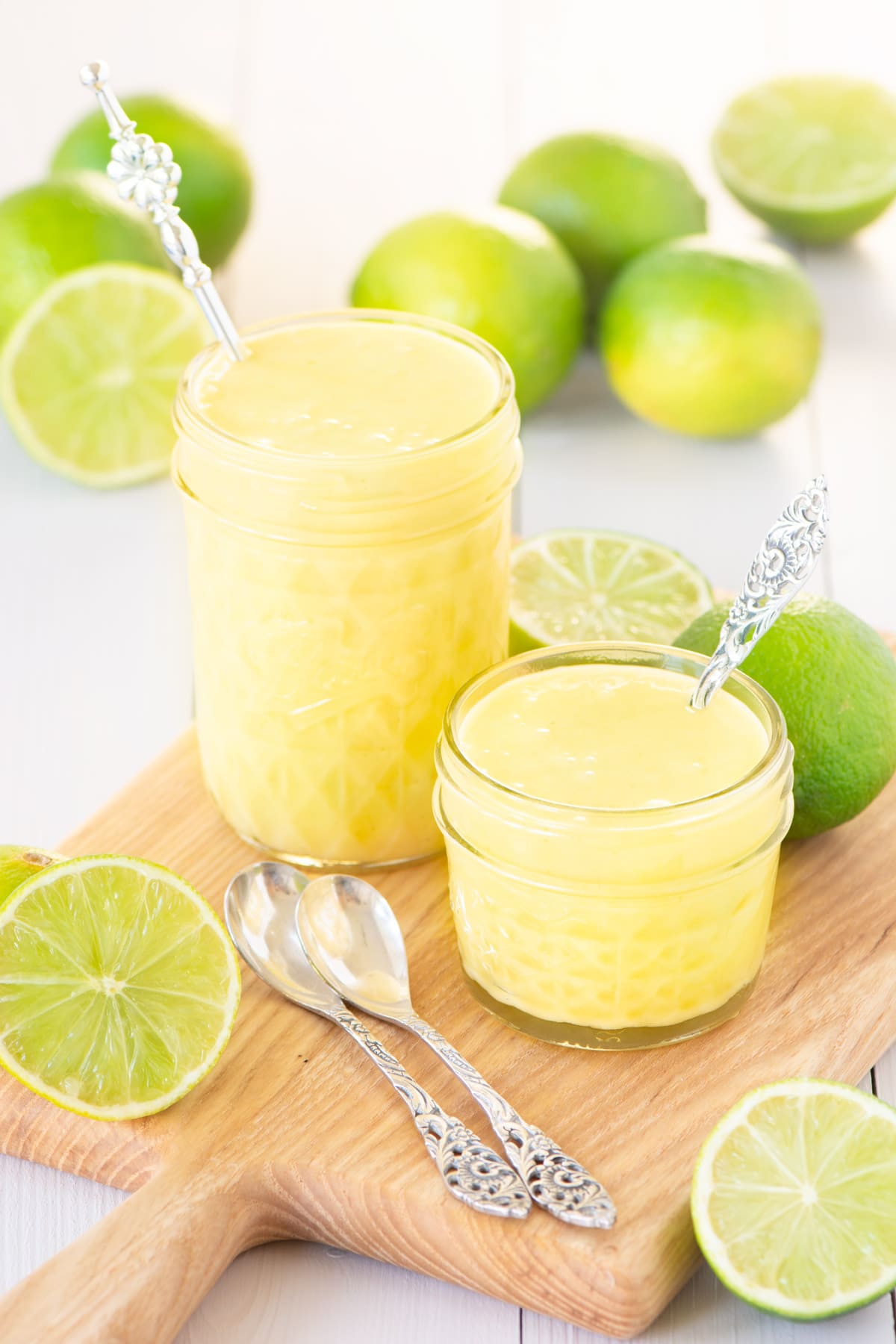 Can lime curd be made in the microwave?
Yes.
If you'd prefer to make your lime curd in the microwave rather than on the hob, then simply follow the instructions for my microwave lemon curd, substituting in the ingredients listed here.
Recipe Video
I don't have a specific video for my lime curd. However, the method is just the same as is shown in this video, simply substitute the four lemons for six limes and remember to sieve.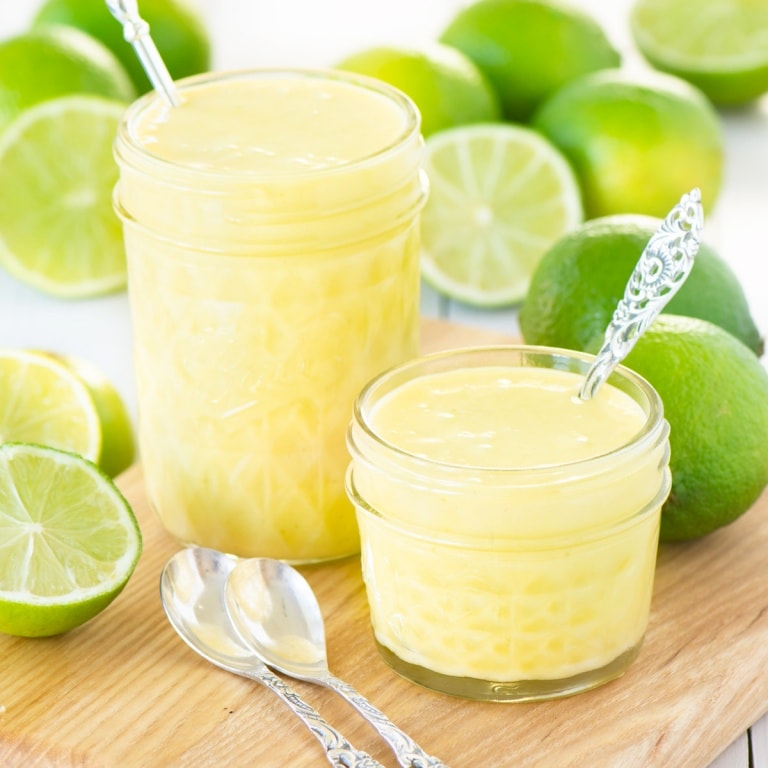 INGREDIENTS
4

medium

eggs

200

g

caster sugar

6

limes

-

juice and zest

100

g

unsalted butter
INSTRUCTIONS
Finely grate the zest of 6 limes and squeeze the juice.

Cut the butter (100g) into cubes.

Lightly beat the eggs (4 eggs) and place them into a saucepan with the caster sugar (200g) and lime juice and zest. Mix together.

Place the pan on the hob over a low heat. Whisk regularly until the curd has thickened. It should leave a coating over the back of the spoon when lifted out.

Once thickened, remove the lime curd from the heat. Add the butter and whisk until the butter has melted.

Pass your lime curd through a sieve to remove the pieces of lime zest.

For best results, I recommend storing the curd with the zest left in and the passing it through a sieve just before using. This will allow the flavour to develop.
WANT TO HEAR ABOUT NEW RECIPES FIRST?
SUBSCRIBE to the Charlotte's Lively Kitchen Mailing List
NUTRITIONAL INFORMATION
Calories:
79
kcal
|
Carbohydrates:
8.8
g
|
Protein:
1.1
g
|
Fat:
4.3
g
|
Saturated Fat:
2.5
g
|
Sodium:
16
mg
|
Fiber:
0.1
g
|
Sugar:
8.7
g
Any nutritional information provided is the estimated nutritional information per serving. Please refer to my guide to Charlotte's Lively Kitchen nutritional information if you would like to learn more about how this is calculated.
---
How to store lime curd
Lime curd can be stored in the fridge for up to a week. If you're not planning on using it immeidately, then I'd recommend storing it sterilised jars.
❄️ Suitable for freezing
This lime curd is also suitable for freezing. Simply decant into a freezer-safe airtight container and freeze. Defrost the curd thoroughly in the fridge before using.
Troubleshooting your lime curd
If you've tried making lime curd and it hasn't turned out as expected, then head on over to my lemon curd recipe where I've explained th main reason why curd goes wrong, and I've given plenty of ideas for fixing it, including curd which is lumpy, too thick or too thin.
Over in that post, there are also lots of ideas for how to tweak the recipe to suit your own tastes.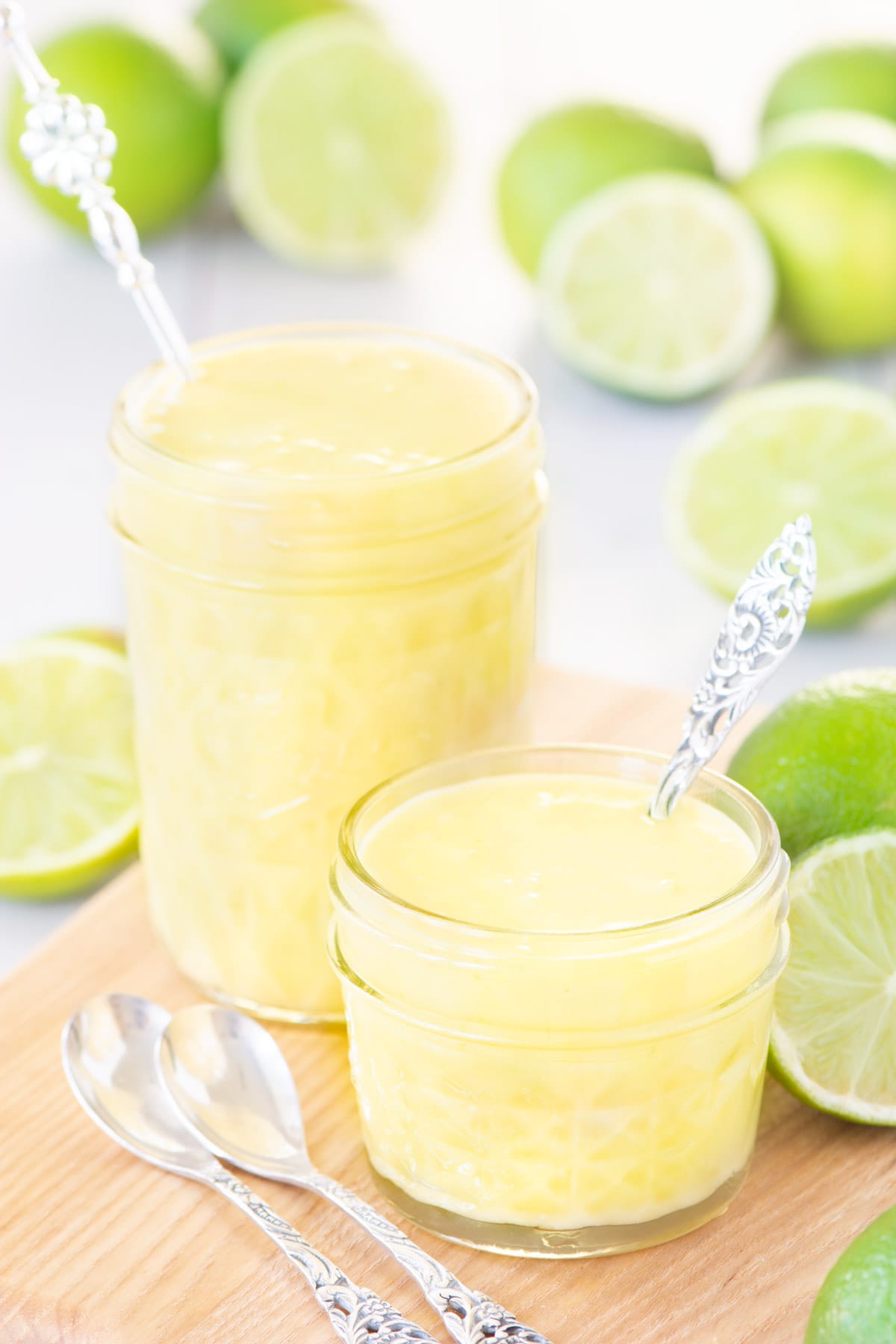 Free From/Suitable For
The ingredients I used to make this recipe are all free from the following allergens. However, please check any labels carefully for allergens you need to avoid as brands can vary, and product recipes can change over time.
Suitable for Vegetarians
Gluten-Free
Tree Nut-Free
Peanut-Free
Sesame-Free
Soya-Free
Sulphur Dioxide & Sulphite-Free
Lupin-Free