Advertising Feature
I mentioned when I shared my recipe for Chicken & Vegetable Pasties last week that I'd be back working with Iceland again soon. This time they've challenged me to think about using the #PowerOfFrozen in my children's lunch boxes. I have to admit that when it comes to the boys' lunches I'm really boring.
Cheese or ham sandwiches, fruit, chopped up salad bits and a drink (with the occasional treat thrown in every now and again). I'm not a morning person and therefore anything that takes more than 5 minutes to make or requires more than a minimal effort is out of the question.
I absolutely love challenges like this one because it forces me to break out of my routine and try something new. I've never really incorporated frozen foods into the boys' lunch boxes, but having experimented with it over the past week and tested my creations out on the boys I can safely say that I will be in future.
I have however been realistic, I know I'm not going to suddenly change and start getting up 20 minutes earlier to make something fancy, so all of these ideas stick within my ready in 5 minute limits. If you're an early bird then there's loads of other things you could try that need popping into the oven in the morning – sausage rolls, mini pizza, mini sausages, chicken goujons, etc. that I'm sure your children would love.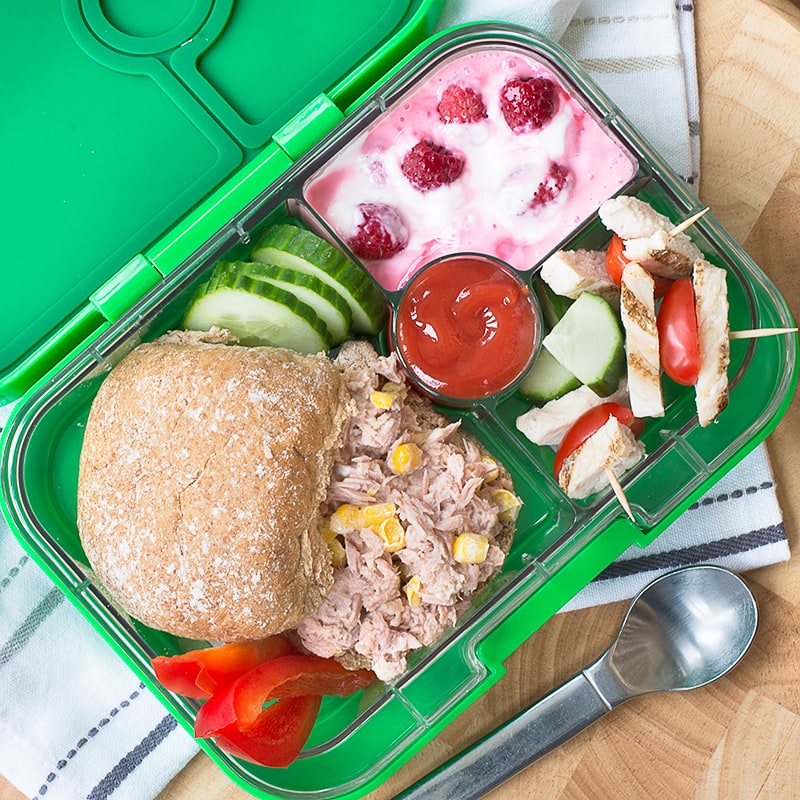 Freezing Sandwiches
Daniel's favourite sandwich filling is tuna and sweetcorn but I rarely make it for him because the tin doesn't all get finished and ends up going to waste (also faffing around opening the tin really pushes my 5 minutes lunch-making time!).
I remember a while ago a friend of mine mentioning that she makes all of her sandwiches in batches at the weekends, freezes them and then defrosts one each day for their packed lunch (in the fridge overnight). I decided to give it a try and was really impressed with the results. It means that Daniel can have tuna and sweetcorn sandwiches whenever he wants without worrying about waste (I used tinned tuna, Iceland frozen sweetcorn and a little squirt of mayo for these). I also tried cheese and ham and they freeze really well too.
One trick is to avoid adding any salad as the moisture can make the bread soggy. If you want any then simply pop it into the defrosted sandwich in the morning before packing it up.
Fruity Yogurt
Josh is a big yogurt fan so I wanted to be able to include it in his lunches. I made this raspberry yogurt by simply mixing a couple of spoons of natural yogurt with a handful of frozen raspberries and a little squirt of maple syrup.
I made it the night before and left it in the fridge for the raspberry flavour to mix with the yogurt. Don't worry if you forget to make it the night before, it'll still work well if you mix in the frozen raspberries in the morning, they'll be defrosted by lunch but you'll find the favours won't have mixed quite as much.
This fruity yogurt also makes a really yummy breakfast so it's probably a good idea to make a bit extra to enjoy yourself too 🙂
Chicken and Salad Sticks
Part of the challenge from Iceland was to make the lunch boxes fun. To my boys fun means getting their favourites (see the tuna rolls above) but there's always something fun about food on sticks (I was brought up in the time when cheese and pineapple was the highlight of a fancy party table!).
I made chicken and salad sticks by threading some pieces of pre-cooked frozen chicken (defrosted overnight in the fridge) onto a cocktail stick with some cucumber and baby plum tomatoes.
Iceland have a pretty decent selection of fresh fruit and veg so you don't have to worry about going somewhere else to get those bits and pieces.
Chocolate Chip Pancake and Strawberry Sticks
Continuing with the fun sticks, I couldn't resist chopping up some frozen chocolate chip pancakes (again defrosted overnight in the fridge) and alternating them on cocktail sticks with chopped fresh strawberries. If you're feeling like giving them a little extra treat you could also include a little pot of chocolate sauce to dip them in 🙂
On a separate note, these pancakes make a great, quick treat breakfast. You only have to pop them into the toaster for 3 minutes from frozen and they're done. The boys are both big fans!
Emergency Bread!
I don't eat a lot of sandwiches during the week, preferring a salad or veggie sticks dipped in houmous. As a result it takes a while to get through a loaf of bread or pack of rolls in my household. Last year I had several occasions where I went to the cupboards to get the bread only to discover that it hadn't stayed as fresh as I'd hoped, causing a mini panic on my part. This resulted in either telling Daniel to get a hot dinner at school, or stopping at the garage on the way to buy a pre-made sandwich.
While I was in Iceland I discovered these frozen rolls which are already cut in half, perfect for any bread emergencies. You can get them out of the freezer in the morning, make the sandwich as normal and it'll be defrosted and ready to eat by lunchtime. As well as using these emergency rolls, it's also great to have a bag of the cooked sliced chicken in the freezer in case you're short on fillings.
Occasionally I worry about things staying fresh in the lunchbox, especially if the weather's a bit warmer, so I like to keep a few mini freezer packs cold and ready to pop in on those days to keep things fresh.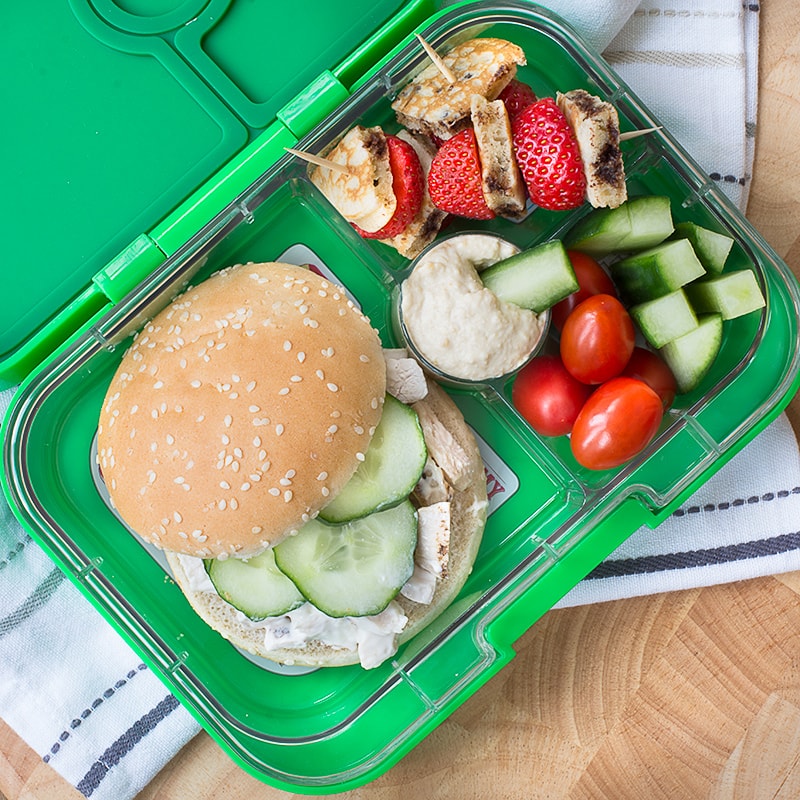 If you're after some more lunchbox inspiration then take a look at a few more of these ideas…
Do you use frozen foods in your lunch boxes? I'd love to hear how and get some more ideas to try for my boys.