How to make traditional pancakes. Just what you need for pancake day.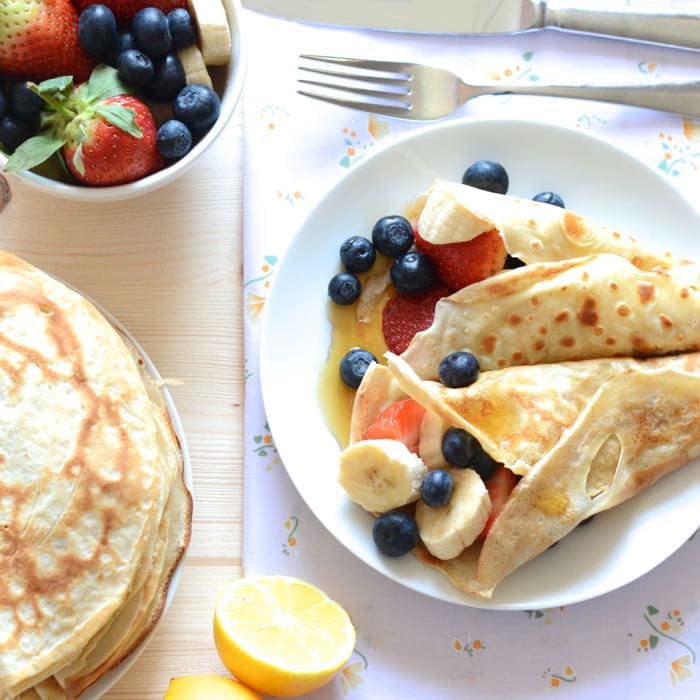 Every year when it comes to Shrove Tuesday I always end up Googling "Pancake Recipe" and aiming for the first thing that comes up.
This has led to some hit and miss pancakes over the years. Some too stodgy, some lacking flavour, and fortunately some good ones too.
This year I decided that enough was enough. No more pancake Russian Roulette. I was going to figure out what I think is the perfect pancake recipe.
I have now lost count of the number of pancakes I've made (and eaten) over the past week (not to mention my Lemon and Raisin Pancakes which I also made this week too!). Some of them weren't even particularly good. However, after much experimentation I've found something I'm really happy with.
I think the geeky side of me emerged with this recipe (I even found myself using π to calculate the number of servings for the recipe using different sized frying pans – something I don't think I've done since my GCSEs).
How I came up with my perfect pancake recipe
Trail and error (lots and lots of trial and error).
I took a basic pancake batter recipe and tweaked the amounts of flour and milk in relation to the eggs. I also tried…
Just egg yolks instead of whole eggs
Adding butter or vegetable oil
Milk v Water
Different types of milk (Skimmed v full-fat)
Resting the batter before cooking v cooking immediately
Different cooking temperatures
I found that…
Yolk-only pancakes did taste nice, but not so much nicer that it's worth the effort of separating the eggs and figuring out what to make with the leftover whites.
I preferred them without added fat as this made them a bit greasy. I stuck to just using a little butter to grease the pan before cooking.
Pancakes made with water – bleurghhhhh – not good
Full fat milk pancakes taste better than skimmed. I'm a skimmed milk drinker generally, but in this case I found that using full-fat milk gave the pancakes a much better flavour.
A lot of people say resting the batter is better but I couldn't really tell the difference.
I found that a medium heat is best, but I also found that if I cooked a lot of pancakes in a row I needed to turn down the heat slightly for the later ones.
Unfortunately, despite the mountain of pancakes I made, I'm still appalling at flipping them. I've absolutely no hand-eye coordination.I think I've also been put off flipping by seeing Daddy Pig getting his pancakes stuck on the ceiling and still eating them (non-Peppa Pig fans will not understand – sorry).
What should you put with your pancakes?
I think I cheated a bit for the pictures, as that's not really how I eat my pancake day pancakes (although they did taste goooooood with the maple syrup and fruit), I just thought the strawberries would brighten things up a bit.
In my opinion, on pancake day you have to go traditional. Simply lemon juice and a sprinkling of sugar.
However, as well as the multitude of sweet fillings you could choose from, these also work just as well with savoury fillings.
What do you put on your pancake day pancakes?
More pancakes for you to try
If you fancy trying something a little different then take a look at my pancake recipes index where I've got a selection of different pancake recipes as well as instructions and ideas for making your own pancake art.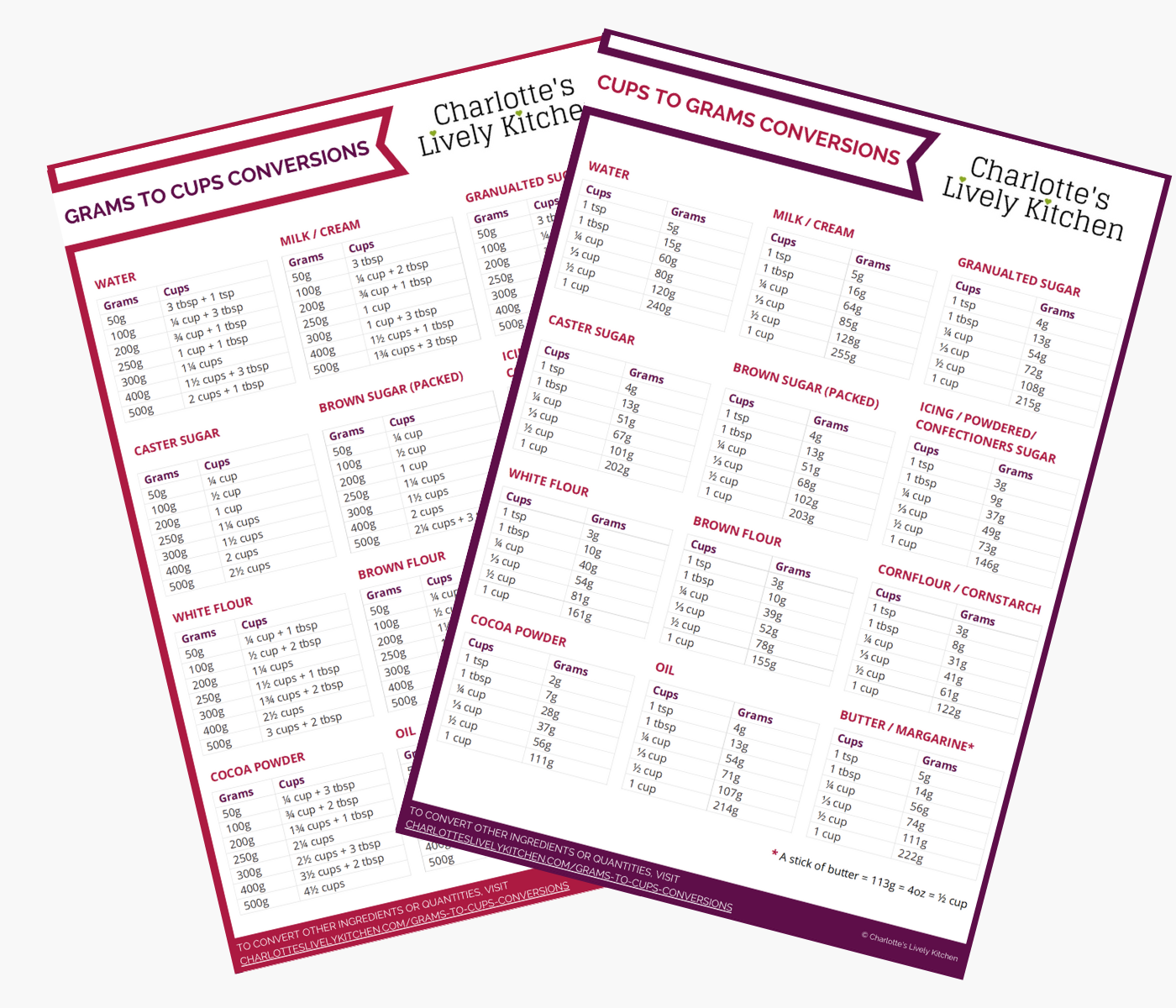 Subscribe to the Charlotte's Lively Kitchen mailing list to get your FREE printable grams to cups and cups to grams conversion charts for twelve popular baking ingredients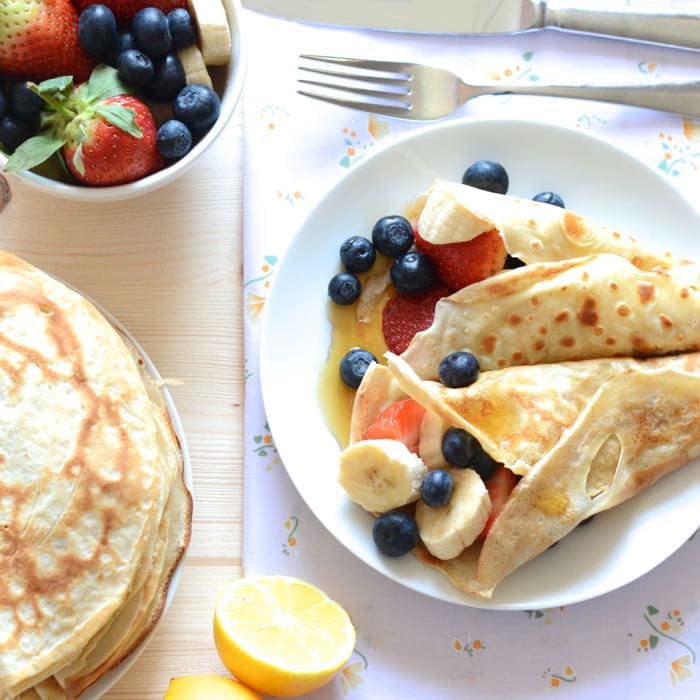 INGREDIENTS
1

egg

100

g

plain flour

300

ml

full-fat milk

Salt

-

I use about ¼ tsp

Butter -

for greasing the pan, I use about 25g in total
INSTRUCTIONS
Sift the plain flour (100g) and salt (about ¼ tsp) into a large bowl.

In a separate bowl, beat the egg (1 egg) and then add it to the flour.

Add about a quarter of the milk (75ml) and whisk until combined.

Gradually add the remaining milk (225ml) whisking to combine each addition before adding more -

Using this method should mean that you don't get lumps. However if you find a few have crept in then either pass your batter through a sieve, or blitz it briefly with a hand blender.

Melt the butter (25g) in a frying pan on a low heat (so that it doesn't burn) and then tip it out of the pan into a cup or bowl.

Turn up the heat to medium and then once the pan is hot, add about two tablespoons of batter (assuming 6" pancake), immediately swirl the batter around the pan so that the base is coated. If there's any excess batter, tip it back into the bowl -

if you have too much batter in the pan you'll end up with thick, stodgy pancakes.

Cook for about 1 minute until brown and then flip and cook on the other side for a further 30 seconds.

Serve.

Dip some kitchen paper into the melted butter and spread it around the pan, and the repeat the process (from step 6) until all of the pancakes are cooked.
WANT TO HEAR ABOUT NEW RECIPES FIRST?
SUBSCRIBE to the Charlotte's Lively Kitchen Mailing List
NUTRITIONAL INFORMATION
Calories:
60
kcal
|
Carbohydrates:
9
g
|
Protein:
2
g
|
Fat:
1
g
|
Cholesterol:
19
mg
|
Sodium:
77
mg
|
Potassium:
56
mg
|
Sugar:
1
g
|
Vitamin A:
70
IU
|
Calcium:
38
mg
|
Iron:
0.5
mg
Any nutritional information provided is the estimated nutritional information per serving. Please refer to my guide to Charlotte's Lively Kitchen nutritional information if you would like to learn more about how this is calculated.
---
Free From/Suitable For…
The ingredients I used to make this recipe are all free from the following allergens. However, please check any labels carefully for allergens you need to avoid as brands can vary and product recipes can change over time.
Suitable for Vegetarians
Tree Nut-Free
Peanut-Free
Sesame-Free
Soya-Free
Sulphur Dioxide & Sulphite-Free
Fish-Free
Crustacean-Free
Mollusc-Free
Celery-Free
Mustard-Free
Lupin-Free