Queen of puddings cupcakes – Vanilla sponge with a hidden raspberry jam and custard centre and topped with an italian meringue frosting.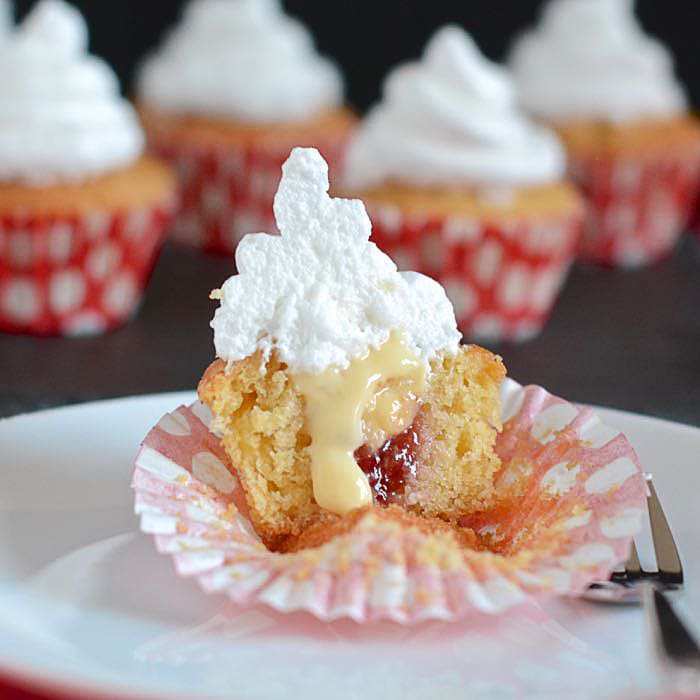 For a while now I've been thinking of making a Queen of Puddings. It combines custard, jam and meringue – three things I love to eat. Then I saw the contest called "Build a better cupcake" and it got me thinking – wouldn't the Queen of Puddings go well in a cupcake. So I got to work in the kitchen and it turns out I was right, custard, jam and meringue go very well in a cupcake indeed!
This cupcake recipe is made up of four parts, the sponge, the custard, the jam and the italian meringue. I was tempted to cheat and use ready made jam. Then I had a vision of Mary Berry on Great British Bake Off looking disapprovingly at the fact I'd not made everything from scratch. So out came the raspberries. That said, these cupcakes can be made more quickly by using ready made custard and jam if you're in a hurry, and Mary would never really know (they'll be a lot less washing up too – I was very grateful for my dishwasher when I'd finished!).
Usually at this point in one of my recipes there'll be a nice green box containing all of the nutritional information for the recipe. I like to know how many calories, etc are in the food I eat so always include them. However, this time I sat down at my computer ready to start calculating and I decided I'd rather not know. Sometimes food should just be enjoyed, without thinking about exactly what's in it, and I think these cupcakes definitely fit into that category – they're yummy.
So on with the recipe…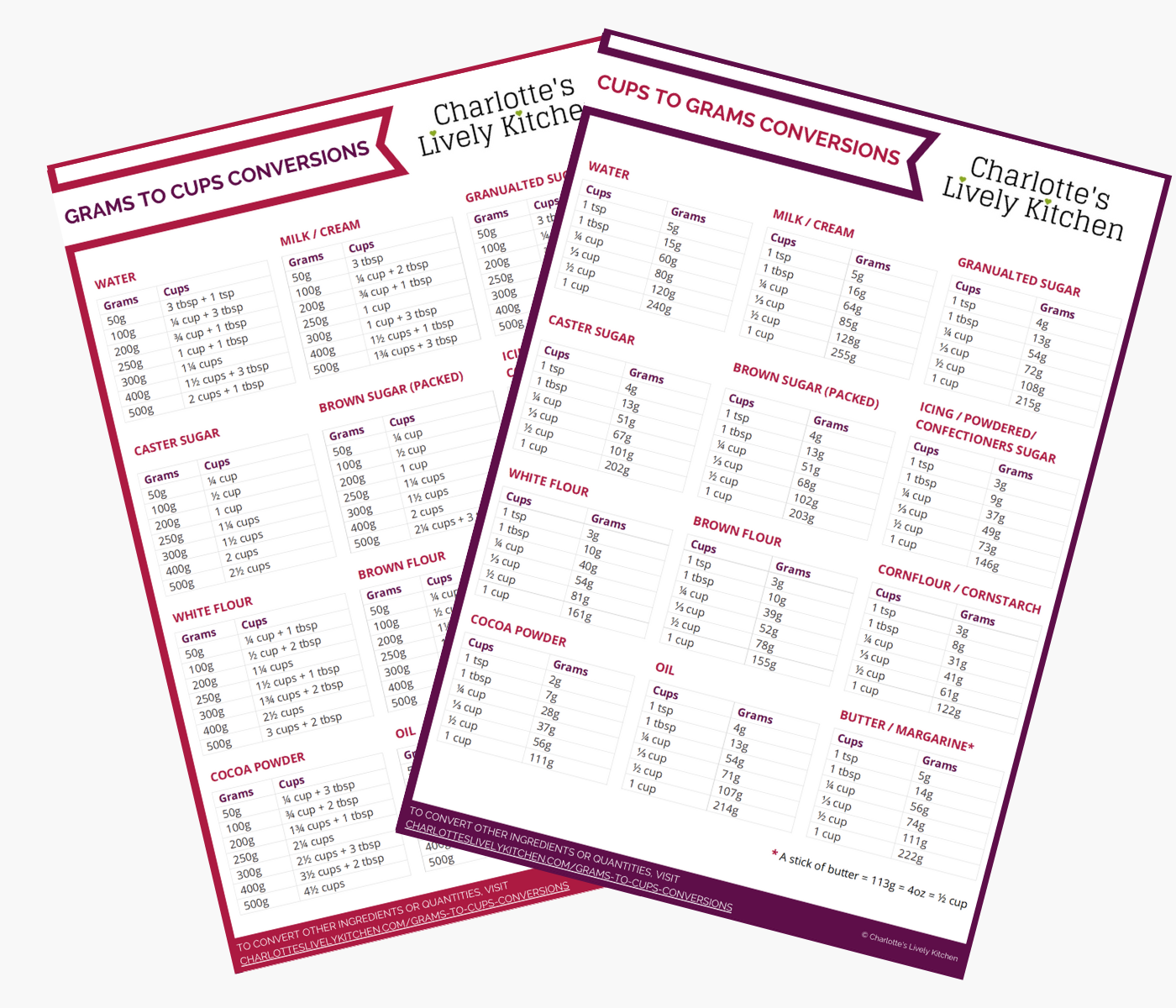 Subscribe to the Charlotte's Lively Kitchen mailing list to get your FREE printable grams to cups and cups to grams conversion charts for twelve popular baking ingredients
Queen of Puddings Cupcakes
Queen of puddings cupcakes – Vanilla sponge with a hidden raspberry jam and custard centre and topped with an italian meringue frosting.

Print
Rate
Save
Go to Collections
INGREDIENTS
For the cupcake sponge
175

g

butter -

at room temperature

175

g

self-raising flour

175

g

caster sugar

3

large eggs

½

tsp

baking powder

½

tsp

vanilla extract
For the custard
450

ml

milk

3

egg yolks

1½

tbsp

caster sugar

1½

tsp

vanilla extract
For the Jam
160

g

raspberries

-

fresh or frozen

160

g

caster sugar
For the meringue
3

egg whites

165

g

caster sugar

4½

tbsp

water
INSTRUCTIONS
Make the cupcake sponge
Preheat the oven to 180ºC/160ºC fan.

Line a 12-hole muffin tin with cupcake cases.

Put all of the ingredients into a bowl (175g room temperature butter, 175g self-raising flour, 175g caster sugar, 3 eggs, ½ tsp baking powder, ½ tsp vanilla extract) and beat until fully combined and smooth.

Evenly divide the mixture between the cupcake cases.

Bake for 20 minutes. After 20 minutes, insert a skewer and if it comes out clean then they're done. If not then pop them back in for a couple more minutes.

Cool on a wire rack.
While the cupcakes are cooking, make the custard
Heat the milk (450ml) on a gentle heat until just boiling.

Meanwhile, beat together the eggs (3 yolks) and sugar (1½ tbsp).

Once the milk is just boiling, pour it over the eggs and sugar mixture and whisk rapidly until combined.

Immediately return the mixture to the pan, and return the pan to the hob. Stir over a very low heat for 5-6 minutes until it has thickened.

It's important not to heat it too quickly as the eggs will scramble and you'll end up with lumpy custard.

Once cooked, put the custard into a bowl and cover with cling film. The cling film should be in contact with the top of the custard to prevent a skin forming as it cools.

Leave to cool in the fridge while you make the jam.
Make the jam
Heat the raspberries (160g) and caster sugar (160g) in a saucepan over a very low heat until all of the sugar has melted, stirring occasionally.

Once all of the sugar has dissolved, bring to the boil. You want the jam mixture to reach a heat of exactly 104ºC - use a sugar thermometer to check the exact temperature.

Once the jam has reached 104ºC remove from the heat and pass the mixture through a metal sieve to remove any raspberry seeds.

Set aside to cool, while you make the meringue.
Make the italian meringue
Whisk the egg whites (3 egg whites) until they form a stiff peak.

Mix the caster sugar (165g) and water (4½ tbsp) in a small pan and heat gently to make a syrup. Don't be tempted to stir the sugar syrup as this will cause it to crystallise.

Once all of the sugar has dissolved, bring to the boil. The sugar syrup needs to be heated to 120ºC -

time for the sugar thermometer again.

Once the sugar syrup has reached the required temperature it needs to be rapidly whisked into the beaten egg whites. Start your mixer and slowly pour the sugar syrup into the egg white.

Be careful not the pour the syrup onto the whisk as it may splash

Keep the mixer running until the mixture is fully combined and has cooled.
Build your cupcakes
Make sure all of the elements of your cupcakes have cooled.

Using a sharp knife, cut a circle in the top of each cupcake and use a teaspoon to scoop out the centre -

Careful not to take out too much or your cupcake will leak.

Spoon about ½ tsp of raspberry jam into each cupcake.

Fill the rest of the hole with custard.

Top each cupcake with the meringue -

I piped mine, but you can be as creative as you like with the style.

If you have a blowtorch you may want to give them a quick blast to add some colour.
NOTES
A sugar thermometer and stand mixer are essential to complete this recipe successfully and safely
WANT TO HEAR ABOUT NEW RECIPES FIRST?
SUBSCRIBE to the Charlotte's Lively Kitchen Mailing List
NUTRITIONAL INFORMATION
Calories:
390
kcal
|
Carbohydrates:
57
g
|
Protein:
6
g
|
Fat:
15
g
|
Saturated Fat:
9
g
|
Cholesterol:
124
mg
|
Sodium:
151
mg
|
Potassium:
141
mg
|
Fiber:
1
g
|
Sugar:
45
g
|
Vitamin A:
555
IU
|
Vitamin C:
3.5
mg
|
Calcium:
72
mg
|
Iron:
0.6
mg
Any nutritional information provided is the estimated nutritional information per serving. Please refer to my guide to Charlotte's Lively Kitchen nutritional information if you would like to learn more about how this is calculated.
---
SaveSave
SaveSave