Advertising Feature
The classic dessert in cupcake form – Raspberry soaked sponge finger-style cupcakes filled with fresh raspberries and custard and topped with whipped vanilla cream.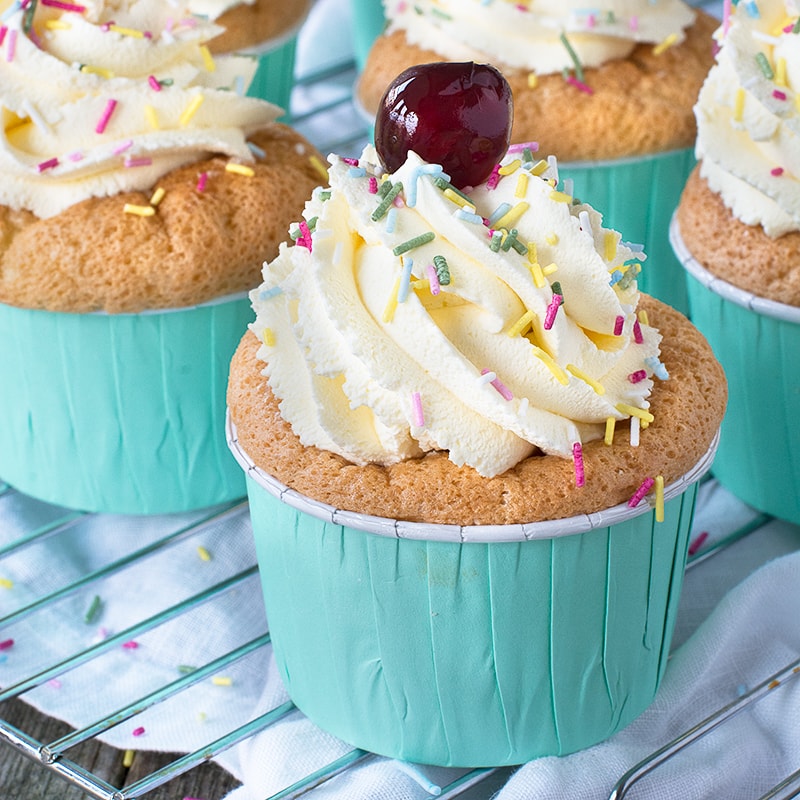 As you know I am a bit of a fan of social media, I spend probably a little bit too much of my day browsing my Instagram, Facebook and Twitter. So I was very excited to discover a new social network and, even better, one dedicated to one of my absolute favourite things… baking!
What is We Bake?
WeBake.co.uk is the brainchild of Dr Oetker (whose products adorn a large proportion of my baking cupboard) and it's a place to celebrate baking, as well as coaching and motivating bakers of any level to do even more of what they love. It's a bit of a cross between Instagram and Facebook with the opportunity to share pictures, recipes, baking fails, tips & tricks and ask everyone in the community questions if there's anything you need help with.
There's also regular baking challenges where you have a chance to win some really fantastic prizes. Their latest challenge is the Cupcake Champion Challenge – where you can get creative and share your "most impressive" cupcake with the chance to win a really brilliant prize.
The Cupcake Champion Challenge
The first community challenge on the We Bake site is the Cupcake Champion Challenge – your chance to share your most creative cupcake recipe. The cupcakes are judged in six categories – most colourful, prettiest, most fun, best for kids, most indulgent and most daring (I'm intrigued to see what people come up with for that particular challenge!).
The winner of each category will be invited to a baking masterclass at the Primrose Bakery in London, where their cakes will be judged and the overall winner will then win a luxury cupcake break in London. I'm not entirely sure what a luxury cupcake break entails but it sounds like a good way to spend time to me!
My Entry
These raspberry trifle cupcakes are my entry into the Cupcake Champion Challenge. I love twisting desserts and other sweet treats into cupcakes and I thought it was about time trifle got the same treatment.
Rather than using a simple vanilla sponge I decided to go even more trifle-y and base the cake in a sponge finger, so it's made from a really light, fatless sponge. They look really impressive when they first come out of the oven as they are absolutely HUGE (a bit like mini souffles), but (as you can see in the pictures) they do shrink back as they cool.
To up the trifle-ness even more the sponges are soaked in a raspberry drizzle, before being filled with crushed fresh raspberries and custard and topped with whipped cream. I remember having sprinkles and cherries on top on my trifles when I was little so that's what I've done here.
They're seriously just like a mini-trifle in a cupcake case, but a word of warning, if you're after something that you can eat in a refined and dainty manner then these aren't for you. The chances of you ending up with a blob of cream on the end of your nose as you get stuck in are quite high 🙂
My We Bake profile
I've already set up my profile and added a few recipes and I'll be adding more soon. I've had a good explore, checking out some of the other recipes on there and (hopefully) helping with a couple of baking questions.
I love the fact the you can grab your pictures straight from Instagram or Facebook to save uploading them again, and the fact that you can choose to either like, comment or save a post to be able to find it at a later date. I was very pleased to spot Lucy from Supergolden Bakes on there too as her bakes are always simply amazing.
Once you've signed up let me know what you think. If you let me know where to find your profile then I'll be over to take a look.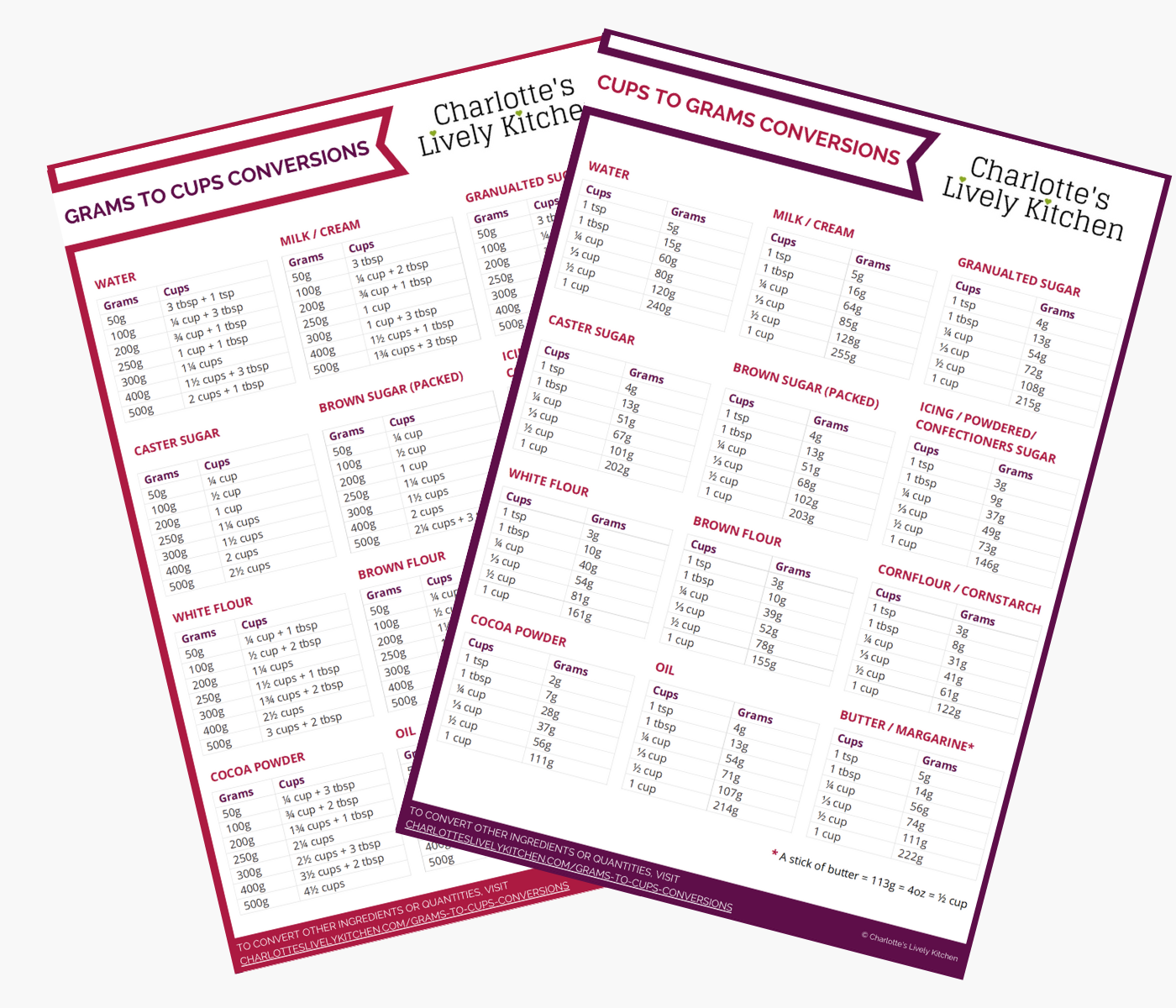 Subscribe to the Charlotte's Lively Kitchen mailing list to get your FREE printable grams to cups and cups to grams conversion charts for twelve popular baking ingredients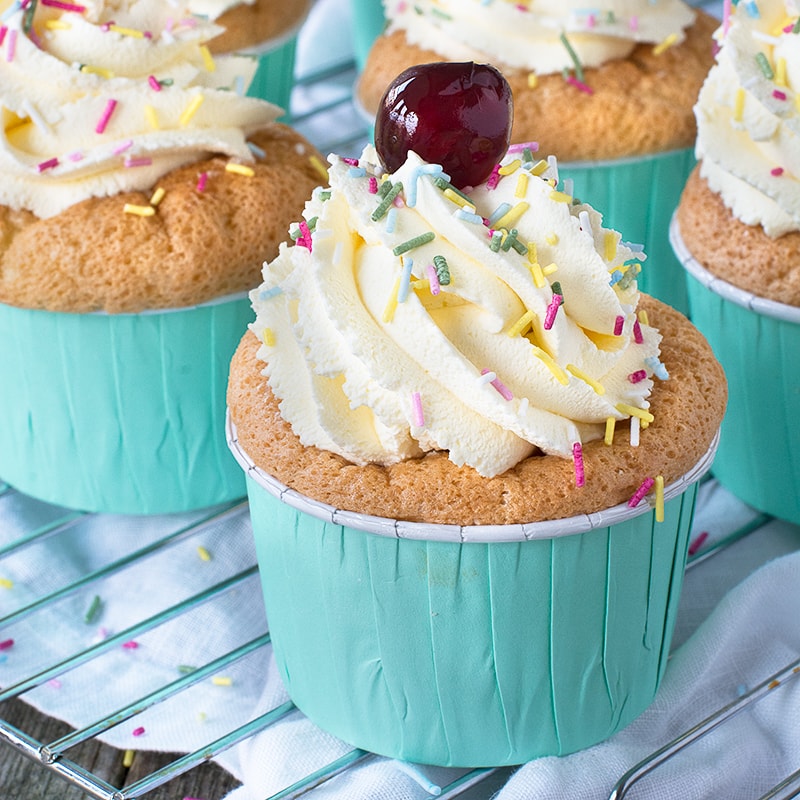 Raspberry Trifle Cupcakes
The classic dessert in cupcake form - Raspberry soaked sponge finger-style cupcakes filled with fresh raspberries and custard and topped with whipped vanilla cream.
Print
Rate
Save
Go to Collections
INGREDIENTS
4

eggs

150

g

caster sugar

100

g

plain flour

½

tsp

Dr. Oetker baking powder

1

pack

Dr. Oetker Raspberry Flavour Drizzles

100

g

fresh raspberries

-

or frozen raspberries fully defrosted

100

g

custard -

click for my recipe to make your own

250

ml

whipping cream

1

tsp

Dr. Oetker Vanilla Bean Paste

Sprinkles

8

glacé cherries

8

cupcake cases
INSTRUCTIONS
Pre-heat your oven to 200ºC/180ºC fan.

Separate 4 eggs, whisk the egg whites until you have soft peaks. Add 30g of caster sugar to the egg whites, ½ tbsp at a time, ensuring that each addition is fully whisked in before adding more. Continue whisking until stiff and glossy.

Put the egg yolks into a separate bowl and add the remaining caster sugar (120g). Whisk together until thick and pale in colour.

Sift the plain flour (100g) and baking powder (½ tsp) and fold into the egg yolk mixture. Then fold in half of the egg white mixture. Once fully combined add the remaining egg white mixture and again fold together until fully combined.

Divide the mixture between the 8 cupcake cases and bake for 15-17 minutes until a skewer inserted in the centre comes out clean (the cupcakes will puff up a lot in the oven and then sink back a little as they cool - a bit like a soufflé).

Put the cupcakes onto a wire rack to cool for 5 minutes. Use a skewer to poke holes in the top (more around the edges than in the centre as you're going to scoop out the centre). Drizzle over the Raspberry Flavour Drizzles, allow it to soak in and then pour over a bit more, then leave the cupcakes to cool completely.

Once cooled use a teaspoon to scoop out the centre of each cupcake. Using a fork, crush the fresh raspberries (100g) a little. Add a tsp of raspberry into the centre of each cupcake (until the hole is about half full).

Add a teaspoon of custard on top of the raspberry.

Put the whipping cream (250ml) and vanilla bean paste (1 tsp) into a large bowl and whip until it is thick and holds it's shape. Top the cupcakes with the whipped cream (I use a piping bag with star nozzle attached).

Sprinkle the sugar strands over each cupcake and top with a glacé cherry.
WANT TO HEAR ABOUT NEW RECIPES FIRST?
SUBSCRIBE to the Charlotte's Lively Kitchen Mailing List
NUTRITIONAL INFORMATION
Calories:
310
kcal
|
Carbohydrates:
36.2
g
|
Protein:
5.2
g
|
Saturated Fat:
8.6
g
|
Sodium:
80
mg
|
Fiber:
0.4
g
|
Sugar:
28.5
g
Any nutritional information provided is the estimated nutritional information per serving. Please refer to my guide to Charlotte's Lively Kitchen nutritional information if you would like to learn more about how this is calculated.
---
A few variations…
I've topped my cupcakes with sprinkles as that's how I remember trifle being when I was little. If you prefer you could replace the sprinkles and cherry with a few toasted flaked almonds.
Sherry Trifle Cupcakes
After you've poured over the raspberry flavour drizzle, brush the top of each cupcake with a little sherry.
Salted Caramel Trifle Cupcakes
Simply replace the smashed raspberries with some Dr. Oetker Salted Caramel Cake Centre and replace the raspberry drizzle with the caramel version.

Free From/Suitable For…
Suitable for Vegetarians
Corn-Free
Nut-Free
Soy-Free
The ingredients for this recipe are easily available free from all these allergens. However, please ensure you double-check allergen information for all ingredients.