STOP! Don't buy ready made custard. It's really simple to make vanilla custard at home from simple everyday ingredients.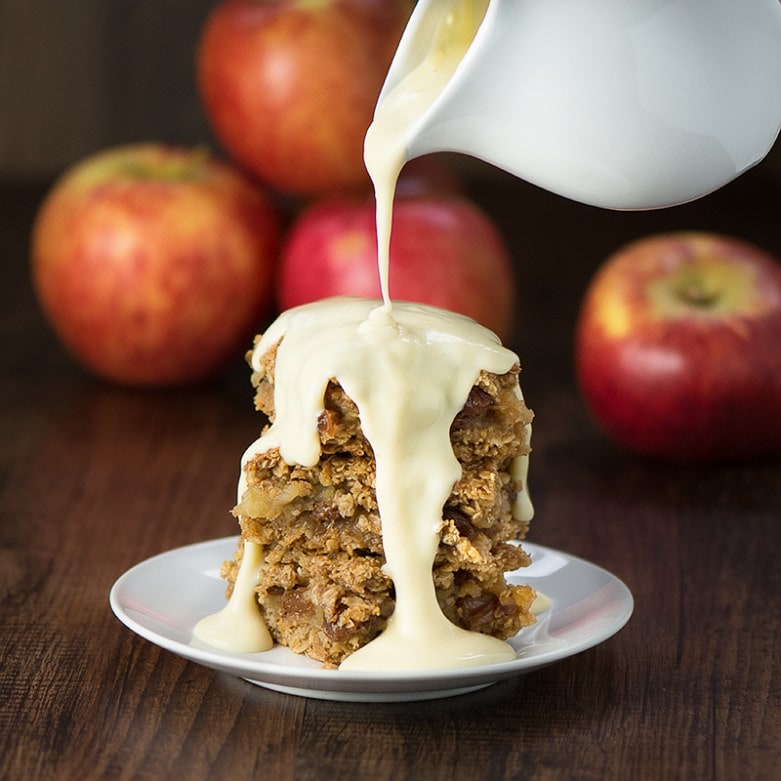 Before I started cooking regularly I always thought that it was difficult to make custard. That if I attempted it I'd end up with something lumpy, with a slimy skin on top.
However, as with pretty much everything I thought was difficult to make, it turns out it's actually really easy. There's just one simple rule to follow – you have to give it your full attention. No attempting to cook the rest of dinner, looking after your children or cleaning up. When it comes to custard, it's all or nothing.
If you can't commit to giving it your full attention for 15 minutes, then you can either…
Make it in advance at a time that you'll be free from interruptions (anyone for vanilla custard making at 3am), or
Buy ready made (I still do sometimes, it's nice)
You might be wondering why I bother to make my own custard when I'm perfectly happy to eat ready made. Here's why…
Impromptu custard – My recipe uses only ingredients that I always have at home, so I can suddenly decide I need a bowl of warming bananas and custard and as if by magic it's there.
Knowing that I've made something that I'd always thought was difficult (even if it actually isn't) makes me feel clever, and I like feeling clever.
Is it really proper custard if you use flour
There are some cooking purists that say that to make proper custard you shouldn't need any flour or cornflour to aid thickening, you should let the egg yolks do all the work.
Maybe they're right. However in this case I don't use the flour simply for thickening, I use it to make the custard taste right.
I've made it both ways, using numerous different recipes. If you simply use egg yolks you get quite a light tasting custard, perfect for tarts and patisserie but, in my opinion, not heavy enough to match a warming apple crumble (or apple crumble flapjack). The addition of flour somehow makes it taste more appropriate.
Essentially, I think that custard with flour is autumn/winter custard and without is spring/summer custard.
What do you think?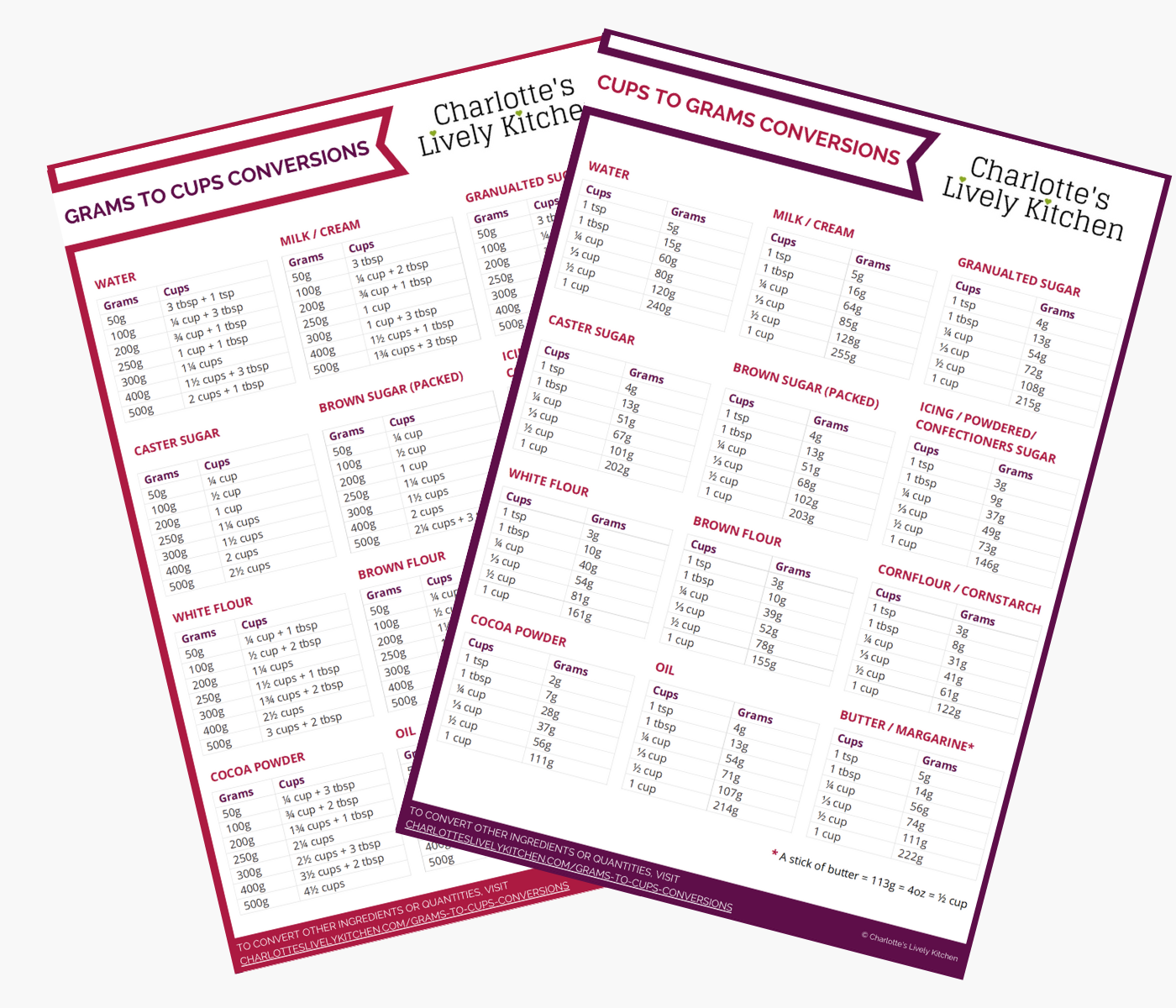 Subscribe to the Charlotte's Lively Kitchen mailing list to get your FREE printable grams to cups and cups to grams conversion charts for twelve popular baking ingredients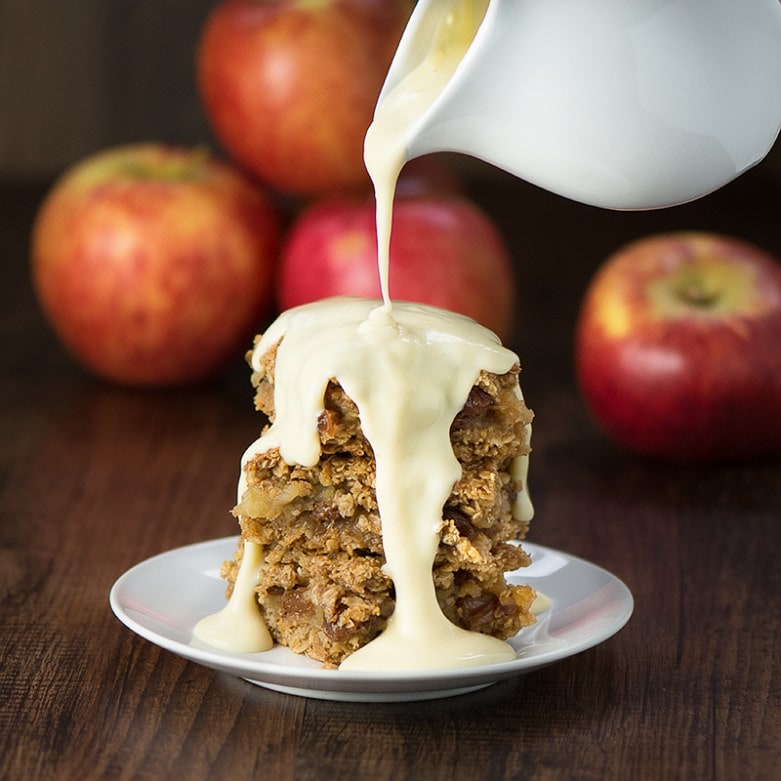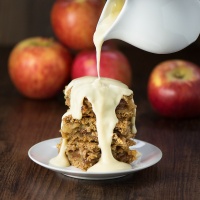 Homemade Custard
STOP! Don't buy ready made custard. It's really simple to make custard at home from simple everyday ingredients. Recipe VIDEO below.
Print
Rate
Save
Go to Collections
INGREDIENTS
300

ml

full fat milk

4

egg yolks

30

g

caster sugar

30

g

plain flour

½

tsp

vanilla extract
INSTRUCTIONS
Separate 4 eggs, putting the yolks into a large bowl.

Add the caster sugar (30g) and whisk until combined.

Add the plain flour (30g) and vanilla extract (½ tsp) and whisk until combined.

Heat the full fat milk (300ml) on a very gentle heat until warmed but not quite boiling. Stir regularly to ensure that it does not burn.

Once the milk is warm, remove from the heat and gradually add to the large bowl a bit at a time. Whisking each addition in completely before adding more.

Once combined, put the mixture into the pan and return to a very gentle heat.

Continue to cook, whisking constantly, until the custard has reached your desired thickness – this usually takes about 10 minutes but will depend on how runny you want your custard to be. You must whisk the custard constantly to avoid it going lumpy.

Remove from the heat and continue to whisk for another minute.

Serve.
If you're making the custard to use later
Put the custard into a bowl or jug and cover with cling film. It is important that the top of the custard is in full contact with the cling film to prevent a skin forming while the custard cools.

Place into the fridge until you're ready to use it.

When you want to use the custard, reheat in a pan, stirring regularly to ensure that a skin doesn't form. You'll find that the custard will thicken further as it reheats. It it starts to become too thick, simply add a little more milk to get it to your desired consistency.
NOTES
Got a question about this recipe? Take a look at my FAQs to see if I've already answered it.
WANT TO HEAR ABOUT NEW RECIPES FIRST?
SUBSCRIBE to the Charlotte's Lively Kitchen Mailing List
NUTRITIONAL INFORMATION
Calories:
161
kcal
|
Carbohydrates:
17
g
|
Protein:
5
g
|
Fat:
7
g
|
Saturated Fat:
3
g
|
Cholesterol:
202
mg
|
Sodium:
41
mg
|
Potassium:
118
mg
|
Sugar:
11
g
|
Vitamin A:
380
IU
|
Calcium:
108
mg
|
Iron:
0.8
mg
Any nutritional information provided is the estimated nutritional information per serving. Please refer to my guide to Charlotte's Lively Kitchen nutritional information if you would like to learn more about how this is calculated.
---
Free From/Suitable For…
The ingredients I used to make this recipe are all free from the following allergens. However, please check any labels carefully for allergens you need to avoid as brands can vary and product recipes can change over time.
Suitable for Vegetarians
Tree Nut-Free
Peanut-Free
Sesame-Free
Soya-Free
Sulphur Dioxide & Sulphite-Free
Lupin-Free
This recipe can be made gluten-free by switching the plain flour for cornflour.
This recipe can be made dairy-free by switching this milk for a dairy-free alternative.
---
You might also like to try my delicious HOMEMADE CHOCOLATE CUSTARD or my festive BRANDY & ORANGE CUSTARD.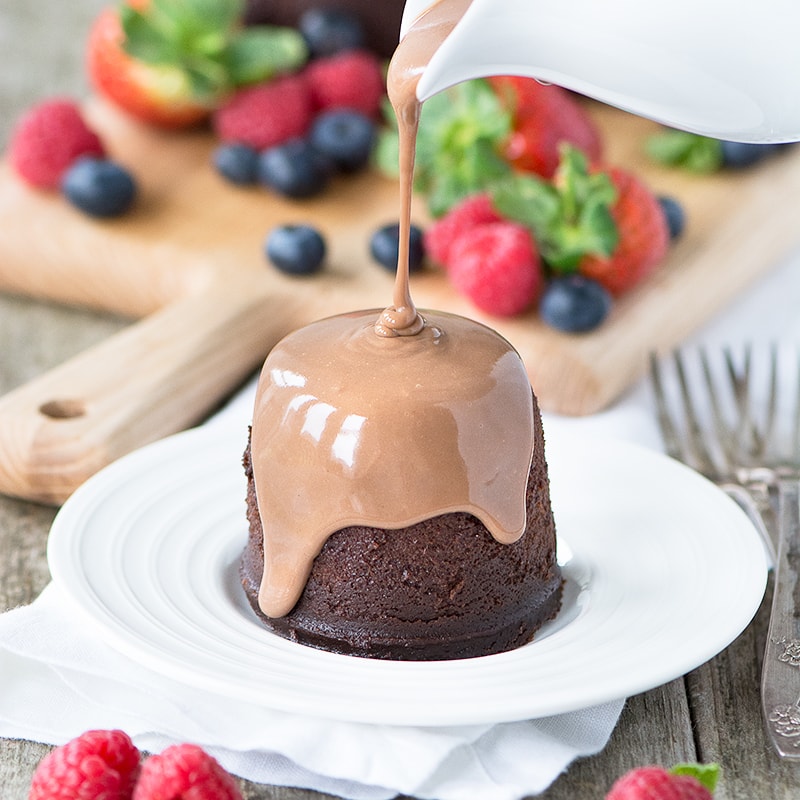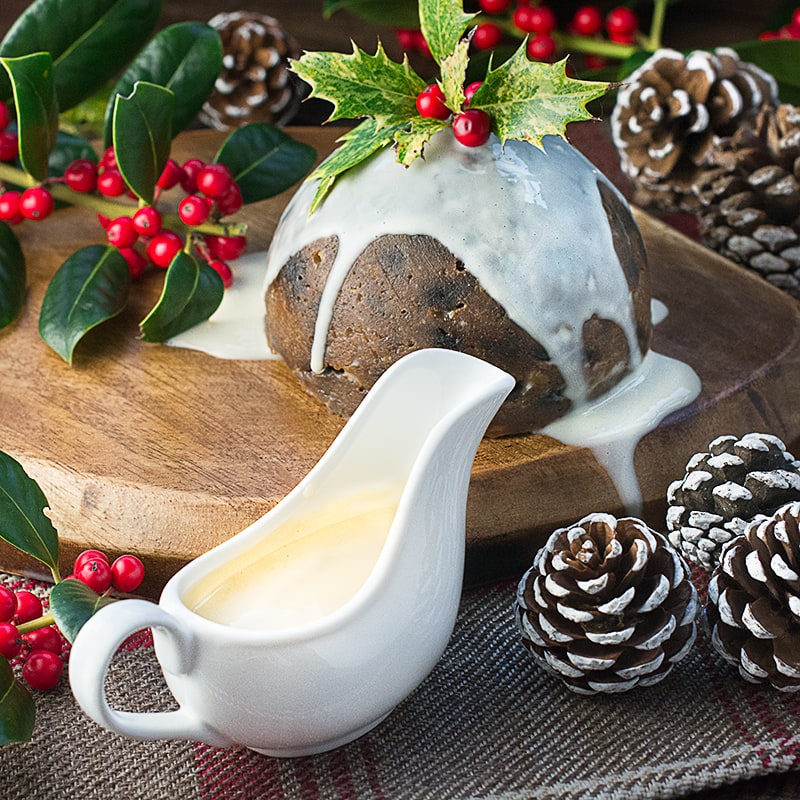 ---
Homemade Custard FAQs
Over time I've been asked quite a few questions about this recipe. To save you needing to scroll though the comments to see what's been asked before here are the answers to the most common questions…
Can you make custard using cornflour?
Yes. I've chosen to use plain flour in this recipe as I find that more people have it in the cupboard than cornflour, but cornflour will also work just fine. If you'd prefer to use cornflour then simply substitute 2 tbsp of flour for 2 tbsp of cornflour in the recipe.
Switching the flour to cornflour will also mean that this recipe is gluten-free, so perfect for anyone with an allergy or intolerance.
Can you make custard using self-raising flour?
Technically yes, but I wouldn't recommend it. The consistency and appearance of the custard will be just like using plain flour of cornflour, but the raising agents in the self-raising flour have quite a strong flavour which just doesn't taste good in custard.
Can you make custard using a dairy-free milk alternative?
Yes. I've not tried all of the types of milk but I know oat and almond milk work well. I suspect the others would work equally as well.
Can you make custard using granulated sugar instead of caster sugar?
Yes. The sugar dissolves into the custard as it's heating so they work equally as well.
I added too much flour and now it tastes too floury. How can I fix it?
The easiest way to disguise the flavour of the flour if you added too much is to add more vanilla extract. If you find the extra flour has made it too thick, simply whisk in a little extra milk.
I kept my custard on the heat for too long and now it's too thick. How can I fix it?
The easiest way to thin it out is to put it back onto a gentle heat and whisk in some more milk until it's your desired consistency. If you add too much milk, simply keep it on the heat until it has thickened again.
If you find it's gone a little lumpy then pass it through a sieve to remove any lumps and it'll be just fine.
What are you pouring the custard onto in the first picture?
That'll be my homemade apple crumble flapjacks. They're a great match 😋
Pin this recipe for later

---
This post was originally published on 14th January 2015 and updated with new images and FAQs on 13th June 2018.