Advertising Feature
Spiced lamb burgers are so simple to make and packed full of flavour. Perfect for a quick and easy meal or BBQ served with cooling cucumber and mint raita.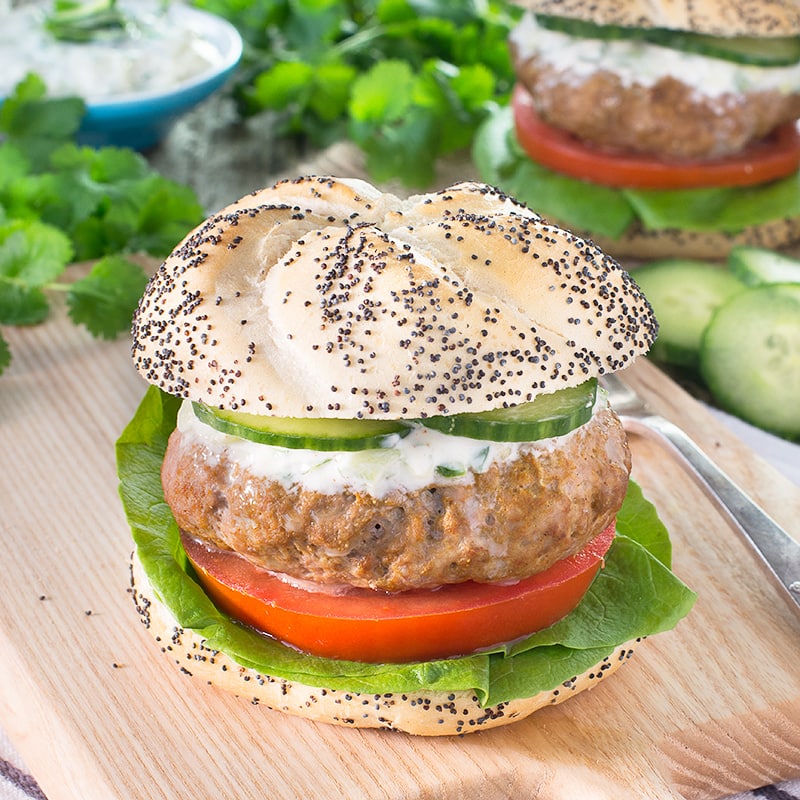 Today I'm back with another recipe as part of my role as Lambassador for Lamb. Tasty Easy Fun. Today I want to share with you why lamb mince is absolutely perfect for burgers and also one of my favourite lamb burger recipes – Spiced Lamb Burgers with Cucumber & Mint Raita.
We love burgers for a quick dinner in our house served with homemade potato wedges or sweet potato fries, it's always a popular choice. Homemade burgers are so quick and simple to make (it's really just a case of rolling them out into the right shape) and making them yourself means you know exactly what goes into them. It also means (for a couple of extra minutes) you can tweak the flavours to suit each person. My two boys don't really like hot, spicy food whereas Jon and I like ours with a little kick, so I split out some plain mince for them before adding the spices for us. It also means I can leave the salt out of theirs which I prefer to do while they're still small.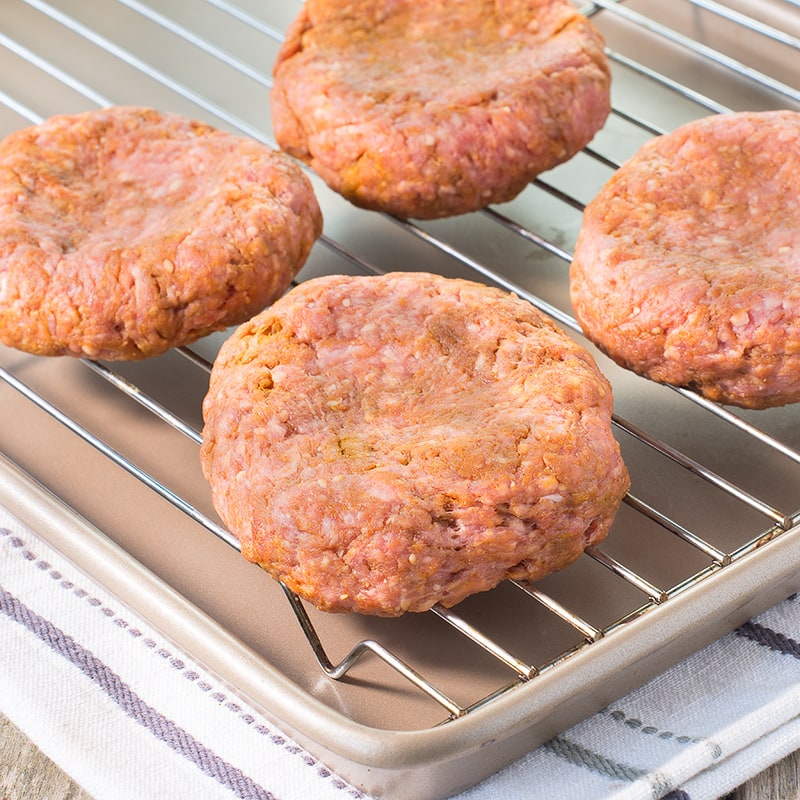 When it comes to cooking with mince I often tend to go for lower fat versions to keep the calories down a bit. I think this is fine for something like a cottage pie or spaghetti bolognese, but when it comes to burgers I find you need to use something with a higher fat content otherwise they seem to end up dried out and a bit bland. As lamb mince tends to be slightly higher in natural fats, it's therefore absolutely perfect for burger-making, giving you something juicy and full of flavour.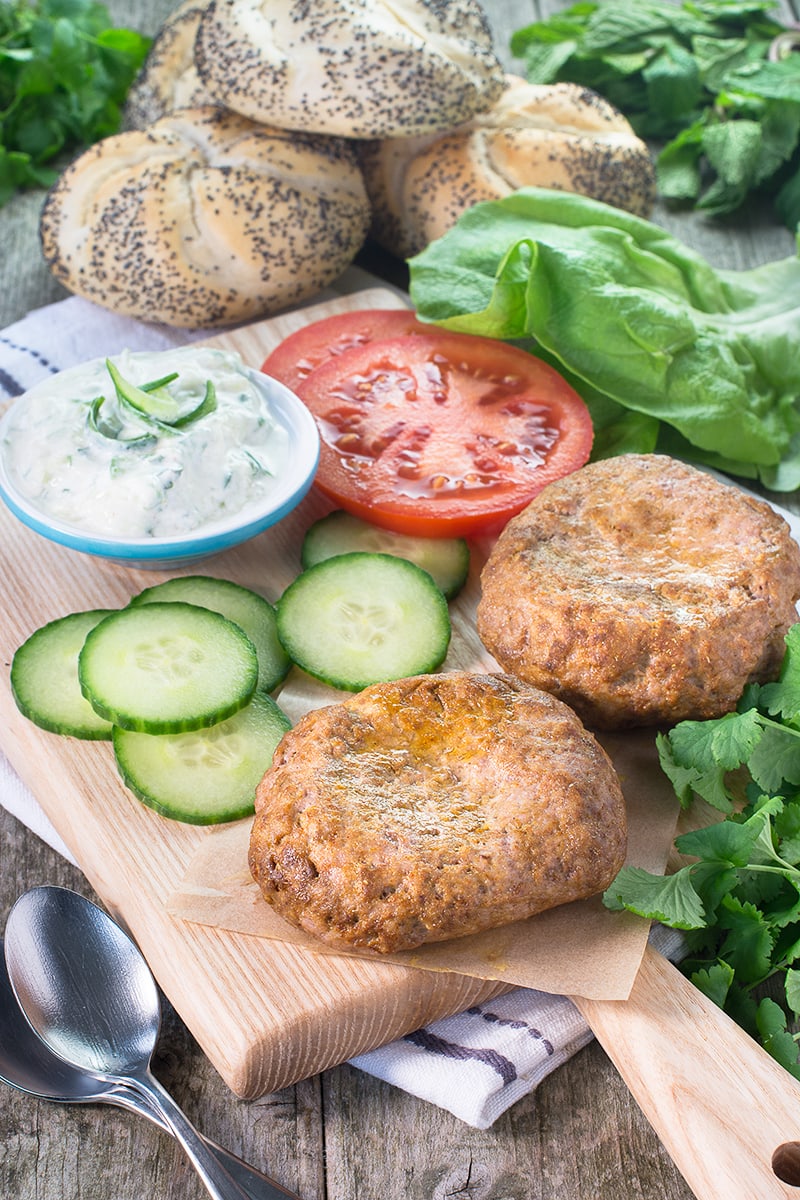 Spiced Lamb Burgers with Cucumber & Mint Raita
Active Time:10 minutes
Total Time:20 minutes
Serves 4
Ingredients
For the burgers
500g lamb mince
1 tsp turmeric
2 tsp hot chilli powder
2 tsp ground coriander
2 tsp ground cumin
¼ tsp salt
For the cucumber & mint raita
150g cucumber (about ½ a cucumber)
A small bunch of mint leaves (about 10-15 leaves)
150g natural or greek yogurt
¼ tsp hot chilli powder
Salt
Method
I prefer these cooked in the oven as I can simply pop them in without needing to keep an eye on them, but you could also cook them under a grill, in a frying pan or on a BBQ if you prefer.

Pre-heat your oven to 220ºC/200ºC fan.
Place the lamb mince (500g), spices (1 tsp turmeric, 2 tsp hot chilli powder, 2 tsp ground coriander & 2 tsp ground cumin) and salt (¼ tsp) into a large bowl and use you hands to mix the spices into the mince until they are evenly distributed (I use a motion similar to kneading bread dough).
Divide the mince into 4 and then form into a burger shape. Make a dent in the middle of each burger (you'll find that they tend to puff up as they cook, making a dent in the centre means they'll end up looking flat once they're cooked).
Place onto a wire rack and then place the rack into a baking tray and cook for 12-15 minutes until hot all the way through.
While the burgers are cooking, make the cucumber raita. Grate the cucumber (150g) and use your hands to squeeze out any excess moisture.
Finely chop the mint leaves (I find this easiest to do with scissors).
Put the cucumber and mint into a bowl and add the yogurt (150g) and hot chilli powder (¼ tsp). Mix to fully combine, then season with a pinch of salt (add a little and taste before adding more if needed).
Once the burgers are cooked serve them in crusty rolls, with some salad and topped with the cucumber raita.
Nutritional Information
For the burger
Calories: 320 kcal (16%), Fat: 25.4g (36%), Saturated Fat: 11.9g (60%), Carbohydrates: 2.0g (1%), Sugar: 0.1g (0%), Fibre: 1.2g (5%), Protein: 21.6g (43%), Salt: 0.7g (11%)
For the cucumber & mint raita
Calories: 35 kcal (2%), Fat: 1.7g (2%), Saturated Fat: 1.1g (6%), Carbohydrates: 2.7g (1%), Sugar: 2.6g (3%), Fibre: 0.3g (1%), Protein: 2.2g (4%), Salt: 0.1g (1%)
½ a portion of your 5-a-day fruit and vegetables.
This is the estimated nutritional information per serving. Please refer to my guide to Charlotte's Lively Kitchen nutritional information if you want to learn more about how this is calculated.
Free From/Suitable For…
For the burger
Corn-Free
Dairy-Free
Egg-Free
Gluten-Free
Nut-Free
Soy-Free
For the cucumber & mint raita
Suitable for Vegetarians
Corn-Free
Egg-Free
Gluten-Free
Nut-Free
Soy-Free
The ingredients for this recipe are commonly available free from all these allergens. However, please ensure you double-check allergen information for all ingredients.
---
I'm sharing this recipe with the following blog challenge… #CookBlogShare with Easy Peasy Foodie.