Advertising Feature
A delicious homemade beef burger flavoured with teriyaki sauce, served in a roll with a crunchy asian inspired salad. Perfect for a summer barbecue.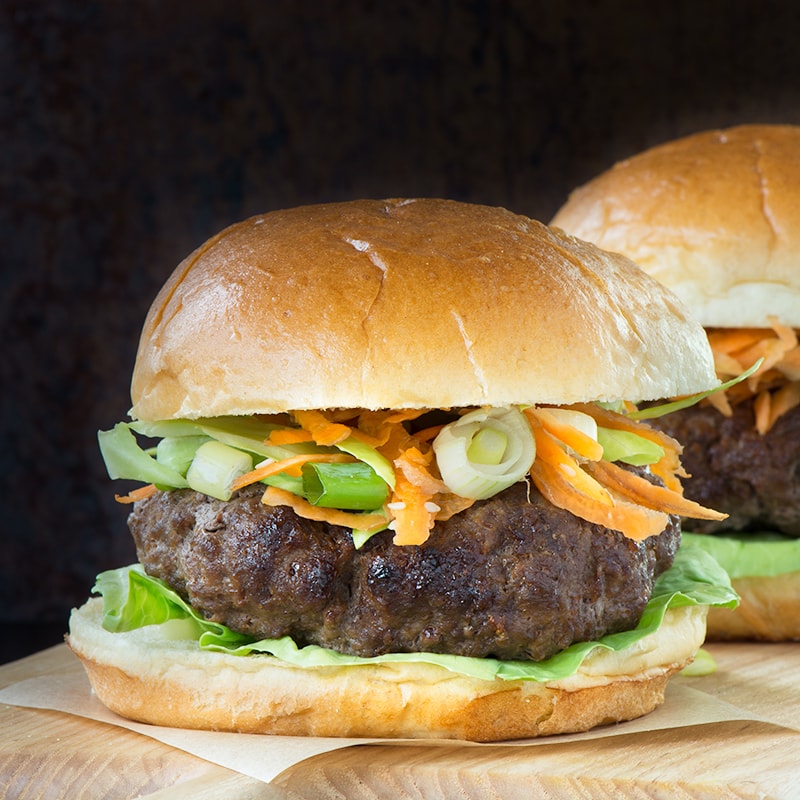 A few weeks ago I was asked to create a recipe using some delicious Irish beef. I love cooking with beef (as you can see from all my recipes – it's definitely a regular in my kitchen), so I was full of ideas. I wanted to create something a little bit different that was perfect for summer, full of flavour but also allowed the high-quality Irish beef to shine through. In the end I settled on these teriyaki beef burgers.
They're made by mixing some of what I consider to be key teriyaki sauce ingredients, such as soy, sugar and ginger, with the minced Irish beef. Not only does this add a delicious flavour, but it also helps to keep the burger lovely and moist. They're also really straightforward to make (something which I always try to strive for in my cooking), simply pop all of the ingredients into the bowl, mix them up, form them into burgers and cook – ta dah!
Sadly we've had anything but barbecue weather recently (please join me in keeping your fingers crossed for summer to get going soon!), but whilst these are perfect for a summer barbecue, they also turn out just as well cooked inside.
What makes Irish beef so special?
As I said before, these burgers have been made with premium Irish beef, but what makes Irish beef special?
Irish agriculture – Spread across a network of 120,000 small farms, Ireland's agricultural production uses a seamless blend of traditional craft passed down through generations and modern farming methods developed using cutting edge technology – resulting in bumper harvests and best-in-class, world-renowned cattle.
Irish cattle – Today, Ireland sets the benchmark for high quality cattle. Enviable lineage and exemplary breeding practices have enabled Irish farmers to produce cattle that possess many benefits of different breeds – from superior conformation and marbling to fertility and milk production.
Irish grass – Ireland's nickname is 'The Emerald Isle' – and for good reason. A phenomenal mix of perfect atmospheric conditions, proximity to the gulf stream and unprecedented levels of nutrient-enriched grasslands all combine to create a landscape as perfect for cattle grazing as it is beautiful.
The superior health benefits of grass-fed Irish beef – Imbued with heightened levels of Vitamin A, carotene and Omega 3 fatty acids, coupled with superior marbling and tenderness, Irish beef is a great fit for any balanced diet.
To find out more about Irish beef visit the Irish Beef website irishbeef.co.uk, or follow them on Facebook, Twitter or Instagram.
Teriyaki Beef Burgers
Active Time:10 minutes
Total Time:20 minutes
Makes 4 burgers
Ingredients
500g Irish Beef Mince (10%+ fat)
2 tbsp soy sauce (I used reduced salt but any will be fine)
1 tbsp Japanese rice wine vinegar
½ tbsp toasted sesame oil
1″ cube fresh ginger – finely grated
1 tbsp dark brown sugar
To serve
4 burger buns
1 carrot
1 green cabbage leaf (the type that you'd add to a stir fry)
2 spring onions
1 tsp sesame seeds
Salt
Method
I've included the method to cook these in the oven as I find it the easiest way to cook them. They can also be fried (over a medium heat for about 6 minutes on each side), grilled (6-7 minutes on each side) or barbecued (6-7 minutes on each side). When frying them the sugar can cause the outside to go quite dark but this doesn't impact the flavour.
I've served them in buns with shredded vegetables. If you like you can add a little mayonnaise or some additional teriyaki sauce.

Pre-heat your oven to 220ºC/200ºC fan.
Place all of the burger ingredients into a large bowl and using your hands, mix them together until all of the liquid has been absorbed by the meat.
Divide the mixture into 4 and using your hands form them into 4 burgers. Note – the burgers will shrink inwards and puff up a little in the oven so I'd suggest making them a little flatter and wider than you eventually want them to end up.
Put the 4 burgers on a wire rack and place the rack onto a baking tray. Place into the oven and cook for about 14 minutes until the burgers are cooked through.
While the burgers are cooking prepare your salad. Grate the carrot and put it into a bowl. Thinly slice the spring onions (both the white and green parts) and the cabbage and add it to the bowl. Add the sesame seeds. Season with a little salt and mix until thoroughly combined.
Once the burgers have finished cooking, remove them from the oven and place into a burger bun. Top with some of the salad and serve.
Nutritional Information
Just the burger
Calories: 269 kcal (13%), Fat: 16.6g (24%), Saturated Fat: 8.4g (42%), Carbohydrates: 5.0g (2%), Sugar: 4.6g (5%), Fibre: 0.1g (0%), Protein: 24.8g (50%), Salt: 1.5g (25%)
The burger with bun and salad
Calories: 475 kcal (24%), Fat: 21.4g (31%), Saturated Fat: 10.3g (51%), Carbohydrates: 37.2g (14%), Sugar: 10.6g (12%), Fibre: 3.6g (15%), Protein: 32.3g (65%), Salt: 2.0g (34%)
This is the estimated nutritional information per burger (excludes additional salt added during cooking). Please refer to my guide to Charlotte's Lively Kitchen nutritional information if you want to learn more about how this is calculated.
Free From/Suitable For…
Just the burger
Corn-Free
Nut-Free
Diary-Free
Egg-Free
Can be made gluten-free by switching the soy sauce for tamari.
The burger with the bun and salad
The ingredients for this recipe are easily available free from all these allergens. However, please ensure you double-check allergen information for all ingredients.