The perfect birthday needs the perfect birthday cake. One that tastes delicious and is just the right size to feed all of your guests.
This vanilla cake calculator will give you the ingredients you need for any size of cake tin as well as the answers to lots of other FAQs to help you get your cake just right.
One post on my blog that's always popular is my all-in-one vanilla sponge birthday cake. It's the recipe I use for almost all of my family's birthday cakes and I absolutely love the idea that people are making and enjoying this on their family birthdays too.
However, it seems that popularity comes with lots of questions and I'm finding similar ones coming up again and again. People have told me that they've been scrolling through the comments to see if I've answered the questions before but with over 125 comments and counting it cannot be easy to spot the answer you're looking for in amongst everything else.
To try and help you all out I thought I'd pull together a quick post to answer all of your birthday cake FAQs as best I can and of course if I find new questions popping up in future I'll add them in here.
What ingredients do I need to make this cake in a different size?
The most comment question I'm asked is how to calculate the quantities to make the cake in a different size. To help you I've built this handy little calculator (I'm quite proud of myself for getting this working actually 🙂 ).
All you need to do is pop your tin size and the number of layers of sponge you want in your cake into the green boxes and it'll tell you what you need. The first calculator is for a round tin and the second is for a square or rectangular tin.
I've also calculated the ingredients needed to coat the cake in a layer of buttercream (with buttercream in between the layers too).
You need to enter the tin size in centimetres, if you only know yours in inches, simply multiply it by 2.5.
NOTE – I've not tested the cake in all possible sizes (I don't have all those different tins for a start) so cannot guarantee success, However, as long as you don't stray too far away from the original size I expect it should still work well.
Round Cake
Cake Diameter (cm) Number of Layers
Cake Ingredients
0

g self-raising flour

0

tsp baking powder

0

egg(s)

0

g soft margarine or butter

0

g caster sugar

0

drops vanilla extract

0

tsp milk
Buttercream Ingredients
0

g butter

0

g icing sugar

0

tsp vanilla extract Approx.

0

tsp milk
Square or Rectangular Cake
Cake Size (cm) x Number of Layers
Cake Ingredients
0

g self-raising flour

0

tsp baking powder

0

egg(s)

0

g soft margarine or butter

0

g caster sugar

0

drops vanilla extract

0

tsp milk
Buttercream Ingredients
0

g butter

0

g icing sugar

0

tsp vanilla extract Approx.

0

tsp milk
What temperature should I bake the cake at?
You can bake this vanilla cake at the same temperature specified in the original recipe regardless of the size of tin you're using.
How long should I bake my cake for?
As long as you split the mixture into sandwich tins the cooking time will be the same as for the original recipe.
Can I bake two layers in one deep tin?
Yes you can. However it will take longer to bake.
If you put the mixture for two layers into now deep tin you'll need to bake the cake for 45-50 minutes.
Can this recipe be used to make cupcakes?
Yes, you can find the recipe to make this cake as cupcakes here.
Can this cake be used to make tiers?
My parties are all pretty small so I've never needed a cake big enough to justify tiers. It is quite a soft, light sponge and so I would expect it to be fine for 2 tiers but personally I wouldn't risk 3.
If you are planning on making two tiers remember to include some sort of support in the lower layer (strong straws or dowelling cut to the height of the cake, and also put the top tier onto a thin cake board the same size as the cake (this adds additional support and also stops the moisture from the sponge ruining the fondant on the bottom layer).
How far in advance can you make the cake?
I usually bake my cakes on a Thursday and decorate them on a Friday for a Saturday party. We only have small parties so there's usually some leftovers which have always lasted for a few days after the party.
Make sure you store it in an airtight container to keep it fresh and if the weather is particularly warm I'd suggest keeping it in the fridge.
Can you freeze the cake?
Yes, you can freeze the undecorated sponge. Simply wrap it in clingfilm or an airtight bag and pop it into the freezer. When you want to use it remove it from the freezer and then make sure it's fully defrosted before decorating.
Can I use butter instead of margarine?
Yes, just make sure you take the butter out of the fridge a little before you want to start baking to allow it to soften.
Can I substitute plain flour for self-raising flour?
I've only ever used self-raising (as I've always got it in the cupboard). Nigella suggests you can substitute plain flour by simply adding an extra 2 tsp of baking powder for each 150g of flour used (so for my original recipe you'd need an additional 3 tsp of baking powder).
What size eggs should I use?
I use whatever I have in the fridge! Most of the time that'll be medium eggs but it works just as well using large.
Can I make this cake gluten-free?
You should be fine to substitute the self-raising flour for a gluten-free self-raising flour. Also, double check that the brand of baking powder you're using doesn't contain gluten (some do, some don't).
How much fondant do I need to cover my cake
If you'd like an idea of how much fondant you need to cover your cake then head on over to my fondant calculator where it'll tell you for any size of round, square or rectangular cake.
FREE GRAMS TO CUPS CONVERSION CHARTS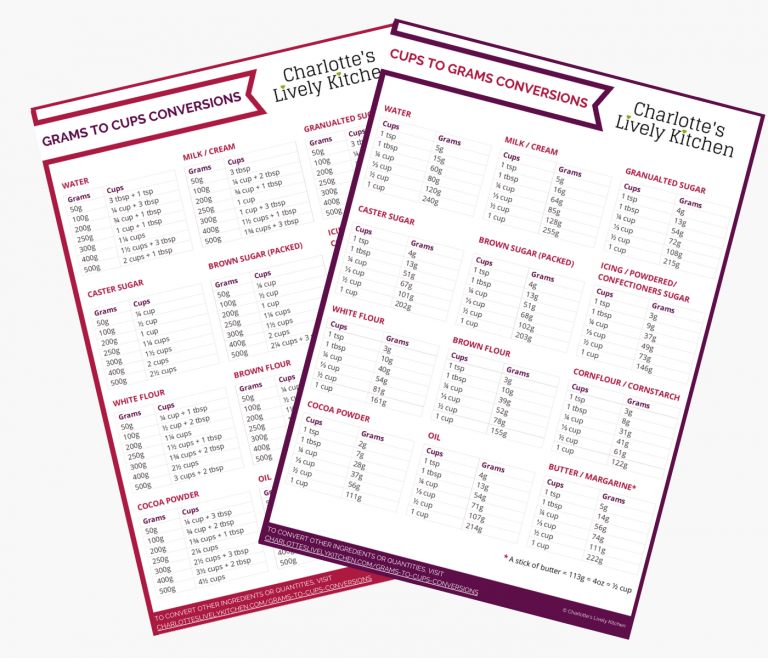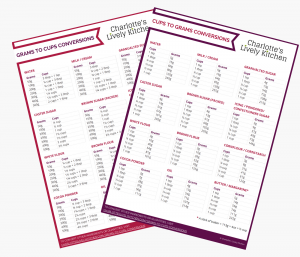 Subscribe to the Charlotte's Lively Kitchen mailing list to get your FREE printable grams to cups and cups to grams conversion charts for twelve popular baking ingredients
---
This post was originally published on 17th May 2016 and updated with an improved calculator and more FAQs on 11th July 2018.