Really easy butterscotch sauce with just 3 ingredients. Perfect for pouring on ice-cream, desserts or just licking from the spoon!
I've realised that in order to become a great cook it's important to be able to make the basics well. Once you've got them nailed there's then so much you can do with them, getting creative with flavours or mixing them with other ingredients to create amazing original recipes. I've loved getting creative with my homemade custard and caramel sauce, and now I've turned my attention to butterscotch.
Butterscotch is really similar to caramel (in fact I've seen many recipes similar to this one that would call themselves caramel). The main difference is that caramel is made from granulated sugar whereas butterscotch is made from light brown sugar (I've also made it with muscovado sugar, which gave it a great favour, but is much darker in colour that traditional butterscotch).  Butterscotch has a sweeter, creamier taste than caramel, it's also easier to make as you don't have to worry about caramelising the sugar, you simply melt the butter and then stir in the other ingredients.
Butterscotch Sauce
Active Time:12 minutes
Total Time:12 minutes
Makes about 200ml of sauce – easily increased to make a larger serving. However, the cooking time will be longer.
Ingredients
100g soft light brown sugar
120ml single cream (or 60ml double cream and 60ml milk)
60g unsalted butter
Method
Put the butter (60g) into a saucepan and cook over a low heat until the butter has melted.
Add the light brown sugar (100g) and single cream (120ml) and stir until all of the ingredients are combined.
Turn the heat up to medium and cook until the sauce starts to bubble, stirring the sauce occasionally. Once the sauce is bubbling, turn the heat down to low and simmer for 5 minutes until the sauce has thickened slightly (if you're making a larger portion, you'll need to simmer the sauce for longer, e.g. if I make a double portion I'll simmer the sauce for 8 minutes).
Remove the sauce from the heat and either serve hot or leave to cool (the sauce will thicken as it cools. If you find it gets too thick you can simply heat it in the microwave for 10-20 seconds to make it pourable).
---
You Might Also Like…
If you like this recipe then why not take a look at my CARAMEL SAUCE and HOMEMADE CUSTARD.
---
Nutritional Information
Calories: 71 kcal (4%), Fat: 4.3g (6%), Saturated Fat: 2.7g (13%), Carbohydrates: 7.7g (3%), Sugar: 7.7g (9%), Fibre: 0.0g (0%), Protein: 0.3g (1%), Salt: 0.0g (0%)
This is the estimated nutritional information per tablespoon (15ml). Please refer to my guide to Charlotte's Lively Kitchen nutritional information if you want to learn more about how this is calculated.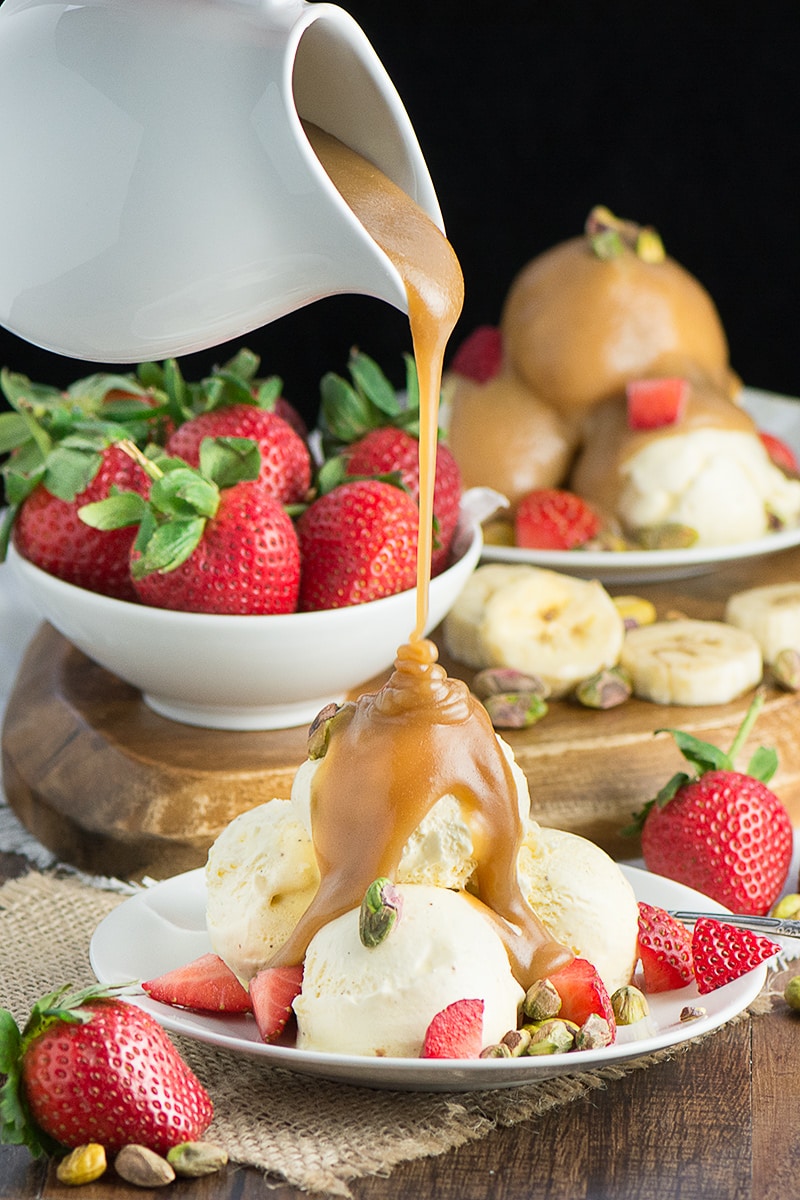 Free From/Suitable For…
Suitable for Vegetarians
Egg-Free
Gluten-Free
Nut-Free
Soy-Free
The ingredients for this recipe are commonly available free from all these allergens. However, please ensure you double-check allergen information for all ingredients.