Easy Carrot Cake – A delicious spiced carrot cake filled with raisins and topped with smooth cream cheese buttercream.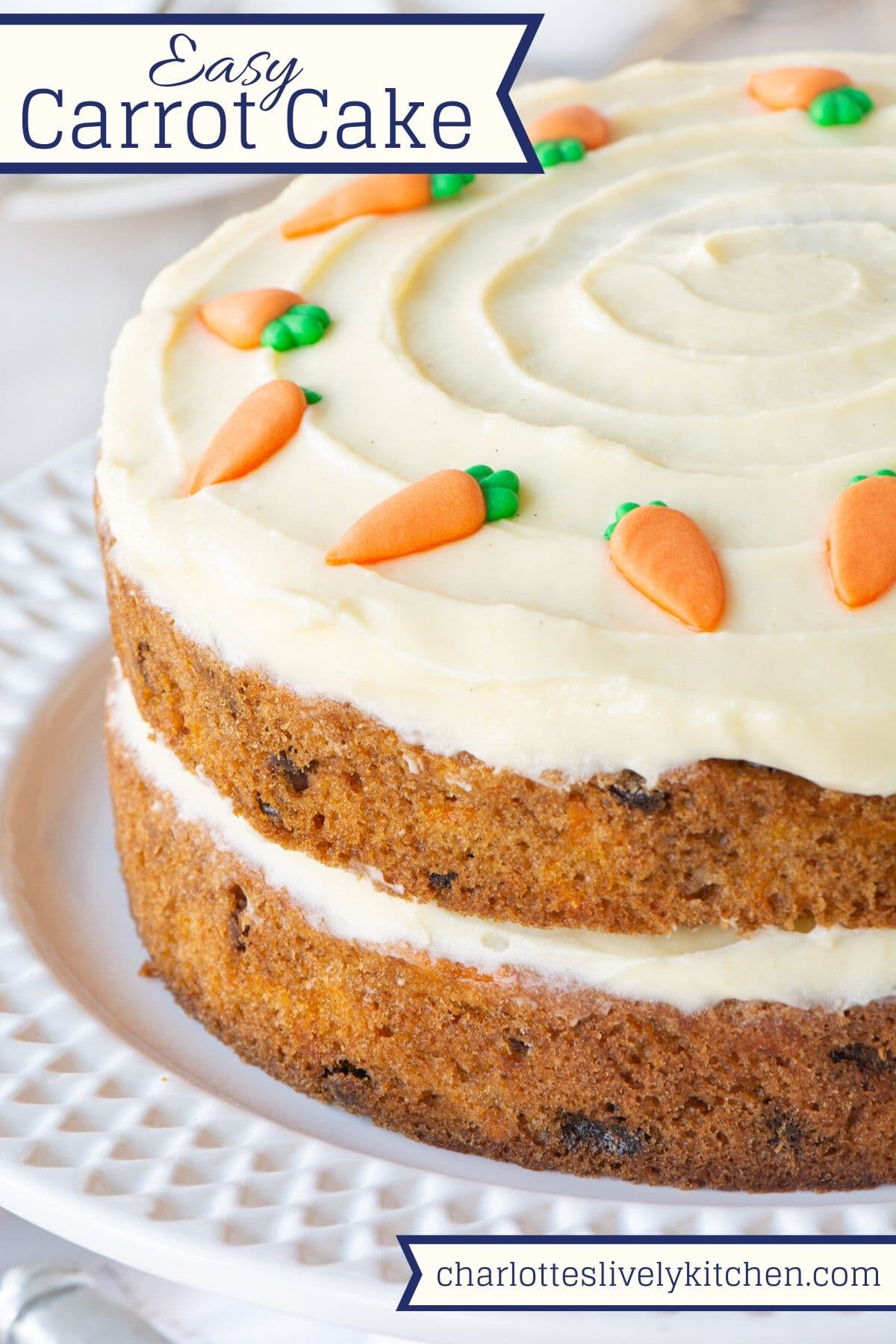 Today I'm sharing another cupcake recipe made big, with this full-sized version of my popular carrot cake cupcakes.
It's a spiced carrot cake filled with juicy raisins and topped with smooth cream cheese buttercream.
In my opinion it really is the BEST easy carrot cake ever!
Carrot Cake FAQs
If it's your first time making this recipe or you have a question then please take a moment to have a read through my carrot cake FAQs for lots of extra tips, suggested ingredient substitutions (if you need to make any) and allergen information.
If there's something you'd like to know that I've not answered here then please let me know in the comments.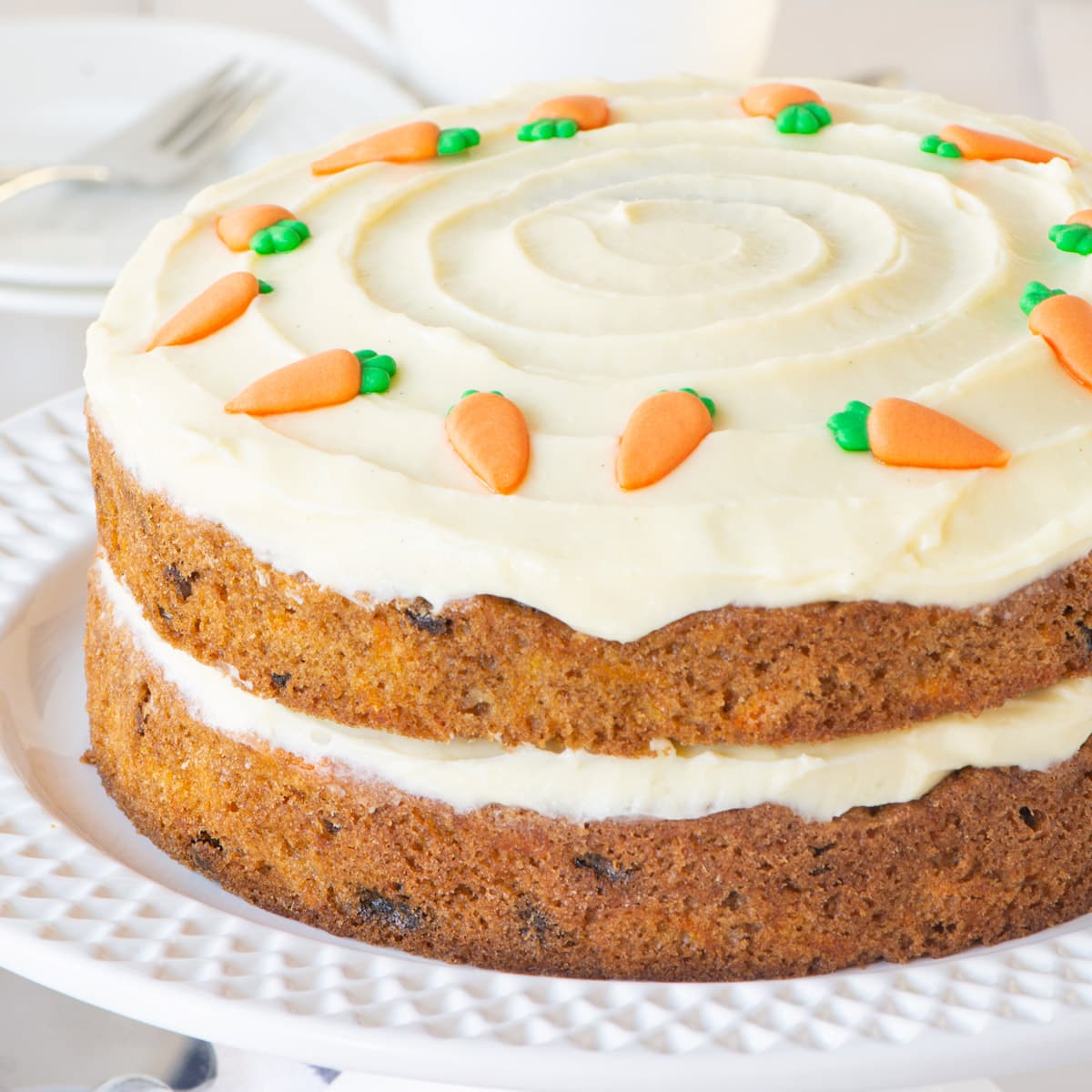 How long does this carrot cake last for?
If you store the carrot cake in an airtight container it will be fine to eat for about a week after baking.
If you do make the cake in advance and choose to add little sugar carrots similar to the ones shown I would recommend not adding them until just before serving. This is because the moisture in the buttercream softens the sugar in the mini carrots and they run into the buttercream.
Can it be frozen?
❄️ Suitable for freezing
This carrot cake freezes beautifully, either just the carrot cake sponge or the fully decorated cake.
To freeze the sponges, wrap them in clingfilm or place them in an airtight container to protect them, and freeze. Defrost them thoroughly before decorating.
To freeze the finished cake complete with buttercream, either…
Place the cake in an airtight, freezer-safe container and freeze.
OR
Place the cake on a dish and freeze it uncovered for a couple of hours. Then once the buttercream is firm to the touch, wrap the cake in clingfilm and return it to the freezer. Remove the clingfilm before defrosting the cake (so it doesn't stick to the buttercream). If you find that the clingfilm has left the buttercream looking a bit messy you can easily neaten it up with a palette knife or the back of a spoon once the cake has defrosted.
Can this cake be made as individual cupcakes?
Yes, if you'd prefer to make this cake as cupcakes, then take a look at my carrot cake cupcakes recipe.
Do I need to peel the carrots?
I don't bother peeling mine, I just give them a good wash and then get grating.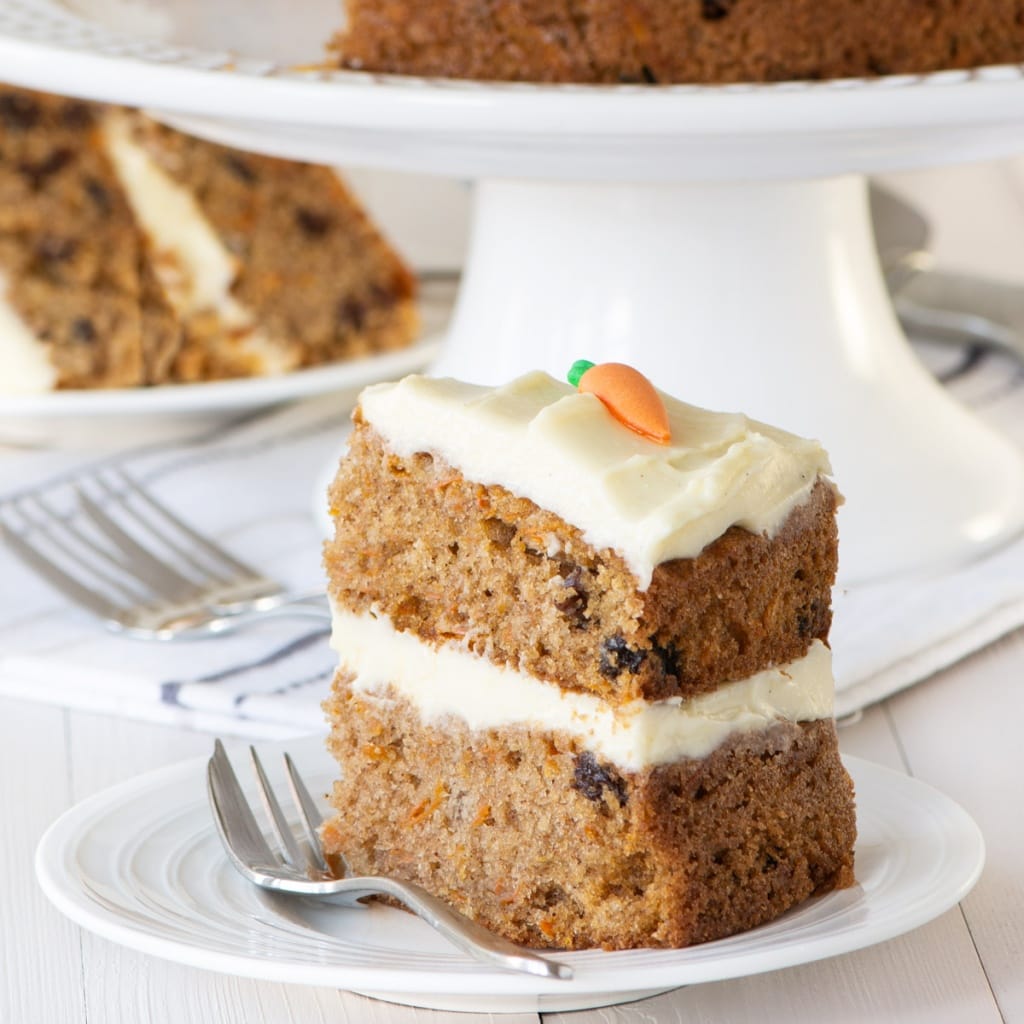 Which spices are used in a carrot cake?
My carrot cake is predominantly spiced with cinnamon with a small amount of ground mixed spice (a mixture of cinnamon, coriander seeds, caraway seeds, nutmeg, ginger and cloves) to bring out the flavour.
If you cannot get hold of ground mixed spice (I know it's not available in all countries) then you could substitute it for more cinnamon.
I prefer nuts to raisins, can I switch them?
I've added raisins to my carrot cake as that's what we like best at home. However, if you prefer your carrot cake to be nuttier, then you can switch the raisins for 100g of chopped nuts. You could also try a mix of the two, or simply leave them out altogether. I've tested this cake as a carrot and walnut cake, adding 100g of finely chopped walnuts in place of the raisins and it was delicious 🙂
Why do you soak the raisins in water?
I soak the raisins because it helps them to stay moist and juicy during baking. If you bake with raisins (or other similar dried fruits), you may have noticed that they can end up like little bullets with a bitter taste, especially if they're on the surface of whatever you're baking. Soaking them before adding them to the cake mixture prevents this from happening.
Does it have to be water, or can I get creative?
Create away!
You could try tea, or even your favourite tipple. I reckon this would be great with rum or brandy soaked raisins 🙂
What about other flavours?
If you fancy getting even more adventurous with your carrot cake then how about trying one off these recipes…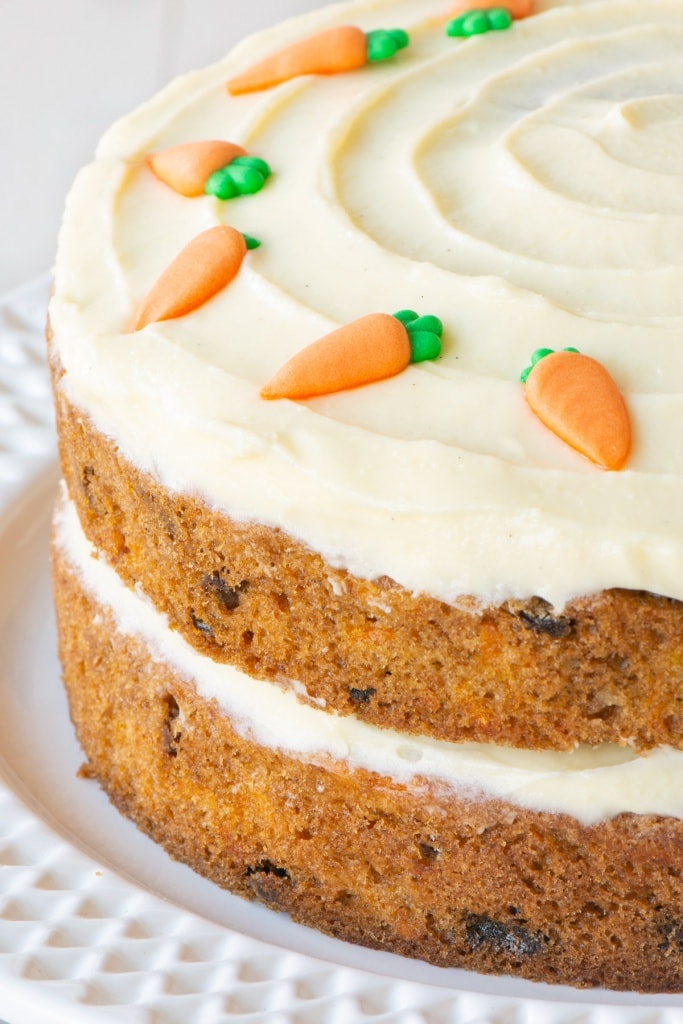 What is this cake free From? / Who is this cake suitable for?
The ingredients I used to make this recipe are all free from the following allergens. However, please check any labels carefully for allergens you need to avoid as brands can vary, and product recipes can change over time.
Suitable for Vegetarians
Tree Nut-Free
Peanut-Free
Sesame-Free
Soya-Free
Lupin-Free
Can this cake be made gluten-free?
I've not tried it, but it should work absolutely fine substituting the self-raising flour for a gluten-free equivalent.
Can you adapt this carrot cake to be vegan?
I haven't had a chance to test this as a vegan cake yet, if that's something you're interested in then let me know in the comments and I'll add it to my recipe development list.
Can this cake be made sulphite-free?
Yes.
This cake only contains sulphites in the raisins, so simply leave these out and it'll be fine.
Easy Carrot Cake
A delicious spiced carrot cake filled with raisins and topped with smooth cream cheese buttercream.
Print
Pin
Rate
Save
Saved!
INGREDIENTS
For the carrot cake sponge
3

large

eggs

225

g

carrots

250

g

self-raising flour

200

g

brown sugar

-

I use soft light brown sugar, but this cake also works well with dark brown or muscovado sugar

225

ml

vegetable or sunflower oil

¾

tsp

bicarbonate of soda

1½

tsp

ground cinnamon

½

tsp

ground mixed spice

150

g

raisins

water

-

to soak the raisins
For the cream cheese buttercream
100

g

butter -

soft at room temperature

100

g

icing sugar

200

g

cream cheese

¼

tsp

vanilla extract
INSTRUCTIONS
Make the carrot cake
Pre-heat your oven to 180°C/160°C fan.

Line two 20cm round sandwich tins with greaseproof paper or reusauble baking liners.

Place the raisins (150g) into a bowl and cover them with water.

Coarsely grate the carrot (225g).

Whisk together the oil (225ml sunflower or vegetable oil) and brown sugar (200g) until combined.

Whisk in the eggs (3 large) until combined. The mixture will lighten in colour and look glossy.

Sift in the self-raising flour (250g), bicarbonate of soda (¾ tsp), ground cinnamon (1½ tsp) and ground mixed spice (½ tsp). Fold them into the other ingredients.

Drain the raisins and add them and the grated carrot to the cake mixture. Fold them into the other ingredients.

Split the cake mixture between the two pre-prepared tins. Use the back of a spoon or a spatula to spread the mixture evenly in the tins.

Bake for 35-40 minutes until a skewer inserted into the cake comes out clean. Once baked, remove the cakes from the oven and leave them to cool in their tins for 10 minutes, before removing the tins and placing the cakes onto a wire rack to cool completely before decorating.
Make the cream cheese buttercream
Cut the butter (100g) into cubes and beat until soft.

Add the icing sugar (100g) and beat it into the butter until soft and fully combined. I usually add my icing sugar 1 heaped tablespoon at a time to avoid it flying everywhere.

Add the cream cheese and beat it into the other ingredients. I prefer to beat in the cream cheese by hand with a wooden spoon a few tablespoons at a time rather than using an electric mixer as I find it easier to combine it evenly.
Build your cake
Place the bottom layer of your sponge onto your serving dish.

Add half of the cream cheese buttercream and spread it evenly across the cake with a palette knife or the back of a spoon.

Spread the remaining buttercream across the top of the cake, again with a palette knife or the back of a spoon. I've used the tip of my palette knife to make a swirl starting from the outside edge of the cake and working inwards.

Finally, finish your cake by arranging your sugar carrots around the edge.
NOTES
If you have a question about this recipe then please take a moment to have a look above the recipe as I've tried to include the answers to as many carrot cake FAQs as I can there. 
If there's still something you'd like to know then please let me know in the comments.
WANT TO HEAR ABOUT NEW RECIPES FIRST?
SUBSCRIBE to the Charlotte's Lively Kitchen Mailing List
NUTRITIONAL INFORMATION
Calories:
487
kcal
|
Carbohydrates:
49.9
g
|
Protein:
5.2
g
|
Fat:
29.2
g
|
Saturated Fat:
8.5
g
|
Fiber:
1.6
g
|
Sugar:
35.4
g
Any nutritional information provided is the estimated nutritional information per serving. Please refer to my guide to Charlotte's Lively Kitchen nutritional information if you would like to learn more about how this is calculated.
---