Advertising Feature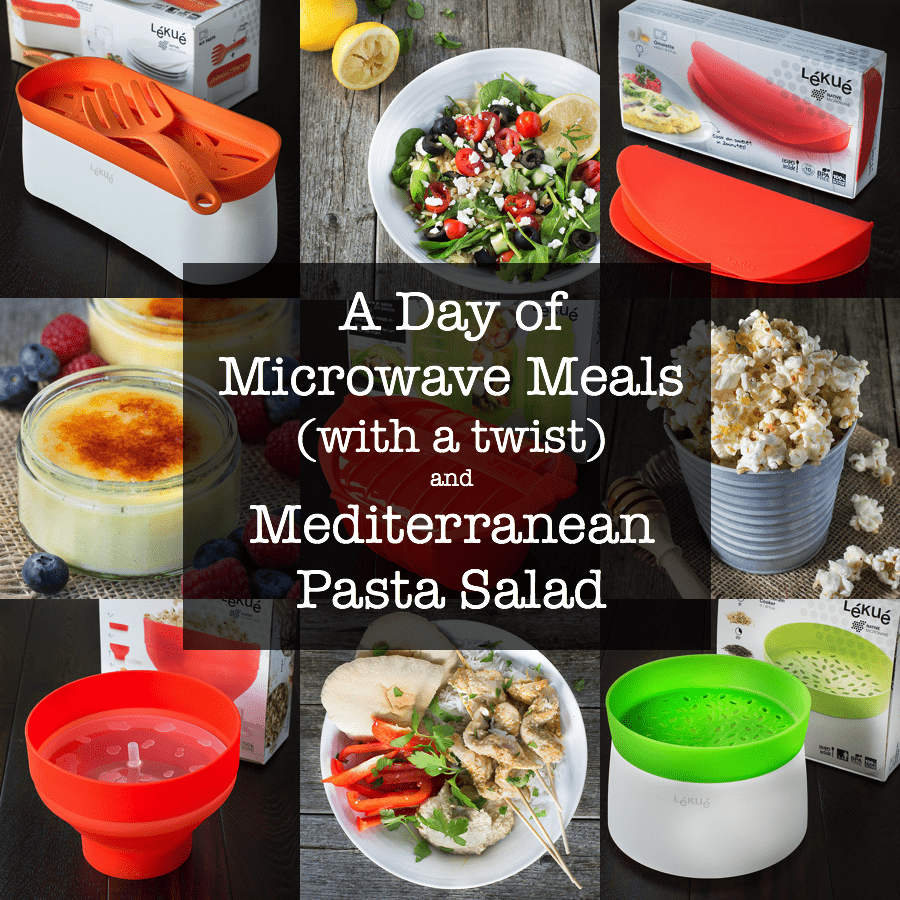 If you follow me on Instagram then you'll know that I spent this Friday eating only microwave food. However, this was microwave food with a difference. It wasn't ready-meals, everything was made from scratch with fresh, healthy ingredients – breakfast, lunch and dinner, even snacks.
The challenge was given to me by Lékué, a company who I hadn't realised I knew about until I started researching their products and noticed that I recognised quite a few that I'd seen for sale in some of my favourite stores (I've been tempted by this silicone bread maker from Lakeland for ages).
For anyone unfamiliar with Lékué, they manufacture cooking products aimed at making healthy cooking quick and easy, including a huge range of microwave products which enable you to cook things in the microwave that you'd never have thought possible (or at least I didn't), including rice, pasta and even a whole roast chicken.
My Challenge
Lékué challenged me to spend a day using only a microwave for all my cooking, it had to be healthy (although I may have strayed a little from this with my pudding 🙂 ) and cooked from scratch.
Now, I'm the sort of person who uses my microwave to heat baked beans, soup and occasionally cook peas, sweetcorn and fish. I could have opted to stick inside my comfort zone and eat salmon and veg for every meal but where's the fun in that? So instead I set myself the challenge of cooking things that are completely new to me (from a microwave perspective at least) – pasta, rice, popcorn, meat and even homemade custard!
Fortunately Lékué have got loads of recipes on their website, so I used some of theirs and a couple of my own, including a new Mediterranean Pasta Salad for lunch.
Breakfast – Coconut & Honey Omelette
I decided to use their Lékué Omelette to make a version of my coconut and honey omelette. I basically followed the same recipe but heated the coconut oil on high for 20 seconds in the microwave (to melt it), before adding the eggs, honey and an additional tablespoon of cold water. It was then cooked for 2 minutes and 30 seconds on one side, turned over and cooked for a further 30 seconds.
Lunch – Mediterranean Pasta Salad
This was a new recipe that I created specifically for this challenge. I used dried orzo pasta (the dainty size means it works really well in a salad) but, you can use whatever you happen to have in the cupboard.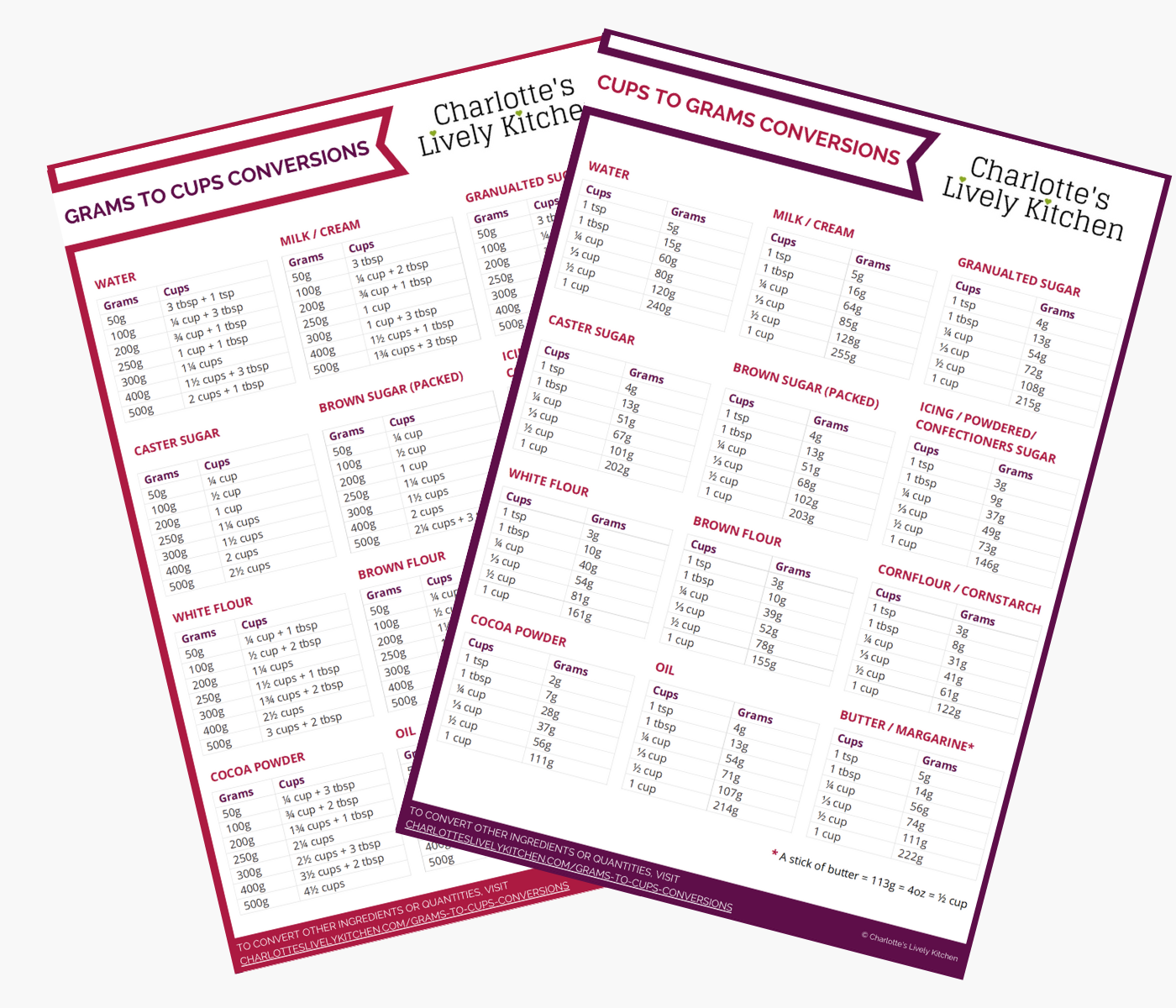 Subscribe to the Charlotte's Lively Kitchen mailing list to get your FREE printable grams to cups and cups to grams conversion charts for twelve popular baking ingredients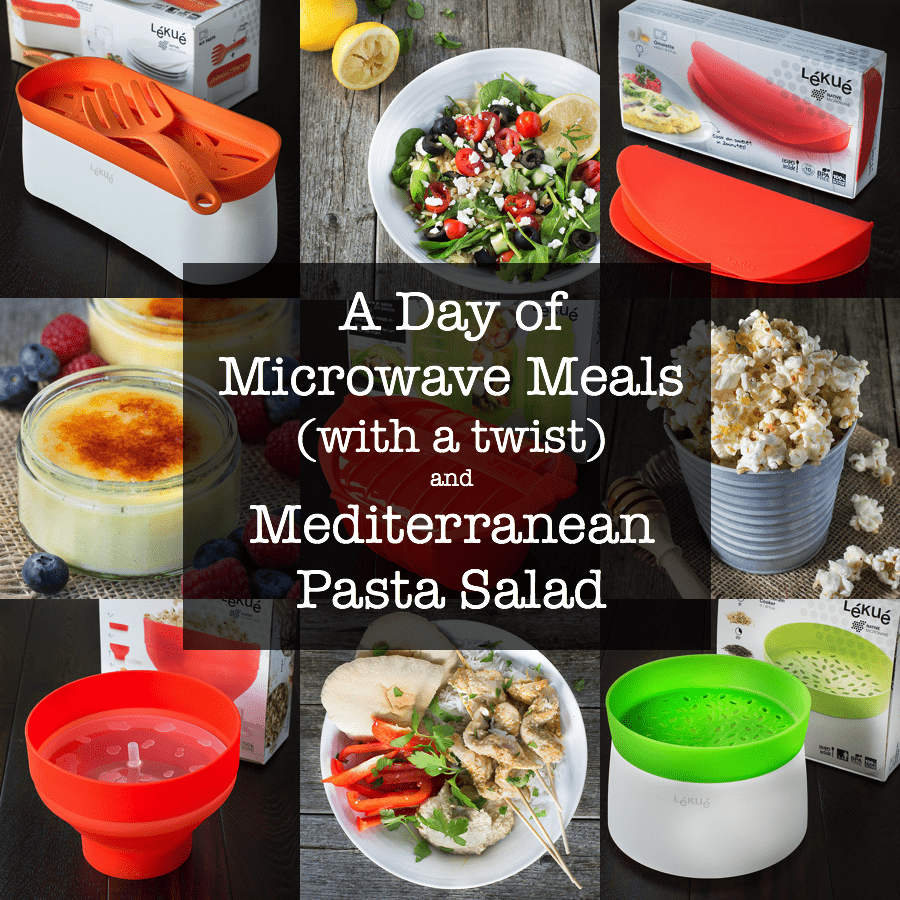 INGREDIENTS
80

g

orzo pasta

A handful of baby spinach

2"

cucumber

A handful of cherry or baby plum tomatoes

1

tbsp

feta cheese

-

heaped

A handful of black olive

A few fresh mint leaves

1

tsp

olive oil

½

lemon

-

juice only
INSTRUCTIONS
Cook the pasta.

Once cooked, drain away the water and put into a bowl. Mix in the spinach leaves (the residual heat from the pasta will wilt the leaves slightly).

Slice the cherry tomatoes and olives and chop the cucumber into small cubes and add them to the salad.

Crumble over the feta cheese.

Make the dressing by shredding the mint leaves and put them into a small bowl. Add the lemon juice and olive oil and mix well. Drizzle over the salad, toss everything together and serve.
NOTES
Recipe serves 1 but can easily be increased to make as much as you want.
WANT TO HEAR ABOUT NEW RECIPES FIRST?
SUBSCRIBE to the Charlotte's Lively Kitchen Mailing List
Any nutritional information provided is the estimated nutritional information per serving. Please refer to my guide to Charlotte's Lively Kitchen nutritional information if you would like to learn more about how this is calculated.
---
Snack – Honey & Hazelnut Popcorn
I've heard of people making popcorn in the microwave before but I'd never tried it myself. I made a teeny mistake by putting more than the suggested amount of corn kernels in the Lékué Popcorn (although it hardly looked like anything in the bottom of the bowl at the time) and had to turn the microwave off early as it escaped from the bowl! The resulting popcorn though was absolutely perfect and I made it even better using this recipe for honey and peanut popcorn (although switched the peanuts for chopped hazelnuts as I had some to use up).
Dinner – Chicken Satay Skewers with Rice, Pitta, Hummus & Peppers
As I said before, I've not tried cooking meat before in the microwave (I'd always assumed it would go dry around the edges and rubbery in the middle). I was completely wrong as these chicken satay skewers cooked in the deep steam case (which I also used for my dessert) were lovely and succulent, and cooked in just 2 minutes!.
I think these satay skewers represented a little of the compromise you sometimes have to make with microwave cooking, whereby food can lack a bit of colour so its appearance isn't always quite as good as its flavour, and also they're best cooked one portion at a time.
I tried making a family-sized batch, putting three portions in at once, but found the one in the middle wasn't cooked. When I tried them one portion at a time they were perfect. Whilst it's not ideal to cook each batch individually, the fact that they only take 2 minutes means it's not really a problem.
Of all the things I made during the day the thing that amazed me the most was the rice (which was cooked in the Lékué Rice & Grain Cooker). I have a tendency of getting a bit sidetracked when I cook which means it can end up overcooked and a bit too soft.
There's none of this when you microwave it, it cooks perfectly (soft but with a little bite to it) but because the microwave switches off at the right moment there's no accidental overcooking. I'm completely converted to microwave rice now!
I even use the microwave a little for the hummus (you can find out why if you look at my recipe).
Dessert – Crème Brûlée
OK, I'll admit I cheated a little bit on this one. Firstly it's not exactly healthy (although it is cooked from scratch), and also I used a blow torch for the crispy top (another new toy which I love and am scared of in equal measure at the moment).
I found the recipe a tiny bit sweet but the custard was perfectly smooth with a lovely vanilla flavour and it tasted delicious with a few of the berries I had leftover from breakfast. It's a brilliant way of making custard if you're in a hurry as, unlike custard made on the hob, you don't need to stand over it stirring – I'll definitely be trying it again.
I honestly thought I'd struggle with the microwave challenge when I first accepted it but, not only was it easy to create a variety of healthy meals, I feel like I could do the challenge again and again coming up with completely different food each time.
Do you think you could spend a day making only microwave meals? What would you cook?