Delicious festive chocolates with a milk chocolate, mincemeat and brandy truffle filling.
Hands up who's getting excited about Christmas!
I've seen a few bloggers apologising for talking about Christmas too early this week, but I'm not going to. It's mid-November, all the big Christmas ads are out on the TV (do you have a favourite?), the weather is rubbish and I need something to get excited about and what's not to love about Christmas 🙂
One of the many things I love is festive baking. I shared my first Christmas recipe of the year at the weekend (well, it's actually from Rachel Walker, food editor at the Sunday Times) for Christmas Pudding and I've got lots of ideas for more recipes to come (probably far more than I've actually got time to share). If you fancy a look at some of my creations from last year then take a look through my Christmas Recipe Ideas.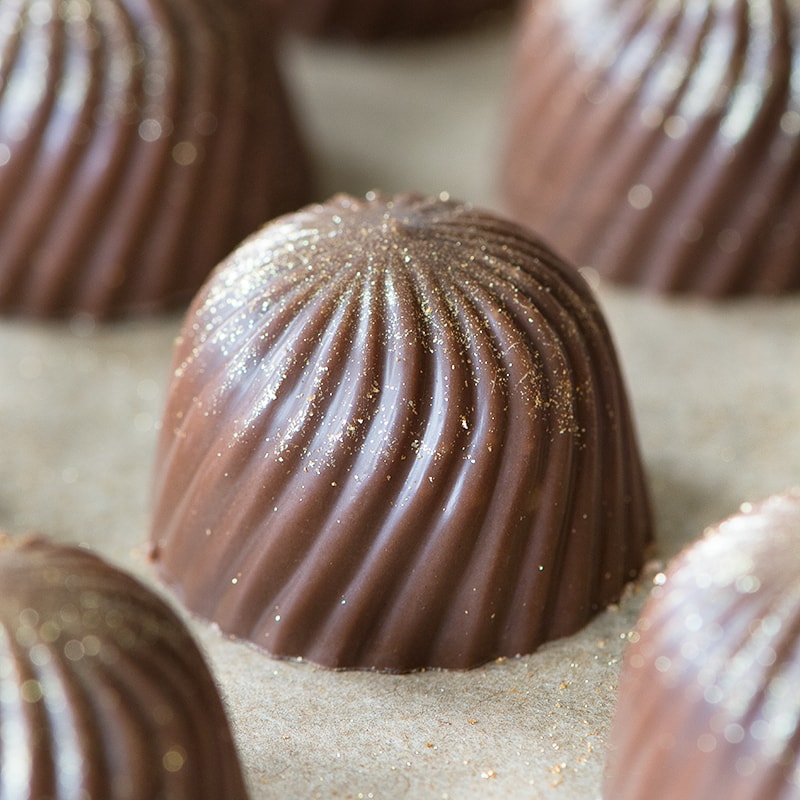 Today's festive creation was a bit of an experiment. I wanted to make some chocolates as I hadn't made any for ages (I'm a shocker for going through phases with things) and so I made a big batch of ganache and mixed it up with whatever I could find in the cupboards with a Christmassy feel to it.
I nearly didn't make a mincemeat version because I really didn't think it would taste good but oh, it really does. It's not often I make something, taste it and feel shocked by my absolute genius, but this was one of those times – they are that good 🙂
Not only are they yummy, but they're also sparkly. I've not really played with edible glitter much in the past but be prepared for a lot of it to come because I'm a little bit in love with the stuff – it's so pretty.
I'm also loving my new chocolate mould (OK, I got it in February, I just hadn't got round to trying it out) which I bought from Lakeland. Personally I like the solid moulds more than the flexible silicone ones as it's much easier to make the chocolate shells without getting into a big mess. I would thoroughly recommend these ones if you're looking for ones to buy.
To make these chocolates so that they will come out of the moulds, you'll need to temper the chocolate. It's one of those things I thought was tricky and technical until I gave it a try and found that as long as you take a bit of care it's pretty straightforward. I've made a little video in the past which I'd recommend watching if you've not tried it before, or you can read more about it here.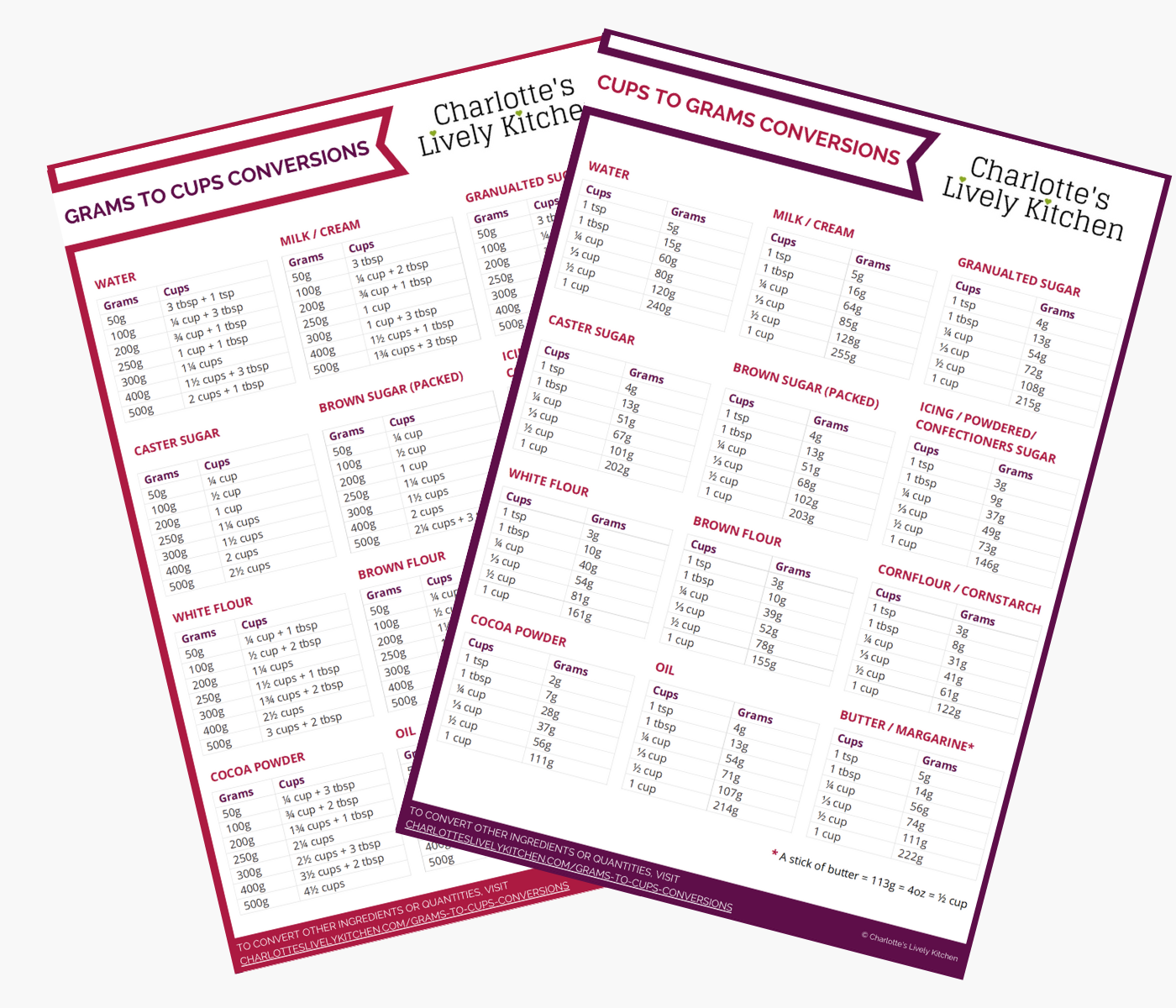 Subscribe to the Charlotte's Lively Kitchen mailing list to get your FREE printable grams to cups and cups to grams conversion charts for twelve popular baking ingredients
INGREDIENTS
For the chocolate shells
250

g

good quality milk chocolate

-

see note 1
For the filling
40

g

good quality milk chocolate

45

g

mincemeat

2

tsp

double cream

2

tsp

brandy
INSTRUCTIONS
Temper the milk chocolate (see note 2)
Break 100g of milk chocolate into a saucepan and warm on a gentle heat until the chocolate has reached 45ºC. Once it has reached 45ºC remove it from the heat (don't worry if it hasn't completely melted, continue to stir it and the remaining lumps will melt in the residual heat) and pour it into a large bowl.

You now want to bring the temperature of the chocolate down to 32ºC which you do by stirring in some of the chocolate you haven't used yet a couple of pieces at a time, stirring continuously. As the chocolate melts, add more pieces until you reach 32ºC.

Remove any unmelted lumps of chocolate (set these to one side to use later).

Pour the chocolate into the mould and then turn the mould upside down over the bowl you've mixed the chocolate in to tip out any excess - you're trying to create a hollow shell.

Once the excess has been tipped out have a quick check for any gaps in the chocolate in the shells. If there are any, then add in a little extra chocolate and tip again to remove any excess.

Once you're happy with the shells, use a sharp knife to scrape any excess chocolate from the top of the mould.

Put the mould into the fridge for at least half an hour to set.

Scrape any leftover chocolate from the bowl back into the pan you used to melt the chocolate originally (this can then be used to make the base of the chocolates).
Make the ganache filling
While the shells are cooling, make the ganache filling

Break 40g milk chocolate into chunks and pop it into a saucepan. Warm on a VERY gentle heat until all of the chocolate has melted (you can do this over a bain marie or in a microwave if you prefer).

Put the double cream (2 tsp) and brandy (2 tsp) into a bowl. Once the chocolate has melted, pour it into the brandy and cream and stir it rapidly until fully combined (you must stir quickly otherwise the chocolate may seize and go lumpy).

Add the mincemeat (45g) and stir until evenly distributed.

Once the chocolate shells have set, evenly distribute the filling between the shells. For each one check that the top of the filling is slightly below the level of the mould (so that you can make the bottom of the chocolate nice and even).
Make the chocolate base
Add about half of any unused chocolate you have in the packet (from your original 250g needed in the ingredients list) to the chocolate you put back into the pan earlier and repeat steps 1-3 (above) to temper the chocolate. You can use the same bowl you used earlier even if it has some hardened chocolate in the bottom as it will melt in and help the tempering process.

Once the chocolate has tempered, spoon or pipe it carefully over the top of the ganache filling - you want the chocolate to come above the top edge of the mould.

Once all of the chocolates are covered, use a sharp knife to scrape off any excess chocolate.

Put the chocolates into the fridge for at least half an hour to set.

Once the chocolate has completely set, turn the mould over on a work surface and your chocolates should fall out - it may need a few firm taps to help release them all.

Brush the top of each chocolate with a little edible gold glitter to decorate.
NOTES
Note 1 - Chocolate making is far easier if you have a bit more than you really need, so don't be surprised if you've got some leftover. If you do then simply pour it into a bowl lined with greaseproof paper, leave it to set and then wrap it up to use again another day.
Note 2 - If you're new to tempering chocolate then I'd recommend you take a look at my guide which includes a quick video demonstration showing exactly what you need to do.
WANT TO HEAR ABOUT NEW RECIPES FIRST?
SUBSCRIBE to the Charlotte's Lively Kitchen Mailing List
NUTRITIONAL INFORMATION
Calories:
57
kcal
|
Carbohydrates:
5.6
g
|
Protein:
0.6
g
|
Fat:
3.4
g
|
Saturated Fat:
2.1
g
|
Sugar:
5.4
g
Any nutritional information provided is the estimated nutritional information per serving. Please refer to my guide to Charlotte's Lively Kitchen nutritional information if you would like to learn more about how this is calculated.
---
Free From/Suitable For…
Suitable for Vegetarians
Gluten-Free
Nut-Free
Corn-Free
Egg-Free
Soy-Free
The ingredients for this recipe are commonly available free from all these allergens. However, please ensure you double-check allergen information for all ingredients.