Melt-in-your-mouth shortbread fingers. Perfect for dipping in warm melted chocolate!
I love to experiment with traditional recipes and try to perfect them. Just because a recipe only had 4 or 5 ingredients doesn't mean that there isn't some work to do to make sure those ingredients are exactly the right ones, the ratio of ingredients is correct balanced and the method makes the most sense.
In this post I've worked on a simple Scottish-style shortbread finger recipe. The final recipe only has 5 ingredients and takes just a little over an hour from start to finish, including 30 minutes for the dough to properly chill.
Shortbread Fingers FAQ
If it's your first time making this recipe or you have a question, please take a moment to have a read through my FAQs for some extra tips and allergen information.
What flour is best to use for shortbread?
After a little bit of recipe research, the biggest question I faced when making the shortbread was what flour to go for. There were three choices, therefore I made a batch of each to test:
Plain flour only: Ideally this would be the best tasting, as it involved only one flour which pretty much every supermarket sells. Unfortunately this produced a dry and craggy shortbread which lacked in flavour.

A mix of plain and cornflour: This next combination produced a nice buttery flavour, however the texture was harder than I felt a shortbread should be, more like a standard crunchy biscuit. Still it was very tasty.

A mix of plain and rice flour: This produced the perfect melt-in-your-mouth buttery texture, which is annoying as rice flour isn't quite as common or readily available as other flours. However it was the definite winner in terms of matching the cornflour for taste whilst having the 'correct' shortbread crumbly texture.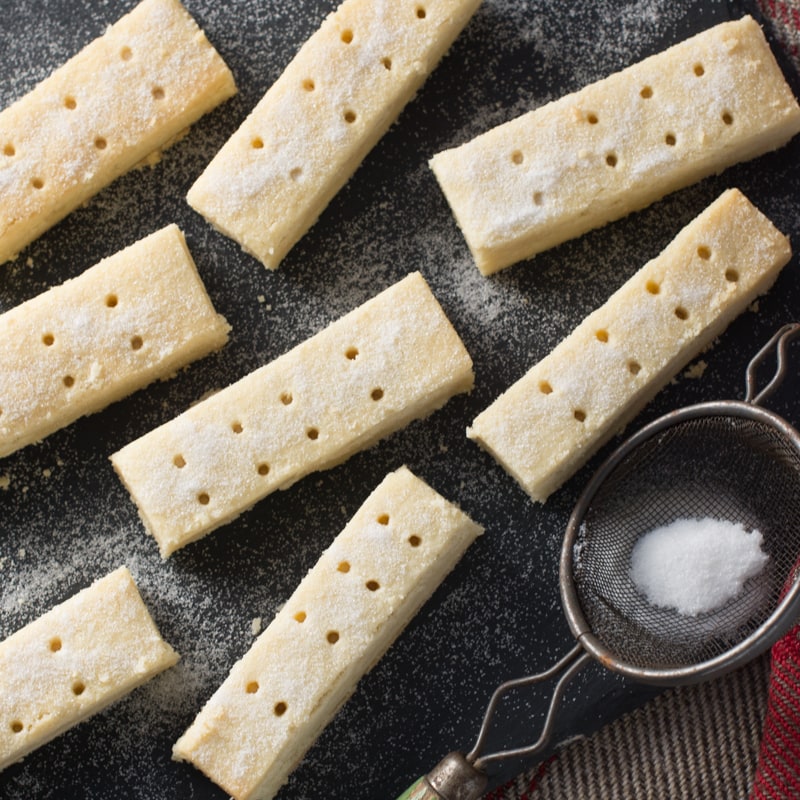 Where can I buy rice flour?
Rice flour might not be quite as common in a British baking cupboard as cornflour or regular wheat flour but it is much easier to find that it once was.
Most major supermarkets stock rice flour – you might need to look in the "free-from" section. Rice flour is also commonly used in Asian cooking so it is readily available in specialist Asian supermarkets. Failing that it can be ordered online.
Can I add other flavours to shortbread?
While testing the different flour option, I also tested a couple of flavour enhancers – vanilla extract and salt. The vanilla extract made the shortbread taste that bit nicer, whereas, despite only adding a pinch of salt, it left behind a slightly too salty flavour. This recipe keeps things simple and only uses the vanilla.
You can add other flavours. Orange or lemon zests are a common addition as are chocolate chips. You could also experiment with adding other extracts like almond or rosewater.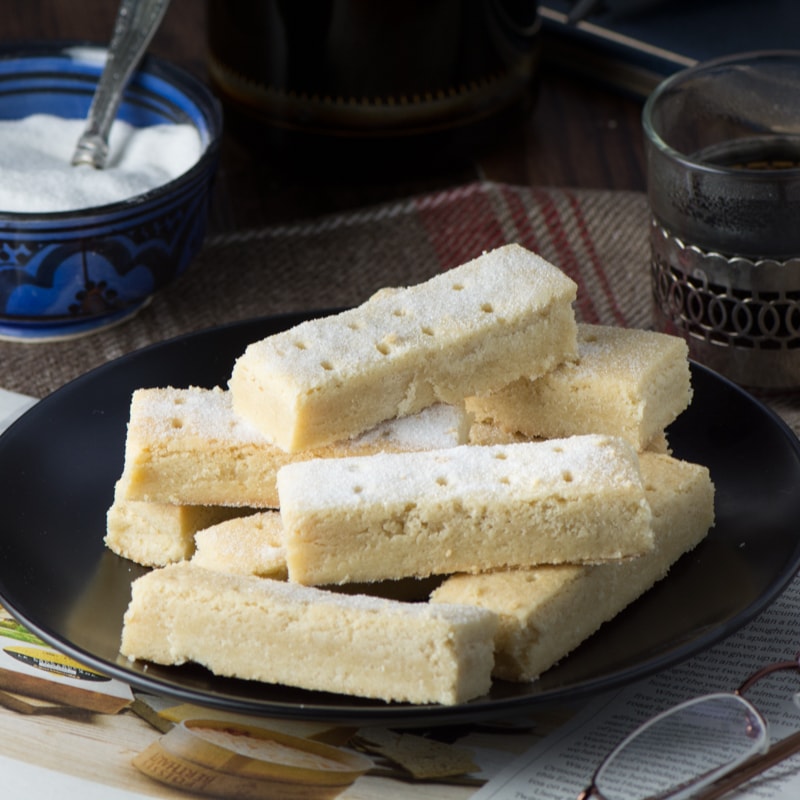 What to serve with shortbread fingers?
Shortbread needs nothing more than a cup of tea or coffee and a few moments peace. But there are ways to make this treat even more indulgent like dipping it in warm melted chocolate like we did.
My boys loved it although I think they may have had more chocolate on their faces than in their bellies by the time we were finished.
There are lots of other sweet sauces you could use for dipping or even drizzling over the shortbread – you can do this before or after cutting the fingers. My favourite butterscotch sauce would be an especially delicious option.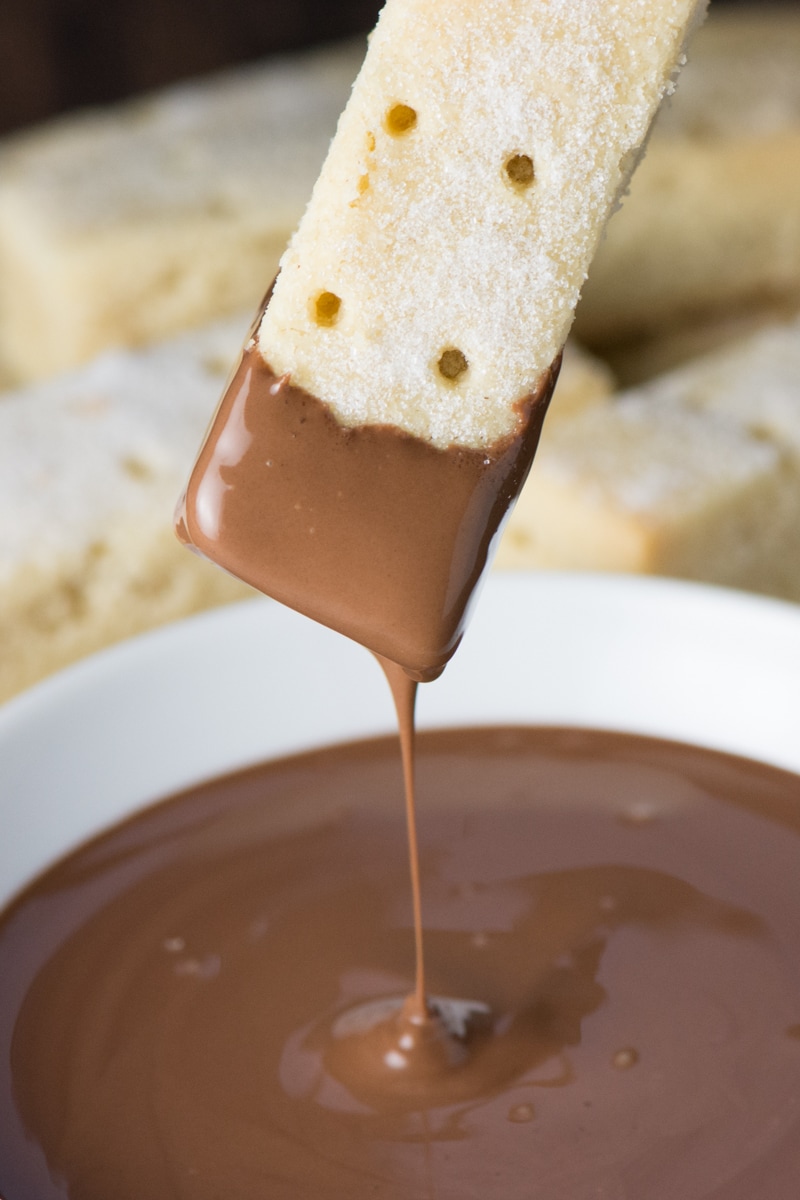 What are these shortbread fingers free from? Who are they suitable for?
Suitable for Vegetarians
Egg-Free
Nut-Free
Soy-Free
The ingredients for this recipe are easily available free from all these allergens. However, please ensure you double-check allergen information for all ingredients.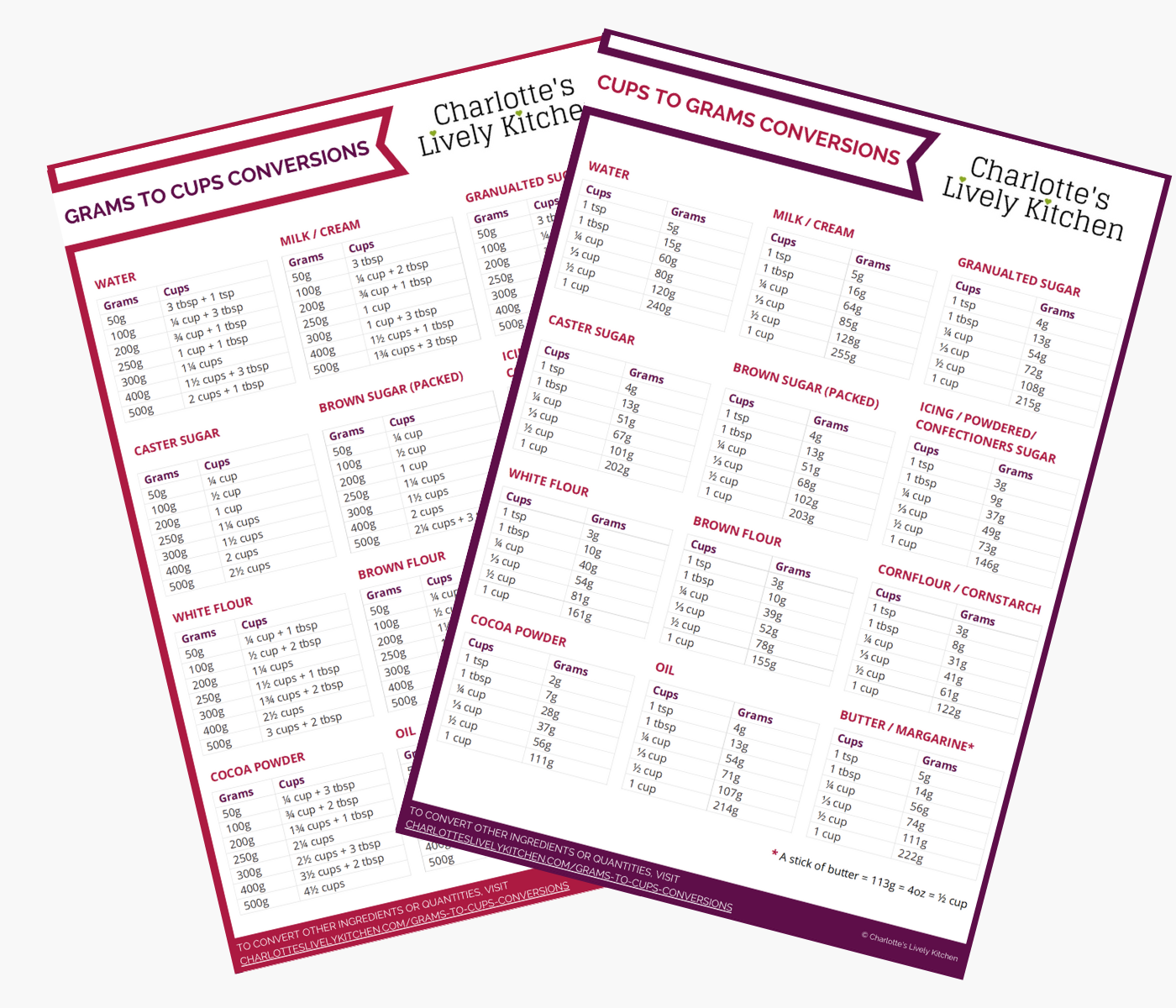 Subscribe to the Charlotte's Lively Kitchen mailing list to get your FREE printable grams to cups and cups to grams conversion charts for twelve popular baking ingredients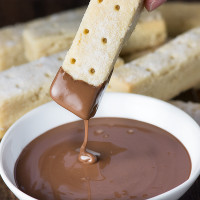 Homemade Shortbread Fingers
Melt-in-your-mouth shortbread. Perfect for dipping in warm melted chocolate!
Print
Rate
Save
Go to Collections
Total Time:
1

hour
12

minutes
INGREDIENTS
200

g

butter -

at room temperature

100

g

caster sugar

-

plus a little extra to sprinkle on top of the shortbread

200

g

plain flour

100

g

rice flour

1

tsp

vanilla extract
INSTRUCTIONS
Cream together the butter (200g) and caster sugar (100g).

Sift the plain flour (200g) and rice flour (100g) into the butter and sugar mixture and add in the vanilla extract (1 tsp). Mix together until combined – You don't want to work the mixture too hard, if you have an electric mixer then use a low to medium setting for about 1 minute. If you are using your hands then squeeze the mixture together before kneading lightly until you have a soft dough.

Roll out the dough to a depth of about 2cm and place onto baking parchment in a baking tray. I found that a rectangle shape of about 16cm long and 12.5 cm wide meant that I could cut the dough into 10 fingers, however make whatever shape you want! To roll the dough I found it easier to first lay out some clingfilm on the work surface, put the dough on top of that and roll it flat a little, and then put baking parchment on top of the dough. I then rolled out the mixture to the proper dimensions with the baking parchment still on top. This meant I could then easily flip the dough onto the baking tray with the baking parchment now at the bottom and cling film covering the top.

Put the baking tray in the fridge for at least 30 minutes to help the mixture keep its shape in the oven.

When ready to put the dough in the oven pre-heat it to 180ºC/160ºC. Whilst the oven is heating up, take out your baking tray from the fridge and remove the cling film. Using a skewer (or a fork) poke holes all the way through the dough at regular intervals. If you want to make really neat pieces then I suggest cutting shapes into the mixture at this stage so that you know where the holes should be. The pieces shown in the photos were 2.5cm wide, 2cm tall and 8cm long.

Put the baking tray with the dough in the oven. It takes 18-25 minutes to bake, depending on how long you have put the dough in the fridge for (the longer in the fridge the longer in the oven). The sides should be turning golden, but the middle will still be pale when it is ready to take out.

Once out of the oven leave to cool in the baking tray for 10-15 minutes. Then cut the shortbread into the shapes you want. If you already cut the shortbread into shapes before putting in the oven, just re-cut whilst still warm as some of the pieces may have partially joined back up again. Move the biscuits to a cooling rack until completely cooled.

Finally sprinkle some caster sugar over the top.
NOTES
To ensure room temperature butter, take it out of the fridge at least 30 minutes before baking.
WANT TO HEAR ABOUT NEW RECIPES FIRST?
SUBSCRIBE to the Charlotte's Lively Kitchen Mailing List
NUTRITIONAL INFORMATION
Calories:
245
kcal
|
Carbohydrates:
26.6
g
|
Protein:
2.5
g
|
Fat:
14.1
g
|
Saturated Fat:
8.8
g
|
Fiber:
0.6
g
|
Sugar:
8.8
g
Any nutritional information provided is the estimated nutritional information per serving. Please refer to my guide to Charlotte's Lively Kitchen nutritional information if you would like to learn more about how this is calculated.
---