Advertising Feature
A twist on the traditional Spaghetti Carbonara – Spaghetti in a rich Grana Padano cheese sauce, topped with fresh Prosciutto di San Daniele. A delicious meal ready in just 25 minutes.
I'm really excited to be back with another recipe using some delicious Grana Padano cheese and Prosciutto di San Daniele. They really are such amazing ingredients to work with and so versatile in terms of the range of what you can do with them.
Today's recipe is my take on a classic spaghetti carbonara, where I've switched in plenty of Grana Padano cheese and topped it with some fresh Prosciutto di San Daniele. By adding the Prosciutto di San Daniele just before serving it maintains its delicious soft, melt-in-the-mouth texture and it means it can be enjoyed just as it was intended when it was made.
Why Prosciutto di San Daniele and Grana Padano?
Both Grana Padano and Prosciutto di San Daniele are made using production techniques that have been handed down over the centuries and both go through stringent tests to ensure that every one produced is of the highest quality. This ensures that when you buy Grana Padano cheese or Prosciutto di San Daniele you're guaranteed to be buying a high quality product.
Both Prosciutto di San Daniele and Grana Padano have a Protected Designation of Origin from the EU. This means that there are clear geographical boundaries for where the product and raw materials come from, the product follows a traditional recipe and it's checked and certified by independent bodies.
If you'd like to find out more about the history and production of Grana Padano cheese and Prosciutto di San Daniele then take a look at my other recipes for Croque Monsieur Hasselback Potatoes and my Prosciutto di San Daniele & Grana Padano Pizza where I've shared more details.
How to get your carbonara sauce really smooth…
…or in other words, how to avoid making a cheesy, scrambled egg pasta sauce.
Before I share the recipe I wanted to share a quick tip for getting a perfectly smooth carbonara sauce.
When I first started making carbonara I struggled to get the texture really smooth and silky (just like a good carbonara should be). Instead I found my eggs scrambling a little as they cooked. Whilst this was still just fine to eat, it wasn't what I was aiming for, so over time I made little changes to the way I made my sauce to get the texture just right.
In the past I'd always mixed together my cheese and eggs and then poured it into the pasta pan prior to adding some of the reserved pasta water. Before I'd had a chance to mix it all together, some of the egg had started to cook on the bottom of the pan.
I decided to apply the same rules by which I make custard, where you add warm liquid to the eggs little by little (so they warm up rather than starting to cook) and then mix them with the pasta. That slight heating of the eggs is enough to stop them scrambling when you add them to the hot pan.
You'll find that the sauce seems a little thin at first, but if you simply heat it for a few minutes after adding it to the pasta, you'll find it'll thicken up very quickly. As with custard, to ensure the egg mixture doesn't burn on the bottom of the pan, keep it moving while it heats through and you'll end up with perfectly smooth carbonara sauce.
Spaghetti Carbonara with Grana Padano & Prosciutto di San Daniele
Active Time:10 minutes
Total Time:25 minutes
Serves 4
Ingredients
300g spaghetti
4 medium (or 3 large) eggs
100g Grana Padano cheese + a little extra for serving
2 cloves garlic
A knob of butter (roughly 1 heaped tsp)
Salt
4 slices of Prosciutto di San Daniele (I like to have a few spare slices out on the table in case anyone wants a bit extra).
Method
Bring a pan of salted water to the boil. Add the spaghetti and cook it for 10-12 minutes until it's soft but still has a bit of bite to it.
While the spaghetti is cooking put the eggs (4 medium or 3 large) into a large bowl and beat them with a fork. Grate the Grana Padano (100g) and add it to the egg. Mix them together and season with salt.
Peel and crush the garlic (2 cloves).
Once the pasta has cooked, drain it (keeping the water that you drain to use in the sauce) and set aside. Put a knob of butter into the pasta pan and add the crushed garlic. Cook it over a low heat for a few minutes, stirring occasionally.
Meanwhile add 4 tbsp of the reserved pasta water to the egg and cheese mixture, one tablespoon at a time. Mix in each tablespoon throughly before adding more.
Once the garlic has been cooking for a few minutes, remove it from the heat and  quickly mix it into the egg mixture.
Return the pasta to the pan and pour over the egg mixture. Cook it over a very low heat until the sauce has thickened, stirring constantly to ensure it doesn't stick.
Once the sauce has thickened serve the pasta.
Tear your Prosciutto di San Daniele into pieces and place them onto the pasta then top with a little more grated Grana Padano.

NOTE – If you prefer switch the dried spaghetti for fresh – this will only need cooking for around 4 minutes before draining and adding it to the egg mixture.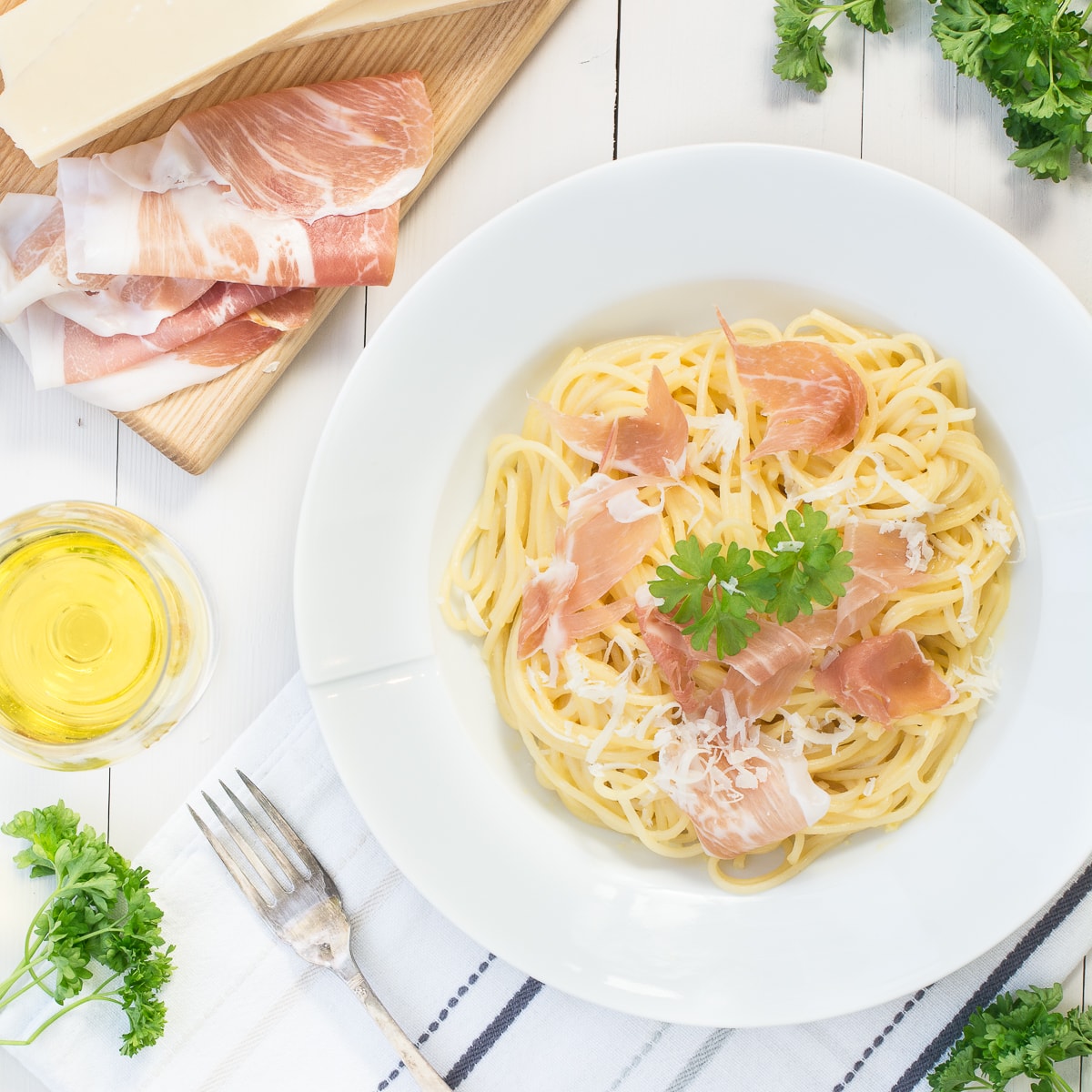 Nutritional Information
Calories: 491 kcal (25%), Fat: 16.3g (23%), Saturated Fat: 7.9g (39%), Carbohydrates: 55.9g (22%), Sugar: 2.5g (3%), Fibre: 2.0g (8%), Protein: 27.5g (55%), Salt: 1.3g (21%)
This is the estimated nutritional information per serving (excludes additional salt added during cooking). Please refer to my guide to Charlotte's Lively Kitchen nutritional information if you want to learn more about how this is calculated.